Young MSM
Younger MSM -- many of whom have never been personally affected by HIV -- are also finding it challenging to practice behaviors that will protect them from HIV.
Studies consistently reveal that young MSM engage in higher rates of risk behavior than older men.(48,49,50,51)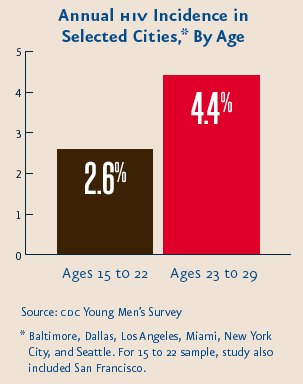 Higher rates of unprotected anal intercourse inevitably expose many young men to HIV, as indicated by the high incidence and prevalence findings in CDC's Young Men's Survey.

In addition, HIV risk increases as young men progress into their twenties. In CDC's Young Men's Survey, the annual rate of infection accelerated from 2.6 percent among MSM ages 15 to 22 to 4.4 percent among MSM ages 23 to 29, underscoring the need to reach each generation of MSM early -- as they enter adolescence -- and to sustain prevention efforts as they age.(12)

The psychological stress often experienced by young MSM as they come to terms with their sexual identities may overshadow any concerns about the threat of AIDS and other STDs. Adolescent males who become aware of their sexual attraction toward other men often suffer feelings of low self-esteem, and encounter friction with their families and ostracism from their peers. The pressure of growing up with same-sex orientation also leads to substantially higher frequency of attempted suicide among gay and lesbian youth,(27) and can result in homelessness, substance abuse, and other challenges -- making HIV prevention even more challenging.