Preventing HIV Transmission Among MSM -- Varying Needs of Diverse Communities
HIV prevention has grown more complex today than at any other point in the epidemic. Effective action against HIV among MSM will require the careful targeting of diverse MSM populations with effective, ongoing, culturally relevant prevention interventions that last a lifetime.
While MSM, like all people, cannot be neatly grouped into demographic categories, understanding factors that characterize diverse MSM is essential in assessing prevention needs and developing programs that appropriately serve those needs. Key MSM communities, along with prevention challenges affecting each population group, include:
African-American MSM today may experience higher rates of infection than any other population in the industrialized world.
Understanding the reasons for these high infection rates will require new research into risk behavior in this population. While studies generally indicate significantly higher rates of infection among African Americans compared with whites, some indicate that risk behavior does not vary to nearly the same degree -- suggesting the need to better understand other complex variables.(21)

At the same time, there are a number of well-recognized factors contributing to high infection rates among African Americans: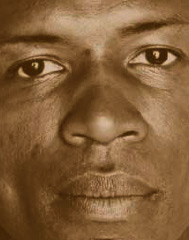 Stigma
African-American MSM face stigma and discrimination on multiple levels. Some feel unaccepted in the predominantly white, established gay community, and many are affected by the stigma of homosexuality common across racial and ethnic groups. This stigma, coupled with racism common in many areas, makes the challenges faced by African-American MSM particularly severe.
Advertisement
Stigma impedes effective HIV prevention for African-American MSM in several ways. Studies have consistently shown that African-American MSM are less likely than other MSM to regard themselves as gay.
(22,23)
A CDC-sponsored study of 8,780 MSM with HIV or AIDS found that 24 percent of African-American MSM identified themselves as heterosexual, compared with 15 percent of Latino MSM, 11 percent of Asian and Pacific Islanders, seven percent of Native Americans, and six percent of whites.
(24)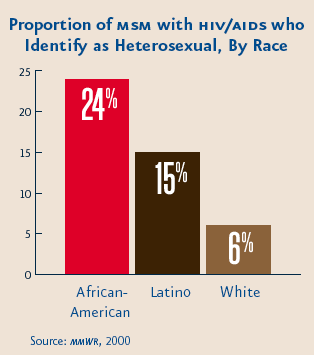 According to a four-city telephone survey of MSM, African-American MSM are less likely to live in heavily gay neighborhoods.
(25)
Prevention programs that are targeted toward gay neighborhoods or premised on the idea of a strong sense of one's homosexuality may not resonate with African-American MSM who do not live in gay neighborhoods or identify as gay or bisexual.
Due to the stigma associated with homosexuality, some African-American MSM avoid seeking HIV-related information, talking with outreach workers, or otherwise actively using HIV prevention services.
(26)
In addition, the alienation generated by these various forms of stigma may increase feelings of loneliness, contribute to psychological distress, and lower individual self-esteem. These feelings may lead to high-risk behavior, according to research on the link between psychological distress and sexual behavior.
(27)
Late Diagnosis of HIV
African-American men are more likely than white men to be diagnosed with HIV in the very late stages of infection, often when they already have AIDS.
(28)
A late HIV diagnosis leads to missed opportunities for HIV treatment and prevention counseling. Available HIV medications can delay the onset of symptoms of AIDS and extend the lives of infected individuals. Also, studies show that individuals who know they are HIV-positive are less likely to engage in behaviors that might infect others.
(29)
Other Factors Contributing to Higher HIV Rates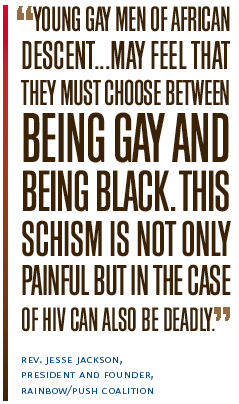 Race itself is not a risk factor for HIV. However, among racial and ethnic minority MSM, including African Americans, social and economic factors, including high rates of poverty and unemployment, and lack of access to prevention services and health care may serve as barriers to receiving HIV prevention information or accessing HIV testing, diagnosis, and treatment.
(24)
African Americans are more likely than whites to suffer from problems typically related to lower socioeconomic status, such as homelessness, substance addiction, and sexually transmitted diseases. These "co-morbidities," in turn, appear to contribute to higher rates of HIV infection. For African-American MSM, studies have found a strong association between HIV infection and low income, injection drug use, and
payment for sex.
(30)
Additionally, researchers have theorized that social network factors, combined with high HIV prevalence, may increase the likelihood of African-American MSM selecting a partner who is infected. More research is needed to explore the role of social networks, partner selection, and other factors that may affect rates of HIV transmission among African-American MSM.
Inadequate Community Infrastructure
The complex, unique needs of African-American MSM underscore the need to provide their communities with sufficient resources to develop and deliver culturally relevant HIV prevention interventions. A major barrier to achieving this result, however, is the inadequately developed service infrastructure for this population.
Few organizations are run by and for African-American MSM. Not only is capacity inadequate to deliver prevention programs to African-American MSM, but typically, small organizations serving this population lack the ability to compete against larger, well-established organizations for scarce funding from government agencies or private foundations.