Introduction
From the earliest days of AIDS in the United States, gay and bisexual men have been at the center of the epidemic -- they have been the most affected by far, and the first to respond in the fight against the disease in communities nationwide.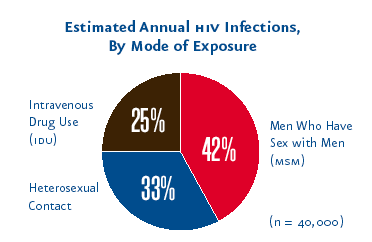 In the years after the first known cases of AIDS were diagnosed among gay men in 1981, the disease devastated gay communities nationwide, leaving few men who have sex with men (MSM) untouched, as they either personally fell ill or experienced the loss of partners and friends.
This critical health crisis triggered an unprecedented response, as gay men pioneered AIDS service organizations, joined forces with public health officials, influenced public action, and reduced personal risk behaviors.
Advertisement
Today, although HIV has permeated every corner of the country, affecting men, women and children of all ages, races, ethnicities, and demographic categories, MSM are still disproportionately affected, accounting for an estimated 42 percent of new HIV infections each year. Moreover, there are troubling signs that HIV may be starting to expand, once again, in this population:
Sexually transmitted diseases (STDs) and risk behaviors among MSM have increased in a number of U.S. cities in recent years.
New HIV infections among MSM in a 2001 CDC study were higher than in any other recent studies -- and comparable to levels seen in studies of MSM in the mid-1980s.
The same CDC study showed that young African-American MSM are particularly hard-hit, with rates of new HIV infections in some cities as high as those now seen in South Africa.
Young Latino MSM are also heavily affected, with AIDS incidence rates 2.5 times higher than white MSM.
Young MSM overall are becoming infected at a startling pace, with evidence indicating that in some U.S. cities one in 14 is infected by age 22.
These signs make it clear that the progress made to date -- resulting in dramatic declines in HIV infections among MSM -- may be in jeopardy. Our country is at a critical point in the HIV epidemic among MSM, and there can be no turning back.