Established Gay Community
While the mainstream, largely white, gay community embarked on an unprecedented mobilization to change sexual behavior early in the epidemic, there are signs that AIDS has now become much less of a priority for many gay organizations and the men they represent.
Among the reasons for this diminished sense of urgency for some strongly identified gay men are: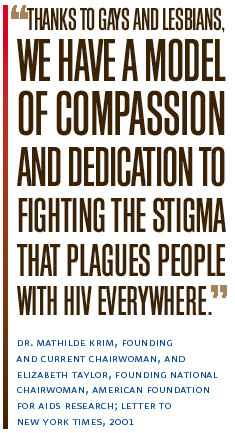 Attitudes Toward HAART
The availability of highly active antiretroviral therapy (HAART) has led some gay men to believe that they are at less risk of becoming infected, or that the consequences of infection are reduced. Surveys suggest that optimism about HIV treatments is associated with a greater willingness to have unprotected anal intercourse.
(37,38)
Optimism toward HAART fails to take into account the increasing prevalence of drug-resistant virus. Resistance to the drugs develops over time in many patients, leaving them with increasingly fewer treatment options.
Moreover, antiretroviral drugs are expensive, difficult to take, and associated with sometimes serious side effects, including fat tissue redistribution (lipodystrophy), increased blood cholesterol levels, and diabetes.
"AIDS Burnout"
Evidence of increasing risk behaviors among MSM underscores the difficulty of sustaining behavior change over a lifetime in any population. Twenty years into the HIV epidemic, many older men who adopted safer sex practices in response to the initial health crisis are finding it difficult to maintain these practices over the course of a lifetime.
Advertisement
According to a four-city survey, this "AIDS burnout" among some MSM may be resulting in a return to riskier sexual practices that were given up earlier in the epidemic.
(39)
Substance Abuse
Some evidence suggests that substance abuse may be contributing to the apparent resurgence in HIV infections. As researchers have documented, drugs have long played a role in the sexual lives of some MSM.
(20,40)
In recent years, particular drugs (including crystal methamphetamine and ketamine) have reportedly become more popular among some MSM, and research is required to determine if this trend has led to riskier sexual behavior.
(41,42)
Substantial drug use occurs during gay "circuit parties," which have grown in popularity over the last decade. A recent survey of 295 gay and bisexual men in San Francisco who attend circuit parties revealed that nearly all respondents used drugs during circuit party weekends. Half of respondents reported having unprotected anal sex during circuit parties, and researchers detected a strong association between drug use and unprotected sex.
(43)
Relative Risk of Different Sexual Behaviors
Evidence suggests that many MSM are underestimating the risk of different sexual behaviors -- potentially putting themselves and their partners at risk for HIV exposure and transmission.
(44)
For example, studies have shown that some men infected through unprotected oral sex did not believe that transmission could occur in this manner.
(45)
Others may mistakenly believe that insertive anal sex carries no risk.
(45)
While the substitution of lower risk sexual practices for higher risk behaviors can reduce a person's risk of HIV infection, transmission may still occur in some cases, i.e., "low" risk does not mean "no" risk. Thus, it is extremely important that these decisions be based on accurate information.
Incorrect Assumptions
Surveys of MSM have found that some MSM may make false assumptions about their partners' HIV status. For example, an HIV-infected man may assume that his partner must be infected as well or he would insist on using a condom, while an uninfected man may assume his partner is also uninfected or he would use a condom.
(46,47)