No Easy Answers, No Time to Waste
Twenty years into the HIV epidemic, many ask why the epidemic continues to have such a major impact on MSM, especially given the gay community's tremendous strides in fighting AIDS in the 1980s and 1990s. An even more important question is how infections can be further reduced in this group.
The answers to both questions are as diverse and complex as the individuals too often characterized with the single phrase "gay men." Some MSM have not yet been reached with HIV prevention, some have not been effectively reached, and some have not been repeatedly reached.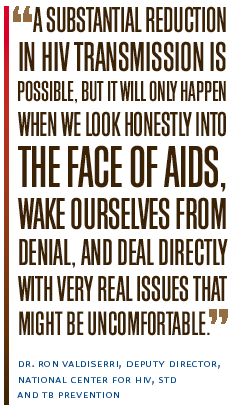 Some MSM have become less concerned about HIV infection because of new treatments for HIV, and some MSM of color still believe HIV is a "white gay disease."
Since the 1980s, when CDC investigated the first cases of AIDS among MSM, the agency has worked closely with state and local partners and affected communities to develop, implement, and evaluate HIV prevention programs for those at greatest risk. This report reviews our collective successes, remaining challenges, and lessons learned. It also articulates an agenda for changing the course of the epidemic among gay and bisexual men.
Advertisement
While most MSM today, as do most Americans, know the "facts about AIDS," research has shown that education does not automatically equal prevention. Issues related to self-esteem, communication skills, and the influences of society, family, and peers need to be addressed. Programs that address these and other factors have proven effective, and must be expanded and made more widely available.
(1)
In short, effective prevention must take into account the realities of life for men who have sex with men -- a diverse group with complex prevention needs.
Preventing a resurgence of HIV among all MSM and reducing the tremendous toll of the epidemic among African-American and Latino MSM will require accelerated, targeted, and well-designed efforts which utilize the resources and expertise of public health agencies, while working closely with affected communities. While there may be no easy answers, one thing is clear --
there is no time to waste
.