An Action Agenda
Achieving CDC's goal of cutting new infections in half over the next five years will not be possible without major progress in preventing new infections among MSM. Building on the lessons of the first two decades of fighting AIDS, successfully confronting HIV in MSM communities will require comprehensive action on a number of fronts, at the national, state, and local level.
Prioritizing Prevention for MSM of Color
Certain MSM communities -- particularly African-American -- need additional support in developing and delivering their own culturally appropriate prevention programs, including programs that effectively engage MSM who do not identify as gay. These populations face an urgent public health problem and prevention practitioners from all sectors need to mount an effective response.
Addressing Disparities in Prevention Funding
Community planning groups must re-evaluate their funding priorities to ensure an appropriate level of support for HIV prevention programs targeting MSM of color. State and local health departments must ensure that their budgets reflect the priorities of community planning groups. CDC is working closely with state and local health departments to improve the accuracy and appropriateness of resource allocations.
Critical to this process is ensuring that membership of community planning groups reflects and represents the local epidemic, so that essential community voices are heard in setting prevention priorities.
To adequately address the threat of HIV among MSM, community planning groups also must step up efforts to target funds according to risk and race/ethnicity. Complex consideration of these and other factors is necessary to ensure that prevention programs for MSM are funded sufficiently, and that programs for MSM and minorities target MSM of color appropriately.
Targeting HIV-Positive MSM
CDC estimates that those who are unaware of their HIV status -- and consequently not receiving prevention and care services -- are contributing significantly to new HIV infections. Therefore, a key component of CDC's new five-year plan is the implementation of new prevention programs for HIV-infected individuals, combined with improved linkages to care and treatment.
This new approach aims to increase the proportion of infected individuals who know their status from the current estimated 70 percent to 95 percent, and to increase from an estimated 50 percent to 80 percent the proportion of HIV-infected individuals who are linked to appropriate prevention, care and treatment services. Given the significant proportion of HIV-positive people in the U.S. who are MSM, this new focus on infected individuals is expected to have a strong impact on prevention for MSM.
Advertisement
There are several reasons to intensify prevention efforts and linkage to care for this population:
People who know they are infected can benefit from antiretroviral therapy, prophylaxis for opportunistic infections, monitoring of their immune status, and, if needed, substance abuse and/or mental health treatment.



Scientific studies suggest that individuals are most infectious soon after infection and late in the course of disease, indicating the importance of reaching newly infected individuals with prevention services.



Studies indicate that after learning their HIV status, infected individuals are more likely to take steps to protect their partners. Making testing more widely available also increases opportunities to provide prevention counseling for both infected individuals and HIV-negative people at risk.



In designing programs to help HIV-positive MSM maintain safer behaviors, it will be essential to better understand and address factors such as viral load, negotiated safety, mis-assumptions about treatment (e.g., effectiveness, drug resistance, and side-effects) and reduced concern about HIV overall. More research is also needed to determine the impact of therapy on infectiousness.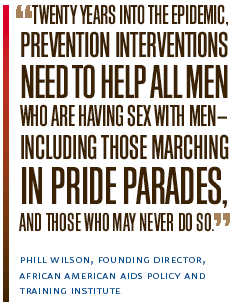 Ensuring Access to Voluntary HIV Counseling and Testing
State and local health departments and community-based organizations should work to ensure MSM have access to voluntary HIV counseling and testing. Expanding HIV testing services to non-traditional locations -- like bars, bathhouses, and special community events -- and providing anonymous HIV testing may increase the number of individuals who learn their HIV status. Also, more routine testing in hospital emergency rooms and community health centers is important for reaching individuals who may not otherwise access HIV testing.
Increasing Research on Programs for MSM Who Don't Identify as Gay
The many MSM who don't identify as gay, especially in the African-American and Latino communities, are in need of specially designed, innovative prevention strategies. Because these men may not live in traditional gay neighborhoods, or congregate in gay venues, and because many also have sex with women, prevention research must focus not only on how to reach those who, by definition, do not want their same-sex behavior identified, but also must reach the women who are their sexual partners.
Monitoring and Responding to Emerging Trends
State and local health departments are urged to review local HIV, STD, and behavioral data to determine the emerging MSM trends in their own areas. Gaps in epidemiological information needed to help plan, target, and evaluate HIV/STD prevention activities for MSM should be addressed. Historically, because of a lack of data on new HIV infections, many state and local health departments have targeted prevention services primarily on the basis of reported AIDS cases, which reflect HIV infections years after they occur.
Newer, more sensitive surveillance tools are now available, permitting a more timely response to emerging epidemiologic trends. In addition to HIV and STD incidence and prevalence, and behavioral risk data, state and local health departments should consider revisions to current surveillance protocols, special studies, and other steps to enhance the availability and accuracy of relevant data.
Integrating STD and HIV Prevention and Care Services
Many MSM lack key information about STDs, including knowledge that infection with an STD can increase the likelihood of HIV transmission. Therefore, it is critical that HIV prevention programs include information about other STDs and provide links to high-quality STD screening and treatment services. Additionally, trends in STD infections among MSM can be "markers" for potential trends in HIV infection. Integrated data on HIV and other STDs is important for directing prevention programs.
Evaluating Prevention
Health departments should evaluate whether HIV and STD counseling, testing, and partner notification activities are reaching MSM. Health departments should also ensure, through training and ongoing quality assurance monitoring, that the counseling provided is "client-centered" and reflects the needs and priorities of MSM.
Involving Clinicians in Preventing New Infections Among MSM
Clinical settings (including health department facilities, community-based organizations, primary care centers and drug treatment facilities) can play an important role in HIV prevention through providing HIV and STD prevention services and referrals to care for HIV-infected people.
(60)
Clinicians caring for HIV-infected and at-risk MSM should:
Conduct routine sexual risk assessments and prevention counseling;
Continually update and reinforce prevention messages;
Routinely offer voluntary HIV and STD testing; and
Obtain training on HIV and STD counseling techniques for MSM.



Developing Prevention Programs for Youth
A greater emphasis on prevention research specific to young MSM is needed. Although studies have clearly demonstrated the ability of HIV prevention programs to reduce risk behaviors among young MSM,
(50,61)
a relatively small proportion of HIV prevention research has focused on the development and evaluation of interventions specific to this population.
(62)
Effective HIV prevention must address young people's common misconceptions about safer sex and assist them in developing and sustaining safer sex skills relevant to their life circumstances. These misconceptions include the belief that oral sex is safe, and that condoms need not be used if the person does not identify as gay.
(63)
Integrating HIV Prevention Into Broader Health Promotion Efforts
For MSM with strong gay identities, health departments and community-based organizations should consider framing HIV and STD prevention programs and messages in the context of gay male health, an approach that builds on the growing community based movement to have a more comprehensive approach to the health needs of gay men. Such interventions should frame HIV and STD prevention messages in the context of other important MSM priorities and needs and should be crafted in partnership with members of the gay community.
(49)
For both gay-identified and non-gay identified MSM, HIV and STD prevention interventions should be better integrated into health and social service programs, such as mental health, violence prevention and substance use treatment programs.
(64)