2006 Housing Policy Statement
September 2005
Housing Opportunities for Persons With AIDS (HOPWA)
The Southern AIDS Coalition joins in support of the National AIDS Housing Coalition (NAHC) in support of HOPWA at $385 million appropriation.
Congress must leave flexibility in the HOPWA program to prevent homelessness of housed HIV-positive persons impacted by other massive HUD cuts.
Housed people access healthcare; people in healthcare are less likely to infect others; an increase in HOPWA and other HUD special needs funding reduces the spread of HIV.

Advertisement

The South is already poverty plagued. HUD funding, especially HOPWA, will result in increased income earning opportunities.
HOPWA Appropriation -- $385 Million
The Southern AIDS Coalition (SAC) represents 14 Southern States and the District of Columbia. SAC is comprised of grassroots advocates, government agencies, persons living with HIV disease, and other vested partners from across the Country. The burgeoning membership struggles with the HIV/AIDS epidemic in an atmosphere of increasing cases and shrinking resources with dramatic shortages, particularly in HUD resources.
HOPWA is a critical funding source for the South as we rely on local, state, and other federal funds to weave together the true need of $2.8 billion. HOPWA funds are critical to maximize leveraged funds from other resources. The chart below indicates documented need.
| | |
| --- | --- |
| Estimated Number of People Living with HIV/AIDS in the U.S. (according to CDC) | 886,575 |
| Number of People Living with HIV/AIDS needing some form of housing assistance | 50% |
| Number of Individuals Potentially Served | 443,288 |
| Average Annual Cost per Person Served (including Supportive Services and Rental Assistance) | $6,500 |
| Total FY 2006 Actual Need | $2,881,372,000 |

Affordable Housing requires an income of $15.47 per hour for 40 hours a week. The average wage for persons on disability in the South is $3.29 per hour -- 500% less than needed.
The need for stable and affordable housing is more urgent than ever as more people are living longer with HIV/AIDS and housing costs increase. Improved drug therapies and medical care have dramatically reduced the number of AIDS deaths. According to the National Low Income Housing Coalition's Out of Reach study, the average 2004 national housing wage was $15.47. A family must earn this hourly wage 40 hours per week to afford housing at the fair market rent.
HIV/AIDS disproportionately affects the poor and women of color. 91% of HOPWA clients have family incomes less than $1,000 per month. Between 1986 and 2001, women's share of annual new AIDS cases in the U.S. more than tripled. AIDS is the leading cause of death among African-American women aged 24-34.
Housing is healthcare. Stable, affordable housing offers the best opportunity for persons living with HIV/AIDS to access drug therapies and treatments and supportive services that will enhance the quality of life for themselves and their families. When people are housed, they can access and adhere to drug treatments and therapies and require fewer hospitalizations and less emergency room care. This also contributes to a reduced likelihood of transmission of HIV disease -- less risky sexually behavior and less utilization of IV drugs.
Poverty and Access to Care in the South
The only region in the United States with a poverty rate increase between 2002 and 2003 was the South -- to 18% of all Southerners. Sadly, the South also has the highest regional rates of poverty and unemployment.
Estimates from the Centers for Disease Control and Prevention indicate at least 20% (50,000) of those known to be living with HIV disease in the Southern region are not in care.
Access to care has three kinds of challenges: 1) geography -- the transportation to available systems is not always possible; 2) service availability shortages -- many locations where care is not available; and 3) financial -- our systems are sorely taxed due to a lack of funding across the country. The South and other regions in shortage deserve their equitable share of federal funding that is made available to prevent, care for, and house those living with HIV disease.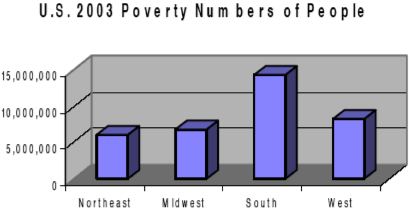 Disproportionate Disease for Persons of Color
Women of color in the South are 26 times more likely to be positive than white females.
Blacks comprise 12.1% of the population. The CDC indicates 47% of those living with HIV/AIDS at the end of 2003 are Black, non-Hispanic.
More than 50% of the new infections in 2003 were in African Americans.
Of over 525,000 deaths, 56% (more than 293,000) have occurred in people of color.
The South has lost more people to AIDS than any other region in the Country. More than 200,000 Southerners have died.
The South has 34% of the nation's population and yet accounts for 41% of the living AIDS cases. These are the individuals who need a higher level of care but are provided less federal resources because of the existing distribution methodology.
HIV/AIDS in the South
State
Population
Living With AIDS
Living With HIV
TOTAL Living With HIV or AIDS
Alabama
4,500,752
3,940
5,896
9,836
Arkansas
2,725,714
2,067
2,294
4,361
District of Columbia (3)
563,384
8,848
15,485
24,333
Florida
17,019,068
43,223
32,449
75,672
Georgia (3)
8,684,715
14,023
24,540
38,563
Kentucky (3)
4,117,827
2,359
4,128
6,487
Louisiana
4,496,334
7,592
7,773
15,365
Mississippi
2,881,281
2,875
4,375
7,250
North Carolina
8,407,248
6,545
11,204
17,749
Oklahoma
3,511,532
2,633
2,085
4,718
South Carolina
4,147,152
6,379
6,970
13,349
Tennessee
5,841,748
5,817
6,678
12,495
Texas
22,118,509
21,125
30,043
51,168
Virginia
7,386,330
9,242
7,735
16,977
West Virginia
1,810,354
645
690
1,335
Total
98,211,948
137,313
162,345
299,658
34% of US Population
41% of US Living With HIV/AIDS Population

Resources

Institutes of Medicine "Measuring What Matters: Allocation, Planning and Quality Assessment for the Ryan White CARE Act."
U.S. Department of Housing and Urban Development.
Population data from the U.S. Census Bureau.
The living with AIDS cases is from a CDC supplementary report and covers through 12/31/03.
(3) The cases living with HIV are all from the same CDC report except for District of Columbia, Georgia, and Kentucky. Those numbers are derived from the average of 175% more people living with HIV than AIDS at the end of 2003. This percentage was used to calculate the estimated living HIV cases at the end of 2003.
---

This article was provided by
Southern AIDS Coalition
.