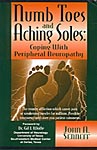 The Body recently talked with John Senneff, a retired lawyer who has had peripheral neuropathy for more than ten years. He is not HIV positive, but general peripheral neuropathy has a lot in common with HIV-induced peripheral neuropathy.
Numb Toes and Aching Soles: Coping with Peripheral Neuropathy
is the name of his new book, which he wrote to explain, in non-technical terms, what peripheral neuropathy is, and how it typically affects patients. In his book, he has gathered all the treatments currently being used -- including some very experimental treatments. He has also incorporated the first-hand experience of more than 200 people who have been dealing with this strange affliction.
---
What non-opioid drugs in your opinion, or in the opinion of most of the patients you've talked with, are most successful in dealing with pain?
The most favored, and seemingly the most successful, is Neurontin, both in terms of pain relief and because of its fairly benign side effects. Interestingly, that medication, almost uniquely among the non-opioid drugs, appears to deal effectively with all of the three principal types of neuropathic pains: shooting, stabbing pains; aching, persistent pains; and burning pains.
Advertisement
Mexitil is another medication which appears to work well for many people, particularly those suffering burning pains. Speaking of burning, for those who can take a little "heat" on their skins, topical preparations of capsaicin (based on cayenne pepper) -- such as Zostrix -- reportedly provide good relief if the patient will stay with regular applications long enough.
What are the alternative treatments that in your experience have been most successful?
By "alternative treatment" I'm assuming we're talking about any therapeutic approach which will benefit someone with peripheral neuropathy -- whether it's in place of or in addition to a traditional medical approach. That being said, I find, in my own case, nutrient supplementation -- vitamins, minerals, herbs and other nutrients -- and a program of regular exercise, extremely helpful. In fact, I can honestly say my neuropathy causes me fewer problems, and is less painful (most of the time) than it was two years ago because of the nutrient/exercise program I've been following, along with my medication (which by itself wasn't doing nearly as much for me).
What is important here, though -- and this point is stressed throughout Numb Toes and Aching Soles -- is that what works for one person may not work for someone else. We're all different when it comes to dealing with the pain monster. For example, some people swear that magnets really help. Others think acupuncture is the way to go. (Neither helped me a bit.) Still others turn to psychotherapy techniques such as biofeedback or even self hypnotism. Individual experimentation is often necessary to come up with a satisfactory means of dealing with pain. In my book I discuss everything I could find on non-medical ways of coping with peripheral neuropathy and its attendant pains.
What vitamins do you find the most helpful for peripheral neuropathy?
You can't be sure what's really working for you when you're taking a multiple vitamin/nutrient cocktail -- but, based on my own experience, and some studies which have been done, I'd include the following in any nutrient program: B complex supplemented by B12, vitamin E, vitamin C, alpha lipoic acid, evening primrose oil (or another source of gamma linolenic acid), folic acid and zinc. I also throw in (or down, I should say) a multi-purpose vitamin, mainly for trace elements. Ideas on amounts for these and other nutrients are set out in my book.
What are the most promising treatments in the pipeline for peripheral neuropathy?
One of the most exciting chapters in my book -- at least to me, because of the possibilities some of the compounds discussed there offer -- is entitled: "Experimental or 'Unapproved' Drugs." Two of the most promising are memantine and ziconotide. The former is available now in Germany but not in the US. Early clinical trials in this country have shown significant possibilities for pain reduction, particularly for nocturnal pain. The other, ziconotide, is a drug based on the paralyzing toxin of a sea snail.There are claims that it is 1000 times more potent than morphine in offering pain relief! Phase III Trials have been completed and the drug may have US marketing approval in 2000.
The long-sought "true cure" for peripheral neuropathy is still a ways off. So-called nerve growth factors -- molecules designed to actually regenerate damaged nerves or their protective coatings -- were dealt a setback recently when the principal corporate investigator announced it was calling off clinical trials. Other companies, though, are working on variants.
Where can one find a doctor who has experience dealing with peripheral neuropathy?
One of the best ways to get information on experienced neurologists is to join the Neuropathy Association. They maintain a listing of doctors and clinics specializing in treating peripheral neuropathy. They may be reached at 1-800-247-6968.
How many people in the United States do you think are currently dealing with peripheral neuropathy?
According to a recent Roper Starch survey, nearly 15 million Americans may have this serious condition to some degree or other. Further, it is estimated that up to 35% of people infected with the HIV virus have peripheral neuropathy.
For more information about this book, click here, call 1-888-633-9898 toll free, or check out The Body's bookstore.