Eastern & Western Europe: New and Older Epidemics
One of the most dramatic increases in HIV detection in 1999 was recorded in the newly independent states of the former Soviet Union, where the proportion of the population living with HIV doubled between the end of 1997 and the end of 1999. Nearly one-half of all cases of HIV infection reported in that region since the start of the epidemic were reported in the first nine months of 1999 alone. UNAIDS/WHO estimates that the number of infected people rose by a third over the course of 1999, reaching a total of 360,000 in the region comprising the former USSR as well as the remainder of Central and Eastern Europe. The bulk of new HIV infections were caused by unsafe injection drug use, and they occurred primarily in two countries, the Russian Federation and the Ukraine.
HIV has recently been introduced into networks of injection drug users in Russian cities where previously the virus was almost unknown. This is true of smaller provincial cities as well as of large metropolitan areas.
Since injecting drugs is illegal in these areas, it is very difficult to estimate the size of the drug-injecting population, let alone the extent to which they are linked in sexual networks with noninjectors. By the end of 1996 in Poland, 4,374 HIV infections had been reported (67% of them being in IDU, 7% in homosexual men, and 21% in other or unknown groups). Most of the infections have been seen in Warsaw, the Gdansk region, and Katowice in the south. Prevalence among IDU in Warsaw is estimated to be anywhere between 15% and 50%. Surveillance is not systematic, thus the uncertainty in the range.
Advertisement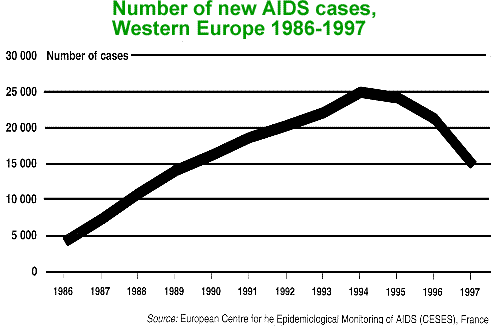 In contrast, HIV prevention has been very successful in Western Europe. In the Netherlands, for instance, the HIV incidence has dramatically declined among MSM. A cohort study of 770 initially seronegative homosexual men showed a decrease in incidence from 7.2 per 100 person-years in 1985 to 1 per 100 person-years in 1995. (The number of persons multiplied by the number of years equals person-years; e.g., one person followed for ten years equals ten person-years and ten persons followed for one year also equals ten person-years.) Research among IDU has also shown decreases in HIV incidence: from 8.9 per 100 person-years in 1986 to 2 to 3.6 per 100 person-years between 1991 and 1995. Prevalence of HIV among women at antenatal clinics has remained low (0.2%-0.4%), and no significant changes have been observed at STD clinics or among female sex workers (around 2%).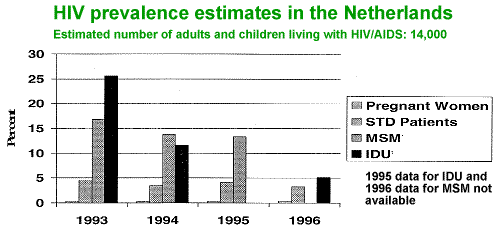 Back to the SFAF BETA Summer, 2000 contents page.