HIV Explodes in the Asia/Pacific Region
With a population of nearly 3.5 billion, representing almost 60% of the world's people, the Asia/Pacific region has the potential to greatly impact the direction of the global HIV/AIDS pandemic.
This region -- stretching from and including Pakistan in the west, to Japan and other island nations in the Pacific, and from China in the north to the countries forming Oceania in the south -- has diverse, localized, and varying HIV epidemics. HIV infections were first introduced by MSM into several countries and major cities of the region, including Australia, New Zealand, Singapore, and Hong Kong; this occurred in the early 1980s rather than the late 1970s, as in the U.S. and Western Europe.
While the epidemic among MSM in these areas of south Asia and Oceania peaked in the mid- to late 1980s, the same apparently has not yet occurred in this population in other Asian countries. Epidemiologic data are very difficult to obtain, since many MSM in these regions do not identify themselves as being MSM, and thus remain "hidden." Across this area as a whole, UNAIDS/WHO estimates that over 7 million adults and children were living with HIV at the end of 1999, over five times as many as have already died of AIDS in the region.
Advertisement
HIV spread quickly through IDU populations in many Asian/Pacific countries. In Bangkok, Thailand, in late 1987, 1% of IDU were HIV positive. By the end of 1988, that rate had increased to 30%. Since 1988, HIV prevalence among IDU who have been tested has remained between 20% and 45% both in and outside of Bangkok.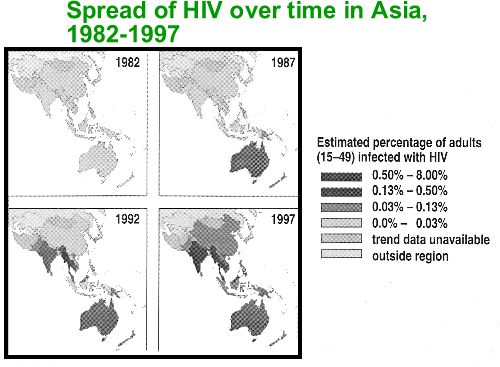 Similarly, HIV prevalence among IDU in other Asian countries, such as Myanmar, Malaysia, (northeastern) India, and Vietnam is estimated to range from 30% to 90%. The response to drug injection-related HIV epidemics has traditionally been inadequate. Most countries depend on prevention efforts that emphasize criminalization and abstinence. Health and HIV prevention officials in Australia, by contrast, have been successful in preventing a major epidemic of HIV among IDU. HIV prevalence there remains below 5%, which is largely attributable to widespread harm reduction efforts such as needle exchange and peer and community efforts.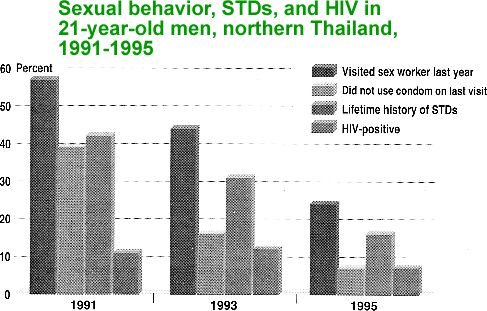 Since HIV came later to Asia in general, the region has had the opportunity to learn from the experience of other countries. It seems that some lessons are indeed translating into successful prevention efforts, although prevention failures can also be found. In Thailand, condom use programs have been very successful. Significant reductions in HIV infection have been noted among women at antenatal clinics and among female sex workers, and it is believed that the epidemic is stabilizing in the heterosexual population. For instance, in women under 25 experiencing their first pregnancy, HIV prevalence fell by 40% over a three-year period (1994-1997). HIV prevalence and risk behaviors have all declined among 21-year-old male military personnel, a population believed to be fairly representative of the younger male population in Thailand.
Thailand's neighbor, Cambodia, however, has seen HIV spread rapidly since the early 1990s. In 1992, HIV prevalence among sex workers was 10%, and reached 40% by 1996. Currently, it is estimated that up to 50% of sex workers are infected. Surveillance activities in Cambodia show that up to 10% to 15% of military personnel and policemen are infected, and in Phnom Penh, the capital, 3% of women at antenatal clinics are positive. The evolution of the epidemic in this country illustrates the potential for HIV to spread fast and widely when patterns of commercial sex involve high mobility, a high sexual partner exchange rate, and low condom use. Recently, Cambodia has been trying to learn from Thailand's success by officially endorsing a 100% Condom Use program countrywide.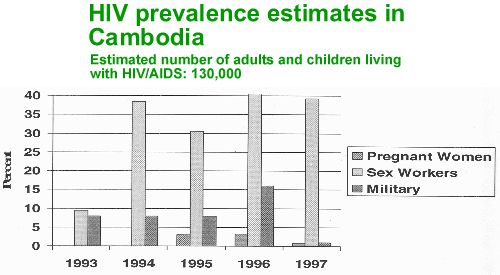 The huge populations of India and China inevitably dominate any assessment of HIV in Asia. Because these countries have so many inhabitants, small percentage changes in estimates of national infection rates result in large changes in the estimates of the total number of people infected.
India is home to more people than the African continent as a whole, and many Indian states have larger populations than most countries in the world. A rise of just 0.1% prevalence among adults in India could add over half a million people to the national total of adults living with HIV. The National AIDS Control Organization (NACO) in India has undertaken major efforts to improve the HIV surveillance system. Sentinel sites are now located all over the country in both rural and urban areas. Targeted surveillance groups include childbearing women, IDU, sex workers, and people treated for STDs. Most recent calculations have estimated that 3.5 million people in India were infected with HIV as of mid-1998, with overall prevalence among adults ranging from 1% to 5%, and the epidemic appears to be increasing rapidly.
In China, HIV infections have been detected among female sex workers, people being treated at STD clinics, and IDU. Current estimates developed by the Chinese government and others range between 300,000 to 500,000 as of the end of 1998. The forecast is unclear in this country with a population of over one billion in which most new infections are concentrated in injection drug users.

Back to the SFAF BETA Summer, 2000 contents page.