The African Continent
The HIV/AIDS pandemic in Africa continues to thrive relentlessly despite efforts being made throughout Africa to minimize its spread and reduce its impact on individuals, families, communities, and nations. At the start of the 21st century, some 23.3 million Africans, mostly from south of the Sahara, are estimated by UNAIDS/WHO to have HIV infection or AIDS. This figure represents almost 70% of the world's total cases in a region that is home to only 10% of the world's population. This enormous number of infections has at least doubled since the end of 1994, when UNAIDS/WHO had estimated that 11 million adults were living with HIV and AIDS in Africa.
The AIDS cases reported to the WHO by African countries represent only a fraction of the cases that have actually occurred. Multiple reasons contribute to the problem of underreporting HIV/AIDS statistics in Africa, including economic realities (such as lack of infrastructure) and entrenched social stigma attached to HIV/AIDS. Nevertheless, the over 23 million estimated infections are taking an enormous toll on the health of entire nations and on their social and economic well-being. The number of people who have died from AIDS thus far in Africa represents less than one-third of the deaths expected to occur among people who are currently infected with HIV. The major impact of the pandemic on the African population is yet to come.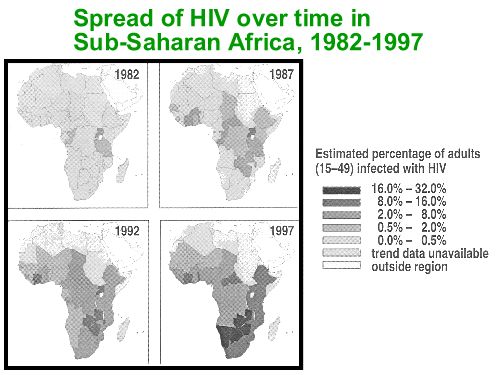 Advertisement
Sub-Saharan Africa is the area of the world most seriously affected by HIV and AIDS. Infection levels there are highest, access to care is lowest, and social and economic safety nets that might help families cope with the impact of the epidemic are badly frayed, in part because of the epidemic itself. However, Africa is not uniformly affected by HIV/AIDS -- it is a mosaic of epidemics progressing with varied intensity and velocity. For example, in antenatal clinics of several cities in southern Africa, up to 45% of women tested during
pregnancy
carry HIV, a rate ten or more times greater than in pregnant women seen at urban antenatal clinics in most countries in central or western Africa. Heterosexual contacts and perinatal (mother-to-infant) transmission of HIV account for the vast majority of HIV infections in Sub-Saharan Africa, and ongoing prevention programs must expand their reach to curb the spread of HIV through these routes. The information required to monitor these trends and the impact of prevention programs remain incomplete. For example, while data exist on the proportion of 15- to 19-year-old women who visit antenatal clinics in Sub-Saharan Africa who are infected with HIV, little is known about the levels of infection in girls younger than 15.
Although major success has been achieved elsewhere in preventing mother-to-child transmission, Africa remains burdened by the highest rates of pediatric (child-related) infection in the world. UNAIDS/WHO estimates that nearly 90% of the one-half million children born with HIV or infected through breastfeeding in 1999 were living in Sub-Saharan Africa.
Fifteen new, unlinked surveillance studies conducted in various African countries from the general population and from pregnant women at antenatal clinics suggest that in many African countries, antenatal estimates tend to underestimate the real levels of HIV infection in women. The reason is that infected women become progressively less fertile: the longer their HIV infection progresses, the less likely they are to get pregnant. And because many HIV-infected women are no longer becoming pregnant, they are not visiting antenatal clinics where blood samples for anonymous HIV testing are taken. At the same time, these studies suggest that infection levels in men are lower than the levels of HIV recorded among pregnant women. On average, however, these recent studies conducted in both rural and urban areas in nine different African countries indicate that between 12 and 13 African women are infected for every 10 African men.
Why more women than men are infected is likely due to a complex array of biological, behavioral, and social factors. For instance, HIV passes more easily from men to women through sex than from women to men. Age, however, remains the biggest factor. The rates of newly acquired HIV infections are highest in the 15-29 age group among both females and males, but the peak of new infections occurs five to ten years earlier in young women than in young men. Most of the infections in 15- to 19-year-olds are in females. In Masaka, Uganda, for example, HIV prevalence in 13- to 19-year-old females is over 20 times higher than in males of the same age. Apart from possible biological factors, there are at least two reasons for the disproportionate risk of young women acquiring HIV infection early: (1) an earlier age of sexual debut for girls (in Masaka, the median age at first sexual intercourse is 15 for females and 17 for males), and (2) the patterns of sexual mixing -- young women tend to have sex with older men in the context of marriage or in exchange for money or advantages, whereas young men tend to have sex with young women. For many women, the major risk factor for HIV is the behavior of their spouses or regular sexual partners. Women who believe themselves to be in monogamous relationships cannot protect themselves against HIV infection if their spouses are not similarly monogamous. This highlights the need for enhancing prevention programs targeted at adult men and for developing effective and safe female-controlled HIV prevention methods such as microbicides.
Explosive increases in new infections, as measured in rapidly rising levels of infection over a short period of time, appear to be a predictable pattern of HIV spread for many areas in Sub-Saharan Africa. The epidemiological situation in Zimbabwe, for instance, has had a pattern of spread that is now being seen in other countries, such as Botswana, Lesotho, South Africa, and Swaziland. HIV surveillance in Zimbabwe, conducted since 1989, has shown that prevalence of HIV among women at antenatal clinics has increased from 10% in 1989 to 31% in 1995 in major urban areas (Harare and Bulawayo), and from 15% in 1990 to 47% in 1996 outside major urban areas. In Harare, 26% of women under age 20 who visited antenatal clinics tested HIV positive. One study measured HIV prevalence among sex workers between 1994 and 1995 -- 86% tested HIV positive. In the same period (1994-95), 71% of males treated at STD clinics in Harare tested HIV positive. In STD clinics outside of Harare, HIV prevalence among males has increased from 7% in 1987 to 70% in 1994.
There is hope, however, that this trend can be reversed. Evidence that the number of new infections may have decreased comes from studies of the epidemic in Uganda, a country with one of the oldest HIV/AIDS epidemics in Africa. A study of recent trends in HIV infection in women at several Ugandan antenatal clinics reveals significant declines in HIV prevalence. In antenatal clinics in Kampala, HIV prevalence increased from 11% in 1985 to 31% in 1990. Beginning in 1993, HIV prevalence at antenatal clinics began to decline, reaching 14.7% in 1997. Analyses of HIV infection levels by age over time found consistent and significant declines in levels of infection among younger age groups as well. In 1992, 38% of HIV infections detected were among women under age 20, and in 1996, 7% of HIV infections were in the same age group. Similar age trends have been seen outside of the major urban area of Kampala. Since infection levels in this young age group reflect more recent patterns in new infections, these data suggest a substantial reduction in the incidence of HIV infection in young people over time. Surveillance among males treated at STD clinics also indicates a declining epidemic. In 1989, 42% of such males tested in Kampala were HIV positive, compared with 46% in 1992 and 34% in 1995.
Government-sponsored prevention campaigns may be responsible for these declines. This type of stabilization in HIV prevalence can also occur as a natural result of a dynamic balance between new infections and deaths occurring in people already infected. An underlying high incidence of HIV infection in younger age groups may therefore be masked by high numbers of deaths removing people who have died of AIDS. Yet to conclude from stabilizing or even declining prevalence rates either that the epidemic will wane by itself in the absence of prevention, or that prevention efforts are no longer necessary, would have tragic consequences for future generations, especially given the overall pandemic in Africa.
Dramatic Declines in Africans' Life Expectancy
One of the major indicators of the impact of the HIV/AIDS pandemic on Africa is the dramatic decline in life expectancy. According to the 1999 Human Development Index, a ranking published by the United Nations Development Programme (UNDP) to reflect health, wealth, and education, many African nations now show significant downward trends in these rankings. According to the WHO, almost all of the major downward changes could be ascribed to declining life expectancy -- the direct result of AIDS. Increasingly, data from surveillance systems and studies throughout Sub-Saharan Africa demonstrate that the HIV/AIDS epidemics are taking an increasing toll on young people, especially young women. The HIV/AIDS epidemics in Africa have become the epidemics of the young.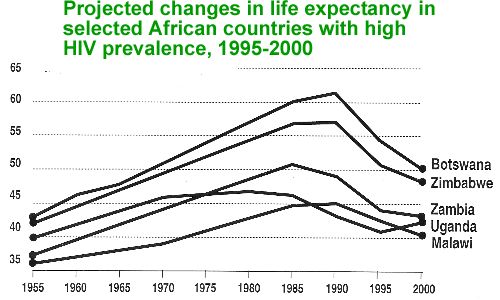 The enormous rise in deaths among young, economically active adults will have a major impact on economic growth in Africa. What does this mean, though, in an area of the world where many nations already have poor economic management, high inflation, rampant corruption, and deteriorating infrastructure, as well as widespread military conflicts and population displacement? Where resources for education and health, not to mention antiretroviral therapies, are severely limited? The HIV/AIDS pandemic in Africa will continue to impact negatively the already precarious situation faced by many of these developing countries.

Back to the SFAF BETA Summer, 2000 contents page.