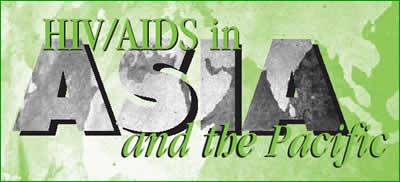 Context of the Epidemic
With a mid-2001 population of 3.7 billion -- 60.6% of the world?s population (Population Reference Bureau 2001 World Population Data Sheet) -- the Asia-Pacific region will exert enormous influence on the course of the global epidemic. At the end of 2001, 7.1 million adults and children in the region were living with HIV/AIDS. Of that total, 6.1 million were in South and Southeast Asia, with 1 million in East Asia and the Pacific. The adult prevalence rate in South and Southeast Asia was 0.6%; in East Asia and the Pacific, it was 0.1%. In the former subregion, 35% of infected adults were women; in the latter, 20%. During 2001, 800,000 adults and children were newly infected with HIV in South and Southeast Asia; in East Asia, the comparable figure was 270,000. During that year there were 400,000 AIDS deaths in South and Southeast Asia and 35,000 in East Asia and the Pacific (UNAIDS, AIDS Epidemic Update, December 2001).
In South and Southeast Asia the major HIV transmission mode is heterosexual, followed by injecting drug use. In East Asia and the Pacific, injecting drug use, heterosexual transmission, and men who have sex with men are the major modes. Unsafe blood is also a factor in some areas. Across the region, Cambodia has the highest adult prevalence rate, 4.04%. (The most recent UNAIDS country-level data are from the end of 1999.) Although India?s adult prevalence rate is only 0.7%, an estimated 3.7 million Indians were living with HIV/AIDS at the end of 1999, more than in any other country in the world except South Africa. (Note, however, that these data have been the subject of much dispute.) Moreover, whereas some states of India show almost no HIV infection, others have reached adult prevalence rates of 2% and above. In China HIV infection rates remained relatively low during 1999 (adult prevalence was 0.07%); however, the bulk of new infections is concentrated among drug injectors, and injecting drug use is on the rise.
Factors Fueling the Epidemic
Advertisement
In some countries, as just mentioned, injecting drug use is spreading. Pakistan has one of the world?s highest -- if not the highest -- heroin addiction rates (
New York Times
, April 19, 2000). Myanmar?s heroin industry is helping to spur AIDS epidemics in nearby countries such as China, India, and Vietnam (
Washington Post
, March 6, 2000). One drug route leads through western Myanmar into the northeast Indian state of Manipur, which has the highest HIV infection rate among injecting drug users in India; it rose from almost zero in 1988 to over 65% just four years later, and has remained at high levels since (UNAIDS, June 2000).
A similar situation exists along the route that spans Myanmar?s eastern border with China?s Yunnan province. According to the Chinese Ministry of Public Health, 80.4% of all HIV infections and 60% of all AIDS cases in the country are found in Yunnan. A third route, which runs from Myanmar to Laos through northern Vietnam, has spread the virus into China?s Guangxi province, which borders Yunnan and Vietnam. The province also has recently experienced increasing injecting drug use, followed by an increased incidence of HIV (Earth Times, August 3, 2000). A similar phenomenon is occurring in Malaysia, Nepal, and Indonesia, specifically in Jakarta.
In Myanmar itself, increasing injecting drug use is fueling HIV transmission. The junta government?s statistics estimate that there are 66,463 drug-addicted citizens in the country. However, the United Nations Drug Control Program, along with several nongovernmental organizations (NGOs), estimates that the number of addicts is between 400,000 and 500,000. Shan and Kachin states have particularly high rates of heroin use, given the young migrants who work in their jade and ruby mines. In 1994 the World Health Organization (WHO) and the National AIDS Program measured HIV prevalence among Myanmar?s addicts and found that it was the highest rate among addicts worldwide. The results showed that 91% of addicts were infected with HIV in the city of Myitkyina, capital of Kachin state on the Chinese border, as were 84% of addicts in Mandalay and 74% in Rangoon. Particularly hard-hit are ethnic minority areas, which often are the source of the drugs. According to UNAIDS, at least 440,000 people are HIV positive in Myanmar, giving it the second worst epidemic in the region, after Cambodia. This figure has been confirmed by the Southeast Asian Information Network and other NGOs, but the Burmese junta states that there are 21,503 confirmed HIV cases and 2,854 AIDS cases nationwide (Earth Times, August 3, 2000).
In many countries condom use is uncommon, including among clients of sex workers and men who have sex with men. HIV often is highly stigmatized, as in India, rendering prevention work extremely difficult. In China, as in other places, there is the potential for HIV to spread beyond the drug-injecting population. Massive population movements and increasing disparity in income have fueled the sex industry in China, which estimates that there may be as many as four million sex workers throughout the country. Condom use among sex workers and their clients is low. And the country has seen a dramatic rise in sexually transmitted infections (STIs) such as syphilis and gonorrhea, which are evidence of widespread sexual risk behavior.
Bangladesh is experiencing a similar pattern of low HIV prevalence accompanied by warning signals that rates could rise quickly (the adult prevalence rate is 0.02%). At least half of the country?s sex workers are infected with syphilis, clearly indicating low condom use and enhancing HIV transmission.
Papua New Guinea?s HIV epidemic is transmitted primarily through unprotected heterosexual intercourse. The current adult prevalence rate is 0.22% and rising rapidly.
Safe blood is also an issue in some countries. An April 2000 article in the British Medical Journal highlighted Southeast Asia?s safe blood crisis; although one-quarter of the world?s population lives in the region, it collects less than 10% of the global blood supply. In India, for example, up to 30% of the blood supply is from commercial sources, yet of this, some proportion remains untested.
Some countries, such as Thailand and the Philippines, have lowered or stabilized HIV rates. One study in the badly affected Thai province of Chiang Rai, for example, indicated a decline in HIV prevalence rates among pregnant women, with the decrease especially steep among younger women. However, Thailand?s national successes mask regional disparities, as well as the fact that HIV continues to spread rapidly through the sharing of drug-injecting equipment and through unprotected sex between men.
In the Philippines HIV infection appears to remain contained at low levels (the adult prevalence rate is 0.07%), with no significant growth even in groups at traditionally high risk of infection. This is partly because registered sex workers are screened every two weeks for other STIs and treated for any found. In addition, sex workers report relatively high levels of condom use.
Lisa Garbus, M.P.P., is the policy and international editor of HIV InSite (www.hivinsite.org).
Selected Sources
Centre for Harm Reduction. Revisiting ?The Hidden Epidemic?: A Situation Assessment of Drug Use in Asia in the Context of HIV/AIDS. Macfarlane Burnet Institute for Medical Research and Public Health. 2002.
Monitoring the AIDS Pandemic Network. The Status and Trends of HIV/AIDS/STI Epidemics in Asia and the Pacific. Provisional report. October 4, 2001.
UNAIDS. Some Background Facts on HIV/AIDS in Asia. March 6, 2000.
UNDP HIV and Development in Asia and the Pacific Project. From AIDS Epidemics to an AIDS Pandemic: Is an HIV/AIDS Hub Building in South East Asia? August 2000.
World Bank. Thailand?s Response to AIDS: Building on Success, Confronting the Future. October 2000.
World Health Organization. Beyond 2000 -- Responding to HIV/AIDS in the New Millennium. WHO Southeast Asia Regional Office. September 2001.

Back to the SFAF BETA Summer/Autumn 2002 contents page.