On December 3, 2003, Abbott Laboratories, the pharmaceutical company that makes lopinavir (Kaletra), announced that it was going to raise the price of its other anti-HIV drug, ritonavir (Norvir), from $2.14 to $10.72 per capsule in the U.S. -- an increase of 400%. (These prices reflect the Average Wholesale Price, or AWP, a national average of list prices charged by wholesalers to pharmacies.)
Originally approved and marketed as a protease inhibitor (PI) at a dose of 12 capsules per day, ritonavir is now primarily used at a much lower dose to help boost the blood levels of other PIs. At the new price, the cost of some ritonavir-boosted antiretroviral combinations has as much as doubled, while the price of Abbott's PI Kaletra, which contains a small boosting dose of ritonavir in its formulation, remains unchanged. Abbott claimed that the price increase was a necessary adjustment that "reflects the value that ritonavir brings to combination therapy." For many activists, clinicians, and government officials, however, the price hike was interpreted as a business move calculated to force a switch from other boosted PIs to Kaletra.
Within a week of the announcement, members of the AIDS Treatment Activists Coalition (ATAC) confronted Abbott representatives attending the North American Treatment Action Forum (NATAF) conference in Phoenix. ATAC members distributed flyers that depicted Abbott as a vulture "feeding on the bones of the health-care system," and argued that the ritonavir price hike threatened treatment options for people with HIV, especially people with multidrug-resistant virus that are particularly dependent on ritonavir-boosted salvage regimens. They also worried that drug companies developing new salvage drugs might reconsider their financial commitment if a dependency on ritonavir threatened to price them out of the market.
Effect of Ritonavir (Norvir) Price Hike on The Annual Cost of Boosted Protease Inhibitor-Based Regimens
Advertisement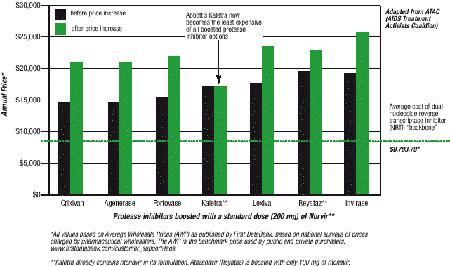 (Click the image to enlarge.)

Furthermore, the activists feared that such a shocking price jump could give the green light for other pharmaceutical companies to raise prices, putting a fatal strain on the budgets of cash-strapped state AIDS Drug Assistance Programs (ADAPs) that cover anti-HIV drug costs for underinsured people who cannot afford their medications (see "ADAP in Peril" in this issue).
As word of Abbott's stunning move spread, reaction started to come from unlikely sources. Graeme Moyle, M.D., of Chelsea and Westminster Hospital in London, an area not even affected by the price change, called for a boycott of Abbott products. In the U.S., the two professional organizations for HIV specialists, the American Academy of HIV Medicine (AAHIVM) and the HIV Medicine Association (HIVMA), each issued strong letters of criticism calling on Abbott to rescind the price increase, citing the expected burden for ADAPs that were already instituting waiting lists and tightening eligibility restrictions.
In response, Abbott pledged to permanently freeze the price of ritonavir for ADAPs and other government programs at the old price. The company has also set up a liberal patient assistance program (PAP), which it said will guarantee that any uninsured person who needs ritonavir will be able to obtain the drug for free. Abbott has also offered to supply ritonavir at the old price to research programs approved before the price hike, and has said it will attempt to arrange special terms for developers of new salvage drugs that will depend on ritonavir boosting. All of this, the company said, would ensure that the price increase is invisible to individuals who need the drug. Yet as the new price went into effect during the first week of 2004, anger at Abbott continued to grow.
In late January over 175 prominent HIV physicians signed a letter calling for a boycott not only of Abbott products, but also of its sales representatives, marketing events, and research programs. The letter termed Abbott's act "outrageous behavior, extremely disappointing from a company that was at the vanguard during the early stages of the HAART era."
In early February the 11th Conference on Retroviruses and Opportunistic Infections, the most important annual scientific meeting on HIV, was held in San Francisco. Although not usually an occasion for social or political expression, this year's conference was remarkable for the manifestations of anger and protest over the ritonavir issue. Even more remarkable was that the most visible protest leaders were HIV clinicians, who, as a group, rarely engage in AIDS activism. During an afternoon break on the second day of the conference, about 30 physicians representing the newly formed Organization of HIV Healthcare Providers gathered in front of the Moscone West Center and marched two blocks to a press conference held at the San Francisco AIDS Foundation offices. There, William Powderly, M.D., of St. Louis; Benjamin Young, M.D., of Denver; and Edwin DeJesus, M.D., of Miami explained the necessity of resisting the ritonavir price hike. Addressing the cameras of CNN and San Francisco news outlets in the packed meeting room, the physicians pledged to boycott Abbott's sales representatives, resign from Abbott advisory boards, and refuse to participate in nonessential Abbott research.
The Abbott backlash was gaining momentum. In late January the Consumer Project on Technology, a Washington, DC, consumer organization, formally requested that Tommy Thompson, the director of the Department of Health and Human Services (DHHS), invoke a little-known law that would allow the government to terminate Abbott's patent monopoly on ritonavir and allow generic drug makers to produce the medication for sale within the U.S. at affordable prices. The law, a hitherto unexercised 1986 provision of the 1980 Bayh-Dole Act that liberalized access to generic medications in the U.S., gives the government the right to "march-in" on the patent of a drug that has been developed in part with taxpayer money when the patent holder refuses to make the drug available on reasonable terms. Early research on ritonavir was funded by a government grant. The patent itself notes, "This invention was made with Government support under contract number Al27220 awarded by the National Institute of Allergy and Infectious Diseases. The Government has certain rights in this invention." And a not-for-profit organization called Essential Inventions has asked DHHS for a license to produce generic ritonavir. The DHHS heard testimony from HIV community advocates, legislators, and Abbott representatives at a May 25 hearing on those rights and the merits of the march-in demand. National Institutes of Health (NIH) director Elias Zerhouni, M.D., will make the final decision on the request to circumvent Abbott's patent.
Lawsuits and complaints against Abbott have snowballed since the Retrovirus conference. A San Francisco law firm filed a class-action lawsuit in the U.S. District Court for Northern California on behalf of two anonymous ritonavir consumers who say they have been financially injured by the new price. In Southern California, the AIDS Healthcare Foundation (AHF) filed two lawsuits, one accusing Abbott of unfairly using its monopoly on ritonavir and another claiming false advertising. A Boston-based public interest organization, the Prescription Access Litigation Project (PAL), filed a class-action lawsuit in Illinois charging Abbott with illegal and unjustifiable practices. The attorneys general of Illinois and New York have said they are looking into possible restraint of trade violations by Abbott. Complaints have also been lodged with the Federal Trade Commission (FTC) charging anticompetitive behavior, and with the Food and Drug Administration (FDA) concerning misleading cost-comparison materials that Abbott produced to defend its action; on June 10 the FDA sent Abbott a warning that these materials were indeed "false and misleading." A front-page article in the New York Times on April 15 brought the protest over ritonavir to a wider audience. On April 21 a group of physicians and clinical researchers from the HIV Outpatient Study (HOPS), an important national research collaborative group, announced, "It is unconscionable that the dramatic and unjustified increase in ritonavir pricing go unchallenged by the HIV care-giving community." On May 19 a bipartisan group of U.S. senators, including Senate Commerce Committee Chair John McCain (R-AZ) and ranking Democratic committee member Ernest Hollings (D-SC), called on the FTC to investigate Abbott's actions.
Amidst this flurry of protest, dozens of activists from the HIV/AIDS and senior citizen communities of Chicago showed up at the gates of Abbott headquarters in Abbott Park, Illinois, on April 23 to ask that Abbott stock owners attending the annual shareholders meeting demand the company roll back the price of ritonavir. Inside the meeting Abbott officials defended the company's pricing policy and successfully defeated shareholder proposals to require more social accountability from the corporation.
Six months after Abbott blithely announced a 400% increase in the price of ritonavir, the issue shows no signs of going away. While few observers believe a ritonavir price rollback is likely, most agree that Abbott has become a lightening rod for frustration over ADAP waiting lists, Medicaid drug restrictions, and soaring insurance rates, all of which have been traced to the ever-increasing cost of pharmaceuticals. Meanwhile, an across-the-board 4.9% jump in the prices of all GlaxoSmithKline drugs announced in January has gone all but unnoticed by the wider HIV community. As prices rise and cutbacks continue, there will be ample opportunity for the new alliances and activism triggered by the ritonavir outrage to take on any number of emerging threats to quality HIV care that loom on the horizon.
Bob Huff is editor of GMHC Treatment Issues, published by Gay Men's Health Crisis in New York City.

Back to the SFAF BETA Summer 2004 contents page.