Introduction
After many years of effort by health advocates, Congress passed the Medicare Prescription Drug, Improvement, and Modernization Act of 2003 (called the MMA) in December 2003. The law updates the benefits provided to Medicare beneficiaries by adding coverage for prescription drugs beginning January 1, 2006. Prescription drugs play a central role in modern health care, and extending drug coverage to Medicare beneficiaries is an important goal. The way in which Congress tackled this problem, however, has been highly contentious. This article will describe the law as it was passed, the issues that remain to be resolved, and what it all means for people with HIV/AIDS.
Medicare Facts
A federal program that provides health-care coverage to retired workers and workers under age 65 who become disabled, as well as their spouses, and in some cases, dependents

Advertisement

Covers 41 million people, including 5.4 million non-elderly people with disabilities
Covers an estimated 6.4 million dual eligibles (low-income people who receive both Medicare and Medicaid); California is home to one-sixth of the dual eligible population
The second-largest source of health-care coverage for people living with HIV/AIDS in the U.S., after Medicaid
Serves 85,000 people with AIDS, including 55,000 dual eligibles (estimated figures); (eligibility for Medicare based on disability requires individuals to be severely disabled -- in the case of HIV, this means an AIDS diagnosis)
Annual cost: $327 billion
Estimated annual cost to Medicare for HIV/AIDS care: $2.9 billion
Better Than Nothing?
The absence of prescription drug coverage has made Medicare particularly deficient for people with HIV/AIDS. Therefore, the HIV community, including the San Francisco AIDS Foundation, was actively engaged in efforts to enact a Medicare prescription drug law in 2003. By the time the law was ready for passage in Congress, the HIV community joined a broad range of consumer advocacy organizations and others in opposing enactment of the MMA, believing that having no law would be better than the law that was actually passed. Groups reluctantly came to this conclusion for many reasons.
First, the MMA has the potential to leave dual eligibles -- low-income people who receive both Medicare and Medicaid, who generally are sicker and poorer than other Medicare beneficiaries -- with less comprehensive prescription drug coverage than they currently enjoy. Dual eligibles currently receive comprehensive prescription drug coverage through Medicaid (known as Medi-Cal in California), the government health insurance program for low-income children and families, seniors, and people with disabilities. In addition, many critical Medicaid consumer protections will not apply to Medicare drug coverage. This is of particular concern because dual eligibles will lose Medicaid drug coverage on December 31 of this year and be required to enroll in the Medicare prescription drug program for their drug coverage. Most dual eligibles will continue to receive coverage for some other health needs through Medicaid, and all Medicaid beneficiaries who are not covered by Medicare will continue to receive their prescription drug coverage through Medicaid. (Medicaid programs are run by the states, and the federal government gives states funding for at least half of the total costs.)
Second, although savings that result from providing dual eligibles with weaker coverage were used to partially finance drug coverage for all Medicare beneficiaries, significant gaps remain in this new coverage. For example, many people feel that the cost-sharing obligations associated with the standard benefit in the new law are unreasonable and unmanageable for people with chronic illness.
Medicare prescription drug coverage will be provided through new private insurance policies that cover only prescription drugs or through private managed health-care plans that provide prescription drug coverage. Critics have argued that the private market approach to drug coverage will raise administrative costs and waste public resources that could have been used to finance more comprehensive benefits.
In addition, those plans that provide only prescription drugs and not full managed health care (stand-alone prescription drug plans) do not have a financial incentive for ensuring that people receive the drugs they need. In the private insurance market or under Medicaid, insurers know that if they are overly restrictive in providing access to prescription drugs, people will get sicker and may end up in the hospital, costing the insurers more money. Under the MMA, if people end up in the hospital or need to visit the doctor more frequently because they cannot get the drugs they need, Medicare -- and not the stand-alone prescription drug plans -- will pay for the increased costs. On the other hand, the managed care plans that provide both health care and prescriptions drugs (Medicare Advantage health plans) are significantly overpaid for their services to encourage participation. Critics of this incentive have pointed out that this excess payment could be used to finance more comprehensive benefits as well.
Despite such opposition, Congress passed the MMA, and Medicare drug coverage will start on January 1, 2006. The HIV community needs to move past debates over whether Congress did the right thing in passing the law and, collectively, ensure that the MMA provides comprehensive, high-quality prescription drug coverage for all Medicare beneficiaries with HIV/AIDS.
Key Features of Medicare Drug Coverage
Important features of the new Medicare drug coverage program (also known as Medicare Part D) include:
Choice of Plans
The MMA does not provide a Medicare drug benefit directly. Rather, it creates a right for Medicare beneficiaries to purchase prescription drug coverage from a Medicare prescription drug plan. At a minimum, every Medicare beneficiary should have a choice of at least two plans. The law created special provisions if two plans are not available, but it does not appear that this will be a problem anywhere in the country. Indeed, early indications are that Medicare beneficiaries will have many choices of plans (possibly ten or more). Individuals can enroll in stand-alone prescription drug plans or in Medicare Part C managed care plans (now called Medicare Advantage health plans) that will also provide them with prescription drug coverage.
Covered Drugs
People who participate in the Medicare prescription drug program will receive coverage for prescription drugs and biological products such as insulin and related test supplies. Some drugs are excluded from coverage under the Medicare drug benefit. These include medications already covered under Medicare Parts A and B (which provide for coverage of hospital and physician services) and drugs that are designated as "excludable" by state Medicaid programs.
Medicare Parts A and B pay for some narrow categories of prescription drugs, such as those that must be administered in a physician's office. These medications cannot be covered by Medicare prescription drug plans, but Medicare Parts A and B will continue to cover them.
Certain drugs are considered "excludable" because federal rules permit state Medicaid programs to decide whether to cover them. This category includes drugs that are prescribed for certain purposes (such as cosmetic purposes and weight loss or gain), over-the-counter drugs, and two specific classes of mental health drugs: benzodiazepines and barbiturates. It is important to note that drugs prescribed to treat AIDS wasting are not excludable even though the same drugs could be prescribed in other cases for weight gain. Also, although considered excludable, products to help people quit smoking may be covered by Medicare drug plans. State Medicaid programs will retain the option to cover excludable drugs for dual eligibles. They will also continue to receive federal money to match their spending on these drugs.
Beneficiary Cost
The cost of drug coverage has several components. First, individuals will be required to pay a monthly
premium
(fee paid to an insurance company to obtain drug coverage). Plans are permitted to set their own premiums. It is not yet known how much the premiums will cost and how much they will vary from plan to plan. The Congressional Budget Office has estimated that the average premium in 2006 will cost $37 per month. Plans that participate in the Medicare prescription drug program must offer what is called standard coverage. They are also permitted, however, to offer different levels of coverage for higher premiums.
New Medicare beneficiaries must enroll in a Medicare prescription drug plan as soon as they become eligible, and current Medicare beneficiaries must enroll no later than May 2006, otherwise they will pay a premium penalty -- for the rest of their lives. This premium penalty is likely to be 1% for every month that an individual delays enrollment in the drug coverage program. So, for example, people who wait one year after becoming eligible for Medicare to enroll in a prescription drug plan will be charged a premium that is 12% higher than for those who enrolled on time; people who wait five years will be charged 60% more than if they had enrolled in prescription drug coverage when they became eligible for Medicare.
The next component of the cost to beneficiaries is the deductible. This is the amount individuals must spend on prescription drugs each year before their drug plan starts providing coverage. Congress set the deductible at $250 per year for 2006. This amount will increase every year based on how much per-person Medicare drug spending grows from year to year.
Then there is cost-sharing (also known as copayments), whereby beneficiaries must also pay a certain share of the cost of their drugs. This can vary depending on an individual's level of drug spending in a year. Total drug spending from the $250 deductible to $2,250 in one year is called the initial coverage period. In the initial coverage period, individuals must generally pay 25% of the cost of their medicines. So, an individual with a $100 prescription would pay $25 at the pharmacy. For a $1,000 prescription, the person would pay $250. Prescription drug plans can charge more for certain drugs. For example, if they want individuals to use generic rather than brand-name drugs, or a preferred drug within a specific class, they can charge a lower cost-sharing fee for the preferred agent. They can also charge higher cost-sharing fees for non-preferred drugs. On average, however, plans must charge beneficiaries 25% of the cost of drugs in the initial coverage period.
Annual drug spending from $2,250 to $5,100 is called the coverage gap. In this period, prescription drug plans provide no coverage, and individuals must pay 100% of their drug costs. So, an individual with a pharmacy bill of $100 or $1,000 who has reached the coverage gap must pay the full bill until reaching the next level of coverage. This gap has been called the "doughnut hole" in the popular press (see the figure below).
Summary of Out-of-Pocket Drug Spending in 2006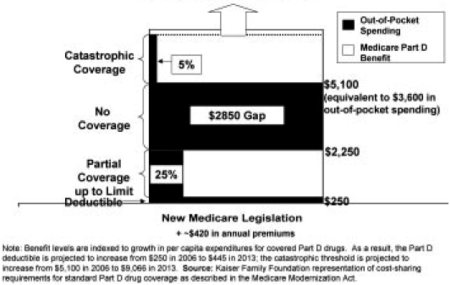 Click to enlarge

For drug spending above $5,100 in a year, individuals will have what is called catastrophic coverage. At this level, beneficiaries pay only 5% of their drug costs. So, someone with a $100 pharmacy bill would pay $5; an individual with a $1,000 pharmacy bill would pay $50. There is no limit on the amount of drug coverage available to each person -- beneficiaries cannot "use up" their coverage because they have extensive needs for prescription medications. As with the deductible, the spending levels for the initial coverage period, the coverage gap, and catastrophic coverage will be adjusted annually as the cost of Medicare drug coverage increases.
Protections for Low-Income Beneficiaries
Recognizing that the MMA's cost-sharing structure for most Medicare beneficiaries is not affordable to low-income individuals, lawmakers created an extensive
low-income subsidy (LIS)
program for people with incomes below 150% of the federal poverty level ($14,355 for a single individual and $19,245 for couples in 2005) and with limited resources (such as money in the bank or property, with exceptions for a person's primary residence and primary vehicle). As federal officials begin to educate the public about the availability of the Medicare drug program, this subsidy is being called "
extra help
." If someone receives a letter from the Social Security Administration -- or reads in the press -- about extra help, it refers to this assistance program for low-income Medicare beneficiaries. Anyone who might qualify should apply for this extra help to ensure that everyone who is eligible benefits from this important resource.
The level of extra assistance varies depending on income. For dual eligibles, there is no premium -- as long as the plan in which they enroll is considered "cost average" (has a premium that is no more expensive than the average premium for all plans participating in the Medicare prescription drug program). For example, if the average monthly premium is $37 in 2005, and an individual selects a plan with a premium of $47 per month, the person must pay the difference of $10 a month. Dual eligibles also have no deductible, meaning that their coverage begins right away (they do not have to first spend $250 out of pocket). Depending on income, dual eligibles will pay cost-sharing of $1 or $2 per prescription for preferred drugs and $3 or $5 per prescription for non-preferred drugs. In addition, dual eligibles have no coverage gap -- that is, there is no point when they are responsible for 100% of their drug costs. Finally, dual eligibles who reach $5,100 of drug expenses in one year have no further cost-sharing requirements. Dual eligibles living in nursing homes or other institutions pay no cost-sharing.
People who are not dually eligible may apply to receive extra help. Unlike dual eligibles, who are deemed qualified for extra help in most cases, Medicare-only beneficiaries must apply and be qualified. The non-dual eligibles who qualify for LIS will receive different levels of assistance based on their income and assets. There is no coverage gap or "doughnut hole" for anyone who qualifies for LIS (see the chart below).
Subsidies for Low-Income Beneficiaries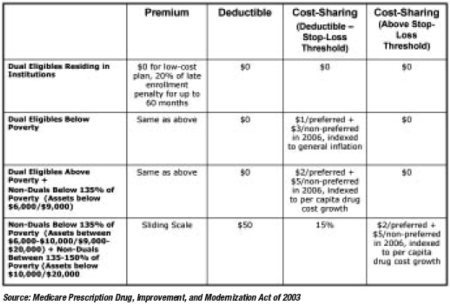 Click to enlarge
Important Policy Issues
Since Congress enacted the MMA, a number of policy decisions remain to be made that will determine whether Medicare prescription drug coverage is responsive to the needs of people living with HIV/AIDS. Key policy issues that have direct implications for Medicare beneficiaries with HIV/AIDS include:
Formulary Policies and Coverage of Necessary Drugs
The MMA included certain requirements that influence the development of plan formularies (lists of drugs that a plan will cover). The law requires plans that decide to operate a formulary (instead of simply covering all FDA-approved prescription drugs) to cover at least two medications in each class of drugs. Plans that operate formularies must also set up a pharmacy and therapeutics (P&T) committee, consisting mostly of physicians and pharmacists, to determine which drugs are included in the formulary. At least one physician and one pharmacist on the P&T committee must be independent from the plan, and must have expertise in either the care of elderly individuals or people with disabilities.
The law also authorized the Centers for Medicare and Medicaid Services (CMS, the federal agency that administers Medicare and Medicaid) to review plan formularies and features of their benefit structure to ensure that they do not discriminate against any groups of Medicare beneficiaries. Federal officials have instructed plan administrators that they must cover the majority of drugs in six classes, including antiretrovirals. In fact, in the initial rollout of the MMA, CMS has publicly stated that they will not approve a plan formulary unless it provides coverage for every currently available antiretroviral. Plans can still limit access to certain medications by requiring medical justification before providing a drug (through a process called prior authorization); nonetheless, it is a significant protection that all antiretrovirals will be covered by all plans.
Since people living with HIV/AIDS depend on a range of drugs, not just antiretrovirals, and because the general standard is that plans must cover only two drugs per class, it will be especially important for HIV positive Medicare beneficiaries to determine whether plans cover their non-HIV drugs before they enroll (unless it is medically appropriate for them to switch to one of the drugs covered by the plan). Federal officials are requiring prescription drug plans to develop a transition plan for new enrollees who are currently on a treatment regimen. CMS has suggested that plans consider covering current drugs for at least 30 days, but this is not required. Therefore, individuals should review the transition plans of individual prescription drug plans to determine whether they may be required to switch drugs or if they can continue on their present course of therapy.
It will be necessary to monitor plans to ensure that when new (and frequently costly) antiretrovirals are approved by the FDA, plans provide coverage for these drugs. Plans have been given 90 days to make coverage decisions and 180 days to include new drugs in their formularies. That wait may be too long for some people with HIV/AIDS. It will also be important to ensure that drugs prescribed for off-label purposes are covered. It has become common practice for physicians to prescribe drugs for uses other than the approved on-label use (for example, pediatric use of drugs approved only for adults); off-label prescribing has been particularly important in the treatment of HIV. CMS has not required plans to cover drugs for off-label use, but has said that it will review the request process to ensure that it is not "burdensome."
Lastly, prior authorization and other techniques are commonly used to ensure that high-cost drugs are not provided when less costly alternatives work just as well. These strategies can also be used to improve patient care. For example, plan monitoring could ensure that prescribed antiretroviral combinations are consistent with current clinical practice standards. Nonetheless, the HIV community will need to keep track of how plans use prior authorization and other techniques to ensure that they do not inappropriately restrict access to needed medications.
Key Dates in the Implementation of Medicare Prescription Drug Coverage (Medicare Part D)
July 2005
Applications start being accepted for "extra help" -- the low-income subsidy (LIS) program
September 2005
Centers for Medicare and Medicaid Services (CMS) announces which plans will be permitted to offer prescription drug coverage
September 2005
CMS begins to randomly assign dual eligibles to prescription drug plans (individuals selecting a plan on their own before January 1 will have their choice honored)
November 15, 2005 - May 15 , 2006
Initial enrollment period -- all current Medicare beneficiaries must enroll in a Medicare prescription drug plan during this period to avoid a late enrollment premium penalty
December 31, 2005
Medicaid drug coverage ends for dual eligibles
January 1, 2006
Medicare prescription drug coverage begins
Affordability
Some Medicare beneficiaries with HIV/AIDS could be better off than before because the MMA gives them prescription drug coverage for the first time. Drug coverage is only meaningful, however, if individuals are able to afford all components of the cost, including premiums, the deductible, and cost-sharing. Several aspects of the MMA may make it unaffordable for some people. Total out-of-pocket spending is beyond the means of many individuals. HIV positive Medicare beneficiaries who have incomes of 160% of the poverty level (i.e., monthly income below $1,300), for example, qualify for no cost-sharing assistance. Such individuals would have to pay a monthly premium, their first $250 in drug costs (the deductible), and (in the initial coverage period) they still could easily have cost-sharing expenses of $200-$300 per month. They would also be hard-pressed to pay for medications during the coverage gap, when they could be expected to pay $1,000 or more per month in drug costs. Such costs are clearly a huge burden for people at this income level.

While the low-income subsidies are fairly comprehensive, some individuals who qualify for this extra help may still find Medicare prescription drug coverage unaffordable. For low-income people, who may have incomes near or below the poverty level, even a few dollars per prescription could be a significant barrier to maintaining access to all the drugs included in an effective treatment regimen. This challenge is greatly magnified for individuals who need large numbers of drugs. Dual eligibles who currently have Medicaid coverage will also lose an important consumer protection. Under Medicaid, pharmacists must give beneficiaries their drugs even if they cannot afford to pay the cost-sharing portion. No similar protection exists under Medicare. Again, close monitoring will be necessary to ensure that these coverage gaps are eliminated or that new ways are found to assist low-income individuals.



Adequate Information to Make Enrollment Decisions
An important concept behind the structure of the MMA is that if Medicare beneficiaries are given choices among competing plans, the marketplace will weed out bad plans. While research has suggested that this model may not be appropriate for the Medicare population, it is clear that in order for it to work, individuals must have access to appropriate information to make informed enrollment choices. Many Medicare beneficiaries, including people with HIV/AIDS, may need additional support -- and in some cases, one-on-one assistance -- in making plan choices. During the policy development process, federal officials responded to consumer input by ensuring that plans must give Medicare beneficiaries more information when deciding on plans -- if individuals know enough to ask for this information. However, it is important to note that in general, plan information will be available only online at www.medicare.gov or by calling 1-800-Medicare.

As an interim step before Medicare drug coverage could be implemented, the MMA established the Medicare drug discount card program (in effect during part of 2004 and all of 2005). Experience with this program has shown that many people were overwhelmed by the number of choices available to them, and that they did not know how to evaluate information to make an appropriate plan decision. Indeed, enrollment in the discount card program has been far lower than anticipated. Selecting a Medicare prescription drug plan is more complicated than enrolling in a discount card program. There is widespread concern that individuals will not know what to do, or where to turn for help. Therefore, the HIV community will need to use its resources to educate and assist individuals in making appropriate plan choices and navigating the new Medicare prescription drug program.



Workable Appeals Process
Problems will result when individuals believe that they cannot obtain the services they need through any insurance program. Therefore, an important measure in evaluating the Medicare prescription drug program (or any similar program) is whether it includes a workable process for resolving complaints and appeals of coverage denials. The MMA extended many of the rules for grievances and appeals that were already in place for the Medicare Advantage program (the Medicare managed care program). This raised a serious issue in that those rules only would have required a resolution of a complaint within 30 days. While consumer advocates remain troubled by many of the final rules for the Medicare prescription drug grievance and appeal process, federal officials significantly improved this aspect of the program by setting a general standard that a dispute over coverage of a drug must be resolved within three days, and in emergencies, within one day. Also, in all cases, plans must resolve decisions as quickly as the enrollee's health requires, even if it is more quickly than these general time standards.

A potential innovation in the appeals process for Medicare prescription drug plans is the creation of an exceptions process. Under the exceptions process, an individual can request that a plan cover a drug at the lowest level of cost-sharing, even if the plan normally charges a higher level of cost-sharing for that drug. This process also allows individuals to obtain coverage for drugs that a plan has kept off its formulary. The exceptions process is intended to be easier than a formal appeal, which would be sought only if an individual were denied an exception. An exception requires an individual's treating physician to state that the requested treatment is needed by the patient and that less costly alternatives have not worked or are unsafe or inappropriate for that person. It will be important to monitor whether this proves to be an easy and understandable process, or whether it becomes one more barrier to keep people from getting the drugs that they need.



Getting Ready for January 1
As the start of Medicare drug coverage on January 1, 2006, approaches, the HIV community and HIV positive Medicare beneficiaries have work to do to get ready. To make the most of this new drug coverage program, high priority actions include:



Ensure That All Medicare Beneficiaries With HIV/AIDS Enroll in a Plan
Individuals who qualify for both Medicaid and Medicare (dual eligibles) will be automatically assigned to a plan in October 2005, although they may opt to change plans. If they do not choose to change their plan, they will be automatically enrolled in that plan by January 1, 2006. While some people may believe that this selection process will take into account their individual needs, the law requires that these assignments be random. And if all plans are not the same, then some will meet the needs of people with HIV/AIDS better than others. In addition, most dual eligibles will be automatically assigned to "cost average" plans, which may be less likely to meet all their needs than more expensive plans.

Moreover, some people have responded to the shortcomings of the Medicare prescription drug law by wondering whether non-dual eligibles with HIV/AIDS should enroll in this program at all. Except for people who may have benefits that count as an alternative to this coverage (such as qualified employee or retiree coverage that is equally comprehensive), it is in the best interest of every Medicare beneficiary with HIV/AIDS to enroll in a Medicare prescription drug coverage plan, if only to avoid the financial penalty associated with delayed enrollment. If there are gaps in coverage, AIDS Drug Assistance Programs (ADAPs) or Medicaid may supplement Medicare coverage, depending on the state, but they cannot simply replace the benefit. In fact, the law specifically denies Medicaid programs federal funds for filling in coverage gaps, although states may decide to do so with state-only funds. Similarly, there are strong financial incentives that will limit the willingness of many ADAPs to supplement Medicare drug coverage, because spending by ADAPs does not count toward the out-of-pocket spending that moves an individual out of the coverage gap and into the catastrophic level of coverage. While state pharmacy assistance programs have a special exception that allows their spending to count toward out-of-pocket spending that qualifies individuals for catastrophic coverage, federal officials crafted the rules to prevent ADAPs from qualifying for this exception, even if they use state general fund dollars.

Therefore, an important activity for the HIV community is to educate people about their drug coverage plan options and to provide assistance to ensure not only that HIV positive people get into the Medicare prescription drug program, but also that they select plans that meet their needs. HIV advocates can help by comparing different plans on the basis of how each one handles individuals who need to continue existing treatment regimens, whether the plan's network includes a person's preferred pharmacy, and coverage of common anti-HIV drugs and drugs for opportunistic illness (OI) treatment and prophylaxis, as well as treatment for any coexisting diseases.



Ensure That All Eligible Individuals Enroll in the Low-Income Subsidy Program
Given the high cost of anti-HIV therapies and the extensive treatment regimens many HIV positive people require, it is easy to understand the importance of taking advantage of all assistance that is available. The "extra help" offered to Medicare beneficiaries below 150% of the poverty level is quite significant. Therefore, it is important to ensure that every eligible person with HIV/AIDS is signed up to receive this extra assistance. Individuals can inquire about extra help by contacting their local Social Security or Medicaid office. While Social Security is set up to handle most applications for extra help, individuals with HIV/AIDS may want to apply through a Medicaid office so that they can also be screened for Medicare Savings Programs. (Alternatively, individuals should contact a Medicaid office and ask about these programs.)

Medicare Savings Programs do not assist with prescription drug coverage, but pay Medicare Part B premiums and, depending on one's income, also pay Medicare cost-sharing for expenses other than drugs (such as hospital stays). These programs are available to Medicare beneficiaries with incomes up to 135% of the poverty level who do not qualify for full Medicaid coverage. The savings programs are not well known in the HIV community because, without drug coverage, they were of little assistance to people with HIV/AIDS. Therefore, if individuals had too much income to qualify for Medicaid in states with programs for the medically needy, HIV benefits counselors and case managers would assist people in spending down (called a share of cost in California) to qualify for Medicaid coverage. While spending down will still be necessary for some people who rely on Medicaid for more than prescription drugs and cost-sharing (such as people who use long-term services or who need vision services or extensive physical or occupational therapy), some people with HIV/AIDS will find that Medicare Savings Programs can provide critical assistance without requiring that they spend down to qualify for Medicaid coverage.



Work to Establish a Transition Period
The odds of enacting legislation usually work against passage. Moreover, given the continuing controversy over the cost of the Medicare prescription drug law and the ongoing debate over whether the Secretary of Health and Human Services should be permitted to negotiate drug prices, many members of Congress are strongly opposed to enacting changes to the Medicare prescription drug law before it is implemented.

There is one issue, however, that is so important it cannot wait. The HIV community, along with a broad range of consumer advocacy groups, is deeply concerned about the impact of the transition from Medicaid to Medicare drug coverage for dual eligibles. Ideally, this change will be seamless for the vast majority of this population. It is implausible, however, that Medicaid prescription drug coverage for 6.4 million dual eligibles (the sickest and poorest group of Medicare beneficiaries) will end on December 31, and Medicare drug coverage will start on January 1, without serious problems arising. Some people may fall through the cracks and go to their pharmacies in 2006, only to be told that they do not have Medicaid or Medicare coverage. This has been called a "train wreck" scenario -- and the HIV community must marshal its resources to prevent such a crash. Various proposals have been floated, including simply extending Medicaid coverage for six months as a backup, to ensure payment for critical drugs if Medicare coverage cannot be verified or if a Medicare plan denies coverage for an existing treatment regimen. The HIV community must advocate for a one-time fix to ensure that dual eligibles are protected during the transition from Medicaid to Medicare prescription drug coverage.



Conclusion
If the HIV community or the Medicare consumer community had the same level of political clout as health insurers and other corporate interests, the Medicare prescription drug law would look very different. Nevertheless, advocates are not without influence -- or important allies in Congress. Indeed, some of the most significant improvements to the law were made just before it passed, including critical additions to the "extra help" LIS program.

The Medicare prescription drug law represents an opportunity. While advocates can anticipate potential problems, they also need to acknowledge that problems will likely be rare and successes common. Given the clear signal from federal officials that all antiretroviral medications must be covered, it is reasonable to approach January 1 with the mindset that most Medicare beneficiaries with HIV/AIDS will get their prescriptions filled. To promote this positive outcome, the HIV community has a role to play in educating, assisting, monitoring, and advocating on behalf of Medicare beneficiaries with HIV/AIDS.

Jeffrey S. Crowley, MPH, is project director of the Health Policy Institute at Georgetown University.

Thanks to Anne Donnelly for her help in preparing this article.



Resources
Government Agencies
Research and Advocacy Groups