According to the most recent thinking on the history of time, the Winter 2001 issue of
BETA
is the first issue of the true new millennium.
BETA
, like the HIV epidemic, spans two millennia-startling but not quite shocking observations. Whatever the case may be, the very name "
BETA
" is an anachronism, hearkening back to the clinic of the early days of the epidemic. When the first issue of
BETA
appeared fourteen years ago, any conceivable treatment for HIV infection was experimental, so the
Bulletin of Experimental Treatments for AIDS
was an entirely relevant, non-ironic name.
Published in June 1988, the first issue of
BETA
consisted of a single,
six-page article
entitled and concerning "AZT." At that time AZT had received limited approval for use in people with AIDS and severe ARC, or AIDS-related complex, a diagnosis no longer in popular use that involved clinical manifestations of immune impairment. Even so, AZT was considered experimental for people with known HIV infection but no symptoms, and optimal doses and long-term effects and efficacy for anyone were completely unknown. Paul Volberding, MD, an authority in HIV medicine, was quoted as saying, "Clear guidelines [about prescribing AZT for HIV infection] are needed but none is possible, given our lack of controlled experience with the drug."
Well, times and things have changed -- at least, some things have changed. There have been unequivocal scientific advances in both the understanding and treatment of HIV. Yet despite remarkable behavioral changes consciously implemented since the identification of HIV, social behavior as a factor in the spread of the epidemic poses ongoing challenges. In this issue, we consider some of the changes that have occurred since those earlier, pre-HAART days, before lifespans began increasing and death rates declining.
Impelled by recent and alarming data suggesting that AIDS incidence (new cases) is beginning to rise again among gay and bisexual men, a lead feature explores some of the complexities behind these observations. "The Persistent Epidemic" is a comprehensive report on current as well as historical trends among men who have sex with men, referred to as MSM in the scientific literature. Another feature, "Anal Neoplasia: A Growing Concern," discusses the need for MSM in particular as well as their doctors to be aware of the risks of undetected viral infection (with human papillomavirus, which causes warts) and consequent anal tissue irregularities and even cancer. Many women with HIV infection also are at increased risk for anogenital neoplasia.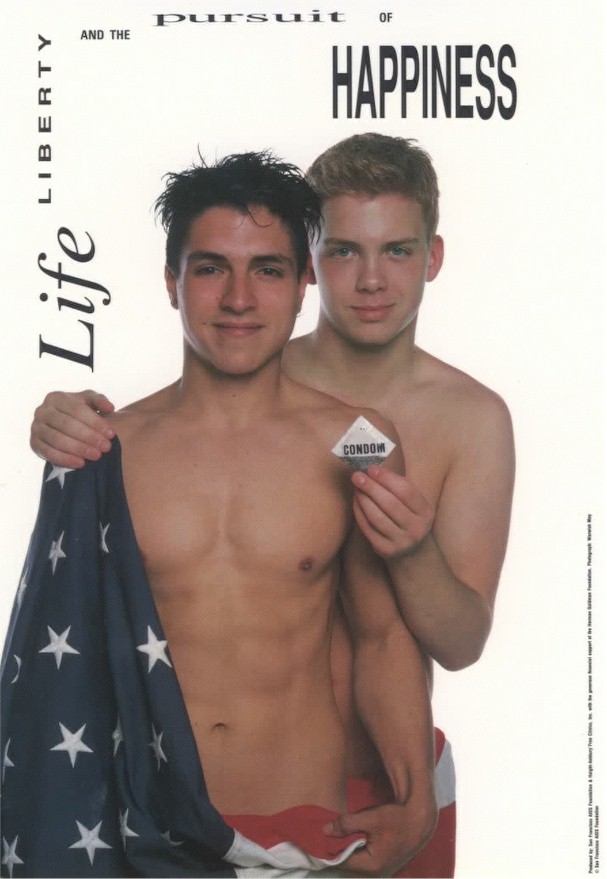 Finally, a word about the graphic. The "Life, Liberty, and Pursuit of Happiness" campaign, launched in 1990 by the San Francisco AIDS Foundation, tried to communicate a simple, potentially life-saving HIV and STD prevention message about condom usage to MSM. Given recent upward incidence trends, it is probably time to reexamine older prevention efforts to see what worked and what did not, and to intensify new efforts to reach all vulnerable groups. Hopefully, the spirit of that early campaign -- the idea that individual freedom and healthy behavior are compatible -- is one of the things that will prove enduring, rather than fleeting.
Advertisement
Back to the
SFAF BETA Winter 2001 contents page
.