Pasadena, May 1997, the 3rd National Conference on Women and HIV.
The four-day conference drew more than 2,000 scientists, infected women and health policy experts. I was among the 500 HIV infected women to attend the conference. I'm a member of the Women Alive Editorial team. I was looking for some useful information that I could share with my friends and write about in our newsletter. I had a lot of expectations and hope. And yes, I was very excited to be there.
I went to hear a lot of different speakers but I have to tell you guys that I was so lost! I mean, I didn't understand most of what the researchers were saying, (not much was in laymen's terms).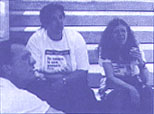 But, I understood that in the first 6 months of last year more women died of AIDS than the year before. I understood that the pills they give me have only been tested in men's bodies and that we need more of us to participate in clinical trials. Most of the trials are not about us, they are about men & others won't let us in, and still others make it impossible for us to participate.
Advertisement
Sharon
I understood that the researchers all have the same answer for everything we say, which is: "I hear your pain." My friend, Sharon, stood up at one session to ask a question, and the lady at the podium just talked over her and kept saying that we have to work together. But, my friend just wanted to know that when they say "individuals" in their presentations, are they talking about men, or about women?
See, because my friend is taking a lot of pills and she is having a hard time. She just wanted to know if other women were also having a hard time. Because it seems like the scientists don't really know how to treat this disease in women. And when the lady at the mike kept saying: "You have to cooperate with us." Sharon, said: "I am cooperating. Look, here I am, a woman with AIDS. Put me in a trial. Give me some medicine that I can take." Yeah, I understood all that. I understood that if they tried harder, they could get more women to be in their studies.
We held meetings in the PWA lounge and came up with demands and a plan of action. Infected women from all over the country and some from Africa were there. A diverse group of women from all different walks of life. We figured if the people who are supposed to be researching us and taking care of us didn't want to listen to us, then maybe the media would listen. And they did.
We Marched
We marched around the conference with our signs and then we marched right into that press room and took over the microphones. More than 150 HIV-infected activists interrupted a news conference to demand a national plan to address the unique problems of women, including African-Americans, Asian-Americans, Native Americans, Caucasians, and Latinas. "What is the government doing for me? Where is the plan and the funding to save our lives?" This was the main question we wanted the answered.
The women also brought to the forefront the sorry state of women's access to cutting edge treatments. It's easier to get AZT to prevent transmission to babies than to get HIV care and treatments for ourselves. Woman after woman spoke to the cameras. We had a lot to say.
Dr. Levine
Dr. Alexandra Levine, leader of USC's research team and director of the university's Norris Cancer Center was there at the press conference. She was quoted as saying: "...AIDS deaths among women with HIV in America are up 3% while down 15% among men." (According to figures at the federal Centers for Disease Control in Atlanta). "Women represent about 18% of the epidemic in the US and comprise only 12% of study participants in clinical trials. We must change the course of HIV/AIDS research, treatment and prevention efforts so that women's issues receive equal attention."
That's why we marched! We're mad that we don't receive equal attention. We're mad that we have to demand it, and we're mad that more of our infected sisters are going to die! We took our signs and marched through the exhibition hall where all the pharmaceutical companies were and even more women joined in the march.
We marched because, so what if they do come up with a cure? Who's "the cure" for? How do we know if it will work for women? We will just have to start all over again. Only because we forgot the other 20% of the AIDS cases!
We know the medicine is working for the guys, (and we know it's not working for all of them and we are sorry for that). But it's working for most because the death rate decreased for men.
Michelle
Michelle Lopez, fierce HIV positive lesbian AIDS activist, from Brooklyn said: "We are all very happy for our gay brothers. We are happy that they are not dying as fast as they used to and that they have access to treatment and care. We are truly happy that the new medications are working for them. But, we are pissed as hell that we, the women, are worse off, that our rates are up from last year and we're dying faster."
I say, we need researchers to study us. We need access to treatments, care, and clinical trials. And here's something else I don't understand: How can you researchers tell us what we need when you do all your studies on men? How do you think we feel when you (researchers, and you policy makers) want us to try something that has only been tested on men? What is going on in the world that has both men and women who are infected and all you want to test are men?
Maxine
It's just like my AIDS activist friend, Maxine Wolfe said: "...the researchers say there are too few women to be included in AIDS clinical research. Some research, such as dosing studies have very few participants. These studies are done with as few as 5 or 10 people. Women are almost totally absent from these studies, which assess how drugs are absorbed and cleared by the body which influences toxicity, dosing, safety and effectiveness."
Helloooo? Researchers!! Did you ever think that just maybe our bodies, the bodies of women, just might absorb and metabolize drugs differently than men's bodies?
Once again who is "the damn cure" for? Most of the time we can't even get the drugs that are out there. They don't even let us enroll in the clinical trials until the drugs are already approved! And if they came up with a cure tomorrow, even if we could get it, it might not even work for us!
Mary
Like Mary Lucey said: "If you were the richest woman in the world, and had access to the best health care plan, and David Ho was your doctor, you still wouldn't know how the AIDS drugs work in your body."
Do research to save women's lives! That is our message and that is why we spoke out during the sessions and at the press conference.
We need to keep marching until we get medications to save our lives! And until there really is a cure and it damn sure is for us and for all people with this damn virus. We have to be more demanding. We must take action.
Marlene
It's like what Marlene Diaz said: "Write a damn letter!" ... to your congress person. National policy really does affect our survival. It determines whether or not we have access to the AIDS medications that prolong life. It determines whether or not women are included in AIDS research, and that can determine whether we live or whether we die faster.
Marlene was one of the chairpersons for this conference. Along with Congresswoman Maxine Waters and newly appointed White House Director of AIDS Policy, Sandy Therman, Marlene was an opening keynote speaker. As an AIDS activist from New York and an infected woman, she said:
"Early on in the AIDS epidemic, the gay community (both men and women) started a movement to inform and educate each other and the public. They mobilized and became a very strong and effective political voice. Women MUST DO THE SAME. Some of those people now have the power and the ability to directly affect policy. We can and must do the same."
Michelle: "It seems to me that infected women are the best advocates, and the best source of information for researchers and policy makers when it comes to a national policy on AIDS that truly involves women. We understand what we need, what's working and what isn't. Policy makers should listen to us and allocate money to find answers to the questions that we ask.
Remember that big meeting in Washington DC in December of 1995? That day there were lots of women telling the president and telling Donna Shalala and telling Patsy Fleming that women have to be included in any and all research and protocols on AIDS. And president Clinton said he wanted scientists to find a vaccine and find a cure, and he said that he HEARD our issues about lack of access to treatment, lack of access to care and lack of access to clinical research. But what did they wind up doing for women? Nothing. They wound up caring only about our babies and not about us."
Hellooo? Is anybody out there? This is Justina again: There wouldn't be any babies if it weren't for us. Do you think that just maybe, you could do research to save women's lives?
Fight For Your Life
This is where the national policy and us women protesting, organizing, and marching comes in. We went to the White House and talked to those people. As always they said they would do things to help us and they didn't! If we want to change national policy, if we want equal access to treatments, if we want to be included in AIDS research and if we really want to fight for our lives then we have to take a more proactive, militant approach.
And all the women out there dealing with this disease; doesn't it make you mad that the rate of AIDS deaths in women increased over 6 months?
Editors Note: The latest figures continue to show a big gap in survival rates between men and women with AIDS. The recent statistics for the entire year of 1996 bring good news and bad news. Survival rates increased for men by 22% and increased for women by only 7% indicating a 15% difference in probability of survival.
And doesn't it make you mad that one of the reasons for this is because they don't study how the medications work in women? Like Dr. Levine said: "Leaders across all disciplines related to HIV/AIDS can work together to redouble our efforts to close the major gaps in HIV/AIDS research, treatment, prevention, and policy as they directly affect women."
Our Part

I know we have to do our part too. And I can tell you that it is not easy. These clinical trials are not even designed with us in mind. It takes a dedicated effort to participate in them, if you can get in. I say to my sisters; check it out. Ask your doctor if there are any studies going on in your area. Read about clinical trials. Try to find one that you think might help you live longer. Talk to the guys about it. Talk to each other about it. Call the Women Alive hot line (1.800.554.4873). Talk to a treatment advocate. Read the consent form real close. If you don't understand it call us or call your local AIDS organization and ask someone to explain it to you before you join. And if you want to get in and they won't let you, go to wherever they are and you march, and we'll march with you!
And hey, you researchers and you policy makers; you could make it a lot easier for us. Our lives are complicated and we need you to try a lot harder to accommodate us. We are willing to work together but, why don't you doctors, researchers and policy makers; why don't you march with us? Why don't you help us to put pressure on the FDA, Donna, and the NIH? After all, we are the ones who are sick. And you are the ones who are supposed to be helping us. We will not stop marching and we will ACT UP until we get access to HIV treatments, and AIDS research. Until There's A Cure For All of Us!