Hispanics in the United States include a diverse mixture of ethnic groups and cultures. With more than 25 million Hispanics, the United States has the fifth largest Hispanic population in the world, following Mexico, Spain, Argentina, and Colombia. Although Hispanics represent an estimated 10% of the total U.S. population, they account for 18% of the 641,086 AIDS cases reported in the United States through December 1997.
In 1997, 60,634 new AIDS cases were reported to CDC. Of these, 12,466 (21%) occurred among Hispanics. The AIDS incidence rate (the number of new cases of a disease that occurs during a specific time period) among Hispanics was 37.7 per 100,000 population in 1997, almost 4 times the rate for whites (10.4 per 100,000) and almost half the rate of African Americans (83.7 per 100,000 population).
A recent CDC study examined data from the 25 states(1) that had integrated HIV and AIDS surveillance from January 1994 through June 1997. This study showed that HIV diagnoses increased 10% among Hispanics between 1995 and 1996 (the most recent year for which overall trends can be examined). However, the number of cases reported among Hispanics was relatively small, since many states with large Hispanic populations have not implemented integrated HIV and AIDS reporting and were not included in the study. At the same time, HIV diagnoses declined slightly among African Americans (-3%) and among whites (-2%) in these states. Of the 7,200 young people ages 13-24 years who were diagnosed with HIV from January 1994 to June 1997, 5% were Hispanic.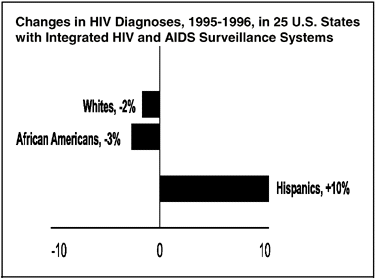 Advertisement
Historical Trends in HIV and AIDS Cases
Most HIV and AIDS cases reported to date among Hispanics have been among men, although the proportion of cases among women is rising. Among Hispanic men, the majority of reported cases have been among gay and bisexual men and injection drug users. Among Hispanic women, most cases have been the result of heterosexual exposures, although drug use also plays a major role in the spread of infection to women. A large proportion of Hispanic women were infected through injection drug use or by having sex with an injection drug user. To reduce the toll of the epidemic among Hispanic men, women, and children, prevention programs must address the intersection of sexual and drug-related risks.
CDC's HIV Prevention Efforts Targeting Hispanic Populations
Since early in the HIV/AIDS epidemic, CDC recognized that Hispanic populations were being disproportionately affected and took a number of steps to better target HIV prevention efforts in these communities. The following is a brief overview of some of those activities.
CDC currently provides $253 million in funding to state and local health departments for HIV prevention programs. Since December 1993, CDC has funded a process designed to put more of the decisions about how these prevention funds are directed in the hands of the communities affected. Under this process, HIV Prevention Community Planning, health departments are required to establish priorities in conjunction with a planning group that brings together health department staff, representatives of affected populations, epidemiologists, behavioral scientists, service providers, and other community members to identify prevention needs and interventions to meet these needs. This process helps ensure that HIV prevention efforts are locally relevant and address the unique epidemic and prevention needs of each community.

CDC has conducted several recent assessments to determine what proportion of these funds are used to reach minority populations. While not all programs are targeted by race (some, for example, target high-risk communities such as injection drug users or people being treated in STD clinics, which include individuals from multiple races), it is clear that a significant proportion of funding for major programs, such as counseling and testing and risk-reduction programs, are targeted to Hispanics. Of programs identified as specifically targeting a racial/ethnic group (representing $143 million), 22% of funds ($31.4 million) target Hispanics.

CDC also directly funds minority and other community-based organizations to design and implement HIV prevention programs that are highly targeted to high-risk individuals within racial and ethnic minority populations. Many serve gay and bisexual men of color or injection drug users as their primary focus. CDC currently provides $18 million to fund 94 community-based organizations through this program. Sixty-four of these organizations direct their programs to Hispanics. CDC recently announced the availability of an additional $4 million in fiscal year 1998 for community-based organizations for HIV prevention activities directed to African-American and Hispanic populations.
CDC funds a $9.5 million program to assist National and Regional Minority Organizations in building capacity to deliver HIV prevention programs and services within minority communities. Of these 22 organizations, 8 exclusively serve Latino/Latina populations and 3 others serve several minority populations including Latino/Latinas.
Additionally, CDC conducts a number of behavioral research projects aimed at reducing HIV infection in the Hispanic community.

The People of Color Initiative, designed to reduce the disproportionate spread of HIV/AIDS among minority populations, will develop, strengthen, support, and, as needed, redesign HIV prevention strategies targeting racial and ethnic minority communities.
The Women and Infants Demonstration Project is a community-level behavioral intervention research project targeting young women ages 15 to 34, most of whom are members of racial/ethnic minority populations. This project is designed to improve understanding of factors influencing women's behavior changes regarding condom and contraceptive use and to improve the development and delivery of interventions.
The Prevention of HIV Infection in Youth at Risk project focuses primarily on young men of color. This program is developing and evaluating approaches to encourage young African-American and Hispanic men who have sex with men to reduce behaviors that put them at risk for HIV.
Building Better Prevention Programs for Hispanics
While race and ethnicity alone are not risk factors for HIV infection, underlying social and economic conditions (such as language or cultural diversity, higher rates of poverty and substance abuse, or limited access to health care) may increase the risk for infection in some Hispanic-American communities.
In addition to addressing these underlying conditions, improved prevention efforts for Hispanics will require focusing on several key challenges. To reduce the infection risk for Hispanic women, efforts to prevent drug use and HIV must be better integrated. And to adequately address the prevention needs of Hispanic gay and bisexual men, homophobia must be confronted on a national, societal, and community level. Finally, we must apply lessons learned in designing culturally appropriate prevention efforts to developing effective programs for communities not yet effectively reached. Despite successes to date, this epidemic is far from over. As long as we continue to see preventable infections occur each year, we can and must do better.

1. Alabama, Arizona, Arkansas, Colorado, Idaho, Indiana, Louisiana, Michigan, Minnesota, Mississippi, Missouri, Nevada, New Jersey, North Carolina, North Dakota, Ohio, Oklahoma, South Carolina, South Dakota, Tennessee, Utah, Virginia, West Virginia, Wisconsin, Wyoming