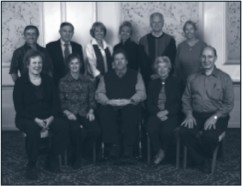 New Compassion & Choices Board: (Standing) Florent Morellet, E. James Lieberman, M.D., Barbara Coombs Lee, PA, F.N.P., J.D. (ex-offico), Marsha Temple (ex-offico), B. Kirk Robinson and Susan J. Dunshee (Seated) Prof. Sylvia A. Law, J.D., Chris Loker, Paul Spiers, Ph.D., Mary Hoagland, J.D. and Robert V. Brody, M.D.
Early in 1993, at the peak of the AIDS epidemic, a small group of dedicated individuals witnessed too many violent, lonely and agonized deaths. They vowed to make a difference and founded Compassion In Dying in Seattle. Since 1993, we have counseled thousands of mentally competent, terminally ill adults about aid-in-dying and fought for its legalization.
When the Oregon aid-in-dying law took effect in 1997, Compassion had four years of experience bringing choice to comprehensive end-of-life care. Under Compassion's stewardship, Oregon's law has been implemented carefully and responsibly. Errors and complications opponents feared have not materialized. More importantly, choice at the end-of-life has empowered dying patients and brought measurable improvements in palliative care. The Oregon experience with assisted dying stands as a model for the nation.
Eleven years later, Compassion has built a national reputation in client services, legal advocacy and public education that is a source of pride. Compassion's work at the bedside, in courtrooms, legislatures and arenas of public dialogue has redefined care, choice, dignity and control at life's end.
Since January 2004, representatives from the board of directors of Compassion In Dying and End-of-Life Choices have engaged in historic dialogue to explore unification of the two organizations for the purpose of raising the voice and impact of the movement for end-of-life choice. On October 29, 2004, Compassion & Choices became a unified organization.
Advertisement
The core values of Compassion & Choices come from our experience at the bedside of the people we help. We respect their choice. We protect their autonomy. We hold their confidentiality. We use these core values as a compass pointing toward our true goal.
We are clearly a social movement whose time has come. With unification our movement has hit its stride. Your generous support will help realize the last human right; that every person has access to excellent care and the choice of a peaceful and humane death.