"Two well-respected California assembly members, Lloyd Levine of Van Nuys and Patty Berg of Santa Rosa, have notified their colleagues that they intend to introduce an aid-in-dying bill fashioned after Oregon's proven model next year. They have studied the questions, pro and con, carefully and concluded that Californians facing prolonged deterioration toward inevitable death deserve the right to die in a time and manner of their choosing."

-- Barbara Coombs Lee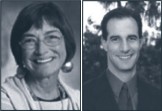 Patty Berg (left) Assembly member, Committee on Aging and Long-Term Care and Lloyd E. Levine (right) Assembly member, Majority Whip.
To promote our pending legislation we need your personal story about a good or bad death in California. We need stories and storytellers in every assembly district in California. We are looking for first person stories to demonstrate that end-of-life care without assisted dying is inadequate. The best stories:
Describe a person who wanted assistance with dying but either was afraid to ask their physician, or was rebuffed when they raised the subject.
Describe a person who was unwilling to submit to the final ravages of their disease and took their life violently or prematurely, while they could still act alone.

Advertisement

Describe a person who explored their options, such as stopping eating and drinking or stopping medical therapy.
Describe a person who wanted to die with their senses intact, but who had to be sedated to unconsciousness to control pain or other symptoms.
Describe a person who obtained life-ending medications through covert, surreptitious means. This story is compelling whether or not the patient ever took the medication to die. The story may describe the comfort the patient received in obtaining control over the dying process and having an escape if suffering became unbearable.
Contact Claire Simons at Compassion if you are willing to tell your story to your assembly member: cs@compassionindying.org or 503.221.9556.