As the legislative and legal team, we are your advocate. In courtrooms, legislatures and communities, we fight the battles to secure the right to choice at the end of life.
A prominent legal case is that of Margaret Furlong, an 82-year-old California resident who was resuscitated against her wishes, despite having brought her advance directives and DNR to the hospital. The resulting lawsuit charging elder abuse, led by Kathryn Tucker and a California elder-abuse attorney, is pending before the California Supreme Court.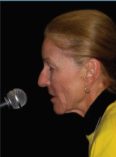 Marilyn Kappes, Ph.D., Co-President of Laguna Woods Community Group of Compassion & Choices, speaking in support of the proposed Compassionate Choices Act in California.
Such cases are poignant in California, a markedly progressive state in pain control. California allows for effective pain treatment by relinquishing judgment to doctors and patients. A 2001 California jury decision held a doctor who undertreated an elderly patient's pain accountable for elder abuse, awarding the survivors $1.5 million.
Against this background Compassion & Choices has sponsored AB 654, the aid-in-dying bill now in the California Assembly. Modeled after the Oregon law, the Compassionate Choices Act would allow terminally ill, mentally competent California residents to request a prescription for a lethal dose of medication.
Advertisement
Other legislative efforts include Health Care Decisions Week, adopted in Georgia and now being considered in Arizona, which helps promote the use of advance directives and encourages residents to discuss their wishes for medical care.
New York pain management legislation directs health care professionals to provide pain-relieving medications to the extent authorized by accepted professional guidelines. S06312 would require medical professionals to complete regular pain management instruction and would provide for professional discipline for undertreatment of pain.
The Vermont Death with Dignity Act stands strong in the legislative process. A Vermont Legislative Council report affirmed the success of Oregon's aid-in-dying law, and a Vermont poll found that nearly 80 percent of respondents support such a law.
We remain alert to new opportunities in the fight for end-life choice. Grassroots campaigns designed for community activism will further utilize the dedication of our members. Ask your local leader how you can help!
Now is the time to get involved. Legal and legislative reforms are just around the corner, but we need your help to make it happen. Contact us -- make sure that when the time comes, you have a say in how you die.