Dear loved ones,
It's a warm, sparkling, beautiful spring day here in Seattle. Outside my window at the Silver Cloud Inn, which is just a five minute walk from the new headquarters of the Bill and Melinda Gates Foundation, are the busy marinas and bustling activities -- including seaplanes taking off and landing all the time -- of Lake Union, a little U-shaped body of water just north of downtown Seattle. If you take a boat out of Lake Union and, head west -- you'll go through a canal and some locks and after a couple of miles you'll be in Puget Sound, which leads to big, serious water that takes you to Canada, Alaska, and the Pacific Ocean. Go east out of Lake Union, and you'll pass through another narrow stretch into Lake Washington, which is much like one of our Finger Lakes. There are lots of lovely residential communities and state parks around Lake Washington. One can see why people enjoy living in these parts: the water, the mountains, the forests, the big-but-not-too-big-digital-maritime-city that is Seattle -- it's all kind of "Great," as they like to say about the Pacific Northwest. And the people seem pretty mellow, too.
I'm just back from my meeting at the Gates Foundation, and have been daydreaming while watching the seaplanes take off from Lake Union. I love these seaplanes. They plow at a snail's pace at first, engines arguing against the drag of the water, until they begin to skim on their pontoons and then suddenly, like puppets on a string, they leave "the surly bonds of earth" and rise, airborne and free. They level off some few feet above the water and appear to struggle momentarily with airspeed and lift. But within seconds they begin to gain altitude, and, as they climb, they bank gently to the northeast and disappear, engines fading to silence, into the hazy blue Seattle sky and towards the inland mountains. They're like new ideas, these planes, struggling at first, but then free, once they are in their element . . .
I've been thinking, as I watch these planes lift out of the water, about the long journey to Uganda tomorrow, and also about our trip to Haiti just two weeks ago. On the one hand, I've been thinking about the unbelievable physical contrasts between what I'm seeing now, here in Seattle, what I saw in Haiti, and what I will see when I leave for Uganda later today.
Consider, for instance, the fat yachts with goofy names ("Knot Responsible"), that in effect constitute the entire U-shaped shoreline of Lake Union: millions upon millions of dollars of floating fiberglass in a minor body of American water. And then consider the hair-raising, wretched road that leads from Port-au-Prince into Haiti's Central Plateau, and the dust that kicks up from passing vehicles and settles upon children and peasants who stand and stare by the roadside like living statues of brown and gray with nowhere to go and nothing to do. In these purely physical terms, the disconnect between here and there is absolute. No doubt about it.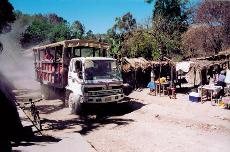 On the other hand, violent though the contrasts are, the disconnect, for me, is not as unsettling as it might seem. I think this is because my experiences since we began shooting this film, while dramatic and compressed, have always been in the context of being with the people in these vastly different places, and not just in the places themselves. And once you are truly with people in the developing world, the connection to them as human beings tends, over time, to counterbalance the shock and sense of displacement you feel at the circumstances of poverty, suffering, and loss in which they live. What you experience instead is a sense of the world as they, not you, see it, and that different perspective -- from the inside out -- is liberating, humanizing, and at the heart of the ethos of A Closer Walk as I see it. So I look to my journey to Uganda later today with a sense of purpose and anticipation: I'm eager to again be with the people who are fighting so hard to keep their heads above water in the engulfing oceans of poverty and AIDS, and I want to tell their stories so that my own walk may be that of others as well.
Before leaving Seattle, though, I wanted to tell you a bit about the recent trip to Haiti, because what we found there was miraculous.
Haiti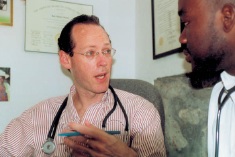 Dr. Paul Farmer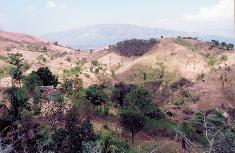 As you know, ever since I met Paul Farmer four years ago and we became friends, I have felt that he embodies the spirit of A Closer Walk, and would be a good candidate for one of the profiles we intend to include in the film of individuals whose work and lives might be an inspiration to others. As you know, Paul teaches at Harvard; practices at Brigham Women's Hospital in Boston; runs, with Jim Kim, Partners in Health, a non-governmental organization (NGO) that serves poor people through model clinics in Haiti and Central America; is the chief doctor at both these clinics; writes books; advocates incessantly for the human and medical rights of the poor; and now, I believe, has also taken over a program to fight tuberculosis in Russia. All these credentials and activities notwithstanding, the thing that has always struck me about Paul is not the diversity and complexity of his life, but in fact the profound simplicity of it. When all is said and done, Paul is first and foremost a doctor who believes in quality medical care for the poor. Everything he is and does devolves from that one basic commitment and fact.
The Clinique Bon Sauveur in Cange, Haiti, is a powerful symbol of Paul's life and work, and it was to this clinic, during the week of March 17, that we accompanied him on one of the innumerable visits he has made to this creation of his over the past eighteen years.
Bon Sauveur is situated in a remote, utterly impoverished area of Haiti's Central Plateau. To get there you travel over two sets of mountains, all of which are treeless -- nearly total deforestation is a horrible, sad fact of Haiti's ecology. The appearance of these mountains and hills is desert-like and dull, even lunar in a certain light, and you get the feeling right away that you're in a part of the world unlike any other. This feeling is driven home by the bone-jarring, three-and-a-half hour ride from Port-au-Prince to Cange over the worst road, by far, that I have ever been on, and I've been on more than a few.
Here's what the ride to Paul's clinic is like.
About ten miles outside of Port-au-Prince the pavement stops, and you're heading directly for the first mountain range, looming five miles dead ahead. The road, to use Richard Young's apt description, has now become a riverbed -- bone dry, rock hard, deeply rutted, and boulder-strewn. As you look at this road snaking up the side of the mountain ahead, and realize that's where you're going, you definitely want to get back on the plane and go home. Paul is cool, but Paul is crazy, you think. As you begin to climb, you realize now that the drop-offs and ravines to the right side are quite steep, and I found myself, in the back seat, leaning hard to the left -- futile body language, you might call it -- whenever we got within a foot or so of the ledge in order to let a reeling, rocking, bus or truck squeeze by. Bear in mind that this is the one and only main road into Haiti's central interior, so it is well-traveled. There are accidents and deaths every week, and they include buses, top-heavy with people on the roof, tumbling off into the ravines; cars or pick-ups injuring or killing people standing by the side of the road; and other random mishaps that only spell tragedy or grief on a daily basis.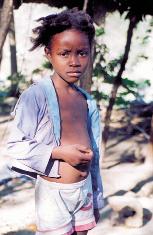 Paul hates this drive. He hates it because it's long, fatiguing, and dreadfully uncomfortable. He hates it because he's prone to car sickness and therefore has to drive the car himself in order to concentrate on the road and thereby keep from vomiting. And he hates it because of what it represents: poverty, neglect, a country at the margins of civilization. The fact that he has made, and survived, the trip hundreds of times -- he visits the clinic roughly once a month -- is, in and of itself, something of a miracle.
Once you're over the mountains, the road actually gets worse, and then worse still. On into the third hour, you start to realize how deep into the country's remote, barren interior you're actually going. Now there are no towns or villages. Now there are only the most dilapidated shacks by the side of the road: tiny, leaky, sorry excuses for homes. Without exception, all the inhabitants of this region live in these conditions. About twenty minutes from the clinic, Paul, who's been driving for the past two hours, announces that, "The road gets much worse now," and, sure enough, the river bed becomes a stream bed, the ruts get deeper, and if you meet a bus you have to pull off to the side to let it pass and hope it doesn't capsize on you. You feel, at this point, that your understanding of Jonathan's* phrase, "the way the world is," has taken on an entirely new dimension, even as the number of shacks seems to increase, chickens and dogs scamper out of the way, and we slip by an elderly woman riding a mule and holding a colorful umbrella to shield her from the sun.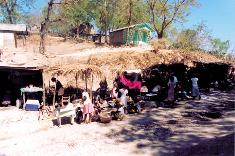 Then, suddenly, a true miracle -- that's really the only word for it -- happens. To the right, just past the woman with the mule, just past your sense of wonder, confusion, and feeling of no return -- just past your disconnect, appears an eight-foot high stone wall and then a paved driveway. (Do not think of this wall as a barrier. Think of it as the wrapping of a gift.) You turn right into the driveway, which curves and climbs a good two hundred yards, and now you are in a ten-acre compound that looks and feels like a park, peaceful and cool, with gardens, shading, and trees, and paved pathways bordered by three-foot high versions of the stone wall that surrounds the compound as a whole.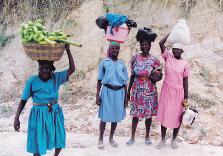 Nestled among the trees and walkways -- the compound is on a hill so the walkways twist and turn, yielding constant surprises -- are some dozen buildings. Some are new, some older. All are immaculately maintained, functional, and clean. A few, like the beautiful white stucco church, with its wrought iron trim and massive doors, or the new HIV/MDRTB clinic that perches atop the compound, offering breathtaking views of the surrounding countryside, are more than wonderful buildings. They're symbols of the values and principles of this place, best summed up by a question Paul frequently asks: "Why shouldn't the very poor, who need it most, have the very best medical care? Why shouldn't they?" Indeed.
In addition to the HIV clinic and the church, there's a two-story multi-purpose building that houses a dining/kitchen area on the ground floor, and administrative and residential areas above; a pediatric ward; a woman's clinic; an outpatient clinic; a surgical facility; labs, including an X-ray processing unit; a dental clinic; a community center, and a primary school. All this was basically built from scratch over a period of eighteen years.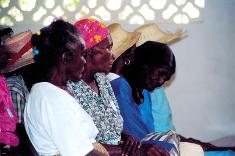 Women's Support Group
The clinic as a whole sees about 400 patients a day, day in, day out. In addition to Paul, there are five full-time Haitian doctors, a nursing staff, community workers, teachers, etc., about forty in all. Add it all up and you've got a smoothly functioning, state-of-the-art medical facility smack dab in the middle of one of the poorest places on earth.
We spent our time at Bon Sauveur filming as many aspects of the life of the clinic as we could, working from Paul's perspective. The AIDS stories, for the first time since we started filming, were relatively good ones. Why? The HIV-positive people Paul treats in his clinic all have access to the same anti-retroviral medications that are prolonging, if not saving, the lives of PWA's throughout the industrialized world. We met at least three people while we were there whose lives Paul saved by putting them on triple therapy regimens. One girl, Adeline, came into the clinic near death about six months ago, weighing only 79 pounds. Within six weeks of being put on a triple therapy protocol, she had gained 26 pounds. When I met her, there was no evidence she had been sick at all.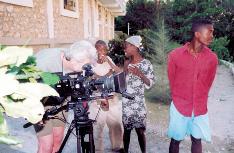 Richard Young, Director of Photography, behind camera
Indeed, what struck us most is the fact that sometimes the lives of the very poor -- whether they have AIDS or some other ailment -- can be saved by providing even the simplest, most basic care, but even that isn't available to the vast majority of people in Haiti, or the world for that matter. We saw Paul pull a couple of people back from the brink while we were there, and he did so with medications that cost three dollars in one case, and fifteen cents in the other. But without these basic interventions, at least one of these patients would probably now be dead.
Paul works incessantly while he is in Cange. He lives in a small house outside the compound, and usually doesn't get there until nine or ten at night. There's no such thing as not being on call at Bon Sauveur, needless to say. There are no telephones anywhere, so his computer -- which someone ingeniously linked up to AOL via a satellite -- is an absolute lifeline for him in terms of his many activities back in the States and around the world. The only time I saw him freak out was when something happened in outer space the first day we were there and he wasn't able to log on. It's clear that he's happiest when he's cruising around the compound itself, going from one building to another, schmoozing, dispensing advice, solving problems, handling emergencies, being with his patients and with his staff. He speaks fluent Creole, the language that's exclusively used by all but the most "refined" and highly educated Haitians, who speak French.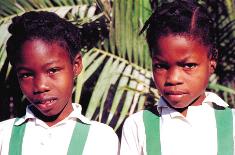 It's tempting to get a bit of a "king of the castle" feeling from observing Paul in his clinic, but it's a false impression because the focus is so exclusively on the work, and the work is so singularly centered on sickness and misery. Sure, they all look up to him. Sure, they need him. Sure, they are grateful to him for saving the lives of their sons and daughters, and a few think he's Jesus Christ because in more than one instance he's literally brought them back from the dead. But there's no ego trip here, and, in fact, one of Paul's great appeals as a doctor, I believe, is precisely his lack of the kind of arrogance that many doctors assume when they're doing unusual or important work.
Because Bon Sauveur is such a remarkable place, it, and the work of Paul and Jim's NGO, the Cambridge-based Partners in Health, is well-known in the international public health community. One of the things that's often said about Bon Sauveur and the PIH clinic in Peru, is that they are tours de force, unique acts of astonishing personal dedication and will. And because of this they can't be widely replicated and therefore are not useful models for health care in the developing world etc.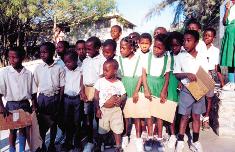 This of course is utter nonsense. Bon Sauveur is precisely the model to be emulated because it represents at once an idea and an ideal. The idea is that the very least among us should have the very best, because they need it most. The ideal is the clinic itself, which is the embodiment of the idea. Can it be replicated? Why not? As Paul says about the reality of AIDS, "it's never been less metaphoric and more real than it is right now. It's about inattention to human suffering, unequal distribution of resources, it's about neglect, and greed. What we need is for people to stop wringing their hands and get on board and help us do it."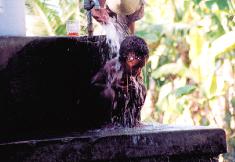 As you know, I'm going to see Reverend Gideon in Uganda. He's the Anglican priest who has this wonderful AIDS ministry in Kampala, and who was near death a year and a half ago until his Bishop and UNAIDS helped find him a donor to pay for his ARV's. Gideon speaks directly to Paul's point: "You know Robert," he told me, "the people with money, they always say there's no money. But that's not what they mean. They mean there's no money for you."
Precisely. And so good-bye from Seattle, where the good folks at the Gates Foundation are in fact showing the world what can be accomplished for the poor and for global health when people "get on board." This kind of commitment, and a sense that anything is possible, tells me as I leave, that if we just hang in there and never forget our responsibilities to one another, we will, in the end, prevail.

Much love,

Robert


Advertisement
*
Jonathan Mann was the visionary public health leader and human rights activist who was the architect of the World Health Organization's program on global AIDS. Dr. Mann died, with his wife, Mary Lou Clements-Mann, in the crash of Swissair 111 on September 2, 1998.
This article was provided by Robert Bilheimer. It is a part of the publication A Closer Walk: A Film by Robert Bilheimer.