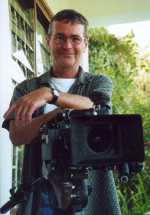 Robert Bilheimer, director of
A Closer Walk
Loved ones,
It's 9:30 at night here in Johannesburg, and rain continues to fall on the city in torrents and sheets in a biblical kind of way that has everybody talking. It started the day I arrived -- no, I am not making any connections -- but all my friends here are blaming it on me and waiting for me to go back to Durban and Natal on Sunday.
I've spent the last two days in KwaZulu Natal -- got back here from Jo'burg just an hour or two ago -- and though it's late and I'm tired, I can't even try to go to sleep without telling you about the pre-production visit Diana and I made to the South Coast Hospice in Port Shepstone, some 100 kilometers south of Durban, where you will find one of the highest HIV/AIDS infection rates in South Africa; sub-Saharan Africa; and therefore the world. After four long years, this first on-the-ground day was quite special for me because it marked the beginning of a journey -- as Jonathan Mann often said -- "into the way the world really is".
Advertisement
But the day wasn't about me. What actually happened on this day is what I want to tell you about.
(Brief background: The organization that invited us to Port Shepstone, the South Coast Hospice (SCH), began working with cancer patients a decade ago but has evolved into a multi-pronged HIV/AIDS care facility whose work includes palliative care for
in extremis
patients at a small, beautifully run on-site facility; a much more expansive home and community-based care program that interfaces with clinics and hospitals in the region; and other programs that include bereavement counseling and social work. The Hospice was first written up by Suzanne Daley of
The New York Times
two years ago in one of the paper's "Dead Zone" series. At this point in time, the Hospice is emerging as a model for Natal because its programs are realistic, cooperative, and cost-effective. Like everyone else, they struggle for funding but that, as we all know, is a given. It shouldn't be, but it is. But that's another story.)
We arrived at ten, were met by the Hospice staff, gave them a brief overview of the project, and then got in a four-wheeler with three of their community-care workers and set off for a remote rural area about one hour away. The guts of the Hospice program is home and community-based care, since, essentially, there is nothing much to do in the absence of what they call "resources"- money drugs, staff, etc. -- except ease and dignify the dying, comfort and counsel the bereaved, and move on to the next death. The workers we were with do this many, many times a week. They live with death.
KwaZulu Natal is beautiful country, rolling hills of lush green veldt flanked by the Indian Ocean on your left as you drive to the more remote rural areas south of Port Shepstone where we were headed. The family which had agreed to see us, lives among these hills, and as we approached where they lived, the roads got smaller and smaller, from divided highways, to two-ways, to dirt, to ruts, to nothing. Then we walked ten minutes -- we could see the ocean in the distance -- to a compound of three round huts, some 20 feet in diameter, with thatched roofs. The family we were visiting had already lost three people to AIDS in the last year and a half. The young man dying of AIDS, whom the workers were coming to see for the second time this week, was 24. He had a 23-year-old wife, and a ten-month-old baby.
Following behind our workers I sensed something, but didn't know what -- normal procedure, perhaps? -- when their pace slowed appreciably as we approached the doorless entrance to the round hut. I followed behind as they entered, and there, sitting on the floor to the left of the doorway on individual bamboo mats, propped against the circular wall of the room, were some ten women, young and old, half perhaps with children, each dressed in shifts printed with flowers and African designs. Light through the door and a couple of small windows streaked their bodies, faces, and clothes. At the end of this arc of stunning, utterly silent women and children was a figure turned away from them, shrouded in a blanket of blue and black. Tapered at the head, this blanket-shroud was enormously powerful to look at: a death-image. But for one thing: in and among the folds of the blanket-shroud peeked out, from time to time, a ten-month-old child, with the most beautiful bright eyes cutting about the room like lasers, playing hide-and-seek within and around his mother's shroud.
Chairs were brought in for the visitors and placed against the wall opposite the women. When we took our seats and the workers began to sing -- they seamlessly responded to this situation -- I knew that we were at the first stage of a mourning. Indeed, the young man we were coming to see had died "between six and seven" the day before, between the last visit the Hospice had made, and ours. Even Otelia, a big, beautiful, fun-loving Zulu woman who has seen this kind of thing more times than she can remember, told me later that her heart was broken.
Following the singing and the prayers, our Hospice friends told the mourners that we were there to help. The women smiled and nodded in the way of African peasant women that is so human, so silent, yet speaks so much. I thanked them briefly as we left after another ten minutes or so.
Outside, it seemed there was nothing more to do, but as Joseph, the deceased's older brother, offered to take us on a short-cut back to the car, I stopped to ask him about the funeral, a week from this Saturday.
The upshot of this conversation is that we have been invited to attend the funeral as guests, and as filmmakers. This is highly unusual, and apparently a great honor. This honor goes not to us, of course, but to the Hospice workers and the trust they have built, and also to the openness and dignity of the family itself.
Zulu funerals are rich in ceremony and emotion. There will be a river of tears -- there is much crying at these events, and it's a deep cleansing crying, an exorcism of grief. When the coffin is covered, the widow will be escorted by the women of the village to the river -- there is one some 300 yards below this setting -- and she will be washed and her hair will be cut short and she will shed her shroud and put on new clothes and then return. The washing is, of course, private. But we will see and film all else, including going to the river, and coming back.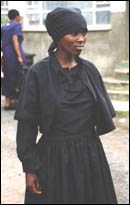 Octavia Dlezi
Sadly, it is almost certain that this young widow -- her name is Octavia Dlezi -- will also prove to be HIV positive, as will her ten-month old son. She is going to be tested in about two weeks time, and with the help of the Hospice folks, we will continue to follow her story and that of her child, if she agrees.
On the way home we stopped at Murchison Hospital, a small community facility that serves the area in and around Port Shepstone. Like all such places, it is overcrowded, and the pre-natal and maternity wards are chock full. Prepare yourselves for what's next. I spoke with the head nurse there and also a social worker from the Hospice who visits these wards regularly. The nurse told me -- indeed, she showed me the log books so I could see for myself that fifty percent of the women who have come into the hospital for pre-natal care in the last eight months are HIV positive.
Fifty percent.
I have never heard of, nor seen published, infection rates this high. I asked the nurse if she and her colleagues had access to medications that prevent or reduce transmission from mother to child. She shook her head, "It's foreign music," she said.
Thus my first day of "
A Closer Walk
". There will be many more and God willing we'll share this with the world. In the meanwhile, it is good for me to share it with each of you.
Love,

Robert
This article was provided by Robert Bilheimer. It is a part of the publication A Closer Walk: A Film by Robert Bilheimer.