XVI International AIDS Conference: An Interview With Matthew Kavanagh and Laura Frye
This is Sarah Warmus reporting for TheBody.com. I'm outside the Rogers Centre in Toronto after the AIDS 2006 Opening Ceremonies with Matt Kavanagh and Laura Frye. Matt's with the Student Global AIDS Campaign and Laura is with the American Medical Student Association, both [are] from the United States.
What did you think of the opening ceremonies for AIDS 2006?
Matt: I thought the opening ceremonies were really powerful. We [our group of protestors] were here because we want to make sure that there are massive new increases in funding for health care workers. One of the huge things that we talk about is access to medicines. If we're going to reach universal access to treatment by 2010, there just aren't enough doctors, there aren't enough nurses and there aren't enough community healthcare workers. And we didn't hear a whole lot on that.
What we would have loved to have seen much more of is governments stepping up to the podium and saying, "We're here to invest as much energy and as much time as Bill and Melinda Gates have invested." We saw no major government leaders standing up there.
We would have loved to have seen Canada, for example, showing up; stepping up and saying, "We're going to fully fund the Global Fund [To Fight AIDS, Tuberculosis and Malaria] and we're going to fund even more for health care workers."
There was a lot mentioned about the Canadian government tonight, especially Prime Minister Stephen Harper's absence here at the conference and his overall apathy towards HIV. What's your take?
Laura: I feel that each country needs to realize its responsibilities to the global crisis. I know that Canada, for example, has a lot of programs that they've taken away, like needle exchanges [where intravenous drug users can exchange their used needles for clean ones with no questions asked], and so we need to realize that we need to have comprehensive prevention to actually achieve these goals [of universal care and fighting HIV].
Universal access [to HIV care] means the entire universe. And intravenous drug users, sex workers, anyone who needs access to prevention, treatment and care should be able to receive these services.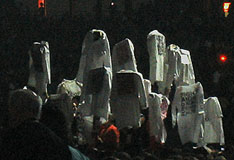 A group of protestors, including members of Health GAP, Student Global AIDS Campaign and the American Medical Student Association, stood up during the AIDS 2006 opening session to protest for more funding for health care workers.
Is there a reason your group of protestors decided to stand up directly after Frika Chia Iskandar's speech about living with HIV?
Matt: No, there isn't, actually. We [our group] were here because the world is watching this event. So we were here [to be seen]. What you see kind of in front of you are a whole bunch of white [lab] coats, and they say various things about health care workers on them. The Student Global AIDS Campaign has come together with Physicians for Human Rights, Health GAP, the American Medical Students Association and numerous other folks that are really concerned about this massive health care gap when it comes to access to doctors and nurses. The fact that nobody was standing up there [on stage] talking about [that gap] -- the fact that this is [so ignored] -- we're never going to scale up if we don't actually invest in that [funding for more doctors, nurses and health care workers] -- was really disturbing.
One of the things that we were noticing is that the woman who spoke from Indonesia [Frika Chia Iskandar] was the only identified HIV-positive person up there, which was rather disturbing. But she stood up, as one of the few speakers from the Global South as well, and one of the things that she said is that we need to change the systems. We need to get the doctors and the nurses there [where they are needed in the developing world], because if we don't, then we're in deep trouble. We're never getting where we're going.
Right after she spoke, we stood up and kind of jumped up and down and said a bunch of chants that were things like "Open your purses, we need nurses." and "Governments ..." -- what was the other one?
Laura: "Governments must pay, doctors want to stay."
Matt: Exactly.
Laura: When you look at the [global HIV] crisis, you see physicians [from the developing world] who are coming to the United States -- I'm a medical student, so I work with these people. They're coming to the U.S. because in their own countries, they don't have the infrastructure to practice. They aren't able to meet their own needs because they don't have the salaries that they need to support their families and provide education for their children. They're also not able to meet the needs of their patients because they don't have the diagnostics. They can't run the tests they need, and they often don't have treatments.
So you're testing someone for HIV, but then what do you do when you don't have medications to treat them [if they are positive]?
Matt: As we stood up there and were chanting and screaming and yelling and jumping up and down on chairs, it was fascinating to kind of see around us -- everybody nodding their heads. I think that that's a lot of what's going on here at the International AIDS Conference.
I mean, I represent the Student Global AIDS Campaign, and we are asking for massive new investments [into healthcare teams around the world]. And what we're not hearing from governments and the decision makers are these massive new investments.
Bill and Melinda Gates just invested more money [into HIV/AIDS funding] than all [the] countries [in the world] except for the United States, and the United States is way behind on its one-third fair share of the Global Fund. [The Gateses] invested $500 million, and they're two folks. I think I would have loved to have seen us jumping up and down on chairs, and then people [the decision makers] responding to that by saying, "Yes, and here's the plan." Without a plan, we're in trouble.
So do you feel that you got a positive response from the audience?
Laura: I think we did. We had a lot of people who came up after the session and actually asked us, "What are you guys here for? What are you asking? What are you hoping to accomplish at the International AIDS Conference?" I think that we are getting a lot of attention for this issue. Hopefully this will raise the issue in the media, and people will become aware of the drastic need for healthcare workers in the developing world.
Any last thoughts or comments on your cause or the conference?
Matt: I think as we are standing here thinking about the International AIDS Conference -- We're here in Toronto. We're here in a wealthy country. We're just north of the United States, where I come from, which is the wealthiest country in the world -- we have the money. If we think about the spending on the war [in Iraq] right now, something like 3 billion dollars every month ...
Laura: Every week.
Matt: Is it every week? Three billion dollars every week! [That's] even more massive [than what I was thinking]. [With HIV,] we're seeing a situation in which we have the resources we need to end this pandemic. I heard from a bunch of people in there [the Rogers Centre], who were calling out. I heard from [Dr.] Peter Piot of UNAIDS, but even more, from Bill Gates -- standing up there and saying that we need to be investing the massive resources that are necessary [for universal access], and calling people out for the fact that it's not happening.
So we're really hoping that we move from this place right here at the International AIDS Conference, where it's a lot of really nice speeches and a lot of people who don't have the power to change it saying "We want to change it," [to the decision makers actually making those changes]. We need to be hearing from the governments about what their plan is to fix it [the HIV pandemic].
Good luck on your campaign to inform everyone here at the conference, and thanks for talking to us.
Matt: Sure, and keep a watch out for a whole bunch of white coats, because they'll be floating around other places.
We definitely will.
Laura: Thank you.
Want to get involved? Click here to e-mail Matt Kavanagh of Global Student AIDS Campaign. Click here to e-mail Laura Frye of the American Medical Student Association.
This article was provided by The Body PRO. Copyright © Body Health Resources Corporation. All rights reserved.