This is Bonnie Goldman. I'm here with David Scondras, a former Boston councilman who has been an AIDS activist for more than 20 years. He is the president of Search for a Cure, a treatment advocacy organization in Boston. David, I know you have gone to many conferences, can you tell me what were the highlights of this conference for you?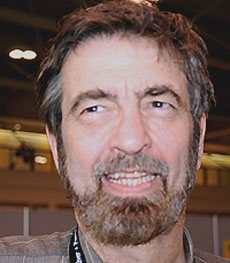 It's very hard to answer that because there were so many incredible things. [Was it] the grandmother conference at the beginning of the conference, a coalition between Canadian grandmothers and grandmothers in Africa who are taking care of their grandchildren, whose parents have died of AIDS? Is it Bill Clinton's growing commitment to fighting the epidemic? Or was it the information that 48 percent of folks [who were HIV positive] from the reporting states were people of color, though [people of color] are only 17 percent of the population of those states? Is it the new drugs? [Is it] the commitment of the [Bill and Melinda] Gates Foundation to helping the Global AIDS Fund?
I think one of the realities of this conference is that it's gone from being a conference by doctors about medicines to a conference by politicians, doctors, activists, people with AIDS, sociologists, government functionaries and political leaders from around the world about how we are going to end this epidemic.
I really think the message for this conference is unique. If I were to try to summarize it, it would go something like this: Ending this epidemic is really an opportunity for countries, cultures, companies, clergy and individuals to put together a model of how they can be resolved for all the illnesses and global issues. Because what's clear from this conference is that to end this epidemic takes a lot more than a scientist in a laboratory figuring out how to make a pill. It's about acknowledging the differences of human rights realities from country to country. I remember [Bill] Gates saying a woman should never need her partner's permission to save her own life and [making] the call for microbicides.
For us to actually succeed at ending this epidemic, and I think that's what this conference really talked about, means for us to begin looking at everything -- from religion, culture, to political leadership, and being really upfront about it: saying we are going to have to change things on every level of society. For example, the free trade agreements have an impact on AIDS. Intellectual property rights have rules and regulations have an impact on the availability of cheap antiretrovirals.
Could you describe how the free trade agreements affect the availability of cheap HIV meds?
[Free trade agreements affect the availability of HIV meds] because if you can't make cheap drugs through say, [generic drug manufacturer] Cipla in India, because India has decided to drop their freewheeling ability to copy other people's drugs, as a consequence of the desire on the part of some drug companies to maintain patent right in countries that really can't afford to buy the drugs, then you put an end to a source of free drugs. That's a real thing, a real problem.
What about the issue of infrastructure? We have countries that desperately need nurses and doctors, but as soon as they produce nurses and doctors, those nurses and doctors go to Europe and the United States where they can make more money and where they have facilities that they can really use to do something. That's a genuine problem. Without solving that problem you can't actually engage the epidemic in Malawi or in Zambia.
You have people throughout Malawi who are trying to figure out how to handle orphans in such large numbers that the extended families that characterize life in Malawi really can't absorb any more children. Well, what does that lead to? Madonna is going to Malawi to raise money, for those children. What I'm trying to say is that there's a worldwide event going on that's very hard to characterize.
The Toronto conference really highlighted the number of different actors that had to be on the stage, taking a role, making a difference. If there's a summary message outright, it's, on one hand, we have this great opportunity to show that a collaborative effort can be engineered around the world to change everything from cultures and religions to certain aspects of our legal systems. On the other hand, it's also true that all of the medicines that we have may not be enough.
I think it was said quite articulately by many of the leaders at the conference, including [former President Bill] Clinton and [Microsoft chairman Bill] Gates, that if we don't figure out how to develop ways to prevent this disease, we can't keep up with the rate of new infections that we have. What they are really saying is -- I'll put it as bluntly as I can -- is this disease could bankrupt the world if we don't get a handle on it. There was an observation made, that about 90 percent of the planet doesn't have any idea what their HIV status is. Well if you aren't going to deal with the fear and prejudice, the availability of tests, and education at the ground level, you'll never turn that around because people who don't know they are infected are not going to be treated.
Did you happen to see the results of the pre-exposure prophylactic study? [Findings from a double-blind, randomized, placebo-controlled trial of tenofovir (TDF, Viread) for prevention of HIV infection in women.]
Yes, I did and I thought it was extremely exciting.
What I thought was exciting -- and I was wondering what you thought -- was that the rate of HIV infections was reduced in both the control and the experimental groups.
Exactly. Maybe people haven't heard this. Check this out: We are trying to see whether or not you can take a drug ahead of time that protects you if [you] are from a high risk group from getting HIV, so the drug tenofovir was given to roughly a thousand women.
It might not be the best, but it was the first one [drug] we knew about that we could use. As you know, some people were on the drug, some people were not on the drug, some were on placebo. They were seen every month and they were educated about HIV, and given condoms.
Of course, before they started they were asked a lot questions, including how many partners they had. It turned out that after the study began, everyone's partners went way down. Then they were asked how often did they use a condom. I forget the numbers exactly, but before the study less than half the people used a condom. And after the study was over the proportion was 99 percent of the people used a condom.
Anyway, it turned out that they were expecting in 1,000 people in a really high risk group, for 50 or 100 people to get infected. Well, it turns out that there were eight, of whom six were on the placebo, two on the tenofovir. But I looked at that and said, "My God, let's look at it differently. You were expecting 50 or 100 cases and you got eight!" [Laughing.] What you really said was, intervening and paying attention and getting people to come in on a regular basis and talking to people, works! If you could reduce by some 80 percent the worldwide transmission rate that would be considered a miracle. [Laughing.] So, I thought it was really, really an optimistic study. I thought it was terrific. I know it was originally intended to find out whether tenofovir would work as a pre-exposure prophylaxis. I think what it ended up showing is that prevention can actually work.
And profoundly. There was a study today, or yesterday, that was just discontinued in another country for similar reasons. Because of their intervention they did not have the number of people turning positive that they expected.
So, the message is intervene.
I think it's a funding question.
Well, I think that's true. Look, there were some new drugs talked about at the conference that were very exciting to people in the United States and Europe who are going to be able to afford them: maturation inhibitors, integrase inhibitors, TMC114 [darunavir, Prezista], new kinds of protease inhibitors, new kinds of antiretrovirals that are non-cross-resistant to earlier ones, [drugs] that are more powerful. But in the last analysis, if all we do is make new drugs as the virus grows resistant, as people continue to get infected at rates higher every year than in the preceding year, we are going to lose. It's not going to work. We have to find a way to make sure that every year there are fewer people infected than in the previous year, so we can put an end to the epidemic.
I think the message of the conference was that we have to end the epidemic. This can't become part of our permanent existence. We have other things we need to be doing, and if we don't end the epidemic it could absorb our life. This epidemic reminds me of Iraq in some ways. [Laughing.] Absorbing money lasting forever. It needs to be ended.
The other part of the message is that when people think of HIV/AIDS they keep characterizing it as a medical issue. Imagine if you [met] an anthropologist coming from Mars who came to the Earth, and you [told him], "We got this horrible epidemic going on. It's infecting working people. It's really undermined the economies of quite a few countries. It's out of control! It's got millions of people dying every year. It's created millions of orphans, who no one can take care of." And on and on.
[The Martian would reply,] "Oh, I guess you don't know how to test for the disease."
You say, "No, actually we know exactly how to test for the disease. It's not a problem. We have tests that are 15 minutes long, test using your saliva, that tell you exactly who has it, [and] who doesn't."
"Oh, I see. Well it must be too expensive."
"No, no, they are about 50 cents, quite quick. They're not expensive at all."
"Well, do you know what's causing the disease?"
"Yes, we know exactly what's causing it. We've defined the pathogen so well we can give you the gene-sequencing of its regulatory genes and it's unbelievable."
"Oh, I see. Well I guess so many people got it before you knew all this that you can't treat them and you don't have any treatments."
"No, actually we have quite a few treatments."
"Oh, the treatments must be too expensive then."
"Well, actually one of our economists, [Jeffrey] Sachs [director of The Earth Institute and author of "The End of Poverty"] said it costs about the price of a popcorn in a movie theater for people who live in rich countries to afford treating all of [the] TB [tuberculosis], malaria, and AIDS [patients] around the world."
Then the Martian says, "Let me see if I understand this right: You have a disease. You know what's causing it; you know how to prevent it; you know how to treat it. Treating it probably reduces its infectiousness. You know who has it and who doesn't, and you can afford to do all this. How in the world can that be a problem? It doesn't make any sense."
But it does make sense if you know that the disease called AIDS is not a medical issue. It is a religious, cultural, societal, economic issue. It's a germ that threw a spotlight, on the inequities, the human rights abuses, the lack of uniform availability of medicines and infrastructure for dealing with illnesses. It threw a spotlight on the way we go about discovering drugs and how companies make money. You understand what I'm trying to get at?
To solve this problem requires solving all these other problems, right down to prejudice, right down to the whole issue of sex workers, the issue of sexuality itself. When you think of it, it's a huge issue, and the conference was a huge conference for that reason -- because it isn't just find a drug and we're all going to find an end to this. For that reason people like Clinton and Gates articulated it very well, that how we handle this disease on one hand could be a model for all the other international issues, but at the same time is really going to not only require big changes, but I think history is really going to judge us to a large extent according [to] whether we pull this off. Because the price of not making the changes necessary for everyone to be able to know if they are infected and to be treated if they need, the price for not doing that is going to be, and already is, just unbelievable -- [it's] just millions of deaths. The millions of young people walking around, what do we say to them when they grow up and they find out we could have saved their parents and just decided not to because of where their parents lived or how much their parents made?
I think it's the most significant ethical issue of our generation. It's a really serious moral issue. I think the bottom line for most of us, and for me at the convention, is that there are millions of people around the world who understand that this is a bottom-line issue. For rich countries and poor countries to not come together and agree to put an end to this epidemic raises the question of whether we could use the word "civilized" to describe the world's societies. Because there is no excuse for this. This is not a disease that we don't know how to end. We know how to prevent it, and we know how to treat it, and we know how to end it. I think it's primarily a political issue.
Click here to e-mail David Scondras.
This article was provided by The Body PRO. Copyright © Body Health Resources Corporation. All rights reserved.