Increased I50L Prevalence Found After Unboosted Atazanavir Use in PI-Treatment-Experienced Patients
Andrew Zolopa and colleagues presented the first interim analysis from the IMPACT study (BMS AI424-128),1 a study looking at the prevalence of the HIV-1 protease gene mutation I50L, known to confer antiretroviral resistance to atazanavir (ATV, Reyataz). Specifically, the study examines the frequency with which I50L occurs in those patients who received atazanavir-containing regimens that were either unboosted or boosted with ritonavir (RTV, Norvir). The study is an ongoing multicenter, cross-sectional study of HIV-infected treatment-experienced patients who demonstrated virologic failure on an atazanavir-containing regimen in the United States.
Virologic failure was defined as either achieving an undetectable viral load of less than 400 copies/mL and then rebounding to more than 1,000 copies/mL or never going below 1,000 copies/mL after 24 weeks of atazanavir therapy. The study is a single visit study during which clinical information and a blood sample were collected for HIV-1 viral load and resistance genotyping.
One hundred twenty-eight patients have been enrolled to date, 12 (9.4%; 3/24 atazanavir, 12.5% and 9/104 atazanavir + ritonavir 8.7%) of whom had the I50L mutation. The presence of an I50L mutation was more likely if the duration of atazanavir use was more than 12 months, if the viral load was 100,000 copies/mL or more at the time of the study visit, in women (3/11) compared to men (9/117) and in blacks (6/30) compared to whites (5/70).
The results were further analyzed with respect to protease inhibitor (PI) exposure. No patients developed an I50L mutation if their initial PI therapy was unboosted atazanavir or ritonavir-boosted atazanavir. Further, no other primary PI mutations were seen in those patients who received ritonavir-boosted atazanavir as their initial PI.
Thus, I50L was only seen in those patients who had prior PI experience before initiating an atazanavir-containing regimen. Of those patients with prior PI experience, the prevalence of I50L was far less in those who had received a ritonavir-boosted PI (7/95, 7.4%) prior to an atazanavir-containing regimen compared to those who had received an unboosted PI (5/33, 15.2%). Prior exposure to nucleoside/nucleotide reverse transcriptase inhibitors did not appear to affect the development of an I50L mutation.
This study describes the prevalence of (around 10%) and demographic characteristics associated with I50L development in a clinic-based population. In general, the I50L mutation was not found after atazanavir first-line failure.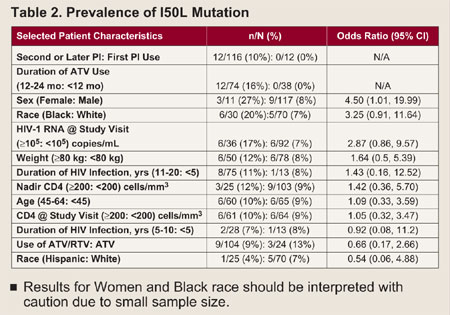 Table by Andrew Zolopa; reprinted with permission. For full PDF of poster, click
here
.

The trend of increased I50L prevalence after using unboosted-atazanavir regimens is interesting. However, as the authors appropriately caution, the numbers are still quite small and so any conclusions about increased prevalence, particularly in women and blacks should be interpreted with caution. We were not told what other protease gene mutations may have developed after virologic failure in either those patients who received atazanavir-containing regimens as their first regimen or in a subsequent regimen. Previous published data have demonstrated that it is more likely that an I50L mutation develops when atazanavir is part of a patient's initial regimen, and although I50L has been described when atazanavir is used in subsequent PI-based regimens, other protease gene mutations are much more likely to develop.
Footnote
Zolopa A, Towner W, Zurawski C, et al. Resistance profile after treatment with an atazanavir-containing regimen: first interim analysis results from the IMPACT study (BMS AI424-128). In: Program and abstracts of the XVI International AIDS Conference; August 13-18, 2006; Toronto, Canada. Abstract THPE0099.
View poster: Download PDF
This article was provided by The Body PRO. Copyright © Body Health Resources Corporation. All rights reserved.