Potency of Boosted Fosamprenavir Matches Lopinavir/Ritonavir for First-Line Therapy
Current U.S. Department of Health and Human Services guidelines1 recommend lopinavir/ritonavir (LPV/r, Kaletra) in combination with lamivudine (3TC, Epivir) or emtricitabine (FTC, Emtriva) and zidovudine (AZT, Retrovir) as a first-line regimen for treatment-naive patients. In treatment-experienced patients, no other boosted protease inhibitor (PI) has been able to compare equally on all fronts with the activity of the PI lopinavir/ritonavir. In treatment-naive patients this efficacy had never been challenged until now in a large, randomized study of the boosted PI fosamprenavir (FPV, 908, Lexiva, Telzir).
At the XVI International AIDS Conference, the results of the KLEAN (Kaletra versus Lexiva with Epivir and Abacavir in antiretroviral-Naive patients) study2 were presented by Joseph Eron in a late breaker session. This study was a phase 3, open-label, multicenter, non-inferiority study in which the safety and efficacy of both lopinavir/ritonavir and ritonavir (RTV, Norvir)-boosted fosamprenavir were compared head to head in more than 800 treatment-naive patients. The 48-week results of this study were also published in The Lancet this month.3
Patients were randomized to receive either fosamprenavir 700 mg + ritonavir 100 mg twice daily or lopinavir/ritonavir 400 mg/100 mg twice daily, each with the abacavir/lamivudine (ABC/3TC, Epzicom, Kivexa) 600 mg/300 mg tablet once daily. Patients were stratified according to screening HIV-1 RNA (less than 100,000 copies/mL versus 100,000 or more copies/mL), and they were allowed to substitute the abacavir (ABC, Ziagen) component in the event of a suspected hypersensitivity reaction to abacavir. The primary endpoints were the proportion of patients achieving HIV-1 RNA less than 400 copies/mL and treatment discontinuations due to an adverse event through week 48.
The results presented at this conference were the final 48-week results for the entire population. The baseline characteristics were similar between the two treatment groups with a median plasma HIV-1 RNA value of 5.1 log10 copies/mL and a low median CD4+ cell count of 192 cells/mm3. One hundred ninety patients discontinued the study: 93 (21%) in the fosamprenavir + ritonavir arm and 97 (22%) in the lopinavir/ritonavir arm; the reasons for discontinuation were similar for both groups. At week 48, the response rates for the proportion of patients who achieved an HIV-1 RNA level below 400 copies/mL were 73% in the fosamprenavir + ritonavir group and 71% in the lopinavir/ritonavir group by ITT-E (intent to treat-exposed), TLOVR (time to loss of virologic response) analysis (95% CI: -4.84, 7.05) thereby establishing the non-inferiority of fosamprenavir + ritonavir to lopinavir/ritonavir. The proportion of patients who reached an HIV-1 RNA level below 50 copies/mL at week 48 were 66% in the fosamprenavir + ritonavir group and 65% in the lopinavir/ritonavir group (see figure).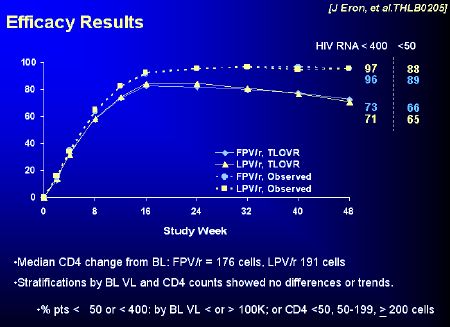 The efficacy of both regimens was similar in patients with a baseline CD4+ cell count below 50 cells/mm3 or HIV-1 RNA level of 100,000 or more copies/mL, and the median CD4+ recovery by week 48 was +176 cells/mm3 (fosamprenavir + ritonavir) and +191 cells/mm3 (lopinavir/ritonavir). In addition, few patients discontinued the study due to treatment-related adverse events (fosamprenavir + ritonavir: 53 [12%]; lopinavir/ritonavir: 43 [10%]). Treatment-emergent drug resistance was rare and no patient had virus that developed reduced susceptibility to fosamprenavir + ritonavir or lopinavir/ritonavir.
The overall results of this study are extremely important. They confirm beyond any doubt that the potency of boosted fosamprenavir is at least as good as lopinavir/ritonavir, which for many years has been considered a standard of care. It would have been even better, if the results had shown an improved adverse events profile (such as fewer cases of diarrhea) or a lower incidence of dyslipidemia, which are two of the major problems with lopinavir/ritonavir. I have to admit that I was surprised that was not the case, given the excellent tolerability that I have noticed in patients treated with fosamprenavir + ritonavir in my clinical practice.
Fosamprenavir + ritonavir can now be added to the list of agents that can be given with two nucleosides (including lamivudine and emtricitabine) for initial therapy. Potent responses to this drug were found in individuals with high viral loads and very low CD4+ cell counts. In fact, the updated HIV/AIDS treatment guidelines4 by the International AIDS Society were released at this meeting and feature fosamprenavir + ritonavir as a recommended initial regimen, as well as other PIs such as lopinavir/ritonavir, and boosted atazanavir (ATV, Reyataz) and saquinavir (SQV, Fortovase, Invirase). Certainly this recognition by the International AIDS Society and the results of this KLEAN study help to increase our level of comfort when prescribing this antiretroviral to those of our patients who are initiating antiretroviral therapy.
Footnotes
This article was provided by The Body PRO. Copyright © Body Health Resources Corporation. All rights reserved.