Figure 3: Major Activities of the U.S. Program
Table 3: U.S. International AIDS Funding by Program Area, FY 1998
Health Systems Support: $57,125,000 (31%)
Prevention Projects & Program Evaluation: $36,501,000 (20%)
UNAIDS Program Support: $23,000,000 (12%)
Academic Research: $20,931,420 (11%)
Surveillance & Epidemiology: $14,663,036 (8%)
Vaccine Infrastructure: $12,539,719 (7%)
Training Foreign Clinicians & Researchers: $9,704,399 (5%)
Developing Government & Community Leadership: $5,749,000 (%3)
Supporting Reference Labs & Animal Facilities: $4,905,498 (3%)

Nine program areas characterized U.S.-funded international AIDS activities in 1998. These categories were based on program descriptions and other sources of information. While necessarily somewhat artificial and overlapping, these categories represented the clearest and most relevant classifications we could create. This section describes each program area and its projects.
Figure 3: Major Activities of the U.S. Program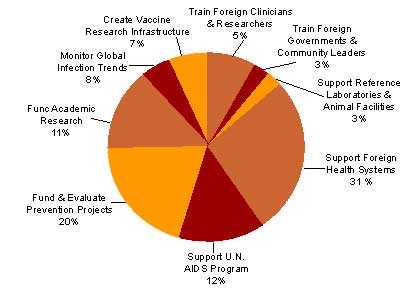 Table 3: U.S. International AIDS Funding by Program Area, FY 1998
Health systems support
$57,125,000
31%
Prevention projects/program evaluation
$36,501,000
20%
UNAIDS program support
$23,000,000
12%
Academic research
$20,931,420
11%
Surveillance & epidemiology
$14,663,036
8%
Vaccine infrastructure
$12,539,719
7%
Training foreign clinicians/researchers
$ 9,704,399
5%
Developing government/community leadership
$ 5,749,000
3%
Supporting reference labs/animal facilities
$ 4,905,498
3%
Advertisement
Health Systems Support: $57,125,000 (31%)
Health systems support is a category used to describe the HIV activities of USAID missions around the world. Individual USAID missions comprised the single largest part of the U.S.'s international HIV program budget. Precise budgets for each mission could not be determined, so we examined congressional testimony from USAID officials describing the activities of each mission. Typically this testimony described the HIV activities of individual missions as part of an overall strategy for the control of sexually transmitted infections, maternal-child health programs, and support for primary health care systems. Some USAID missions, such as those in South Africa, Brazil, and India, maintain very good web sites with comprehensive information about their HIV activities. These were the exceptions, however. The greatest limitation of our analysis was the lack of clear, complete information of USAID mission-level activities. Forty USAID missions reported direct HIV funds in 1998. Thirty-six missions reported HIV health systems support activities in USAID's congressional testimony. Four USAID missions that received HIV funding in USAID's pre-contractor budget-Russia, Belarus, Kazakhstan, and Uzbekistan-reported no HIV activities of any sort in their congressional testimony.
Prevention Projects & Program Evaluation: $36,501,000 (20%)
HIV prevention activities were supported by four USAID contracts and occurred in 37 countries.
HIV prevention in this context requires a broader definition that used domestically in the United States, including, for example, STD control, family planning, maternal health, orphan care programs, etc.
The largest prevention initiative was the IMPACT Project. Operated by Family Health International, an NGO located in Virginia, and funded by a USAID contract, IMPACT is a multifaceted program operating in 21 countries. In 1998, USAID spent $15 million on the IMPACT project. The annual contract report for the program lists 105 HIV prevention projects, ranging from technical assistance with governments and private groups to the direct operation of prevention programs. IMPACT primarily focuses on the operation, planning, management, and evaluation of interventions that reduce transmission of HIV through sex, including the treatment and prevention of other sexually transmitted infections that enhance HIV's spread. IMPACT also helps care for AIDS orphans, assists with epidemiological surveillance, organizes systems of HIV care for infected people, and provides assistance with HIV testing and blood supply safety. IMPACT is the largest of all USAID's contracts, and one of that agency's most important programs. The IMPACT contract is up for renewal in 2002.
USAID funds a $13 million contract with the Population Council, a New York-based NGO, called the Horizons program. Horizons is a multifaceted program operating in 23 countries. Horizons identifies components of effective HIV/AIDS programs and policies, tests potential solutions to problems in prevention, care, support, and service delivery, and disseminates these findings with a view toward replication and scaling-up of successful interventions. Horizons develops "best practices guidelines" for STD treatment and diagnostic programs, HIV testing sites, and other prevention activities in developing countries. The Horizons contract expires in 2002.
The AIDSMark program is another key HIV prevention initiative of USAID. Operated by Population Services International, an NGO located in Washington D.C., AIDSMark operates in at least seven countries, primarily in Africa and heavily in West Africa. In 1998, USAID spent $8 million on AIDSMark. AIDSMark is a social marketing program that promotes condom use, safer sex, and abstinence. It also subsidizes and distributes condoms and educational materials through community organizations and health clinics. This contract is up for renewal in 2002 as well.
The Peace Corps received $236,000 from USAID for HIV prevention in 1998. The Peace Corps program trains volunteers to conduct prevention workshops and provides them with HIV prevention materials. The Peace Corps contract describes 17 prevention projects in 12 countries.
UNAIDS Program Support: $23,000,000 (12%)
The U.S., through USAID, contributed $23 million to the United Nations AIDS (UNAIDS) program in 1998, 11% of the U.S. international HIV budget. The U.S. is the largest single contributor to the UNAIDS program. This analysis did not examine UNAIDS activities. Detailed descriptions of the UNAIDS program and its global activities are available at
www.unaids.org
.
Academic Research: $20,931,420 (11%)
We were pleased to find that NIH supports a large number of investigator-initiated academic research grants focusing on HIV internationally. Academic grants totaled $21 million in 1998, 10% of the total U.S. international HIV program. Seventy-six international HIV research grants were funded by NIH in 1998, 27 from the Fogarty International Center (FIC), 25 from NIAID, 13 from the NICHD, 6 from NCI, and 5 from NIMH. These grants were awarded to 38 universities, with Johns Hopkins, Harvard, University of Washington, University of Alabama, Columbia, and Duke receiving the largest sums. (Vaccine research and infrastructure, and foreign clinician training programs, also academic and supported by NIH, are described under sections
Vaccine Infrastructure
and
Training Foreign Clinicians & Researchers
below.) While most academic research was investigator initiated, NIH solicited grant applications for three major programs that play an important international role.
The Centers for AIDS Research (CFARs) are multidisciplinary awards to universities with large HIV research programs. The CFARs coordinate and enhance HIV research within an institution. Four centers had discrete international programs totaling $2.2 million in 1998.2


The Fogarty International Research Collaboration Awards (FIRCA) program supports small-scale (under $32,000 annually) collaborations between U.S. and foreign investigators. FIRCA grants are supplemental grants that allow American investigators who receive other sources of NIH support to collaborate with foreign investigators on research projects. In 1998, 23 FIRCA grants totaling $500,000 were funded for collaboration with researchers in developing countries.


The NIH biodiversity initiative, only partially funded with AIDS dollars ($150,000 of AIDS funding in 1998), included six biodiversity grants supporting work to identify and catalogue microbial, plant, and animal species for biomedical research, particularly natural substances with disease-fighting properties. The biodiversity program operates in remote regions, surveying wilderness areas in Laos, Vietnam, Surinam, Madagascar, Cameroon, and Nigeria.
The remaining 43 academic grants were more traditional investigator awards, and they represented the bulk of the international HIV academic research grant portfolio (approximately $18 million in 1998). These awards included such projects as evaluations of school-based behavioral interventions in Indonesia, interventions in Kenya to prevent mother-to-infant HIV transmission in utero or through breast-feeding, basic studies of HIV strains found in developing countries, and analyses of Kaposi's sarcoma-related herpes virus (KSHV/HHV-8), which is endemic in parts of Africa. The NIH funded the HIVNET 012 study, which documented the ability of a single dose of nevirapine given intra partum to an HIV-infected woman, and a single dose given post partum to her newborn, to reduce perinatal transmission of HIV by 47% compared with AZT (Guay 1999).
The NIH codes all its research into "functional categories" for budgetary reporting and strategic planning purposes. In 1998, these international HIV research grants were coded in five functional categories: $8 million for natural history and epidemiology studies (primarily studies of HIV-2 and other HIV-1 strains); $4.7 million for therapeutic research studies (primarily mother-to-infant interventions); $2.8 for pathogenesis research; $1.4 million for behavioral research; and $1 million for vaccine-related research, such as assessing the feasibility of conducting vaccine trials in certain populations.
Surveillance & Epidemiology: $14,663,036 (8%)
The NIH, USAID, and CDC play important roles in helping monitor the spread of HIV worldwide. NIH, through NCI, supports extensive epidemiological investigations in the Caribbean and some parts of Africa. NCI conducts its program through its intramural Viral Epidemiology Branch ($700,000 in 1998) and through contracts with the Research Triangle Institute ($2.6 million), the Caribbean Epidemiology Center ($315,000) and the University of the West Indies ($680,000). NCI's focus on epidemiology in the Caribbean is a result of NCI's long-term presence there monitoring human T-cell lymphotropic viruses (HTLVs), retroviruses once believed related to HIV and endemic in the region.
USAID supported epidemiological work carried out by the U.S. Bureau of the Census ($1.35 million), which maintains a global database of worldwide HIV infection trends and provides technical assistance to other governments. The contract report for the Bureau of the Census did not describe the countries that received technical assistance in 1998, so the number of countries that are described as having epidemiology projects in this analysis is probably an underestimate of the true number.
CDC spent $9 million in 1998 on epidemiology projects in eight countries. Most international HIV work at CDC is organized by the National Center for HIV, STD, and TB Prevention (NCHSTP). That center's largest program is Project RETRO-CI, a collaborative research program with the Ministry of Health of Côte d'Ivoire. The $3.7 million program's primary purpose is to define the magnitude and characteristics of the HIV-1 and HIV-2 epidemics in that west African nation. RETRO-CI sponsored an important study which showed that TMP/SMX, when given to HIV-infected tuberculosis patients in Abidjan, reduced mortality by 46% (Wiktor 1999).
The NCHSTP also had a $2.5 million collaboration with the Thai Ministry of Public Health to help improve understanding of AIDS and the dynamics of its spread, providing a scientific basis for intervention programs. The center had a collaborative relationship with the Ugandan Ministry of Health. The $400,000 Ugandan program provided technical assistance to the government and supported a resident virologist in Entebbe. The center also had an $800,000 technical and computer assistance program to the U.N., South Africa, Malawi, India, and Vietnam.
CDC's National Center for Infectious Disease (NCID) supported a $1.5 million research program in Kenya, supporting a hospital-based cohort study to examine the relationship between HIV infection and several tropical diseases, particularly in pregnant women.
Vaccine Infrastructure: $12,539,719 (7%)
One of the most important parts of the U.S. international HIV program is the creation of an international infrastructure to develop an effective HIV vaccine. The vaccine infrastructure was funded through two NIH mechanisms, with additional support from DOD (see
Other U.S. Agencies Involved in Developing Countries
), which is not analyzed in this report.
Two NIH-funded contracts formed the core of the international vaccine effort. In 1998, the major contract was HIVNET, a $10 million program from NIAID administered by Family Health International (FHI). HIVNET has since been restructured into the Vaccine Trials Network (VTN) and the Prevention Trials Network (PTN). FHI was responsible for administering the international component of HIVNET, which also had a domestic component. FHI contracted with nine universities that ran twelve international field sites in ten countries.3 HIVNET's main purpose was the creation of an international infrastructure for the evaluation of an HIV vaccine. HIVNET was also involved in the search for topical microbicides, STD treatments, prophylaxis to prevent mother- to-infant transmission, behavioral risk-reduction strategies, and baseline seroincidence data. The other major NIH international vaccine contract was a $3 million award to the Fred Hutchison Cancer Center in Seattle, which provided statistical analysis and support for the international vaccine program.
Training Foreign Clinicians & Researchers: $9,704,399 (5%)
The Fogarty International Center (FIC) at NIH funded a $9.7 million program that trained physicians and clinical researchers from around the world. Called the AIDS International Training and Research Program (AITRP), it provided awards to 17 American universities. The training typically involved bringing a foreign clinician to the university for a period of postdoctoral training in clinical care, biomedical research, or epidemiology. In rare cases, training sessions were held in foreign countries. A few universities in the program focused on one country or region. Case Western Reserve focused on Uganda, and the State University of New York in Brooklyn focused on eastern Europe. Most universities in the program, however, trained clinicians from many countries. This program reached more countries than any other U.S. international program. In 1998, clinicians from 43 countries participated.
Developing Government & Community Leadership: $5,749,000 (3%)
USAID funded a $2.4 million contract to the Futures Group, an NGO in Washington, D.C., that trains government officials to develop effective HIV-related policies. Specifically, the Futures Group contract focused on human rights and discrimination policy for HIV-infected people. Government officials from 23 countries have been trained through this contract. USAID funded a $2.9 million contract with the International AIDS Alliance to train community groups around the world. This contract developed grassroots networks in ten countries by training local community leaders. Located in London, the Alliance was one of only three contractors not located in the U.S. Both USAID contracts expire in 2002. USAID funded a $350,000 contract with the National Council on International Health, a Washington-based NGO, to organize community training seminars worldwide and to maintain a database of global community AIDS resources.
Supporting Reference Labs & Animal Facilities: $4,905,498 (3%)
NIH used $4.9 million to support four research infrastructure programs: $1.5 million for Frederick Cancer Research Center, a unit of the National Cancer Institute that conducts drug screening and other basic research; $2.3 million for lab supplies and other support services for NCI's Viral Epidemiology Branch and Genetic Epidemiology Branch; $807,000 for administration at the Fogarty International Center, and $180,000 for a simian breeding colony in Indonesia.