The Body Covers: The 12th Conference on Retroviruses and Opportunistic Infections
Lamivudine (3TC, Epivir) and emtricitabine (FTC, Emtriva) are extremely similar drugs. In fact, emtricitabine is lamivudine with one fluorine in one of the rings of the product.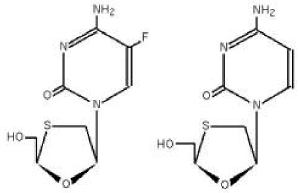 As you can see, emtricitabine (left) looks awfully similar to lamivudine (right). Both drugs have a relatively long intracellular half life and can be used once daily. When emtricitabine was approved in July 2003, it was as a once-a-day drug. Lamivudine was a twice-a-day drug for years until it was also approved for once-a-day administration.
In both the Department of Health and Human Services1 and International AIDS Society treatment guidelines, these drugs are considered interchangeable. Both drugs are associated with the M184V mutation. Both drugs are active against hepatitis B (HBV), but emtricitabine is not currently approved to treat HBV. Worsening of HBV can occur in people coinfected with HIV/HBV who discontinue these drugs -- it is something that should be done with caution. As you can see, emtricitabine is the prototype of a "me too" drug.
Actually, the most important difference between the 2 drugs is in who owns them. Lamivudine is a GlaxoSmithKline (Glaxo) drug and emtricitabine, originally a Glaxo drug, became a Triangle product and now is owned by Gilead. Both companies have developed fixed-combination drugs: Gilead has tenofovir (TDF, Viread)/emtricitabine, known as Truvada, and Glaxo has abacavir (ABC, Ziagen)/lamivudine, with a brand name of Epzicom in the United States and Kivexa in Europe. These combinations are the "modern" nucleoside backbones of antiretroviral therapy, and they have become extremely popular because of both their ease of administration and their relatively good tolerability.
Obviously the marketing departments of these 2 companies have tried to discover the "unique" characteristics of emtricitabine and lamivudine to differentiate them from the competing product. The purpose of this study was to see if there were, in fact, any differences in the phenotypic resistance profiles of these 2 compounds.
The authors looked at the phenotypic characteristics of viruses with the M184V mutation (which confers resistance to both emtricitabine and lamivudine) in combination with other very characteristic nucleoside/nucleotide reverse transcriptase inhibitor (NRTI) mutations: K65R, T69 insertion and thymidine analogue mutations (alone or in combination). Using the ViroLogic phenotypic database, they compared the median fold changes of those viruses against emtricitabine and lamivudine.
To the surprise of nobody, only minimal differences were found between the resistance profile of either drug. What this means, in practical terms, for patients is that emtricitabine and lamivudine are really interchangeable, and the reason to use one or the other depends more on which drug it is combined with. So, for example, if you are already using abacavir, it makes sense to use it as a fixed combination with lamivudine in the formulation known as Epzicom, and if you want to use it with tenofovir, then the choice is the fixed combination known as Truvada.
Lamivudine has a long track record in HIV treatment and is probably the best tolerated drug in the NRTI class. Emtricitabine looks extremely similar and in its short existence has not demonstrated any unusual or unexpected problems.
When a study whose main goal was to show differences between 2 products ends in a statement like "It is unclear that any of these differences were clinically significant," it simply means that there is no difference in the resistance profile of these products.
Footnote
Panel on Clinical Practices for Treatment of HIV Infection. Guidelines for the Use of Antiretroviral Agents in HIV-1-Infected Adults and Adolescents. US Dept of Health and Human Services; October 29, 2004.
GlaxoSmithKline, Research Triangle Park, NC, USA; ViroLogic, Inc, South San Francisco, CA, USA
This article was provided by The Body PRO. Copyright © Body Health Resources Corporation. All rights reserved.