The Body Covers: The 12th Conference on Retroviruses and Opportunistic Infections
1) Introduction
Treating HIV-infected multi-drug resistant patients is one of the biggest challenges facing HIV clinicians today. Because such patients usually have few treatment options left to them, it is difficult to achieve a high degree of success, let alone prescribe regimens that include 2 or more active drugs as recommended by the Department of Health and Human Services treatment guidelines. Thus, even experienced clinicians often find themselves stymied as to what step should be taken next, and many salvage patients remain in limbo waiting for new drug classes -- or new drugs in existing classes -- to be developed.
Each major medical conference brings fresh hope that new treatment options have been found. For many clinicians, the highlight of the 12th Conference on Retroviruses and Opportunistic Infections (CROI) was the discovery that the pipeline of new drugs in development is richer than had been anticipated. There were notable presentations of new drug targets, as well as new drugs that attack existing targets. This overview will cover the most noteworthy of these presentations.
But first, there are other critical issues affecting salvage therapy that were discussed at CROI and are worth including in this review. Those issues include trends in the rate of triple-class resistance; the continuing evolution of our knowledge regarding resistance mutations; and the usefulness of viral replication assays and therapeutic drug monitoring.
2) Trends in the Rate of Triple-Class Resistance
The use of antiretroviral therapy has grown increasingly widespread, but not all regimens are created equal. Many antiretroviral combinations have less-than-optimal effectiveness, particularly those that include older, less-potent drugs. At the same time, adherence is an issue for many HIV-infected patients, particularly given the pill burden associated with many previous-generation antiretrovirals. As a result, many clinicians fear that the number of patients developing multi-drug resistance will continue to grow, leaving a steadily rising number of patients with fewer and fewer available treatment options. Fortunately, encouraging data presented at CROI suggest that the newer potent regimens, with their easier scheduling, lower pill burden and, as a result, better adherence, may actually be
reducing
the incidence of triple-class resistance.
One large study, by Fiona Lampe et al,1 examined how rates of virologic failure have changed over time for patients taking their first highly active antiretroviral therapy (HAART) regimen. The researchers looked at 5 cohorts, which included 4,143 patients who were initiating HAART. They focused on the calendar year when treatment was begun (1996 through 2002).
For analysis, the data were grouped into 3 categories:
missing viral load data was equated with virologic failure,
patients with missing viral load data were excluded, and
only the patients who were still taking antiretrovirals when their viral load was measured were included.
The researchers found that the risk of virologic failure has fallen steadily over time. The risk of failure, as shown in the table below, fell substantially from 1996 to 1999, and there was evidence of further decline from 1999 to 2002. In 1996, for instance, 24.8% of category C patients -- i.e., patients who were taking antiretrovirals when their viral load was measured -- experienced virologic failure; by 1999, that proportion had dropped to 12.4%, and was down to 8.4% by 2002. Similar declines were seen for the other two patient categories. (Overall percentages were higher in categories A and B due to their less-strict definitions for virologic failure.)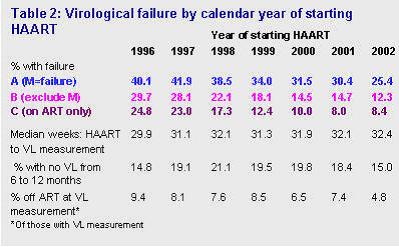 Table courtesy Fiona Lampe; reprinted with permission.
Similarly, positive news was found with regards to CD4+ cell count. The median increase in CD4+ cell count (pre-HAART to 6 months) rose from 97 cells/mm3 in 1996 to 150 cells/mm3 in 2002, which further documents the strides we have made in improving antiretroviral therapy. The table shown below summarizes CD4+ cell count trends over time among patients beginning HAART.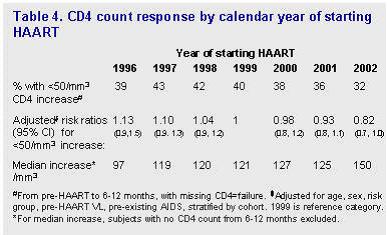 Table courtesy Fiona Lampe; reprinted with permission.
A similar analysis was performed by Nicolai Lohse et al and was presented in a summary of trends from the Danish HIV Cohort Study.2 This study involved 2,722 patients who were beginning their first HAART regimen, 60% of whom had no antiretroviral experience at all when they enrolled. Study patients were followed over time to examine the incidence of triple-class failure.
The risk for triple-class failure per year of treatment is summarized in the chart below. The top line in the chart represents the failure trend for patients who entered the study with previous antiretroviral experience, the bottom line represents patients with no prior antiretroviral experience and the middle line represents combined data from both groups.
These data demonstrate quite nicely that, although the overall risk of triple-class failure for patients initially steadily increased, it is now decreasing.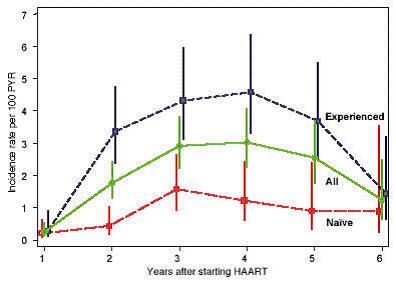 Chart courtesy Nicolai Lohse; reprinted with permission.
Further evidence of the continued improvement of virologic efficacy is nicely demonstrated by Lohse's figure below, which summarizes the risk for triple-class failure stratified by year of HAART initiation. As you can see, the risk of triple-class failure fell regardless of when patients started HAART, although those who began HAART after 2001 clearly had the lowest risk.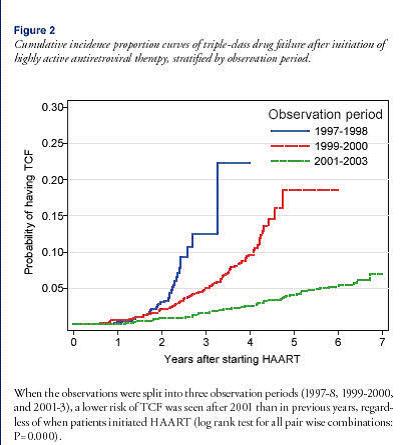 Chart courtesy Nicolai Lohse; reprinted with permission.
These data provide some reassurance that the use of potent HAART will not lead inevitably to resistance. Instead, new, improved regimens that are more potent, simpler and easier to adhere to can actually decrease the rate of triple-class virologic failure.
Likewise, these data point to how critical good adherence support is for patients receiving HAART. Given the limited treatment options for multi-drug resistant patients, preventing resistance remains our strongest defense.
3) The Impact of Resistance on Patient Management
Resistance remains a vexing issue, not only because of the challenges it presents to clinicians trying to select an optimal regimen, but also due to the complexity of relevant interpretation of resistance test results. Several presentations at CROI called attention to these issues, with studies that highlighted the increasing diversity of resistance patterns and shed some more light on issues surrounding the K65R mutation, as well as the associated debate over how best to sequence nucleoside/nucleotide reverse transcriptase inhibitors (NRTIs).
Diversity of Resistance Patterns and the Challenge of Resistance Testing
Managing patients with multi-drug resistance requires skilled interpretation of genotypic resistance test results. This has become more challenging as the number of mutations now linked to resistance has grown. This trend was well described in a study by Alex Rinehart et al. Their study examined the evolving diversity of HIV-1 resistance mutations in more than 128,000 clinical samples that had been sent to one of the makers of resistance assays, Virco, for routine resistance analysis from 1998 to 2004.
3
Rinehart notes that, although there is a declining frequency of mutation combinations that are known to be associated with NRTI or protease inhibitor (PI) resistance, researchers continue to discover previously undetected mutation combinations at a steady rate.
On average, 980 unique NRTI mutations, 151 unique non-nucleoside reverse transcriptase inhibitor (NNRTI) mutations and 1,337 unique PI mutations were added to the Virco database every 6 months during the study period. The researchers found that the most common mutational patterns actually represent less than 1% of the total observed mutational diversity.
The intimidating conclusion one can reach from this study is that HIV continues to discover new pathways to evade antiviral suppression. These data underscore how difficult it is to remain confident that one can adequately interpret even a standard genotype test.
Implications of the K65R Mutation
With the increasing popularity of new once-daily non-thymidine NRTIs, the issue of whether there is any advantage to the initial use of tenofovir (TDF, Viread) over abacavir (ABC, Ziagen) has become a hot topic. The implications of the K65R mutation, which is associated with resistance to tenofovir as well as abacavir, are being intensively assessed. Two studies conducted by the manufacturer of abacavir evaluated data relating to the tenofovir-versus-abacavir debate.
The first study, by Peter Gerondelis et al, used a clonal genotypic resistance test to examine a group of 41 virologic non-responders participating in ESS30009, a trial in which treatment-naive HIV-infected persons were randomized to receive either abacavir + lamivudine (3TC, Epivir) + tenofovir or abacavir + efavirenz (EFV, Sustiva, Stocrin) + lamivudine.4 The clonal genotypic resistance test was used to evaluate the sequence of single copy genome isolates often obtained by diluting the specimen, as opposed to standard, population-based genotyping.
At week 12 of the study, population genotypic testing identified 4 patients from among the virologic non-responders to abacavir + lamivudine + tenofovir as having only the M184V/I mutation. When a clonal analysis was done, however, all 4 were found to have the K65R mutation as well. Based on this finding, the researchers conclude that the rate of K65R is actually higher than can be detected by standard genotyping.
Gerondelis et al also found a dearth of L74V mutations in their study, which is consistent with the reported increase in susceptibility to tenofovir that is conferred by L74V.
Similar findings were reported in another study that evaluated tenofovir versus abacavir, which was also conducted by the maker of abacavir. That study, by Mark Underwood et al, looked at cross-resistance in clinical samples that had the mutations K65R, L74V and M184V.5 Their data suggest that the most detrimental single mutations to phenotypic susceptibilities are -- listed in order of decreasing severity -- K65R, M184V and L74V. The most detrimental double mutation was K65R + M184V, followed by L74V + M184V.
The authors interpret this data to suggest that selection of L74V or M184V alone (as opposed to K65R alone), or the combinations of either K65R + M184V or L74V + M184V, will allow for more NRTI-based therapy options in the future.
Taken together, these 2 studies try to make the case that it may be preferable to start with an abacavir-containing regimen instead of a regimen containing tenofovir. However, neither is ultimately convincing, due to the small size of their study population and the lack of clinical correlates.
However, what makes these studies worth mentioning is that they both highlight the use of interesting technologies such as single genome sequencing and phenotypic correlation with genotypes. Unfortunately, while interesting, these technologies are difficult to relate to clinical practice because they are not yet available for general use. A true comparison of how to best sequence the non-thymidine NRTIs will await the results of prospective clinical trials comparing the 2 drugs -- trials such as the large, upcoming AIDS Clinical Trials Group (ACTG) 5052 study, which will compare abacavir/lamivudine (ABC/3TC, Epzicom, Kivexa) and tenofovir/emtricitabine (TDF/FTC, Truvada). This issue is important not only from a resistance and NRTI-sequencing standpoint, but also from the metabolic perspective, since data presented at CROI further supported the view that both tenofovir and abacavir offer fat and other metabolic advantages over thymidine analog NRTIs.6-8
K65R and T215Y Are Not Present in the Same Viral Genome
Finally, John Mellors' group offered an excellent genetic explanation for the apparently exclusive mutational pathways involving tenofovir and thymidine analog mutations.
9
The investigators evaluated 56 single-genome sequences derived from 7 specimens that were reported to contain both the K65R mutation (the signature mutation for tenofovir) and T215Y (the signature mutation for zidovudine [AZT, Retrovir]). The K65R mutation was not found on any genome with T215Y/F/I, and K65R was rarely present with any other thymidine analog mutation.
Mellors et al's elegant experiment confirmed that there is antagonism and mutual exclusivity of the K65R and T215Y/F/I pathways to NRTI resistance. This provides support for the inclusion of a thymidine analog with tenofovir as a way to increase the barrier to resistance for NRTI-backbone regimens.
Conclusion
The resistance data presented at CROI (including issues relating to the use of enfuvirtide [T-20, Fuzeon] with either tipranavir [TPV] or TMC-114, which will be discussed in more detail later in this article) underscore the intimidating complexity of resistance analysis and highlights some of the flaws of the current algorithm-based approach, which is too simplistic and often not clinically relevant. It is clear that standard, population-based genotyping misses important resistance mutations and that the phenotypic cut-offs are not absolute and need to better represent a range of target sensitivities.
4) Therapeutic Drug Monitoring, Blipping and Replication Capacity
In addition to resistance tests, therapeutic drug monitoring is another tool that has been utilized widely in Europe to assist in the management of virologic failure. Ferdinand Wit presented data from a substudy
10
of the 2NN study, which compared nevirapine (NVP, Viramune) to efavirenz in treatment-naive HIV-infected persons.
11
In this substudy, the researchers looked at the relationship between the plasma concentrations of nevirapine and efavirenz and virologic failure.
Wit et al found that there was no clear Cmin of nevirapine below which the risk of virologic failure was significantly increased. The Cmin levels for both nevirapine and efavirenz were poorly predictive of virologic failure (as noted in the slide below). As a result, although NNRTIs are a class for which the benefits of therapeutic drug monitoring are often touted, these results do not support the routine use of therapeutic drug monitoring with NNRTI-based regimens.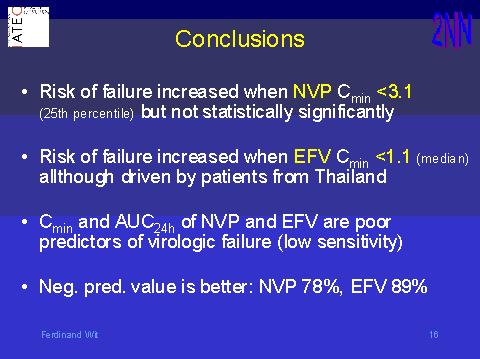 Slide courtesy Ferdinand Wit; reprinted with permission.
Viral Load Blips and Drug Level Variation
With the advent of plasma HIV-RNA assays that have lower limits of detection, the threshold for virologic failure keeps shifting. A common scenario involves a patient who has a plasma HIV-RNA level below 50 copies/mL and on a subsequent measure is noted to have a detectable viral level. If the viral load measure rises to between 50 and 500 copies/mL and then drops back down to undetectable by the next measurement, this is termed a viral blip. It is a continuing question whether this viral blip indicates early virologic failure due to resistance, sub-therapeutic drug levels, virus from reservoirs or some other explanation we haven't yet considered.
This kind of blip does not indicate virologic failure, according to a recently published paper.12 Nettles et al intensively studied 10 patients on HAART with HIV levels less than 50 copies/mL. They found that 9 of the 10 experienced low-level blips (mean level = 79 copies/mL). Analysis of numerous factors, including resistance and adherence evaluations, concluded that most of the blips were due to random biological or statistical variation around a mean of under 50 copies/mL and did not represent clinically meaningful episodes of viremia.
In a related poster presented here at CROI, Nettles et al intensively evaluated PI and NNRTI concentrations in a select group of 10 patients who had high-level viral suppression (below 50 copies/mL) and were on a stable HAART regimen.13
The researchers had planned to evaluate the relationship of plasma drug levels to viral blips, but they found that blips did not coincide with low drug concentrations. However, a remarkable finding of the study was the high intra-individual coefficient variation (ICV) of drug levels. The median ICV was 43% for PIs and 26% for NNRTIs. Even for lopinavir/ritonavir (LPV/r, Kaletra), the ICV was 43%. Yet, despite this wide variation in drug levels, viral suppression was maintained in this select group of patients. Possible contributors to this variation included food effects, medication timing and the use of herbal or other prescription medicines.
The investigators concluded that, because such a wide variability of drug levels was measured in individual patients who remained suppressed, this might limit the utility of therapeutic drug monitoring as a useful clinical adjunct in some settings, even when evaluating drugs for which target therapeutic drug levels have been proposed.
Measuring Viral Fitness
Another test thought to be useful in the management of patients with multi-drug resistant virus is a "replication capacity" assay. This assay measures viral fitness, which is a gauge of how well an HIV isolate can replicate. It is believed that HIV that accumulates antiretroviral resistance mutations is less fit than wild-type HIV.
The ability of the replication capacity test to predict response to a salvage regimen was looked at by Andrea De Luca et al.14 Included in the analysis were 139 patients (median replication capacity = 65%) from the prospective Argenta trial who were switched to a salvage regimen in the setting of virologic failure on HAART.
Overall, replication capacity showed no correlation with treatment response. However, in the large number of patients who were not fully suppressed on their salvage regimen, higher replication capacity did predict a worse 3-month virologic response and CD4+ cell response out to 24 months, when controlling for drug susceptibility. In patients achieving complete suppression, a high replication capacity predicted a lower CD4+ cell count recovery.
This study shows how replication capacity may be an interesting test for exploring pathogenesis issues, but it is still generally not useful for the management of individual patients.
Replication capacity analysis seems to offer interesting insight into why certain groups of study subjects respond differently to salvage regimens. That data, however, is not easy to extrapolate to individual patients, as opposed to groups of participants in a study, so translation of replication capacity results to the prospective management of individual salvage patients awaits further data.
5) Antiretroviral Strategies in the Setting of Virologic Failure
Much has been written about the significance of viral load as a measure of clinical success for a given antiretroviral regimen. There were many CROI presentations illuminating different approaches to dealing with increasing degrees of virologic failure.
What to Do About Viral Load Blips?
One scenario for potential virologic failure involves viral load blips in the setting of otherwise-successful HAART. However, as noted earlier, a small, intensive study by Nettles et al found no relationship between blips and short-term (within 3 months) risk for virologic failure. A larger, longer-term examination of this issue was conducted among the Dutch Athena Cohort Study Group, which includes 1,730 patients.
15
For this study, a blip was defined as a viral load level of 50 to 1,000 copies/mL that had been preceded by 2 or more viral load levels of 50 copies/mL or less, and is then followed by 1 or more viral load levels of 50 copies/mL or less. The researchers identified 87 patients who met those criteria. In the entire cohort, the blip rate was 6.3 per 100 person-years. The rates of blips varied widely, depending on the definition used. The researchers found that patients who experienced blips had a similar clinical course to patients who remained highly suppressed without any blips.
These observations expand upon those of Havlir16 and Nettles,12 who concluded that in the majority of cases, blips do not appear to be associated with a near-term (in the Nettles study) or long-term (in the Havlir study) risk of virologic or clinical failure. The upshot for clinicians is that it now appears safe to say that no change in regimen is necessary.
Persistent Low-Level Viremia
While the issue of viral blips seems more or less resolved, it remains unclear what should be done for patients who are experiencing
persistent
low-level viremia while taking HAART. However, a study
17
conducted by Caryn Morse and colleagues at the U.S. National Institutes of Health leads us closer to an answer.
In Morse et al's study, 45 patients who had stable low-level viremia (defined as a viral load of 10,000 copies/mL or less that persisted for at least 12 months while the patient was on a stable antiretroviral regimen) were identified. Population-based genotypes were performed from at least 2 samples, separated by at least 12 months, to quantify the development of new reverse transcriptase and PI mutations. Genotypes were obtained an average of 819 days apart.
Interim evaluations of 12 of the 45 patients were presented at CROI. In these 12 patients, no new clinically significant mutations developed. Phylogenetic analysis performed on 18 samples from 7 patients revealed a mean nucleotide divergence of 0.37% in the pro-pol region, indicating little development of genetic mutations. CD4+ cell counts remained stable.
The authors concluded that stable low-level viremia was not associated with significant resistance mutations. This conclusion is somewhat controversial, since other investigators18,19 have reported the development of resistance in the setting of moderate-level viremia. On the other hand, the phenomenon of persistent clinical and immunologic benefit in the setting of modest levels of viremia has also been well documented.20
In my opinion, the data presented by Morse et al support a more conservative approach when it comes to switching antiretroviral drugs in the setting of stable low-level viremia. This cohort seems rather unique because of the long time between samples, so there may be some sampling bias in patients with stable viremia.
Treatment Discontinuation in Patients With Limited Therapeutic Options
Although viral load blips and persistent, low-level viremia may not be cause for immediate concern, confirmed virologic failure most certainly is. Unfortunately, it is often unclear what is the best strategy when patients with few or no therapeutic options are failing a salvage regimen. Is it better to stop the failing HAART regimen or should it be continued? Can a failing HAART regimen provide any benefit? Does HAART still confer any defense against opportunistic infections?
There are those who argue in favor of stopping treatment entirely for patients with multi-drug resistance. Some researchers have observed that a treatment interruption when resistant virus is present could result in a return to more drug-susceptible virus, with the majority species perhaps improving response once treatment is restarted.21,22 However, this theory seems doomed now, particularly given study results presented at this year's CROI.
In one such study, investigators with the enormous French Hospital Database on HIV23 looked at the effect of HAART, CD4+ cell count and viral load level on the incidence of AIDS-defining events in the following 5 groups of patients:
patients from the pre-HAART era who had never been on treatment,
patients from the pre-HAART era who had taken monotherapy,
HAART-era patients on a treatment interruption,
HAART-era patients with viremia, and
patients who were undetectable on HAART.
Not unexpectedly, there were fewer AIDS-defining events in patients with a CD4+ cell count of 50 cells/mm3 or less in both categories of patients who were on HAART (groups 4 and 5) than in patients who had stopped HAART (group 3). The rates of AIDS-defining events overall and for individual types of pathogens are summarized below.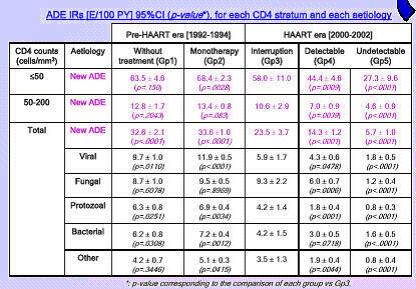 Chart courtesy Isabelle Kousignian; reprinted with permission.
As can be expected, the researchers concluded that groups from the HAART era had a lower incidence of AIDS-defining events than pre-HAART groups with similar CD4+ cell counts. Of more importance in the setting of salvage therapy, however, was the finding that even among patients who had deep immunologic and virologic failure, maintenance of HAART was found to be protective against AIDS-defining events.
Conversely, treatment interruptions were found to be, for the most part, risky for AIDS-defining events in patients whose CD4+ cell count was below 200 cells/mm3. These patients were particularly at risk for pneumocystis carinii pneumonia, toxoplasmosis, pulmonary or esophageal mycobacteriosis and primary brain lymphoma.
This study confirms earlier studies24 that have shown that it is generally better to continue HAART than to stop it, even when patients are failing on therapy. As such, this data has important implications for salvage patients and the clinicians who care for them.
The French Hospital Database study was not the only one presented at this conference to conclude that HAART should not be stopped in patients who are failing treatment. The final results of the CPCRA 064 study25 showed that a structured treatment interruption (STI) taken prior to changing treatment in multi-drug resistant patients failing therapy confers no clinical, immunologic, virologic or even quality-of-life benefit.
The details of the CPCRA 064 study (the interim results of which were previously published in NEJM26) were as follows: The study consisted of 274 patients who had a mean CD4+ cell count of 180 cells/mm3, a mean nadir CD4+ cell count of 69 and a mean log10 RNA of 5.0. The patients were randomized to either immediately switch to a salvage regimen or take a 4-month STI followed by a new regimen. The mean CD4+ cell count changes from baseline are summarized in the table below.
| | | | | | |
| --- | --- | --- | --- | --- | --- |
| Time Interval | Control Arm (cells/mm3) | Treatment Interruption Arm (cells/mm3) | Difference Between Arms (cells/mm3) | SE | P value |
| 0-4 months | +35.6 | -48.8 | 84.3 | 8.2 | <0.0001 |
| 5-24 months | +39.1 | -7.9 | 47.0 | 12.0 | 0.0001 |
| 24+ months | +39.6 | -3.2 | 24.8 | 23.4 | 0.07 |
As can be seen in the table, for the first 24 months, the STI group had a lower CD4+ cell count response after treatment was restarted, which placed them at an increased risk for AIDS-related morbidity/mortality. In the STI arm, 54 patients experienced 94 progression of disease (POD) or death events, versus 74 such events among 48 patients in the control arm. There were 30 deaths in the STI arm and 33 in the control arm, of which 14 and 19 were first events, respectively. Forty patients in the STI arm and 28 patients in the control arm experienced at least 1 event.
The incidence of POD or death is shown in the table below. The hazard ratios in the table have been adjusted for baseline CD4+ cell count, HIV-RNA viral load, prior POD and clinical site.
| | | | | |
| --- | --- | --- | --- | --- |
| Type of Event | # of First Events in Control Arm | # of First Events in STI Arm | Hazard Ratio | P value |
| POD or Death | 48 | 57 | 1.28 | 0.22 |
| Death only | 33 | 30 | 0.97 | 0.91 |
| POD only | 29 | 44 | 1.66 | 0.04 |
The study closed in June 2004 with a median follow-up of 36 months, which represents a longer observation period than the 11.6 months included at the time of the NEJM paper. In the analysis presented at CROI, not only was there clearly no benefit shown to a treatment interruption in this population, but there remained a statistically significant higher rate of progression of disease in this group.
These findings are not surprising, and were corroborated in yet another study presented at this conference, called the Tibet study.27 This study found that treatment interruptions, even in the setting of high-level viral control (median CD4+ cell count at baseline of 827), can result in unacceptable rates (42%) of de novo (not detected in DNA at baseline) resistance to NNRTIs.
In yet another study that had a similar outcome, Canadian investigators presented the results of CTN 164.28 This study evaluated the effect of a 12-week treatment interruption after treatment failure and prior to the initiation of a new HAART regimen, versus the immediate initiation of a new regimen.
The study population consisted of viremic patients whose viral load was higher than 1,000 copies/mL, who were on a stable HAART regimen and who had at least 2 active new drugs to add to a 3-5 drug salvage regimen. The researchers randomized 134 patients into 2 groups -- one that paused for a 12-week treatment interruption after treatment failure and one that immediately initiated a new regimen after treatment failure.
At 60 weeks, both groups experienced a mean 1.7 log10 decrease in viral load. The median increase in CD4+ cell count was 95 in the group that had immediately switched medications versus 25 in the treatment interruption arm (P = .04). As a result, the authors concluded that treatment interruptions in this setting provided no clinical benefit.
Finally, since enfuvirtide is the only antiretroviral drug presently available from a new class (fusion inhibitors), treatment interruptions in the context of enfuvirtide-based regimens were evaluated in several studies.
George Beatty, from the University of California-San Francisco, et al presented the results of one small study.29 Thirty patients who were in need of salvage therapy were randomized to either immediately start an enfuvirtide-based regimen or to first undergo a 16-week treatment interruption before commencing an enfuvirtide-based regimen. Each study arm had 15 patients. As shown in the figure below, there was no benefit gained from the treatment interruption.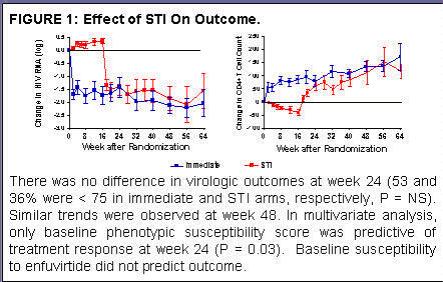 Figure courtesy George Beatty; reprinted with permission.
In another study, the same investigators30 attempted to use treatment interruption to determine the level of residual antiviral activity when enfuvirtide resistance is present. To accomplish this, they looked at what happened when just the enfuvirtide was stopped in 22 patients who were persistently viremic while on an enfuvirtide-containing regimen.
Stopping just the enfuvirtide resulted in a median viral load increase of 0.27 log10 copies/mL and a decline in CD4+ cell count of 4 cells/mm3. Phenotypic susceptibility to enfuvirtide returned in most patients by week 16 after the treatment interruption; this correlated with a modest increase in viral fitness.
Cumulatively, these studies strongly suggest that treatment interruptions are not a wise treatment option for the majority of patients who have advanced HIV disease. This conclusion has, however, been noted previously.31
6) Clinical Trials With Available Agents
Thus what strategies remain if we are faced with a multi-drug resistant patient experiencing failure on his or her current HAART regimen? Although the use of agents that are in development is certainly an option (more on that in a moment), it can still sometimes be possible to hold off on that and stick with currently available agents.
At CROI, 2 such options were highlighted. One is the use of dual-boosted PI regimens, a strategy now beginning to gain traction among clinicians. The other is the introduction of enfuvirtide into an optimized background regimen -- already a well-accepted strategy, but one that can be difficult for some patients to stick with because of injection site reactions.
Dual-Boosted Protease Inhibitors
Since NRTIs form the backbone of most antiretroviral regimens, it can be a challenge to create a new regimen for patients who develop resistance or intolerance to NRTIs. French investigators tried to address this issue with the INSERM E012214 trial.
32
They enrolled 82 patients who were either resistant or intolerant to NRTIs and switched them to a regimen consisting only of dual-boosted PIs. At baseline, a genotype test found that 44 of 53 study participants already had at least 1 primary PI mutation.
At week 24, 82% and 93% of the participants had a viral level below 400 copies/mL by intent-to-treat or on-treatment analyses, respectively. Twenty switched from one dual-boosted PI regimen to another because of gastrointestinal complaints, but no serious adverse events were reported.
This study demonstrates that dual-boosted PIs can be safe and effective. In fact, this type of regimen is becoming increasingly attractive due to the availability of new PI drugs and improved formulations (i.e., atazanavir [ATV, Reyataz] and the new 500-mg saquinavir [SQV, Invirase] tablet).
Concern, of course, remains about possible individual variations in drug levels (per the above discussion13) as well as drug interactions (such as atazanavir with proton-pump inhibitors) and metabolic effects. This strategy merits further study in both treatment-naive and -experienced patients.
Enfuvirtide
It is already quite clear just how advantageous the addition of enfuvirtide to a salvage regimen can be. Unfortunately, the success of enfuvirtide is tempered somewhat by the high prevalence of injection site reactions, which, for a minority of patients, can be painful and uncomfortable -- so much so that some patients may discontinue the drug, even though it is one of few options they have left.
Since enfuvirtide is the only drug currently available from a new class, it is critical to develop a better understanding for the type of patient in which site reactions are least likely to become severe. Neville Gibbs from the U.S. Food and Drug Administration (FDA) presented data33 from pivotal FDA trials on this troubling adverse effect.
As part of the FDA's safety review, 663 people were examined independently from the TORO analyses that led to enfuvirtide's approval.34 At least one injection site reaction was reported by 98% of the participants, with 96% reporting some pain and discomfort.
The average duration of an injection site reaction was found to be 3 to 7 days in 41% of the participants and more than 7 days in 24% of the participants. The number of injection site reactions at any one time in a single subject was 6 to14 in 26% of the participants. Seven percent of study participants discontinued enfuvirtide because of injection site reactions. The researchers noted that difficulties with enfuvirtide-related injection site reactions could be even higher outside of the clinical trial setting.
David Cooper, on behalf of the Alliance Investigator group in Australia,35 looked at the correlation between the severity of injection site reactions and the amount of subcutaneous fat a patient has. This study included 59 patients prospectively followed with DEXA (dual energy X-ray absorptiometry) scans.
Baseline limb fat of more than 4.3 kg was found to be strongly protective against severe injection site reactions. A peripheral fat percentage greater than 16% was also protective. The investigators concluded that increased peripheral fat reduces severe injection site reactions. This is extremely useful to know, particularly when considering whether to put a patient who is experiencing severe lipoatrophy on long-term enfuvirtide.
7) New Drugs From Existing Classes
For many clinicians, the presentations documenting the numerous antiretroviral drugs in development were the highlight of CROI. It is these new drugs that will be most helpful for patients who have already developed resistance to many of the existing drugs. New drugs from existing classes that are active against resistant virus or new drugs with novel targets of activity are vital for future success in the setting of salvage therapy. CROI presented very little that was promising in the NRTI class. Amdoxovir (DAPD)
36,37
is active against NRTI-resistant virus, but the clinical future of that drug appears dim. The news from CROI for the PI and NNRTI classes was much brighter.
Protease Inhibitors
Tipranavir: The Next Protease Inhibitor to Be Approved
For activity against PI-resistant HIV, the drug in development that is now closest to FDA approval is tipranavir, a non-peptidic PI that will be given boosted with ritonavir (RTV, Norvir).
Tipranavir's efficacy and safety are currently being studied in 2 open-label, phase 3 trials called RESIST I and RESIST II, which have been ongoing since April 2004. In these studies, ritonavir-boosted tipranavir is being compared to a comparative boosted-PI regimen.
Several clinically germane updates to the RESIST trials were presented at CROI.38-40 The overall schema of the RESIST trials is summarized in the slide below. To enter the RESIST trials, patients had to meet the following criteria: have a history of exposure to 3 classes of antiretrovirals, with at least 2 PI-based regimens and at least 1 primary PI mutation, but have no more than 2 of the following codons carrying mutations: 33, 82, 84 or 90. At baseline, participants had a median HIV-RNA level of 4.8 log10 copies/mL and a median CD4+ cell count of 155 cells/mm3.
Over 1,483 patients were randomized into the study, with 1,159 patients available for analysis at 24 weeks. Participants' virologic response at 24 weeks within both RESIST study arms is shown below. As you can see, only 18.9% of the patients on the comparator PI + ritonavir arm had more than a 1 log viral load reduction, while 41.2% of the patients on the boosted-tipranavir arm had a greater than 1 log viral load reduction.
Patient response, according to the number of baseline primary PI mutations, is summarized in the slide below. In the tipranavir arm -- even in patients who had 5 to 6 baseline primary mutations -- virologic response was robust and superior compared to that of the control group.
Additional analyses evaluated patient response to tipranavir + ritonavir using other approaches to assess the type and number of mutations. Regardless of a patient's total baseline protease mutations, number of primary PI mutations or PI resistance-associated mutations, tipranavir + ritonavir therapy was consistently found to be superior to the comparator boosted-PI regimen.
Examination of Lopinavir/Ritonavir in the RESIST Comparator Arm
The current gold standard boosted-PI regimen for use in salvage therapy and as a comparator in various studies, is lopinavir/ritonavir, which is the boosted PI for 50% of patients in the RESIST study. David Cooper39 presented the results of a sub-analysis of the RESIST study that looked at how lopinavir/ritonavir fared when compared to tipranavir + ritonavir. Also looked at were comparisons involving whether patients who were previously taking lopinavir/ritonavir and enfuvirtide, and how enfuvirtide affected response rates. The results of the lopinavir/ritonavir versus tipranavir + ritonavir comparison are shown in the figure below. Those results demonstrate the clear superiority of the tipranavir + ritonavir arm.
When prior use of lopinavir/ritonavir is included in the analysis, the results are as follows (see figure below). These results show that the difference between tipranavir + ritonavir and lopinavir/ritonavir is not significant for the subset of patients who are either lopinavir/ritonavir naive (left figure) or lopinavir/ritonavir susceptible (right figure).
Enfuvirtide is one of the most attractive drugs for use with tipranavir + ritonavir in this setting. The results of the enfuvirtide analysis (shown below) show that adding enfuvirtide to tipranavir + ritonavir in enfuvirtide-naive patients results in an almost 70% response rate.
These results demonstrate the potential advantage of tipranavir + ritonavir versus lopinavir/ritonavir in salvage situations, particularly when patients have already developed resistance to lopinavir/ritonavir. Although tipranavir + ritonavir seems to be well tolerated, its negative interaction with numerous other PIs may obstruct the ability to construct an optimally effective salvage regimen using multiple PIs. It is anticipated that tipranavir (currently available through an expanded access program) will be approved in the summer of 2005.
TMC-114 + Ritonavir
Of all the presentations on drugs in development, perhaps the most impressive for many clinicians was Richard Haubrich's presentation of the TMC-114 + ritonavir results.41 This multinational, multicenter study attempted to pinpoint the appropriate dose for TMC-114. This 497-patient study contained 5 arms. Patients were randomized to take 1 of 4 TMC-114 doses or to take an investigator-selected PI regimen in the control group. Each of the TMC-114 arms was dosed with 100 mg of ritonavir. The following are details of the 5 arms:
400/100 TMC-114 once daily
800/100 TMC-114 once daily
400/100 TMC-114 twice daily
600/100 TMC-114 twice daily
Comparator PI
The primary endpoint was the decrease in viral load at week 24 from baseline. A secondary endpoint was the proportion of patients who experienced a 1 log or more viral load decrease. Patients were randomized equally to the 5 study arms. The study was partially blinded (to dose, not to TMC-114 schedule).
The major inclusion criteria for enrollment in the study were as follows:
Patients had to be at least triple-class experienced,
Patients had to be currently receiving a PI-containing regimen,
Patients had to have at least 1 primary PI mutation,
Patients had to have a viral load higher than 1,000 copies/mL,
There were no CD4+ cell count restrictions, and
Coinfection with hepatitis B or C was permitted (in TMC-114 C213).
Major baseline characteristics for the 497 patients enrolled are summarized below.
Participants in the trial averaged 8 PI resistance-associated mutations and 3 primary PI mutations. Overall, 47% of the trial participants used enfuvirtide on their optimized background regimen (well balanced across all treatment arms). In the control group, 71% used a single PI, 27% used a dual-boosted PI and 2% used a dual-unboosted PI.
The week 24 results are shown below. As you can see, the TMC-114 was generally well tolerated and there was no evidence of dose-related toxicity or metabolic changes different than those seen in the control arm. The efficacy of TMC-114 + ritonavir was greatest with the 600/100 twice-daily dose and this dose had no additional obvious adverse effects. It is this dose that will be moving forward in phase 3 trials.
For the subset of patients who were enfuvirtide naive and were in the TMC-114 + ritonavir 600-mg twice-daily arm, by week 24 an impressive 67% of the patients had achieved a viral level of under 50 copies/mL.
The control arm was a little weak, since there was minimal use of either boosted or dual-boosted PIs. There is also no data yet about TMC-114's drug interactions with other PIs or issues related to stomach acidity and food. Nonetheless, these results are clearly the best yet to have been seen in a salvage study and raise the bar higher than had been set in the TORO enfuvirtide studies.42,43
640385: Another Protease Inhibitor in Development
Another agent under investigation for its activity against PI-resistant HIV is an agent now known as 640385 (also known as VX-385 or GW0385). Six possible doses given for 2 weeks +/- ritonavir were evaluated in HIV-uninfected volunteers.44 This double-blind, randomized, placebo-controlled, repeat dose, escalating study was conduced in 6 sequential groups of HIV-uninfected participants. The arms were as follows:
800 mg 640385 twice daily,
100 mg 640385/100 mg ritonavir once daily,
250 mg 640385/100 mg ritonavir once daily,
50 mg 640385/100 mg ritonavir twice daily,
150 mg 640385/100 mg ritonavir twice daily, and
300 mg 640385/100 mg ritonavir twice daily.
This 15-day study showed that 640385, alone or with ritonavir, was generally safe and well tolerated. Co-administration with ritonavir significantly increased plasma exposure and the twice-daily ritonavir-boosted doses achieved a plasma exposure well above the target level for resistant HIV. From this preliminary data, once-daily dosing would probably only be considered in patients who are naive to treatment. Further studies in HIV-infected persons are planned, but clinical development of 640385 is still in the early stages. Other PIs in preclinical development were described including UIC-0203145 and AG-001859.46 For the next several years, however, clinicians will have to sort out how and when to utilize PIs closer to approval, including tipranavir and perhaps TMC-114.
NNRTIs in Development
Capravirine
Although clearly much needed, there are not many promising second generation NNRTIs in development. In fact, the last NNRTI to be approved was efavirenz in 1998.
One investigational NNRTI that has been found to be active against HIV strains that are resistant to all currently approved NNRTIs is an agent called capravirine (CPV). Earlier studies of this drug yielded 2 notable findings:
Capravirine monotherapy shows activity against HIV in treatment-naive subjects through 10 days.
Capravirine levels are increased 2-fold by nelfinavir (NFV, Viracept).
Study 1002, which was presented by Rick Pesano et al, was a randomized, double-blind phase 2 trial conducted among PI-naive patients who were failing an NNRTI-containing regimen.47 The researchers evaluated the benefit of adding capravirine (either 700 or 1,400 mg) to a regimen of nelfinavir + 2 NRTIs. There were 60 patients in each of the 3 study arms (placebo, 700-mg capravirine and 1,400-mg capravirine).
At 48 weeks, the researchers found no evidence of any significant benefit from adding capravirine to the nelfinavir + 2 NRTI regimen, as indicated by the virologic suppression rates in the following chart:
| | |
| --- | --- |
| Study Arm | Patients With VL <50 copies/mL |
| Placebo | 39% |
| Capravirine 700 mg | 40% |
| Capravirine 1,400 mg | 47% |
These data demonstrate that capravirine was of essentially no benefit for patients who are failing an NNRTI-based regimen. Although additional studies with capravirine are planned, the future of the drug now seems questionable.
TMC278
A much more promising NNRTI candidate is TMC278, which has been shown to have potent activity against NNRTI-resistant HIV. TMC278 is from a new family of NNRTIs called diarylpyrimidines (DAPYs). The structure of a DAPY allows it to interact in a different position in the binding site of reverse transcriptase than either nevirapine or efavirenz.
Marie-Pierre de Béthune et al of Tibotec and Johnson & Johnson presented data from 3 studies evaluating the pharmacokinetics and in vitro activity of TMC278.48 These 3 studies demonstrate that TMC278 has a higher genetic barrier for resistance than currently available NNRTIs.
TMC278 was shown to have potent activity against a range of HIV viruses: wild type, site-directed mutants (e.g., L110I and K103N) and 89% of a panel of more than 1,500 NNRTI-resistant isolates. In the pharmacokinetic studies, which were conducted among 90 HIV-uninfected men in 3 placebo-controlled, randomized, double-blind trials, TMC278 was reasonably well-tolerated in single doses up to 300 mg and multiple oral doses up to 150 mg, with the only notable complaints being headache and dizziness.
In passage experiments in which the virus goes through repeated cycles of replication to induce resistance, no resistant virus was induced at higher TMC278 concentrations. However, at lower concentrations, a variety of NNRTI mutations were found, such as L100I, V106I, Y181C and M230I.
A large buzz was generated at an oral presentation on TMC278 that was given by Frank Goebel of Ludwig Maximilians University in Munich.49 In this study, called TMC278-C201, either a placebo or increasing doses of once-daily TMC278 (25 mg, 50 mg, 100 mg and 150 mg) was administered to 47 HIV-infected, treatment-naive patients, as depicted in the study design shown below.
All 4 of the once-daily TMC278 doses resulted in a strong HIV-RNA decrease of 1.0 to 1.3 log10 copies/mL after 7 days (as shown in the slide below), and no evidence of the development of resistance was seen.
Another study evaluating the effect of TMC278 in treatment-experienced HIV-1-infected patients is already underway.
BILR 355BS
Another NNRTI, BILR 355BS, has had pre-clinical and dosing experiments conducted on HIV-uninfected participants. Results appear favorable enough to warrant further testing in HIV-infected persons.50,51
The road to an effective second-generation NNRTI has been a long and difficult one, but preliminary results with TMC278 offer hope that an NNRTI active against resistant virus will be developed in the near future, with earliest broad availability likely in 2007 if development goes well.
8) New Drugs Attacking New Targets
As mentioned previously, a highlight of this CROI was not only seeing the scope of the development of new drugs from
existing
classes, but also hearing about new agents that have
new
targets of action, which are particularly alluring given how many patients are currently living with triple-class drug resistance.
These advances were profiled in numerous oral presentations. The new drugs include chemokine receptor inhibitors,52-55 RNAase H inhibitors,56 integrase inhibitors, assembly and release inhibitors,57 and novel, less-toxic types of protease inhibitors.58 For all of those targets (except the RNAase H inhibitors), candidate drugs have already been identified and studied in humans. I encourage you to experience the audio or video Webcast of these presentations to learn more about each type of new target first hand. I will focus here on some of the most important new agents.
Nucleotide-Competing Reverse Transcriptase Inhibitors
Researchers are currently working on a new type of reverse transcriptase inhibitor that's different from NRTIs and NNRTIs. The agent, which is being called Compound-1, has a non-nucleoside structure and binds to the active site of HIV reverse transcriptase (like NNRTIs), although a translocation assay shows that this compound forces the enzyme to move on its primer-template in the same manner as when a dNTP binds the enzyme. Thus, Compound-1 appears to be somewhat of a hybrid of NRTIs and NNRTIs.
Enzyme kinetic experiments by Dick Jochmans et al of Tibotec59 show that the compound is a competitive inhibitor of nucleotide incorporation of HIV-1 and HIV-2 reverse transcriptase. Based on this finding, a new name for this class of agents was proposed: "nucleotide-competing" reverse transcriptase inhibitor, or NcRTI.
In his oral presentation, Jochmans explained the recent development of technologies that can screen compounds to determine if they have the ability to block the polymerization step of HIV reverse transcriptase by a novel mechanism. This agent is still in early development.
Chemokine Receptor Inhibitors (CCR5 and CXCR4 Antagonists)
For the last several years, numerous research groups have intensely tried to develop drugs that could block HIV entry into target cells via either the CCR5 or CXCR4 receptors. A theoretical concern with receptor blockage (and one that will need to be carefully evaluated in upcoming clinical trials) is that blocking the CCR5 receptor could result in a shift towards CXCR4-tropic virus, which has been associated with more rapid disease progression. One presentation observed that mutations facilitating that shift in viral tropism, or mutations that confer some level of resistance to chemokine receptor inhibitors, appear to come at a cost to the virus in terms of fitness.
52
Maraviroc (UK-427,857)
Within an entirely new class of antiretrovirals, researchers don't want to develop a drug that, when it fails, confers resistance to the entire class. An oral presentation by Mike Westby and colleagues from Pfizer discussed the potential for cross-resistance in patients failing maraviroc, which is the new name for UK-427,857 -- the CCR5 receptor inhibitor that is the farthest along in development.60
In their study, Westby et al evaluated the in vitro activity of other CCR5 antagonists against maraviroc-resistant strains. It was noted that CCR5 antagonists with the same triazole chemical moiety as maraviroc are completely inactive against maraviroc-resistant virus obtained through serial passage experiments. However, CCR5 antagonists with an imidazopiperdine structure, instead of the triazole, retain their anti-HIV potency in the presence of maraviroc-resistant virus. Molecular modeling showed that the triazole structure extends outside of the binding pocket, whereas the imidazopiperdine moiety does not. Such seemingly subtle differences in structure appear to impact resistance, which gives hope that some maraviroc-resistant HIV strains will remain susceptible to other CCR5 antagonists.
Several large, phase 2/3 trials are now recruiting patients who are failing therapy with the 3 standard classes of antiretroviral agents. The trials will assess the benefit of twice-daily maraviroc tablets when taken with an optimized background regimen that can include enfuvirtide. If the efficacy and safety of maraviroc were confirmed in those trials, Pfizer would be able to file for approval from the FDA perhaps 2 years from now.
GSK 873140
Of course, cross-resistance is not the only concern that researchers have about chemokine receptor inhibitors. Another complex and important issue relating to the unique mechanism of action in these drugs is how long they can remain bound to the site of action. In the case of receptor inhibitors, this variable is more critical than how long the drug remains in plasma, which is the standard pharmacokinetic measure for antiretrovirals.
In another study presented,61 James Demarest et al of GlaxoSmithKline attempted to address this question with regard to 873140, which is a small-molecule, spirodiketopiperazine CCR5 antagonist in clinical development. Previous in vivo studies have demonstrated that 873140 selectively inhibits monoclonal antibody binding to CCR5 and, with repeated oral administration, exhibits substantial (more than 97%) CCR5 receptor occupancy in blood. In addition, 873140 shows sustained viral suppression from 24 to 48 hours after therapy is discontinued.
Demarest et al utilized an assay that measured receptor occupancy as a key marker for potential activity. They found a greater than 95% CCR5 receptor occupancy after multiple doses of 873140 in 8 HIV-uninfected and 31 HIV-infected patients. A mean drop in HIV RNA of 1.66 log10 copies/mL was observed after 10 days of 873140 monotherapy in HIV-infected patients. The drug is active in the sub-nanomolar range (a low concentration that appears achievable with oral dosing).
Demarest et al also evaluated the time it took for CCR5 receptor occupancy to drop to 50% after a patient's last dose of 873140. In this dose-ranging study -- 200 mg once daily, 200 mg twice daily, 400 mg once daily or 600 mg twice daily -- of HIV-infected patients, the average time to 50% CCR5 receptor occupancy after the last dose of 873140 was more than 100 hours (ranging from 69 hours for 200 mg once daily to 152 hours for 600 mg twice daily), according to assessments of peripheral lymphocytes.
In another study,62 it was noted that dosing 873140 with lopinavir/ritonavir in HIV-uninfected patients was well tolerated and resulted in significantly increased levels of 873140. That study supports the further evaluation of 873140 boosted with ritonavir.
The subject of receptor occupancy is a new focus for both scientists and clinicians. The long period of receptor binding after dosing seems to be a post-dose effect, perhaps akin to the post-antibiotic effect seen when dealing with antibiotics and bacteria. What this receptor occupancy data means for tissue lymphocytes (the major reservoir for HIV in the body) is not known at this point (since all of this work was with circulating lymphocytes in the blood). More work will be needed to understand the clinical significance of this phenomenon.
AMD3100, AMD070 and AMD887
Data on 2 other novel chemokine receptor antagonists, AMD070 (a CXCR4 antagonist) and AMD887 (a novel CCR5 antagonist), were also presented at CROI.63 In a small retrospective study by Dominique Schols, of the Rega Institute for Medical Research in Belgium, and colleagues, clinical isolates from 3 patients who had received the failed CXCR4 antagonist AMD3100 -- which was stopped after a phase 1/2 study demonstrated toxicity and poor antiviral efficacy -- were evaluated.
The researchers noted that treatment with the failed CXCR4 inhibitor AMD3100 had resulted in a documented shift in viral phenotype from a dual-tropic strain to a predominantly R5-tropic strain in several patients. As such, the clinical HIV isolates from the 3 patients in the AMD3100 trial remained susceptible to AMD070 and to AMD887. This study shows how clinicians will have to become familiar with the issues and new terminology relating to chemokine inhibition. These data indicate that resistance within this new class of antiretrovirals might not extend to other drugs in the class. This is an important proof of concept demonstration, even if the first drug used (AMD3100) was a poor one.
Integrase Inhibitors
Another highlight from CROI -- albeit one with an unhappy ending -- was Susan Little's presentation of the phase 1/2 study on L-000870810.
64
L-000870810 is an HIV-1 integrase strand transfer inhibitor with nanomolar activity (indicating clinical activity is likely with the drug levels obtainable via oral administration) against both wild-type and multi-drug resistant HIV. In vitro studies have demonstrated a high genetic barrier to resistance with good oral bioavailability.
Little's study was a double-blind, placebo controlled study of treatment-experienced, HIV-infected patients who had been off therapy for more than 3 months. The patients were randomized 4 to 1 to receive either L-000870810 or placebo. Two different twice-daily doses of L-000870810 were used: 200 mg and 400 mg.
L-000870810 was generally well tolerated, with an average HIV-RNA decrease of 1.7 log10 copies/mL across both doses. Both doses produced drug concentrations above the inhibitory concentration of 95% (IC95) and no genotypic changes were observed.
However, these impressive results were tempered by the announcement that the development of L-000870810 had been stopped due to evidence of toxicity in experiments with dogs. The drug's manufacturer says it is developing another candidate integrase inhibitor.
One other family of integrase inhibitors in pre-clinical development is called styrylquinolines derivatives (SQL) and they were described by Arnaud Chéret in his presentation at CROI.65 Discovering a clinically active and safe inhibitor that targets integrase has been difficult for drug companies. The Merck study of L-000870810 is a proof of concept study. It demonstrates that orally active integrase inhibitors can be developed and that Merck's pursuit of other candidate integrase inhibitors holds promise, although it will probably take many years for such a compound to make it through the development process.
Maturation Inhibitors
In some of the past CROI meetings, sessions have been devoted to issues related to HIV maturation and budding. Scientific progress in this area has resulted in the development of drugs that target HIV's maturation process.
PA-457 is the maturation inhibitor (the name for this new class of drugs) that has come furthest along in clinical development. PA-457 targets the gag CA-SO1 cleavage step in HIV maturation, causing defective core condensation and the release of non-infectious virus. Eric Freed discussed this principle in an oral presentation at this year's CROI.57
Positive characteristics of PA-457 include synergistic activity with other antiretrovirals and continued sensitivity to other antiretrovirals despite PA-457 resistance. Dosing studies in healthy volunteers have been completed to determine a dose range to study.66 The results of a randomized, double-blind, placebo-controlled, phase 1 dose-ranging study to determine an appropriate dose for PA-457 were presented at CROI by David Martin, from Panacos Pharmaceuticals, and colleagues.
The 24 patients in this study were either treatment naive or had been off antiretrovirals for at least the past 4 weeks. The patients were assigned to 1 of 4 groups:
placebo,
single-dose 75-mg PA-457,
single-dose 150-mg PA-457, or
single-dose 250-mg PA-457 (n = 6 patients per group).
PA-457 appeared well tolerated across all groups. The average reduction in viral load for the 2 higher doses was around 0.2 log10 copies/mL, with 67% of patients experiencing a greater than 0.3 log10 reduction, and a maximum reduction of 0.73 log10 observed. The chart below summarizes the number of subjects with a greater than 0.5 log10 decline in viral load in each group.
| | |
| --- | --- |
| Study Group | # of Patients With > 0.5 log10 VL Decline |
| Placebo | 0 of 6 |
| PA-457 75 mg | 0 of 6 |
| PA-457 150 mg | 3 of 6 |
| PA-457 250 mg | 2 of 6 |
By comparison, the mean reduction on day 4 after a single 300-mg dose of tenofovir was 0.33 log10 copies/mL,67 and the presenters of this study noted that a single dose of potent HIV drugs typically exhibits a 0.2 to 0.4 log reduction in viral load.
In addition, the researchers detected no new mutations in the gag region. This is encouraging, since it suggests that the barrier to resistance for drugs in this class may be high, though more long-term data will be needed to confirm this.
Multiple dosing and dose ranging studies are now underway with PA-457 to evaluate the most effective dose and the antiviral potency and safety of optimal dosing.
Based on preliminary data, the FDA has granted fast-track evaluation status to PA-457. As of now, it is difficult to comment on PA-457's potency, but, should a more potent and safer dose be found, it typically takes at least 1-2 years more before a drug gets through the approval process.
Glucocorticoid Receptor Blockage and Mifepristone
Through its regulation of host cell functions, the HIV-1 gene
vpr
is implicated in viral pathogenesis, including cell cycle arrest apoptosis of T cells (control of programmed cell death), host cell transcription (the production of RNA in a cell from DNA) and immune function. Some of those effects have been linked to interaction with the glucocorticoid (cortisol) receptor, though more work is needed to confirm this.
Nonetheless, cell lines have been developed that lack glucocorticoid receptor function. It was noted that HIV-1 replicated poorly in those cells. This led researchers to wonder if the inhibition of the glucocorticoid receptor could serve as a unique method of HIV treatment.
In the past, the drug mifepristone (brand name Mifeprex, though more commonly -- and controversially -- known as the abortion pill RU-486) has been shown to be a specific inhibitor of the glucocorticoid receptor. As mentioned earlier, scientists believe that activation of the glucocorticoid receptor is one function of HIV's vpr gene. In an attempt to build on these earlier findings and theories, David Weiner, from the University of Pennsylvania, and colleagues68 examined the role of the glucocorticoid receptor in HIV replication, tested the effect of mifepristone on SIV infection in macaques and extrapolated the potential implications of these findings for HIV treatment.
Weiner et al discovered that SIV replication was inhibited in glucocorticoid receptor-negative cells in vitro. So, they then treated SIV-infected macaques with an intravenous regimen of 3.2-mg/kg mifepristone daily for 1 month. The treatment resulted in an average 1 log10 copies/mL drop in plasma SIV levels and a rise in CD4+ cell count and platelets. SIV levels rebounded when therapy was stopped.
These findings indicate that the glucocorticoid receptor blockade appears to be a reasonable target for HIV drug development. Mifepristone is available orally; its activity in stable, chronically infected, viremic HIV-infected patients is being evaluated in the ACTG A5200 study, which is now enrolling at several sites throughout the United States.
9) Final Comments
CROI 2005 provided only a dash of optimism for patients who are currently failing therapy, though many important new issues and questions were raised. As noted earlier and according to a presentation by Francois Clavel,
69
although the incidence of triple-class drug failure appears to be on the decline, it also appears that more resistance exists than is generally detected by standard population genotyping. This is particularly clear in resistance studies that involve the use of nevirapine in pregnant women; in those studies, clonal resistance tests consistently demonstrated that most HIV-infected women who receive a single dose of nevirapine to prevent vertical transmission, have HIV strains with nevirapine resistance.
70-73
The implications of such low-level resistance are significant -- and not only in the setting of vertical HIV prevention, but in other settings as well.
74,75
Regardless of whether multi-drug resistance is a growing or waning phenomenon, there remains a large number of patients who now find themselves in salvage situations.
We must answer the question: What should be done about this? As mentioned earlier, and as Diane Havlir nicely summarized in an oral presentation at CROI,76 it is clear, from data presented at this conference that stopping HAART in patients with advanced disease is generally not advisable. However, what is still not known is whether partial drug interruptions (such as stopping the PIs in a regimen) or removing all but 1 drug (such as lamivudine) from a patient's regimen might provide benefit until a new, more potent regimen becomes available.
It is also unclear what is the ideal approach to take in managing treatment-experienced patients who have a modestly low but stable CD4+ cell count (i.e., 150 to 250 cells/mm3). Some data suggest that, if the level of viremia is modest (less than 10,000 copies/mL), it may be advisable to simply continue the present regimen until 2 or more of the investigational drugs that attack new targets become available, and could then be combined with an optimized regimen.
For treatment-experienced patients who have a lower CD4+ cell count (less than 150 cells/mm3) while on therapy, the stakes are even higher, although the "correct" approach is no less clear.
The TORO trials, which evaluated enfuvirtide in patients who were failing all 3 standard classes of antiretrovirals, established a new research design paradigm. They used a resistance test-driven optimized background regimen of 3 to 5 drugs that was compared to the new agent with the optimized background regimen.42,43 This same paradigm was used in the tipranavir RESIST studies and the TMC-114 + ritonavir studies summarized earlier.
The good thing about this type of study design is that it truly highlights the benefits of the study drug. However, the often-mediocre results achieved in the control arm, plus the specter of resistance developing to the investigational agent, raise concern about whether studies designed utilizing the TORO design (optimized background +/- 1 new drug) are truly in a patient's best interests. After all, more than 1 new, potent agent with a new target of activity may be available within a reasonable time frame, particularly given today's robust pipeline (which includes second-generation NNRTIs and PIs, chemokine receptor inhibitors and maturation inhibitors).
A further twist on this theme is the dilemma facing researchers who are trying to determine when is the best time to use enfuvirtide when 1 or 2 other new agents are available. (This issue was illustrated by the impressive performance of ritonavir-boosted TMC-114 in enfuvirtide-naive patients receiving enfuvirtide.41) New thinking about how to design trials combining 2 new agents is needed as quickly as possible; doing so will maximize the benefit for patients with limited treatment options. And, just as importantly, it will minimize resistance to the new antiretroviral classes, thus helping to ensure that today's salvage patients don't quickly become tomorrow's ultra-salvage patients.
Despite the snowy Boston weather and overcast skies, this year's CROI was an uplifting experience. Before the conference, there had been concern about increasing limits to U.S. government funding for research,77 but data presented at CROI demonstrated that the pharmaceutical industry is aggressively developing new drugs and appears willing to fund many of the clinical trials needed to bring drugs through the approval process and to market.
In addition, there had been apprehension regarding the industry's commitment to caring about HIV/AIDS and about patients who are failing therapy; the 12th CROI provided reassurance that the future of new drug development looks bright. Timing, however, is sometimes everything, so a sense of urgency must prevail if some of the new drugs described can be made available in time for those in need now.
10) References
This article was provided by The Body PRO. Copyright © Body Health Resources Corporation. All rights reserved.