Contents:
CRIA Bids Farewell to Longtime Board Member
After six years of loyal service to CRIA, Judith Rabkin, Ph.D. has decided not to renew Board Membership following the end of her current two-year term on September 20, 2000.
Dr. Rabkin joined CRIA's governing body at a critical time in the agency's history, during its formative years when our Board and staff were first creating infrastructure to develop programs which effectively respond to the community's needs for innovative research. She was an active member of the agency's Research Advisory Committee and had been instrumental to CRIA's successes at developing a diverse research agenda over this significant period, in turn helping to bring about several very important healthcare advances for people living with HIV and AIDS. During her tenure, Dr. Rabkin was also Principal Investigator on one of CRIA's research studies. Of equal importance, she served in a critical capacity as a member of the Search Committee, which successfully recruited Jerome Ernst, MD to CRIA's pivotal Medical Directors position. Dr. Rabkin's thoughtful advice and guidance on our programs will be missed during the coming years. We thank her for her invaluable support and wish her all the best in the future.
Two CRIA Sponsored Programs Presented in Durban
CRIA is pleased to report on two poster presentations at the 13th International AIDS Conference held this past July in Durban, South Africa.
Advertisement
For the second consecutive time, planners of this major world meeting of HIV researchers and care providers have selected a novel component of CRIA's HIV Treatment Education Program as noteworthy for discussion. This year, CRIA presented an outline of its new technical assistance initiative to teach other AIDS service organizations (ASOs) within a few selected regions of the United States, including New York, how to provide HIV treatment education themselves. CRIA's program is unique in its comprehensive series of graduated workshops covering the full range of treatment issues which ASO staff will want to convey to their clients, in its use of several unique testing and role playing devises, and in its supplementary tools designed to help participants counsel people living with AIDS. These tools include a detailed 300+ page reference manual and a variety of color visual aids for use in explaining the basic concepts of HIV pathogenesis and treatments.
The second abstract was presented by CRIA Board Vice President, Donald Kotler, M.D., on results of our pilot independent trial of Recombinant Human Growth Hormone (Serostim®) as a treatment for lipodystrophy. CRIA's partner researchers at St. Luke's Roosevelt Hospital Center provided information on what was among the first studies completed to address the metabolic complications which are now being seen in so many long-term survivors of HIV. Findings from this small preliminary trial showed Serostim to have rapid success at reversing abnormal fat redistribution. Unfortunately, the long-term efficacy of growth hormone at restoring and maintaining more normal metabolic function could not be determined by our pilot protocol. Several significantly larger prospective trials of Serostim are now being conducted across the United States as a result of CRIA's groundbreaking work.
Poster Presentation at the 13th International AIDS Conference
July, 2000, in Durban, South Africa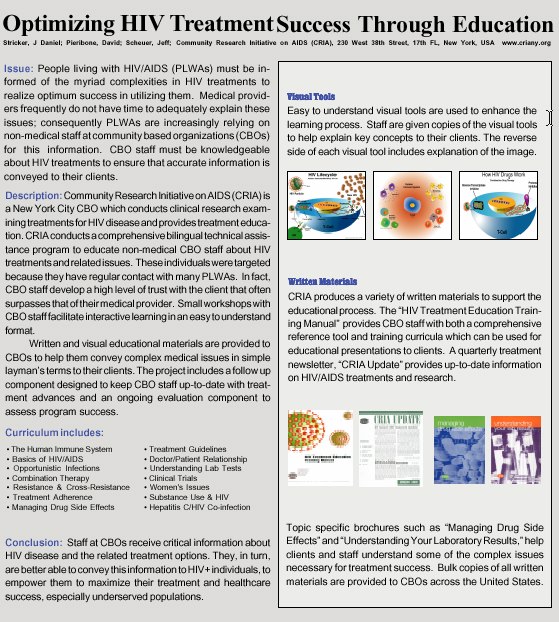 2000 Combined Federal Campaign Participation
For the third consecutive year, CRIA has been approved for membership in the
Medical Research Agencies of America
(MRAA). Participation in this federation of 32 nationally prominent medical research non-profits allows CRIA to solicit donations from federal employees across the United States through the Combined Federal Campaign (CFC). If you are a federal employee, including armed services personnel, and want to support CRIA's clinical research agenda, look for our member number 1713 in the MRAA federation section of your CFC guide.
CRIA is also a member of Share America, another federation which allows us to participate in private sector workplace campaigns, such as those conducted by large national corporations. Donations can be made to CRIA through the Share America Internet Web site at www.shareamerica.org.
Treatment Education Program Welcomes Staff
CRIA extends a warm welcome to J.D. who has recently joined our staff as a Treatment Educator. She replaces Eduardo Guzman who left the agency after three years of service to New York's HIV/AIDS community.
J.D. comes to us with the ability to immediately assume Eduardo's important responsibilities. She has a long history of community activism and involvement in promoting healthcare opportunities for people infected with HIV. Most recently, she counseled clients of the Jamaica Y Transitional Housing Unit on a broad array of service and healthcare issues. Prior to that time J.D. was Director of the Women's Treatment Project at the People With AIDS Health Group. We expect that J.D. will want to focus a large portion of her time at CRIA on helping women understand the critically important treatment issues as well as on assisting Latinos who require healthcare information entirely in Spanish.
CRIA would also like to welcome LaQuitia Moe as Treatment Education Assistant. She fills an extremely key position since CRIA's HIV Treatment Education Program has grown to offer such a large array of services. Over 170 separate community based organizations now call upon our educators to speak at their offices about the latest advances in HIV medicine. Hundreds more agencies across the United States regularly request bulk copies of our agency's treatment education publications. We will rely on LaQuitia to ensure that our treatment educators can focus on providing counseling rather than on the many necessary administrative tasks which make these services possible.