The
Winter 2000/2001 issue of CRIA Update
included several articles that explored the topic of quality of life. In preparing that issue, we saw an opportunity to share with CRIA readers the inner workings of this important area of clinical research. What better way to illustrate the advantages and limitations of different approaches to quality of life measurement than to conduct a survey of our readership? Readers received a
one-page questionnaire
that asked about their quality of life. We included a standard quantitative measure developed by Ware and colleagues (1994), the Medical Outcome Study 12 Item Short Form (SF-12), six qualitative or "idiographic" questions that my colleagues and I have used in our studies, and demographic questions.
We received responses from 118 people, including 48 by mail and 70 on-line. This response was more than sufficient for us to carry out statistical analyses. As is often the case in quality of life research, a number of surveys were returned with answers missing or incomplete. However, statistical methods allowed us to make adjustments for this missing data. Of course, this group of respondents represents a "self-selected sample." We have no way of knowing how well these responses represent the population of CRIA Update readers. Certainly, our sample, primarily composed of college-educated Caucasian men, does not reflect the current epidemic in the United States. Even so, the answers that we received were very informative about concerns that many readers may share. Respondents used the survey to express their hopes, struggles and disappointments. The editors of CRIA Update and I want to convey our gratitude to the people who took the time and effort to respond to this survey. We hope that you will enjoy learning how your answers contributed to the overall picture, portrayed in the results that follow.
Respondent Characteristics
Among those who answered this survey, 76% were male, 76% were Caucasian, 10% were people of African descent, 7% described themselves as Hispanic, and 6% were of mixed or other descent. The age of respondents spanned from 18 to 89 years, but over half the sample fell in a much narrower range, from 37 to 51 years. The sample reported high level of formal education, with 22% completing a graduate degree, 26% a bachelors degree, and 39% some college. Respondents encompassed a wide range of occupations, including management (19%), office or sales work (18%), counseling and teaching (15%), manual or service work (15%), high technology (13%), the arts (11%), and health care (8%). In terms of serostatus, 86% of respondents reported that they had tested positive for HIV. Years since HIV diagnosis ranged from 1 to 21, with a median (middle score) of about 8-1/2 years. Many in the sample were currently involved in one or more HIV-related activities, as volunteers (39%), activists (37%), donors (31%), and care givers (25%). Professional providers made up 16% of the sample, while 12% were HIV researchers.
Responses to Quantitative Items
Table 1
summarizes responses to the SF-12 items. Results for HIV-positive and HIV-negative respondents are presented separately. The majority of people in each group described their health as good to excellent. Despite this overall positive rating, many people described some physical limitations or difficulties at least some of the time. Emotional problems were somewhat more common than physical. In most instances, seropositive individuals reported greater health problems or limitations compared to seronegatives, especially in terms of ratings of general health, physical limits on accomplishments, being distracted by emotions at work, interference from pain, and disrupted social activities. However, there were also considerable areas of overlap between these two groups. For example, both groups described limitations in doing moderate activities and climbing stairs. HIV-positive respondents reported feeling calm and peaceful more than those who were HIV negative.
Advertisement
Table 1: Responses to the SF-12 Quality of Life Measure
Proportion of Respondents Who Reported
HIV+
(100)
HIV-
(17)
Good to Excellent Health*
71%
94%
Any Limitations with Moderate Activities (Such as Vacuuming)
37%
25%
Any Limitations Climbing Stairs
46%
47%
Accomplishing Less Due to Health, At Least Some of the Time*
55%
24%
Health Limitation in Work or Activities, At Least Some of the Time
51%
27%
Accomplishing Less Due to Emotions, At Least Some of the Time
62%
41%
Being Less Careful at Work, At Least Some of the Time*
56%
27%
Interference from Pain, At Least Moderately*
32%
13%
Feeling Calm and Peaceful, Most or All of the Time
24%
17%
Having Lots of Energy, Most or All of the Time
26%
42%
Feeling Downhearted and Depressed, At Least Some of the Time
67%
58%
Interference with Social Activities, At Least Some of the Time*
56%
25%
* Differences between HIV+ and HIV- were statistically significant on these items.

In order to gain additional insight into quality of life differences among respondents to our survey, we examined the statistical correlation among each of the demographic variables and the SF-12 items. A perfect positive correlation of 1.00 between two variables means that as one variable goes up or down so does the other. A perfect negative correlation of -1.00 means that variables are inversely related: as one goes up the other always goes down. A zero correlation means that differences in one variable are unrelated to difference in the other.
Our analysis showed several interesting patterns of correlations between quality of life items and respondent characteristics. For example, compared to women, men reported greater depression (.30), less calm (-.25), more interference with activities (.20), and greater difficulty accomplishing tasks (.23). Compared to Caucasian respondents, ethnic minorities reported worse overall health (-.32), more limits in moderate activities (.29) and climbing stairs (.30), and greater difficulty accomplishing tasks (.20). Among the different occupations, people in management positions expressed the least positive quality of life, in terms of limitations at work (.36), more limits in moderate activities (.25) and greater feelings of depression (.28).
Responses to Qualitative Items
Although these quantitative results show differences among people, they do not tell us why those differences occur. Qualitative items can help us to gain a better understanding of what quality of life means to different individuals. In this survey, we asked people to describe the personal goals that mattered most to their quality of life. People responded to six different probes:
What things did they want to accomplish? (Achievement)
What situations did they want to prevent or avoid? (Avoidance)
What problems did they want to solve? (Problem Solving)
What things did they want to keep as they are? (Maintenance)
What circumstances are they trying to accept? (Acceptance)
What responsibilities or roles did they want to let go? (Disengagement)
On average, respondents mentioned 8.6 goals, with a range from 1 to 30 statements. Note that mail-in respondents were limited to mentioning up to 6 goals, and almost all did. On-line respondents could write in additional responses. The average number of goals reported on-line was 11.13, almost twice as many as by mail. In order to account for this difference in the analysis discussed below, we summarized answers so that each person counted once no matter how many goals he or she mentioned. Figure 1 summarizes the proportion of goals given to each of the six probes. People mentioned more achievement goals than disengagement and acceptance goals combined, with responses to other questions intermediate, as shown by the size of the pie slices.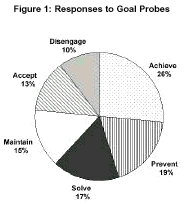 In order to work with qualitative data, researchers sometimes develop codes to indicate properties of different responses. For example, the goal, "I want to help my family come to terms with my serostatus" includes themes of family, supporting others, and HIV-specific. The goal, "I want to make peace with the realization that some members of my family will never come to terms with my serostatus" includes themes of family, HIV-specific, and psychological status. By coding goal statements in this way, it is possible to boil down many individual statements into a set of common themes and concerns.
Figure 2 depicts themes and concerns mentioned by HIV-positive and HIV-negative respondents. The most prevalent concerns mentioned by people living with HIV include psychological status and health and illness. Other prevalent themes were work and school roles, practical tasks and financial concerns, travel, and relationships. Across all other themes, about 1 in 4 of the goals mentioned by people living with the virus involved HIV-specific concerns. Seronegative respondents also tended to express concerns about psychological status, roles, and practical demands, but offered fewer goals pertaining to health or to the health care system. Instead, these respondents mentioned relatively more goals pertaining to relationships. About 1 in 20 of the HIV-negative respondents' goals involved HIV in any way.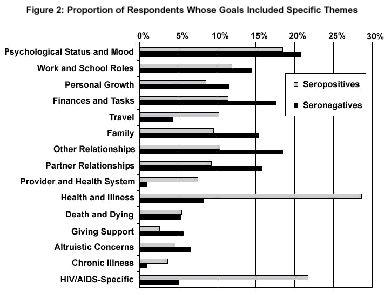 Integrating and Interpreting Quality of Life Data
Our quantitative findings showed that three subgroups in this sample expressed relatively diminished quality of life: men, minorities and managers. In order to gain some insight into the reasons why these groups seem to be faring worse than their counterparts, we used correlation analyses to examine differences in the personal goals. For example, the quality of life finding for males in this sample may reflect gender role differences in ways of coping with relationships. Compared to women, men wrote less frequently about providing support to others (-.24), accepting limits or difficulties in family and friend relationships (-.22) or community activities (-.26), and disengaging from supportive roles (-.30) and efforts at personal growth (-.25). In sum, men seemed to be less involved with others, and also less concerned with making choices about the quality of relationships: what to live with and what to let go.
Different factors were associated with the quality of life of minority respondents. Compared to Anglo-Caucasians, minorities were more involved with goals related to the health care system and treatment (.23). They also reported more efforts to disengage from providers (.24) and from dealing with health problems at all (.25). It is possible that difficulties obtaining support and care contributed to diminished sources of satisfaction in other areas. For instance, minority respondents were less involved with solving problems related to daily demands (-.25), perhaps because they were more focused on health-related problems. They were also less likely to be involved with maintaining friendships (-.21) but were more likely to report giving up personal growth related activities (.24).
Current or former managers also reported diminished quality of life compared to respondents with other occupations. More than other groups, managers reported more goals concerning health improvement (.23), addressing health problems other than HIV (.28), solving problems related to illness (.26) and providers (.31), and accepting health limitations. People in management jobs were also highly concerned with preventing problems associated with friendships (.26) and community activities (.24). This pattern suggests that people experienced in management roles are more heavily involved in trying to accomplish changes in their health and health care while protecting valued community and social roles. Perhaps the strain of trying to balance so much has taken a toll on the quality of life of these respondents.
Summary
It should be apparent that we have only begun to scratch the surface in terms of the richness and complexity involved in understanding quality of life. We hope that we have demonstrated how quality of life research can help to highlight the needs and concerns of specific groups. In the ideal case, findings such as those reported here would provide a basis for action for individuals as well as for concerned providers and activists. Research can serve to clarify priorities and point to resources needed to accomplish goals and improve quality of life.
Bruce D. Rapkin, Ph.D. is an associate professor of psychology in the Department of Psychiatry and Behavioral Sciences, Memorial Sloan-Kettering Cancer Center. Dr. Rapkin is the principal investigator on several studies of access to care and quality of life among people living with HIV/AIDS and their families.
Special thanks to Chloe Trouteaur for generously volunteering her time to enter the survey results into our database, and to The Body for posting the survey on their Web site.