Drugs used to treat HIV and prevent opportunistic infections have had a tremendous impact on both the length and quality of life for HIV-infected people. However, as much as 50% of the HIV-infected population is now being forced to grapple with another epidemic that threatens their health: hepatitis C virus (HEP C) also known as HCV.
According to the CHORUS (Collaborations in HIV Outcomes Research -- United States) database, which contains the medical records of approximately 4,000 HIV-infected patients, chronic liver failure due to HEP C has become the number one non-AIDS cause of death in HIV-infected patients.
Epidemiology
In the United States, four million people -- almost 2% of the general population -- are believed to be infected with HEP C; a prevalence rate four-times higher than that of HIV. According to conservative estimates, HEP C is responsible for 10,000 deaths in the U.S. every year -- a number that is expected to increase to 40,000 per year by 2015.
Advertisement
According to national statistics, nearly one out of every two HIV-positive individuals is also infected with HEP C. In New York City, approximately 40% of the HIV-infected population is co-infected with HEP C. Looking into the future, the number of HIV/HEP C co-infected patients is likely to increase dramatically as HIV continues to spread disproportionately among injection drug users (IDUs).
The great majority of HEP C infections in the U.S. -- more than 80% in the Midwest, and more than 74% in the Northeast -- are HEP C types 1A or 1B, which have the unfortunate double distinction of being associated with the worst prognosis and poorest response to interferon therapy. Types 2 and 3 associated infections account for about 20% of all HEP C infections in the U.S., but are known to respond better to therapy with interferon.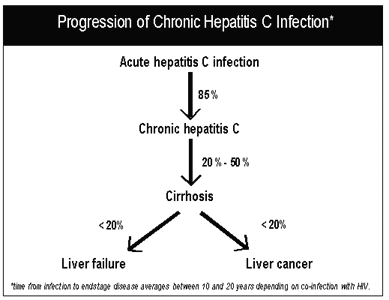 Similarities Between HEP C and HIV
There are many similarities and differences between HIV and HEP C. Both are RNA viruses that, once inside a human cell, are converted to DNA and then back to RNA. However, HEP C is different in that it does not need to enter the cell's nucleus -- a requirement for HIV.
Other similarities include the tests used to diagnose infection. Like the antibody test used to diagnose HIV -- not only in people who think they may have been infected, but also in the nation's blood supply -- a sensitive test can be used to look for the presence of HEP C antibodies. While 100% of adults who test HIV-antibody positive are definitely infected with the virus, the same may not be true for HEP C. Approximately 10% to 20% of all people infected with HEP C are able to spontaneously clear the virus from their bodies. In turn, PCR (polermerase chain reaction) technology can be used to confirm the presence of HEP C.
HEP C, like HIV, reproduces (replicates) at an extraordinarily fast rate. With HIV, the daily turnover rate is thought to be 10 billion new viruses; with HEP C, approximately 10 trillion new viruses are produced daily. Ironically, HEP C is associated with a much slower mutation rate than is seen with HIV. While most of these mutations are self-defeating to HEP C, some may cause the virus to become stronger and, quite possibly, become naturally resistant to anti-HEP C drugs.
The Clinical Course of HEP C
Approximately 80% of people infected with HEP C develop chronic infection. That is, the infection is neither eradicated nor held in check by the immune system. Some of these patients may go for many years without any symptoms of disease; most, however, will see their HEP C viral load and liver function tests (LFTs; ALT and AST) increase and experience symptoms and other tell-tale signs of disease progression. Researchers estimate that at least 20% of patients with chronic hepatitis C develop cirrhosis (liver damage) and fibrosis (scarring of the liver), a process that usually takes 10 to 20 years. After 20 to 40 years, a smaller percentage of patients with chronic disease will develop liver cancer.
Many people with chronic hepatitis C have no symptoms of liver disease, at least not during the first several years of infection. If symptoms appear, they may include: fatigue, pain or discomfort immediately below the right-half of the rib cage, nausea, decreased appetite, and muscle and/or joint pain. In patients who have either cirrhosis or fibrosis of the liver, many of the above mentioned side effects are common, with the addition of an enlarged liver; an enlarged spleen; jaundice (yellowish skin, and eyes,); muscle wasting; and ankle swelling.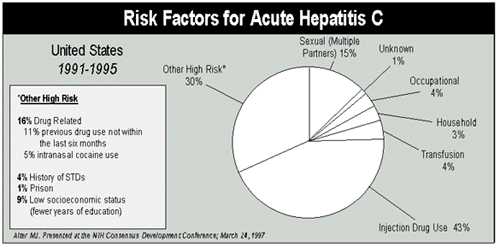 There have been a number of studies demonstrating that HIV can worsen the clinical course and symptoms of HEP C disease. For example, a London-based study involving hemophiliacs demonstrated that HEP C/HIV-coinfected patients were 21-times more likely to experience liver failure than patients infected with HEP C alone. In a study conducted in Spain, up to 25% of HIV-infected IVDUs had developed cirrhosis of the liver after 15 years of carrying HEP C, whereas cirrhosis only occurred in 6.5% of those who were HIV-negative. In another study conducted in the United Kingdom, liver-related deaths were almost 20-times higher than the general population among men with only HEP C infection, and an astounding 94-times higher among men with both HIV and HEP C.
The impact of HAART in helping control HEP C is questionable and is discussed in greater detail in Treating HEP C: Interferon and Beyond.
Transmission
HEP C is spread primarily by direct contact with blood and blood products. While many people living with HEP C today were infected via contaminated blood transfusions, antibody tests initiated in June of 1992 have successfully done away with the majority of transfusion-related HEP C infections. It is estimated that 1 in 100,000 individuals will contract HEP C from a transfusion. Shared use of contaminated needles and syringes by IDUs is the most common route of transmission today. As there is no telling how long HEP C has been around, IDUs in recovery -- even if they stopped using drugs many years ago -- may still be infected. Also vulnerable are people who engage in high-risk sexual activity, particularly activities in which contact with blood is possible. Body piercing and tattooing is another possible transmission route. It is recommended that anyone who had a blood transfusion, injected drugs or engaged in other high risk behavior within the last 15 years be tested for HEP C.
Cocaine users, be warned: there have been some documented cases of HEP C transmission among cocaine users who share snorting paraphernalia. As cocaine can damage capillaries in the nose, microscopic traces of blood can be deposited on the end of a straw being used to snort the drug and then passed on to the next user.
Experts recommend that individuals who are HEP C infected refrain from sharing razor blades, toothbrushes, and nail and cuticle clippers with others.
Vertical Transmission
(from mother to child)
Fortunately HEP C is not easily transmitted from an infected pregnant woman to her babies. In most studies, an average of 5%(range 0% - 25%) of infants born to women with HEP C become infected. As with HIV, the risk of maternal-infant spread increases if the infected mother has a high HEP C viral load; the average rate of vertical transmission for an infants who's mother is co-infected with HIV and HEP C is 14% (range 5%-36%).

Douglas Dieterich, MD is a renowned HEP C researcher and Medical Director at Liberty Medical Practice where he has a large practice specializing in HEP C disease. Dr. Dieterich is also a CRIA Board Member. Tim Horn is the executive editor of The PRN Notebook, published by Physicians' Reseach Network in New York.