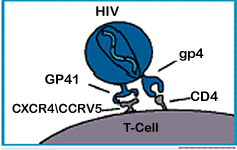 Contents:
Fusion Inhibitors
New protease inhibitors? Sure. Novel reverse transcriptase inhibitors? Interesting.
There's a lot to be said for new protease and reverse transcriptase inhibitors coming down the pike. But it's also clear that we need new classes of drugs -- treatments that are effective for people with multi-drug-resistant HIV, that have fewer side effects, and that are easier to take. Fusion inhibitors may be just what the doctor will need to order, and if all goes according to plan, the first in this class may arrive on pharmacy shelves next year.
Fusion Confusion
Advertisement
Protease inhibitors prevent HIV's protease enzyme from working. Reverse transcriptase inhibitors, which include nucleoside and non-nucleoside analogues, are active against HIV's reverse transcriptase enzyme. Yet these drugs interfere with HIV's ability to replicate relatively late in the infection game -- they go to work after the virus has already entered a cell and prepared itself to go about its ugly business.
As their name implies, fusion inhibitors act much earlier in the HIV infection cycle by preventing the virus from attaching -- or fusing -- itself to the outer membrane of healthy T-cells. Fusion actually has many steps; thus pharmaceutical companies are currently developing several different types of fusion inhibitors, some of which are now in clinical trials.
The first step in HIV's lifecycle is to gain access to a healthy T-cell's interior. To do so, HIV's outer coating -- its envelope -- must dock with proteins called receptors on the T-cell's surface. Once the virus grabs hold of these receptors, it can manipulate the membrane of the cell and gain entry.
The process begins with HIV's gp120 protein binding to a T-cell's CD4 receptor. From there, HIV's gp41 protein must bind to a second T-cell receptor -- either CXCR4 or CCR5. Think of it like this: HIV is trying to gain access to a locked room. It must use its hand (gp120) to grab the doorknob (CD4) and a key (gp41) to unlock the door (CCR5/CXCR4).
Here's a look at the various fusion inhibitors currently being studied in laboratories and clinical trials:
gp41 Binders
Pentafuside (T-20)
The fusion inhibitor foremost in everyone's mind is pentafuside (T-20), a drug being developed by Trimeris and Hoffmann-LaRoche. Pentafuside binds to HIV's gp41 protein and, as discussed above, prevents the virus from docking with a T-cell's CCR5 and CXCR4 receptors.
Most of the experience with pentafuside has been in patients who have taken -- and often failed -- other antiretrovirals. One study involved 78 patients who had tried, on average, eleven anti-HIV drugs in the past. When they were given pentafuside, 55-60% had at least a 1-log decrease in viral load, and one-third saw their viral load decrease to undetectable levels after four months of therapy. While it is true that patients in this study received other antiretroviral drugs that may have contributed to these positive results, many researchers argue that such a benefit would not have occurred if it weren't for pentafuside.
Unfortunately, resistance to pentafuside does occur. Because the drug targets a protein HIV -- and because we know HIV rapidly mutates to resist anti-HIV drugs -- pentafuside will definitely need to be used in combination with other drugs and may not work indefinitely.
Pentafuside will be the first anti-HIV drug that will require twice-daily injections. Because of the drug's fragile structure, it cannot be absorbed through the stomach, so an oral formulation isn't possible. Many people who have received the drug in clinical trials say that injections aren't nearly as bad as one would think and that, aside from itching and slight pain near the injection site, side effects are minimal. Phase III trials of pentafuside are ongoing.
T-1249
Because Trimeris, the developers of pentafuside, have seen resistance in patients using this drug, they're developing a second fusion inhibitor called T-1249. Like pentafuside, the drug binds to gp41. However, Trimeris hopes that it will be harder for HIV to develop resistance to T-1249, due to its more complex structure. The drug is now entering clinical trials and will require daily injections.
gp120 Binders
PRO 542
PRO 542, being developed by Progenics Pharmaceuticals, contains segments of the CD4 protein and key sections of immunoglobulin O, an important antibody. The drug targets gp120, the protein on HIV's outer membrane that docks with CD4. Single injections of PRO 542 have been safely given to six people at one of four doses. At the highest dose, decreases in viral load were seen, with few side effects. Results from future studies of this unique drug are eagerly awaited.
CXCR4 Inhibitors
AMD-3100
There have been some concerns about using drugs to target CXCR4. Heart and artery problems in laboratory animals that have been bred so that CXCR4 is missing from their cells, heart and artery problems have been reported. Thus, some researchers are worried that a drug designed to alter the function of CXCR4 may cause serious side effects.
Luckily, this hasn't been the case in early studies of a drug called AMD-3100, which has been in development for quite a while by the Canadian company, AnorMed. This fusion inhibitor binds to CXCR4 and has been shown to reduce HIV reproduction in test tube studies. It has also been shown to be safe in animals and in a small study of HIV-negative volunteers.
The first study of AMD-3100 in HIV-infected patients is going on now in some U.S. cities. No information has been reported yet about the drug's effectiveness or safety. Like all of the fusion inhibitors discussed here, AMD-3100 and other CXCR4 drugs, including T-22 and ALX40C, will require once- or twice-daily injections.
CCR5 Inhibitors
Over the past few years, researchers have discovered that people with missing or mutated CCR5 receptors may be resistant to HIV infection, an understanding that suggests enormous therapeutic possibilities. While there are a handful of inhibitors of CCR5 on the radar screen, they are all in the very early stages of development. These include AOP-RANTES (Gryphon Sciences) and TAK-779 (Takeda Chemical Industries).
As with CXCR4 inhibitors, there have been some concerns regarding the use of drugs that target CCR5. It is believed that HIV may use CCR5 to gain access to cells during the first several years of therapy and then switch to CXCR4 as disease progresses. Some researchers suggest that this switch allows for the virus to become even more powerful and speeds up the rate of immune system decline. In turn, a drug that blocks CCR5 may unknowingly send the virus on a hunt for CXCR4, a situation that may hurt the immune system even more.
Whether or not this theory is true has yet to be determined. But it underscores the fact that, even though new classes of drugs offer a whole lot of promise, they will need to be studied very carefully and viewed with caution.
Tim Horn is executive editor of The PRN Notebook, published by Physicians' Research Network in New York.