My love-hate relationship with quality of life research started in 1975. I was a junior in college taking a seminar in environmental psychology. We were doing a class project that involved interviews with older nursing home residents. We could see for ourselves that the environment was dreary to say the least. Residents had little privacy, there was little to do, staff members were at times dismissive and even disrespectful of residents, there were few visitors, and the place smelled like urine and Lysol. I remember being stunned when we looked at residents' answers to the standard life satisfaction survey that we had included in our interviews. Many people's responses to items indicated that they were as happy as when they were younger, that these were the best days of their lives, and that they had gotten what they expected out of life.
These responses sparked considerable debate in our small class. Were these people really satisfied? How could they be satisfied in such dismal circumstances? Was this all that they expected out of life? Were they just telling us what they thought we wanted to hear? Our discussion turned to the question of intervention. If people were already satisfied, was there any reason to make changes in this nursing home environment? How do we know what would benefit these residents? I will never forget my professor's response: "Maybe our job should be to get them pissed off."
Over the past twenty-five years of research on quality of life, a lot has happened but, in some ways, little has changed. There has been a growing interest in measuring quality of life in health-related research. Quality of life studies are routinely conducted with people affected by every debilitating or life threatening illness, including HIV/AIDS. This attention is a very positive trend. It reflects a growing awareness among health researchers and clinicians that the patient's perspective is important. Medical treatments may impact people in ways that cannot be understood in terms of biological responses. Indeed, some treatments may only benefit quality of life. Quality of life factors are weighed in treatment decisions and are a central concern in patient-provider communication.
Advertisement
---
"Medical treatments may impact people in ways that cannot be understood in terms of biological responses."
---
Despite this growing awareness, much of the technology for measuring quality of life remains similar to what it was twenty-five years ago. Widely used quality of life surveys focus exclusively on documenting satisfaction and well-being. We assume that no complaint means no problem, but is this always the case? What if people report good quality of life? When does high life satisfaction mean fulfillment and when does it mean complacency? How can findings of quality of life research guide support and care if we cannot be certain what people's answers mean? Perhaps most important, do these questions about meaning and personal fulfillment really matter in medical research?
Current Approaches to Quality of Life Measurement
There are several different approaches to quality of life assessment in use today. The first might be viewed as a "molecular" approach. Just as objects are built up by assembling different molecules, this approach tries to determine a person's quality of life by putting together their answers to specific questions. Questions are related to many different topics and themes, which are referred to as different "dimensions" of quality of life. The molecular approach relies on standard self-report scales that ask about different aspects of life, including physical symptoms, pain and fatigue, ability to carry out chores and care for oneself, mental health, work performance, social activities, and general health and well-being. Some scales also ask about more existential concerns such as emotional well-being, sense of purpose in life, and spiritual fulfillment.
There has also been interest in developing "disease-specific" sub-scales that address particular quality of life concerns related to different diagnoses. For example, HIV-specific sub-scales might include HIV stigma, experiences with disclosure, living with complicated medication regimens, or satisfaction with sexual function and intimacy in light of HIV transmission precautions. There are many molecular quality of life scales that differ in terms of the number of dimensions that they include and the number of separate items (questions) used to measure each dimension. Responses to items are usually made on numeric rating scales, where numbers stand for the frequency or severity of a problem or how strongly one agrees with a given statement. (See box below for examples of items and dimensions from major quality of life measures used in studies of HIV/AIDS.)
Over the past ten years or so, a small industry has grown up around the molecular assessment of quality of life in health research. Several groups in the U.S. and Europe have grown out of academic circles to form small, private companies dedicated to quality of life assessment. These groups have focused on the development and promotion of standard multidimensional measures to assess quality of life. Measures developed by these groups have been administered to thousands of people, including people living with HIV/AIDS. They have been studied extensively in terms of "psychometric properties" such as "reliability" (the tendency to answer questions in a consistent manner) and "validity" (the tendency for peoples' answers to correspond with their other known characteristics). Some measures have also established "norms" (average scores and scoring distributions) for people with different diagnoses and for non-patients.
Often, special attention has been given to translation of measures to different languages by ensuring cultural or linguistic "equivalence" (different translations of the items have similar norms and psychometric properties). These standardized molecular measures have emerged to fill an important niche. There are many instances when clinical researchers want a quality of life measure that can readily be compared across different people and groups, over time.
In contrast to molecular studies of building blocks, scientists refer to studies of an object's overall properties as "molar" research. There has been a growing interest in looking at quality of life in molar terms, by using global assessments of life as a whole. Rather than asking about many different dimensions, these molar approaches ask people to put an overall value on their current life. One such approach, the Standard Reference Gamble, presents people with a range of bets, wagering time in their current health state against time in perfect health. For example, most anyone would take the bet if the choice were one year in perfect health versus one year in current health. But, would you wager one year in current health to get eleven months in perfect health? How about six months, or one month?
What Do Quality of Life Measures Measure?
The most widely used measures of quality of life in clinical research involving people living with HIV/AIDS are derived from the Medical Outcomes Study (MOS), conducted during the 1980s by the Rand Corporation (REFs). Several versions have been derived from the MOS that differ somewhat in the number of items that they include and the aspects of quality of life that they assess.
In the early 1990s, researchers at Johns Hopkins created a version of the MOS measure specifically for HIV/AIDS research, the "MOS-HIV". Other quality of life measures that have been adopted for HIV/AIDS studies include the Functional Assessment of HIV-Infection (FAHI) which was derived from a quality of life measure widely used in cancer research, and the HIV-AIDS Target Quality of Life measure (HAT-QOL) that includes areas of concern unique to AIDS.
Quality of Life Dimensions and Items:
General Health
How would you rate your overall health? (Rated from "excellent" to "poor")
My health is excellent. (Rated from "definitely true" to "definitely false")
Physical Functioning
How much does your health limit the kinds or amounts of moderate activities you do, like moving a table or carrying groceries. (Rated "a lot," "a little," or "not at all")
I am forced to spend time in bed. (Rated from "not at all" to "very much")
Cognitive Functioning
How much of the time during the past four weeks did you have difficulty reasoning and solving problems? (Rated from "all of the time" to "none of the time")
Emotional Well Being
How much have you felt downhearted and blue? (Rated from "all of the time" to "none of the time")
How much have you been happy? (Rated from "all of the time" to "none of the time")
I worry about dying. (Rated from "not at all" to "very much")
Social Support
Family communication about my illness is poor. (Rated from "not at all" to "very much")
I get support from my friends and neighbors. (Rated from "not at all" to "very much")
Other dimensions include Pain, Social Functioning, Financial Worries, Disclosure Issues, Sexual Function, and Feelings About Being Positive.
The assumption underlying this method is that quality of life is indicated by the point where people are no longer willing to take the bet. People who would gamble for one month of perfect health presumably value their current lives less than those who would not risk a month or a day.
Other molar methods include scaling tasks where people read brief descriptions and rate their preferences for different health states (including their own), single item ratings, and other time trade off scenarios similar to the Standard Reference Gamble. Compared to molecular measures, less work has been done to establish reliability, validity and norms for these molar measures. However, some researchers prefer molar approaches because quality of life is boiled down to a single number.
Quality of Life Assessment in Clinical Research
Quality of life measurement enters into clinical research and practice in many different ways. The earliest uses of quality of life measures in health research were as part of natural history studies, documenting the problems and challenges faced by people living with arthritis and other chronic, debilitating diseases. Quality of life considerations began to enter into the treatment of AIDS during the late 1980s and early 1990s, as AZT and treatments for opportunistic infections came into use and length of survival after diagnosis began to increase.
As a general trend, it is probably reasonable to say that quality of life tends to decline with advancing illness. However, the picture is not quite so simple. Some sub-dimensions of quality of life, like physical symptoms or the ability to care for oneself, tend to decline with physical health status. However, these measures all show a wide range of responses. Some of the sickest patients can report the fewest symptoms or the greatest ability to care for themselves. Other dimensions, like social satisfaction, emotional well-being, or spiritual fulfillment, are not highly associated with physical health.
Quality of life concerns also enter into decision-making at the end of life. As such, quality of life assessment has always been a major feature in research on advanced directives and palliative care. Indeed, until recently, clinicians tended to offer care for "quality of life", only after options to cure or control disease had been exhausted. However, modern specialists in palliative care have made a compelling case that concerns for quality of life and quantity of life are complementary, and should not be seen as opposite. Despite its importance, there are inherent difficulties involved in conducting quality of life assessment at the end of life. Standard measures may be burdensome and potentially upsetting to patients who are very sick. Efforts to assess quality of life by asking a caregiver or clinician are often unsatisfying because these proxy measures may not reflect the patients' concerns.
---
"The study of quality of life places the focus on the whole person, not just on viral load, CD4 count or number of lesions."
---
Often, studies make special accommodations to assist patients in completing measures or to allow them to complete questions over several occasions. Studies that have been conducted during the months, weeks and even days before death tend to show considerable variation in quality of life. Problems and concerns differ from person to person, and symptoms such as pain, fatigue and depressed mood may change from day to day. Studies to help ease suffering and provide support at the end of life often measure change in quality of life to determine benefits to patients.
In recent years, quality of life considerations have entered into clinical trials that test new medical treatments. Traditionally, such studies have relied on "biological endpoints" such as differences in disease progression or mortality to demonstrate the effectiveness of treatments. However, new methods have become available to factor in quality of life considerations. For example, rather than simply comparing treatment in terms of length of survival, investigators now speak about "quality-adjusted life years" or QUALYs. These studies essentially use measures of quality of life to value or weigh survival time. Thus, someone who survives three years after treatment without any symptoms or health problems may actually have a higher QUALY score than someone who survives five years with poor quality of life.
Clearly, calculation of QUALYs depends upon the importance relegated to different quality of life concerns. Early studies using QUALYs used a single set of weights for all people, so a problem like "itching" might be seen as less detrimental to quality of life than "incontinence". However, recognition that the quality of life impact of these problems may differ from person to person has led some investigators to recommend that patients assign their own subjective weights to determine QUALYs, often using one of the global techniques described previously to assess quality of life.
Quality of life may also factor into studies of the treatment process. For example, in HIV/AIDS, quality of life may enter into treatment adherence. Medications may reduce quality of life for some patients, by creating many side effects, by interfering with preferred routines, or by intruding upon desired activities and relationships. These quality of life factors may determine whether or not an individual is able to remain on medications for an extended period. Quality of life may also enter into the process of patient-provider communication. Good communication requires dialogue and problem solving around quality of life factors. Clearly, patients with the poorest quality of life often have the greatest need for assistance from providers, and are therefore most likely to experience the most serious barriers to care.
Quality of life concerns provide a bridge between hi-tech western medicine and alternative ways of healing. As noted previously, a number of quality of life measures include scales that address spiritual concerns and a sense of meaning in life. These existential aspects of quality of life enter into psychotherapy, peer or "buddy" programs, mutual help groups and other supportive interventions. Studies of meditation and other techniques to reduce stress and help people cope also emphasize improvement in multiple quality of life dimensions.
Quality of Life Survey
As part of this issue of CRIA Update, we thought it would be interesting to learn something about the quality of life of our readers. The questions included on the survey represent two different approaches to measuring quality of life -- a standard scale where people rate items provided by researchers, and an open-ended scale where people rate themselves on their own dimensions. We have also included background questions to help us better understand the quality of life concerns of different members of our audience.
Please take a few minutes to complete this anonymous survey.
We will present a summary of the results in a future issue of CRIA Update.
We want to hear from as many of you as possible. Thanks for participating!
The Quality of Life Research Paradox
As this overview highlights, health-related quality of life is playing an increasingly important role in respect to every aspect of the treatment and care of people living with HIV/AIDS. There is an acceptance in many quarters that patients must have a voice in their care. The ultimate effectiveness of all treatment depends upon the ability to respond to the patient's quality of life concerns. The study of quality of life places the focus on the whole person, not just on viral load, CD4 count or number of lesions. These are very positive trends.
So what's the problem? My love-hate relationship with this whole area of research is driven by one central concern: that our research methods are not up to the task at hand. Widely accepted ways of measuring quality of life are simply unable to help us truly understand the respondents' perspective. For example, although we may identify many people willing to gamble for six months of perfect health, the implications of this devaluation of current quality of life are not at all clear. Different people may decide to take this bet based upon very different concerns. Even more descriptive, molecular measures may be misleading. People may have very different things in mind when they rate work performance, social satisfaction or overall health. Similarly, ratings of pain or performance difficulty depend upon the standards of comparison being invoked. Is an individual's answer based on their own past performance, their perception of others, or an internal stereotype of what it means to be "an AIDS patient?"
In short, current methods for measuring quality of life provide a numerical rating of quality of life, but offer no insight or information into how people arrive at their ratings. This has serious implications for our ability to interpret quality of life research. Neither molecular nor molar quality of life measures are helpful in understanding the following types of research findings:
People respond to the same treatment in opposite ways -- quality of life is improved for some but diminished for others.
In some studies, people who are "sicker" according to objective clinical indicators rate their quality of life as good or better than objectively "healthier" respondents.
People tend to place relatively higher values on "health states" (based on descriptions of symptoms and problems) that are similar to their own.
An individual reports improvement in quality of life despite declines in health status.
Different experiences and situations seem to influence quality of life among diverse groups of patients, depending upon characteristics like gender, ethnicity or socioeconomic status.
In short, we are left with the same paradox that confronted me as an undergraduate. Although a great deal of time and technology is devoted to understanding people's quality of life, researchers cannot truly understand what their answers mean. The danger is that we are left unable to distinguish between fulfillment and complacency. We don't know whether to celebrate success or foment rebellion. When are we helping people to truly feel better and when are we communicating that whatever they're handed is as good as it gets?
This problem is particularly troubling in respect to research with people affected by HIV/AIDS. People who have experienced a lifetime of discrimination or poverty may start with low expectations when it comes to standards of support and care. People who have internalized AIDS stigma may feel that they do not deserve good quality of life. It is incumbent upon those of us who conduct quality of life research to be sensitive to these possibilities in interpreting our findings.
Several studies have started to address the inherent ambiguity in existing molecular and molar measures by developing ways to get at the meaning of quality of life. See opposite page and below for examples of ways we have used in our work to help determine what quality of life means to different individuals living with HIV/AIDS. These measures are not standard and I do not expect that they will be widely used in clinical research. However, they do help us to understand the different ways that people can think about their quality of life. Other investigators are conducting similar work in a number of different patient populations.
Ultimately, this line of research may lead to measures that can distinguish people who have different ways of thinking about quality of life. This will allow us to take into account diverse patients' perspectives and values regarding quality of life. Ultimately, we need to determine how experiences of illness and treatment can change what matters in people's lives and lead them to understand quality of life in new ways.

Bruce D. Rapkin, Ph.D. is an associate professor of psychology in the Department of Psychiatry and Behavioral Sciences, Memorial Sloan-Kettering Cancer Center. Dr. Rapkin is the principal investigator on several studies of access to care and quality of life among people living with HIV/AIDS and their families.
What Does Quality of Life Mean to You?
In most quality of life studies, researchers assume that "one size fits all." Everyone answers the same standard set of questions supplied by investigators. However, a growing number of researchers are interested in understanding what quality of life means to different people. The things that may be most important to one group or one person may not matter at all to another. Psychologists refer to this as "idiographic" assessment, which literally means that individuals are prompted to "write" the measures that apply to them. Idiographic measures are not widely used in clinical trials or other health outcomes research because they are far more difficult to administer, score and interpret. Even so, it may be very valuable to use measures such as these in conjunction with standard approaches, to take into account the ways that illness and treatment can change a person's outlook on quality of life.
The following techniques have been used to better understand patients' perspectives on quality of life.
Personal Goals Assessment
This approach sheds light on the priorities and concerns that are most important to an individual's satisfaction and quality of life.
First, please answer the following questions to help us identify your personal goals. Be as specific as you can. List as few or as many goals as you need to include the different things that matter to you at this time in your life:
In order to have the most satisfying life possible . . .
What different things do you want to accomplish?
What situations do you want to prevent or avoid?
What problems do you want to solve?
What things do you want to keep the way they are now?
What circumstances do you want to be able to accept?
What responsibilities or roles do you want to let go?
Now look back over your list, and consider how close you are to reaching these goals. Please rate each goal on a scale from 0 (Very Close -- Goal Attained) to 10 (Very Far).
This measure of quality of life is scored by summarizing the numerical goal attainment scores and by describing the areas of concern reflected in a person's goals (family, mood, living with HIV, etc.).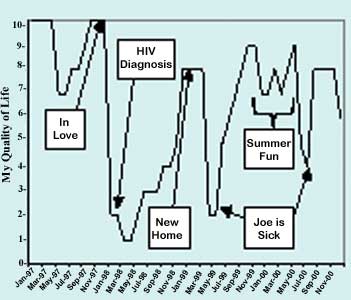 Life Graphing
This technique emphasizes changes in quality of life over time.
On this graph, we are interested in learning how your quality of life has changed over time. Draw a line that shows the ups and downs in your quality of life from the year before you received your HIV diagnosis, up until today.
Now let's look back over the graph to find out what was happening at different times. What explains the ups and downs that you've had?
This graphing technique is very flexible. The timeline can focus on any period of time, from a few days to an entire lifetime. The ups and downs on the graph can represent overall quality of life, satisfaction with care, symptoms like pain or fatigue, or any other aspect of quality of life. Concepts identified on the graph may differ greatly from person to person, depending upon personal history, circumstances and values.

Reference Groups and Standards of Comparison
This assessment method focuses on standards of social comparison that people use to determine their quality of life.
This picture represents a ladder with 10 rungs. The very top of the ladder represents the best possible life you can imagine, while the bottom stands for the worst possible life you can imagine.
First, where are you on this ladder? Place yourself on the rung that best shows how you feel about your life at this time.
Next, please identify someone that you would place on each of the other rungs of the ladder. It can be someone you know now or in the past. It can also be a character from a book, a movie or TV.
Now, start at your position and go up one rung at a time. How are you different from the people on higher rungs? What does it take to go up each level?
Finally, do the same thing going down the ladder. How are you different from the people on lower rungs? What would bring you down each level?
People can differ greatly in terms of the comparisons that they associate with quality of life. Several approaches can be used to compare people along the ladder, such as the method of triads. Groups of three names are selected at random; respondents state one way that any two of these people are alike and different from the third. Over enough comparisons, the respondents' standards for quality of life emerge.