New Trials launched
For much of the second half of 1999, CRIA's Medical Director, Jerome Ernst, MD, has been working with the Research Department staff to develop new clinical trials that will answer important questions in the fight against AIDS. CRIA is proud to announce that those efforts are now coming to fruition with several new studies starting as we head into 2000.
We have already begun enrolling two new independent clinical trials. The first examines the dietary supplement SB-300 on diarrhea in HIV positive individuals, the second looks at the use of topical aspirin for painful peripheral neuropathy.
CRIA is also developing another independent trial to explore the naturally occurring compound S-adenosyl-methionine (SAM-e) in treating depression in HIV infected persons. This project is expected to start enrolling shortly.
CRIA will also continue to be a study site for pharmaceutical trials, allowing early access to the newest investigational drugs for a population that might not otherwise be afforded their potential benefits.
Advertisement
For more information on these and other CRIA studies, please see "
CRIA Trials in Progress
" in this publication or call our Research Department at 212-924-3934, ext. 1.
Hepatitis C/HIV Education Expanded
Recognizing the growing incidence of Hepatitis C Virus (HCV) co-infection in people living with AIDS, CRIA enlisted our Board member, Douglas Dieterich, MD, in early 1999 to help us create a specialized workshop curriculum on this topic. CRIA was fortunate to have secured grants in support of the new important education focus from Amgen, Inc., Roche Pharmaceuticals, and Schering Oncology/Biotech.
Most recently, in December, CRIA received a $70,000 Ryan White Title I award from the New York City Department of Health to dramatically expand HIV/HCV healthcare education services. Although this is only a three-month contract, it will allow us to teach over 1,000 additional people living with AIDS in New York City about Hepatitis C and the issues surrounding co-infection.
CRIA has hired James Learned to help us accomplish such rapid expansion of HIV/HCV co-infection treatment education. James is among the most experienced educators on treatments for both diseases in the United States. He was a leading provider of treatment education, support and advocacy for clients of the PWA Health Group during the three years prior to 1998, after which he went on to co-found the Hepatitis C Action and Advocacy Coalition in New York City. All of CRIA's educators will be involved in working with NYC AIDS service organizations to conduct this unique initiative, but James will take the lead on ensuring that the complex healthcare information reaches persons most in need.
New Board Members Elected
CRIA is pleased to announce the election of Vincent Wm. Gagliostro and Kevin Krier to its Board of Directors at the November 17, 1999 Board meeting. These elections mark the culmination of a year when CRIA realized a significant expansion and strengthening of its governing body.
Vincent is a nationally known artist and graphic designer who has helped mold innovative advertising campaigns of many prominent apparel manufacturers, including Prada, Hush Puppies, and the Gap. Most importantly, Vincent has worked to promote AIDS causes almost from the start of the epidemic. He was a co-creator of ACT UP's "Silence=Death" campaign which was so instrumental in focusing government funds towards AIDS research. Vincent has also been one of CRIA's most loyal supporters for many years. He has provided our agency with invaluable pro-bono assistance, having created the agency's logo, letterhead, and the design for many of our national publications.
For the past 10 plus years, Kevin has been Principal of Kevin Krier & Associates, which is among the most preeminent international fashion public relations and marketing organization. Kevin has also played a central role in helping the fashion industry support AIDS causes by producing many highly visible charity events, including Todd Oldham and Gucci AIDS Project Los Angeles benefits.
Kevin has been a strong advocate for a variety of AIDS charities in his home base of New York City, including CRIA's clinical research and HIV treatment education mission. Most recently his firm provided pro-bono assistance to CRIA by helping Sotheby's organize successful charity auctions for our agency.
CRIA's staff looks forward to the guidance and support which these two new Board Members will provide us in the coming years.
CRIA Hears from its Donors
CRIA has an active Board of Directors, Research Advisory Committee and Community Advisory Board to provide direction of our clinical research and HIV treatment education activities. But we also want to know what CRIA's supporters think about our performance to date and where our focus should be in the future. To this end, we recently asked our donors to complete a small evaluation form containing both multiple choice rating questions and areas for written comments. Following is a summary of donor responses.
Some donors provided comments indicating that more work by HIV researchers should be conducted in the area of vaccines, on immune reconstitution and on drug regimens which are not so difficult to take.
In the area of HIV treatment education, comments were overwhelmingly positive on the content and quality of this publication, CRIA Update. However, some donors thought that the newsletter was too complex to read, that we used language which was more appropriate to the scientific community rather than to lay audiences.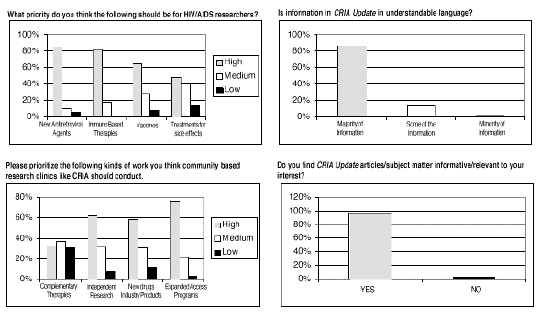 Donors probably made the most comments on what additional topics or regular features they wanted covered by CRIA Update. Many respondents wanted us to regularly include a summary of new drugs and other treatments in development, including vaccines. Others wanted specific discussions on prevention efforts, side effects treatments and management techniques, and current statistics on treatment failures.
Probably the greatest disappointment to CRIA's staff was that many respondents did not yet access treatment information on our web site. However, comments made did not indicate that the site was difficult to use or that the information contained within it was either incomplete or overly complex to understand. Rather, either respondents did not know about the site, did not have a computer or did not have Internet access. For those who use the site, comments on additional treatment information desired were essentially consistent with those made for CRIA Update (i.e. more on status of research into new therapies).
CRIA takes all of these comments on our research and education programs seriously and we thank all those who took the time to complete and return our questionnaire.
Much of the donor-stated priorities for CRIA's research agenda are also high on our Medical Director's list of priorities for future protocols. Studies on certain areas, such as vaccines, require multi-million dollar budgets and unfortunately are not possible for agencies of our size. We would, however, welcome becoming an enrolling site for ongoing vaccine trials. Exploring agents which have fewer side effects and which are easier to take has always been of utmost importance to CRIA and will continue to be for the life of this agency. Also, we very much want to examine strategies to promote immune reconstitution.
As for our work to educate PLWAs in New York and nationwide, CRIA has always attempted to provide products and services which meet the needs of a broad and inclusive lay audience. As a result, CRIA Update is written for persons who have little medical background. We will continue to carefully edit articles provided by expert writers with this principle in mind. Additionally, each edition of CRIA Update will continue to cover a major topic of concern to PLWAs nationwide. Those issues identified by donors, such as a drugs in development, will assuredly be covered in future newsletters.