HCV is the most common chronic blood borne infection in the United States.
The number of infected individuals is reaching "epidemic proportions," according to W. Ray Kim, M.D, of the Mayo Clinic, one of the experts invited to speak at the NIH Consensus conference.
Most of these infections are not new, and were acquired in previous years or decades due to transfusions, injection drug use or other high-risk behaviors. About 4 million Americans, or 1.8 percent of the US population, are estimated to have antibody to HCV, indicating ongoing or previous infection with the virus. At the NIH conference, Dr. Kim suggested that these data, based on NHANES
surveys that excluded individuals from higher risk groups (drug addicts and prisoners), might underestimate the prevalence of HCV in the US population.
The most significant threat HCV poses is chronic liver disease. Chronic liver disease, (if defined as consistently abnormal ALT values with a positive test for HCV) develops in at least 75 percent of those infected (see Figure 1). Liver failure from chronic HCV is the most common reasons for liver transplants in the United States.3
The epidemiology of HCV makes correctional institutions pivotal sites for US efforts to identify those who are infected with HCV. News from this year's Conference on Retroviruses and Opportunistic Infections (CROI) highlights the fact that most of those infected with HIV are unaware of their disease.
Unfortunately, according to the experts at the NIH consensus panel, this is also true of HCV. Thus a simple but powerful first step is to provide ready access to HIV and HCV testing. All prisoners should be evaluated for HCV risk factors. Those with HCV risks and any other prisoner who requests testing should be offered it.
HCV is most readily diagnosed by the detection of antibody in serum. According to Jean-Michel Pawlotsky, M.D., one of the experts on the NIH consensus panel, current FDA-approved antibody tests for HCV are highly sensitive and specific (99 percent), reproducible, and inexpensive, which makes them suitable for use in screening at-risk populations. (Contrary to what was said at the NIH Conference, the CDC still recommends a confirmatory test, and for screening purposes, i.e., not medical management purposes, a RIBA is recommended.) A negative HCV antibody (EIA) test is sufficient to exclude a diagnosis of chronic HCV infection in most immune-competent patients. Rarely, those who are on hemodialysis or who are otherwise immune-deficient may have a false negative EIA. Conversely, false positive results can be obtained in those with autoimmune disorders. In these individuals, assays for HCV RNA are useful adjuncts.9
Once individuals know their HCV status, education about HCV enables them to understand their illness, better care for themselves, and prevent transmission to others. Patients should be advised that continued alcohol use by those with HCV infection can hasten the progression of liver disease. Providers should also discuss drug and alcohol addiction treatment and anti-HCV treatment options. Inmateled peer education programs can be invaluable in fostering better understanding of HCV and HIV. HCV-infected patients who are not already immune should be vaccinated against hepatitis A and, if indicated because of other risk factors, hepatitis B.
The use of a harm reduction model helps patients prevent further transmission of HCV. The risk for transmission of blood borne pathogens is dramatically increased among IDUs who are not utilizing harm reduction techniques, making drug treatment and the availability of clean needles key components of prevention.
Those patients who are the best candidates for treatment are those with chronic HCV who lack significant contraindications (see
) and are at the greatest risk for progression to cirrhosis (measurable HCV RNA, a liver biopsy with portal or bridging fibrosis and at least moderate inflammation and necrosis, and elevated ALT values). More data has accumulated demonstrating that those with HIV infection can be effectively treated for HCV. As a result, the NIH consensus panel recommended that HIV-infected people be considered for HCV treatment.
Patients with mild mental health problems may also be eligible for treatment, but should be closely monitored throughout the process as interferon (IFN) can exacerbate depression.13
VL measurements can be used to confirm active infection, assess response to therapy, and evaluate end of treatment and sustained responses. Unlike HIV infection, HCV Viral load does not correlate with the severity of HCV infection. Viral load does correlate with the likelihood of a response to antiviral therapy. Rates of response to a course of IFN and ribavirin (RBV) are higher in patients with low levels of HCV RNA (usually defined as below 2 million copies per milliliter).
Monitoring HCV RNA levels during the early phases of treatment may provide information on the likelihood of a response. A viral load reduction of 2 log or more at week 12 indicates a positive response to therapy, and treatment should be continued (see "
" in this issue). If viral load has not been reduced by 2 log (90 percent) or more at week 12, there is a low likelihood that a patient will achieve a sustained viral response, and discontinuation of therapy may be considered.
Some patients, particularly those with HIV, may take longer to achieve a 2 log response. Furthermore, if a patient has advanced HCV, continuing therapy may be useful despite less than a 2 log reduction because a course of treatment that does not result in eradication of HCV may slow HCV disease progression.
There are six known HCV genotypes. Patients with genotype 2 or 3 are two to three times more likely to achieve a sustained viral response to treatment than those with genotype 1. The duration of combination therapy with pegylated IFN who are not co-infected and do not have genotype 1 is usually 24 weeks, while co-infected patients and those with genotype 1 are usually treated for at least 48 weeks (see "
The NIH consensus panel emphasized the role of liver biopsy in the management of HCV. Biopsies grade the severity of disease and stage the degree of fibrosis and permanent architectural damage in a patient. Radiological testing such as ultrasound cannot indicate the stage of disease except in the setting of advanced cirrhosis. Measuring ALT also does not reliably assess the stage of liver disease, particularly in HIV-infected patients. While the majority of HCV patients with consistently normal ALT have early HCV disease, 22 percent may have more advanced disease.
Because patients with genotypes 2 and 3 respond so well to treatment, there was some debate about the need for biopsy prior to treatment in those patients (see "
" in this issue). In addition, among HIV-infected patients, a higher percentage of patients with normal ALT may have moderate or more severe liver disease. Therefore, some experts suggest that patients with consistently normal ALT be treated no differently than patients with consistently abnormal ALTs.
In addition to more accurate staging of disease, biopsies also confirm the HCV diagnosis, exclude alternative diagnoses, predict responsiveness to treatment, and provide a baseline for future comparison.17 The biopsy can provide extremely useful information, but lack of access to liver biopsy should not exclude appropriately selected patients from having access to HCV treatment.
The therapy of chronic hepatitis C has evolved steadily since alpha IFN was first approved for use in this disease more than 10 years ago. At the present time, the optimal regimen for most patients appears to be a 24- or 48-week course of the combination of pegylated IFN and RBV.
The development of pegylated IFN (peg IFN) and the use of peg IFN in combination with RBV (combination therapy) are important advancements in the treatment of HCV that were emphasized during the NIH conference (see HEPP News, April 2002). Two forms of peg IFN have been developed and studied in large clinical trials: peg IFN alfa-2a (Pegasys: Hoffman La Roche, Nutley, NJ) and peg IFN alfa-2b (Pegintron: Schering-Plough Corp., Kenilworth, NJ).
Combination therapy leads to rapid improvements in serum ALT levels and disappearance of detectable HCV RNA (end of treatment response) in up to 70 percent of monoinfected patients. For patients with genotype 2 or 3, response rates in studies are 75-90 percent. For patients with genotype 1, response rates are 30-46 percent. Preliminary data from ongoing studies suggest that HIV-coinfected patients will have lower response rates. Success depends on several factors including genotype, viral load, and stage of disease. For patients who maintain negative HCV RNA for 24 weeks after stopping HCV therapy, results from several studies show 98 percent remain HCV RNA negative (sustained response). Small studies following patients for up to 11 years show well over 90 percent of those who achieve a sustained response remain HCV RNA negative. In some patients who were HCV RNA negative, HCV could no longer be found in the liver. Unlike the situation with HIV, the HCV virus cannot integrate into the host genome, and therefore eradication of the virus is possible. At the NIH consensus panel, Dr. Jay H. Hoofnagle pronounced HCV "curable."
Indeed, since the last consensus panel on HCV convened in 1997, the availability of highly effective combination therapy that can eradicate HCV infection has lead many experts to consider treatment where previously they might not have treated. In order to evaluate the clinical outcomes and survival, however, studies of long-term follow-up for these patients and coinfected patients is necessary.
All HIV-infected persons should be screened for HCV. The 2002 NIH consensus panelists recommended that studies are needed to determine the best strategies for treating HCV and HIV co-infected patients. Co-infected patients may have an accelerated course of HCV disease. As a result, some clinicians believe that early treatment of HCV is indicated in those who are HIV infected. Thus far, studies of co-infected individuals have enrolled mainly patients with "stable" (usually defined as CD4 counts greater than 300 and HIV viral loads less than 5,000) HIV infection and well-compensated liver disease. Preliminary studies suggest that combination (IFN/RBV) therapy is more efficacious than IFN monotherapy in those who are co-infected.
Small studies done several years ago reported that HCV and HIV-co-infected patients responded to therapy just as well as mono-infected patients.20 More recently, better designed studies suggest the response rate in co-infected patients is likely to be lower than in those who are not HIV-infected. This reduced response may be attributed to the impairment HIV causes to the immune system and/or higher therapy discontinuation rates due to drug side effects and toxicities. Although it has not yet been well researched, patients co-infected with HIV may require 48 weeks therapy or longer regardless of whether they have genotype 1 or 2. Speaking at the NIH Consensus Conference, Dr. David Thomas of Hopkins suggested that the "balance has shifted" in favor of treatment of HIV-infected patients, even though larger studies will be needed to determine the rate of progression of HCV in these patients, the duration of therapy that may be required and their overall response to treatment (see Figure 3). When asked by a Consensus Conference audience member what CD4 cutoff should be used to exclude patients from treatment, Dr. Thomas could not define one. He went on to say that good control of HIV infection was essential if HCV were to be treated, but otherwise he could see no contraindication to treatment of HIV-infected patients.21
Figure 3: The Change in Balance: Treatment of HCV in an HIV-Coinfected Patient
A reversal from the recommendations in 1997, in 2002, the benefits of HCV treatment in HIV-coinfected patients appear to outweigh the drawbacks.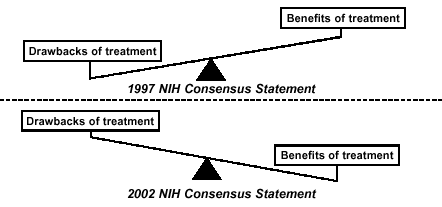 A high percentage of co-infected patients are African-Americans and greater than 90 percent have genotype 1. Patients with genotype 1 have a lower rate of response to therapy. One study showed that African-Americans with genotype 1 experienced lower response rates than Caucasians with genotype 1, suggesting that factors other than genotype may also be responsible.23 These factors have not been well defined, and merit further research.
Side effects of therapy can include fatigue, irritability, emotional distress, weight loss, and depression. Adverse laboratory events can include anemia, leukopenia, and thrombocytopenia. More uncommonly, therapy can cause autoimmune disease (particularly thyroid disease), and suicidal ideation or attempts. For these reasons, close follow-up of patients on therapy is essential. Ideally, patients should be seen weekly for the first four weeks after initiation of therapy. After the first month, patients who are doing well can be seen less often (i.e., every four weeks). It is important for prisoners to be able to inform the clinician of all side effects they experience so that effective interventions can be initiated. Support services are needed to guide patients through the process of starting and maintaining therapy.
For those without cirrhosis, achieving a sustained response to therapy should prevent progression to decompensated liver disease or cancer. Experts believe that a sustained response to therapy among people with cirrhosis should also prevent progression, but studies are still inconclusive.
Several studies previously conducted provide evidence that IFN use in patients with cirrhosis and non-responders can slow or reverse disease progression.
These results indicate that patients with cirrhosis who achieve a sustained viral response have a good chance of stopping and perhaps reversing disease progression. Further study, however, is necessary.
At the NIH conference two significant statements were made: that HCV is now an epidemic in the US, and it is curable in many cases. The consensus panel also expanded its recommendations to treat HCV in populations that had previously not been considered eligible (HIV-infected patients and former or active drug addicts). Dosing schedules for the drugs described in the consensus statement are available in the March 2002 issue of
). The panel also reinforced the need to identify infected patients, educate them about their disease, and initiate treatment in those most likely to respond. Studies are currently underway to better understand the impact and treatment of HIV and HCV co-infection. Clinicians working in correctional settings will continue to be on the front line of this epidemic for the foreseeable future.