Introduction
The combination of incarceration and chronic illness can be a potent formula for mental health disorders. Even without the burden of a chronic infectious disease, inmates have a high prevalence of mental illness. The Bureau of Justice reports that in the year 2000, 13% of all state prisoners received psychotherapy or counseling and 10% received psychotropic medications.1
In the free world, HIV and chronic viral hepatitis are commonly accompanied by significant mental health problems. A recent community survey of psychiatric and substance abuse disorders among people actively treated for HIV infection found that 36% had a major depressive disorder, 15% a generalized anxiety disorder and 10% panic attacks.2 Not surprisingly, drug abusing HIV-infected individuals were three times more likely to have a psychiatric disorder. These rates are far higher than those seen in samples of non-HIV-infected individuals. In addition, the same study found that almost one-third of those with HIV infection were taking psychotropic medications and one-fourth were receiving specialty mental health care.
Advertisement
Although statistics concerning the prevalence of mental illness among HIV-infected inmates vary depending on the setting, the dual impact of chronic illness and incarceration makes it commonplace for correctional health care providers to encounter inmates with major mental disorders.
Although most correctional systems maintain screening and treatment programs for both HIV infection and mental illness, numerous disincentives to being diagnosed with HIV infection or a psychiatric disorder make it likely that many patients who could benefit from treatment are not identified. Those recently diagnosed with HIV infection, those whose health is deteriorating, those serving a first term, and older prisoners are also more likely to have mental health problems.
The potential benefits of mental health treatment for inmates are numerous. Treatment can decrease the likelihood of self-destructive behavior, adherence to complex medical regimens such as HAART and interferon/ribavirin can be improved, and those receiving mental health treatment generally have fewer rule violations and therefore have shorter sentences. When inmates with serious psychiatric disorders are not treated they can deteriorate mentally and physically, leading to the need for more intensive and more expensive care.
Common Mental Health Problems
Inmates with HIV infection and other chronic illnesses commonly suffer from depression and anxiety.3 The high prevalence of alcohol and/or drug addiction among inmates further increases the likelihood of inmates having at least one psychiatric disorder.2, 3 Even without meeting the strict criteria for diagnosis of a psychiatric disorder, HIV-infected inmates experience a higher degree of distress, discouragement, and demoralization than their uninfected counterparts. Inmates who have spent time in segregated housing units (SHU) (also referred to as "the hole" or "the box") can also suffer from significant mental health problems associated with these "prisons within prisons."4
Depression can be manifested by an extended period of low mood or lack of interest in activities. In addition, depressed inmates can exhibit poor concentration, disturbances of appetite and sleep, agitation, irritability, hopelessness, social isolation, and ruminations about death and/or suicide. Depression among the chronically ill can present as a somatic syndrome without objective findings, leading health care providers to futilely pursue an extensive and costly medical workup.
Many inmates exhibit anger and hostility, making it difficult to work with them. These traits may be symptoms of an underlying psychiatric disorder such as a personality disorder, depression, or even bipolar (manic-depressive) disorder.
Anxiety syndromes are characterized by a heightened and often-exaggerated sense of dread, fear, or worry. These "cognitive" symptoms are often accompanied by a panoply of symptoms such as palpitations, shortness of breath, a choking sensation, diaphoresis, nausea, urinary urgency, tachycardia, and dizziness. The severity of symptoms can vary markedly. While some patients may have panic attacks lasting from a minute to hours, others may have only heightened worry or fear about a particular situation. Anxiety syndromes often have a significant physical component that can be mistaken for organic illness.
Inmates may suffer post-traumatic symptoms that include disturbing intrusive thoughts, frantic efforts to avoid them, nightmares, loss of interest in activities, memory lapses, autonomic changes, and sleep disturbances. Clinicians should pay special attention to inmates who are in solitary confinement housing units. Recent studies have shown that inmates can suffer a number of psychological symptoms associated with this type of housing.4 It was recently estimated that more than 20,000 inmates were in these types of units in the U.S.4 One commentary noted that "[there] are few if any forms of imprisonment that appear to produce so much psychological trauma and in which so many symptoms of psychopathology are manifested."4 Physical symptoms suffered by SHU inmates may include headaches, lethargy, heart palpitations, dizziness, sleep disturbances, and diaphoresis. Thus, clinicians may be faced with discriminating between symptoms of any number of HIV/hepatitis-related syndromes or simply the mental effects of prolonged isolation.
Lipodystrophy
Lipodystrophy (LD) represents an important problem for HIV-infected patients receiving highly active antiretroviral therapy (HAART). Body changes may stigmatize patients, producing erosion of self-image and self-esteem, problems in social and sexual relations, and anxiety and depression. For many patients, the benefit of survival outweighs the limitations produced by lipodystrophy, but others may become depressed and lose interest in complying with complex antiretroviral regimens, eventually leading them to discontinue control of their HIV infection.
Blanch, et al., performed an observational study of the impact of LD on the quality of life (QoL) of clinically stable outpatients taking HAART for more than 1 year.5 QoL was measured by the Profil der Lebensqualität Chronischkranker (PLC), and LD was defined by clinical criteria.
Fifty-six percent of 150 patients interviewed fulfilled criteria for LD. Although LD was not found to influence overall QoL in all patients, homosexuals, the unemployed, and those patients currently undergoing psychiatric treatment demonstrated greater impairment on some of the QoL subscales related to psychological well-being if they suffered from LD. The authors concluded that the impact of HIV-related LD on QoL depends on certain patient characteristics, rather than solely on the presence of LD itself.
Neuropsychological Issues in Patients With Chronic Hepatitis
The prevalence of HCV infection among inmates has been reported between 17 and 18 percent.
6
Neuropsychological impairment has been well documented in those with cirrhosis and end-stage liver disease. This impairment has been attributed to toxins accumulating in the blood that are not effectively cleared by the cirrhotic liver.
The neuropsychological manifestations of subcortical deficits usually include slowed speed when processing information, reduced word fluency, psychomotor slowing, and impaired learning in the presence of good recall of previously learned information and intact recognition memory. Psychomotor slowing, especially in combination with impaired attention and concentration, can result in prolonged periods of time needed to complete even routine tasks. Verbal skills, such as vocabulary and naming, and basic visuospatial and visuoconstructional abilities are relatively unaffected. Patients with these types of neurocognitive problems may fail to remember (or remember incorrectly) physicians' recommendations. They may experience difficulty performing their household and job duties as efficiently and/or as accurately as they are accustomed to. As a result of these difficulties, patients can experience frustration and mood problems, such as depression and anxiety.
Hilsabeck, et al., studied cognitive functioning in patients with chronic liver disease.7 Sixty-six patients with chronic HCV and 14 patients with other chronic liver diseases were administered a brief battery of neuropsychological tests assessing attention, visuoconstructional ability, learning, memory, and psychomotor speed.
Impaired performances were found in up to 50% of noncirrhotic patients, depending on the neuropsychological function tested. In this study, there was a significant relationship between fibrosis stage and test performance, with greater fibrosis associated with poorer performance. Maintaining attention and concentration for several minutes while performing accurately was the most difficult task for noncirrhotic patients. These findings suggest that progressive hepatic injury may result in cognitive problems even before the development of cirrhosis.
Patients with chronic HCV frequently report fatigue, lassitude, depression, and a perceived inability to function effectively. Studies have shown that patients exhibit low QoL scores that are independent of disease severity. A study by Forton, et al., evaluated whether HCV infection has a direct effect on the central nervous system, resulting in cognitive abnormalities.8 Twenty-seven hepatitis C viremic patients with biopsy-proven mild hepatitis and 16 patients with cleared HCV were tested with a computer-based cognitive assessment battery and also completed depression, fatigue, and QoL questionnaires. Patients with significant fibrosis or cirrhosis were excluded from the study, thereby excluding minimal hepatic encephalopathy as the cause of the abnormalities.
The authors report that HCV viremic patients were found to be impaired on more cognitive tasks than the HCV-cleared group. As for affective scores, the HCV-infected group scored worse on the Hospital Anxiety and Depression Scales. Analysis revealed impairments in power of concentration and speed of working memory, independent of a history of intravenous drug use, depression, fatigue, or hepatitis symptom severity.
The authors suggest this data supports the clinical impression and assertions of many HCV-infected patients that they are cognitively impaired ("brain fog"). The mechanism(s) underlying these findings remains to be defined.
Kramer, et al., studied the impact of HCV infection on cognitive brain function.9 Fifty-eight non-cirrhotic patients with chronic HCV infection were studied by P300 event-related potentials (an objective measure of cognitive processing recorded through an array of scalp electrodes) and by the SF-36 questionnaire for assessment of health-related QoL. Findings were compared to 58 matched healthy subjects.
Cognitive processing was found to be impaired in HCV patients as compared to healthy subjects. Similarly, P300 amplitude was reduced in patients with HCV infection. Health-related quality of life was significantly reduced in patients with HCV infection but in this study there was no clear correlation between neurophysiological function and health-related QoL or activity of hepatitis.9
The use of a standardized test to evaluate depression in those undergoing treatment for HCV was discussed at the American Association for the Study of Liver Diseases (AASLD) meeting in Boston in Nov. 2002.10 The development of depression while receiving IFN/RBV is one of the factors contributing to poor adherence, early discontinuation, and lower sustained viral response rates. In addition, treatment-related depression adversely affects patient QoL. To facilitate the diagnosis of depression and suicidal ideation in those begun on IFN/RBV, patients were administered an automated version of the Beck Depression Index (BDI) utilizing the Point of View (POV) 2000 hand-held survey unit.
The BDI was given prior to therapy and repeated within the first three months of treatment and 448 patients treated with combination IFN/RBV were evaluated. Prior to therapy, all patients were classified by BDI as having minimal depression.
Follow-up BDI revealed that 65% were unchanged from baseline, 18% developed mild depression, 9% developed moderate depression, and 7% developed severe depression. One percent responded that they would kill themselves if they had the chance. Anti-depressive therapy was initiated for all patients who reported moderate depression or greater.
All patients with moderate depression or less were continued on therapy, unless suicidal ideation was present. Twenty-two out of 30 patients with severe depression completed therapy. Therapy was stopped for those patients who considered suicide. Of note, standard physician questioning did not reveal suicide ideation in any of the 17 patients with suicidal ideation.
The presenter concluded that the POV 2000 BDI is useful, and appears to be more sensitive than standard physician interviews in determining the presence and degree of depression. Use of this instrument may allow for earlier detection of depression and earlier intervention, which may lead to greater patient adherence to therapy. Interestingly, many patients considering suicide did not report severe depression.
Of Special Concern: Suicide
Suicidal behavior should always be a concern when dealing with the chronically ill and the incarcerated. Rates of suicide among HIV-infected individuals are higher than among other chronically ill populations, and HIV-infected inmates demand careful attention. A valuable model for dealing with suicidal thinking and behavior is to be aware of the risk and protective factors affecting suicidal thinking and behavior.11
Both risk and protective factors for suicidal thinking and behavior are grouped into historical, personal, psychosocial-environmental, and clinical factors. Knowledge of these factors for individual inmates can help correctional health care providers detect and manage suicidal risk in this high-risk group (see Table 1). In addition to these general risk factors, context-specific factors such as first-term status or a new HIV infection or hepatitis diagnosis should guide health care decisions and treatment.
Risk and Protective Factors for Suicidal Assessment and Intervention*
Risk Factors
Protective Factors
Historical

Lack of significant relationships (never married, separated, divorced)
Poor work history or chronic unemployment
Childhood abuse
History of violence
Mental disorder associated with suicidal behavior
History of head trauma
Prior suicidal behavior
Prior mental health treatment
Rigid thinking
Distorted thinking
Irrational beliefs

Married or in a significant relationship
Employed or involved in a structured program (school, treatment, etc.)
Intact support system
Having children under the age of 18
Constructive use of leisure time
General purpose for living
Involved in mental health treatment
Effective problem-solving skills

Psychosocial-Environmental

Major life stressors (re-incarceration, first incarceration, recent diagnosis of HIV, physical assault)
Any significant loss
Breakdown of social support
Social isolation (e.g. time in the "hole")

Clinical

Specific behaviors associated with suicidal behavior (e.g. giving away belongings; saying goodbye to friends; verbalizing thoughts of death or suicide)
Acute change in mental status
Changes in behavior
Mood changes
Changes in attitude (e.g. sudden fatalism in face of declining T-cell count)
Lack of compliance
Sanchez HG. Risk Factor Model for Suicide Assessment and Treatment.
Professional Psychology: Research and Practice
2001;32(4):351-358.
Mental Health Services in HIV Primary Care
In the past, most mental health care was provided by specialty mental health clinicians. In the last decade, primary care medical providers have been thrust into the role of providing a significant portion of mental health care. This is partly due to changes in health care delivery systems, but can also be attributed to new, safer medications for common psychiatric disorders and new practice guidelines for the treatment of mental health disorders in primary care. Given the prevalence of psychiatric disorders in patients being treated for HIV and hepatitis, it is only natural that mental health care be integrated into general medical practice.
Screening
Screening for mental health disorders can be conducted efficiently and cost-effectively. Both questionnaires that are completed by the patient and brief screening interviews have been found to be highly sensitive to the presence of significant psychiatric symptoms and impairment.12 Typical screening instruments for depression in primary care include the Center for Epidemiological Study Depression Scale (see HEPP Report, January 2000), the Hospital Anxiety and Depression Scale (HADS),13 and other self-report scales of depression and anxiety. Because it was developed to take account of the overlap of psychiatric syndromes and physical symptoms, the HADS scale is particularly useful in primary care and medical specialty clinics.
Screening devices such as these may be less reliable in correctional populations where over-reporting of symptoms can hinder accuracy. As an alternative, health care providers can ask a series of questions that are sensitive to the presence of clinically significant psychiatric symptoms. Brief interviews have been employed in primary care for the last 10 years. An example is the Prime-MD, which was developed to diagnose several of the most common psychiatric disorders seen in primary care settings. An abbreviated version of this measure is included as Table 2.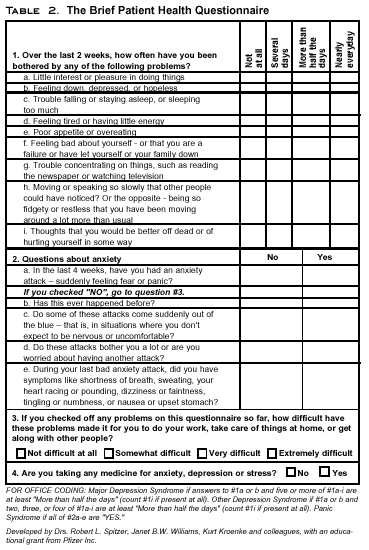 Finally, it should be emphasized that significant psychiatric symptoms can be present in the jail or prison environment without obvious impairment of an inmate's functioning. Any effort to screen for psychiatric disorders should include questions that ask about an inmate's social functioning and activities such as attendance at meals, school, job, and medical appointments.
Alternatives to Traditional Delivery Models
Interest in alternatives to traditional mental health service delivery models was spurred by the need to introduce efficient diagnosis and treatment of common psychiatric disorders into primary care settings. Primary care settings in the community are important for several reasons: 1) psychiatric disorders often present as primarily somatic; 2) primary care patients with mental health problems are notoriously high utilizers of medical care; and 3) only a minority of patients with mental health problems seek help from mental health specialists.
Physicians and other health care professionals can be trained to screen for psychiatric disorders. Nurses have been used extensively for this purpose in a variety of settings. Physicians have received training in medication algorithms and have been given access to psychiatrists for consultation. Education of mental health consumers has been shown to change patient behavior and can facilitate the screening and detection process, thus enhancing the opportunity for treatment of mental disorders.
Some of the more successful programs have been termed "collaborative care" models, in which a mental health professional is integrated directly into the clinic setting. Often the clinician has been a psychiatric nurse practitioner or psychologist who acts as an on-the-scene consultant. Nurse practitioners can quickly begin patients on medications for a number of common disorders. Psychologists are often helpful in situations requiring a differential diagnosis. Both these professionals are adept at brief interventions and crisis situations.
At the November 2002 AASLD meeting, a report from the University of Cincinnati VA Medical Center discussed the use of a team of experts in managing HCV therapy for patients with behavioral, emotional and psychiatric problems.14 Patients were evaluated for treatment by a multidisciplinary team of hepatologists, psychiatrists, pharmacists, and nurses. Sixty-seven percent of those treated had one or more axis 1 diagnoses, 28% had an anxiety disorder such as post-traumatic stress or panic disorder, and 89% had an addiction disorder.
In spite of this high prevalence of co-morbid mental illness, 71% of patients completed treatment. The presenters concluded that by using a multidisciplinary team approach to treatment, patients with serious mental/emotional disturbances and chronic HCV can be treated successfully without undue risk to the patient. Treatment success based on HCV RNA clearance was found to be comparable to that described in the literature for less impaired patients.
Treatment
Once the diagnosis has been made, effective treatment of depression and anxiety are readily available to primary care physicians. Newer antidepressants that feature more benign side effect profiles and a larger margin of safety are available. Algorithms for the use of antidepressant medications such as those from the Texas Medication Algorithm Project (TMAP) provide safe and efficacious treatment in line with practice guidelines from the American Psychiatric Association and other professional groups (see HEPPigram (PDF)).
Conclusion
Mental disorders are common and can cause significant impairment among inmates with chronic illnesses such as HIV and hepatitis C. Research in the community suggests that patients with co-morbid chronic viral illness and mental health problems have poorer adherence to medical treatment. Additionally, inmates with chronic illnesses spend more time incarcerated and may have higher rates of in-custody rule violations.
One challenge facing mental health providers and HIV/hepatitis primary care health care professionals is how best to diagnose mental illness and treat these individuals. In the past decade, changes in the delivery of mental health care in the free world have spurred efforts to develop effective interventions and the technology to deliver efficacious mental health treatment in non-traditional settings, such as jails and prisons. Efforts have included education for patients and professionals, inserting mental health professionals into primary care clinics, the use of brief screening instruments, and the use of algorithms and practice guidelines to increase the effectiveness of psychotropic medications in primary care settings. Primary care physicians who care for patients with HIV and/or hepatitis can now make use of these emerging models and technologies to better serve inmates suffering from these and other chronic illnesses.
Robert D. Canning, Ph.D., is affiliated with HIV Treatment Services, CA Medical Facility and the CA Dept. of Corrections.
* Disclosure: Nothing to disclose.
References

Back to the HEPP Report January 2003 contents page.