Although most incarcerated individuals with HIV infection acquire the virus prior to their imprisonment, the high prevalence of HIV infection and frequency of unprotected sex in correctional facilities suggest that spread of HIV within prisons also occurs. However, few studies have investigated intramural transmission of HIV infection in the U.S. and most of these, conducted early in the epidemic, reported a low incidence of HIV infection within prisons.
1-3
A more recent study of 446 incarcerated men in Rhode Island found no cases of HIV seroconversion after 694 person-years of in-prison follow-up; in contrast, transmission of hepatitis B virus and hepatitis C virus were observed.
4
The primary challenge to determining the incidence of HIV during incarceration is the absence of HIV testing data at both the time of incarceration and release. Few correctional systems conduct testing at entry and exit, and those that do have not published their findings. More common is the performance of HIV screening of inmates at the time of their incarceration; among a subset requesting testing or for whom the test is clinically indicated, an HIV test is repeated during the incarceration.
Last month, the Centers for Disease Control and Prevention (CDC) reported in the Morbidity and Mortality Weekly Reports (MMWR) the investigation of 88 male inmates of the Georgia Department of Corrections who between 1992 and 2005 were found to have acquired HIV during their incarceration.5 Those with documented HIV seroconversion while incarcerated all had previously been found to be seronegative at prison entry when they were tested as part of Georgia's policy of mandatory HIV testing of new prison inmates. Almost half (47%) were discovered to be HIV-infected during a program started in 2003 offering voluntary HIV testing annually to all inmates, while the remaining inmates were found to be HIV-positive after requesting to be HIV tested or receiving the test as part of their clinical care. This annual HIV testing program ended in 2005. Of the 88 inmates who seroconverted, the median age at time of the detection of HIV was 32 years (range: 21-58 years); 67% were black and 33% were white.
To examine risk factors associated with HIV infection during incarceration, the CDC conducted two case-control studies to compare the men who acquired HIV in prison with inmates who remained HIV-uninfected. In the first, infected cases were compared to a random selection of unmatched, uninfected controls who resided in one of the seven facilities where most of the cases were believed to have become HIV-infected. In the second study, cases were contrasted to control subjects selected from the 31 state prison facilities in Georgia where case inmates were housed and matched by sentence length and time already served.
Advertisement
Multivariable analysis of the unmatched study found HIV seroconversion to be statistically significantly associated with self-reported male-male sex in prison, older age, having served >5 years of the current sentence, and having a body mass index (BMI) of <25.4 kg/m
2
on entry into prison. In a similar analysis of the matched study, self-reported sex with men in prison, receiving a prison tattoo, a BMI of <25.4 kg/m
2
on entry into prison, and black race were significantly associated with seroconversion (see
Table 1
). Notably, 32% of the cases and 6% of the matched controls reported sex with a male staff member and 22% of cases and 9% of these controls stated they had sex with female prison staff. Of 43 inmates (34 cases and nine controls) who reported engaging in consensual sex, 13 (30%) said they used condoms or other improvised barrier methods including rubber gloves and plastic wrap.
Table 1. Multivariable Analysis of Characteristics and Risk Behaviors Among Inmates With HIV Seroconversion in Prison Compared to Matched Controls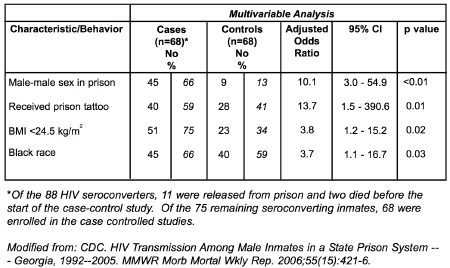 The association between HIV in-prison seroconversion and low BMI may be due to the sexual victimization of smaller men; however, sex was overwhelmingly reported by participants to be consensual with only 9% of cases and 1% of controls reporting being a victim of rape during incarceration.
In an accompanying editorial, the CDC recommended that HIV prevention efforts in prisons address male-male sex, injection drug use and tattooing, and that inmate-led interventions may be particularly effective. Reflecting the report by participants of sexual contact between staff and inmates, it was suggested that HIV education not be limited to only inmates. In addition, it was recommended that HIV testing at prison entry and exit should be conducted and voluntary testing offered regularly during the incarceration. The CDC was less direct regarding condom distribution in correctional settings. Noting that condoms are provided to some inmates in state prisons in Mississippi and Vermont and jails in Los Angeles, New York, Philadelphia, San Francisco, and the District of Columbia, the editorial recommended that these programs be evaluated and that departments of corrections "should assess relevant state laws, policies, and circumstances to determine the feasibility and benefits and risks of implementing such programs."
David Alain Wohl, M.D., is on the Speakers' Bureaus for Gilead Sciences, Bristol Myers Squibb, Abbott Laboratories, Roche Pharmaceuticals and Boehringer-Ingelheim. He receives grant support from Abbott Laboratories, Gilead Sciences, Roche Pharmaceuticals.
References