Following a virtual renaissance in HIV therapeutics in the mid 1990s, the later part of the decade witnessed a sputtering of the HIV treatment pipeline. Since 1998 only three new antiretroviral agents have come to market, amprenavir (Agenerase), lopinavir-ritonavir (Kaletra) and tenofovir (Viread). In addition, re-formulations of existing drugs have been approved including the fixed dose combination of ZDV, 3TC and abacavir (Trizivir) and enteric coated ddI (Videx EC), bringing the current tally of approved antiretroviral agents to 19. This article will review aspects of these newer drugs and discuss their role in HAART of treatment-naive and -experienced patients. A complete listing of available antiretroviral agents, doses, and common side effects is provided in "
HIV 101
" in this issue.
Lopinavir/Ritonavir (Kaletra)
One of the most exciting new antiretroviral agents in some time is the fixed combination of lopinavir and ritonavir (LPV/RTV). This combination exploits the ability of RTV to greatly enhance levels of another protease inhibitor (PI), in this case LPV. Each capsule of the drug contains 133 mg of LPV and 33 mg of RTV. As three (3) capsules of the combination are taken twice a day, each dose contains 400 mg of LPV and 100 mg of RTV. LPV/RTV has been studied in treatment-naive and antiretroviral-experienced subjects in combination with other agents. Results of a pivotal study comparing d4T and 3TC in combination with either LPV/RTV versus nelfinavir, involving over 650 antiretroviral-naive subjects, were recently reported.
1
After 60 weeks, 64% of the subjects in the LPV/RTV arm had an HIV viral load below 50 copies/mL compared to 52% in the nelfinavir arm (p=0.001). Virologic failure was reported in only 1% of the LPV/RTV subjects verses 9% of the nelfinavir-assigned subjects.
2
Strangely, none of the 40 subjects failing LPV/RTV had genotypic or phenotypic resistance to protease inhibitors while 37% of the 84 nelfinavir assigned subjects with virologic failure did have mutations associated with decreased susceptibility to PIs. Even more unexpected was the virtual absence of the 3TC resistance-associated mutation at codon 184 in the LPV/RTV arm compared to the nelfinavir arm. Clearly, this is not a business-as-usual PI.
In PI- and NRTI-experienced but NNRTI-naive subjects, LPV/RTV has been studied in combination with an NNRTI. In this context, the combination of LPV/RTV and the NNRTI was very effective at reducing viral load below detectable limits. However, the effect of adding an agent from a new class (i.e., NNRTI) makes pinning all this success on LPV/RTV difficult. Characterization of the resistance profile of LPV/RTV, as discussed above, has been hampered by the small numbers of subjects failing the drug and a lack of resistance mutations detected in those who have. Failure to respond to LPV/RTV in patients with pre-existing resistance mutations has been described and response to the drug is dependent on the number of mutations present at baseline. These data indicate that multiple mutations are required to reduce susceptibility to LPV/RTV (see figure 1).
Figure 1: Phase II Multiple ARV-Experienced Patients: Virologic Response to LPV/TRV With Respect to Baseline Genotype
Advertisement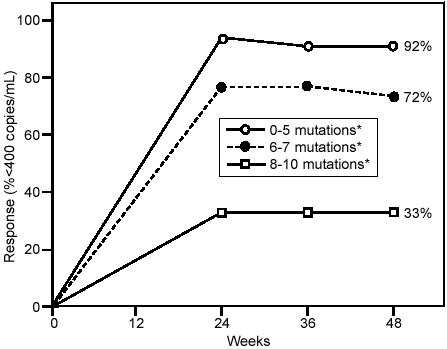 * Selected from 11 mutations associated with reduced susceptibility to LPV (protease amino acid positions 10, 20, 24, 46, 53, 54, 63, 71, 82, 84, and 90)

The attraction of LPV/RTV as a component of a salvage regimen is obvious. Here is a drug that appears to be slowed down only by multiple mutations, is active against virus with protease inhibitors resistance mutations and can be given as 3 pills twice a day. "Voila!," the Abbott scientists must have proclaimed when they realized what they created. This strength, though, has turned out to be the drug's weakness. Some clinicians view LPV/RTV as a drug to reserve for salvage -- a sort of ace in the hole. However, there is a compelling argument to use the agent earlier. The ease of administration, potency and probable high threshold for resistance accumulation position the agent as an attractive element of initial therapy. A major concern regarding this approach is the lack of understanding of the consequences of LPV/RTV failure and the implication for future treatment response. At this time, clinicians have to judge for themselves where to place this agent until more data are available to address the outstanding questions.
Drug-drug interactions of LPV/RTV are what would be expected of a ritonavir (RTV)-containing regimen. Additionally, data suggest a decrease in plasma levels when the agent is combined with an NNRTI. Therefore, the dose of LPV/RTV should, in most cases, be 4 capsules BID when efavirenz or nevirapine are also used. The drug is best absorbed with food.
Adverse effects include mostly gastrointestinal problems. There have been reports of lower extremity edema with LPV/RTV not due to deep vein thrombosis or right-sided heart failure. LPV/RTV does lead to perturbations of lipids, and therefore it would be surprising if it did not produce those body shape changes associated with the protease inhibitors class.
As in the case with RTV, there are storage issues relevant to correctional facilities, especially those located in regions where it can get very hot. Unlike RTV, LPV/RTV does not need to be refrigerated if used within 2 months and can be stored at temperatures up to 77° F (up to room temperature). However, if the temperature is higher, as is the case in most of the cell blocks in North Carolina in July and August, the product breaks down quickly. If refrigerated, both LPV and RTV remain stable until the expiration date on the manufacturer's label. These storage requirements can pose challenges for systems where drugs are provided "keep on person" (KOP) and where it gets hot as Georgia asphalt in the summer.
Tenofovir (Viread)
This newest addition to the antiretroviral war chest is a little pill that is taken once a day. Tenofovir is a nucleotide analogue, which means the agent is already in the nucleotide form that nucleoside analogues are converted to in the body. The drug has been approved for initial and salvage treatment of HIV infection despite the fact that there are few data regarding use of the drug as initial therapy. The manufacturers have conducted trials in HIV therapy-experienced patients and have demonstrated moderate potency of the drug. In one study 189 subjects, who were receiving antiretroviral therapy for a minimum of 8 weeks but continued to have detectable HIV viral loads, were randomized to receive intensification with three different doses of tenofovir or placebo. At 48 weeks, subjects assigned to receive the 300 mg dose of tenofovir had a modest, but meaningful, reduction in viral load (80% or 0.62 log).
3
A larger study involving over 550 subjects compared the addition of 300 mg dose of tenofovir versus placebo, again in treatment-experienced patients with detectable HIV viremia. At 24 weeks, when all patients rolled over to active drug, 19% of the 368 tenofovir-assigned subjects had a viral load below 50 copies/mL compared to 1% of the 182 subjects randomized to placebo.
4
These results are to be formally presented at the Interscience Conference on Antimicrobial Agents and Chemotherapy (ICAAC) in December.
An international trial of 600 naive subjects in which tenofovir, as part of a combination including efavirenz and 3TC, is being compared to a regimen of d4T, efavirenz, and 3TC, is ongoing.
Tenofovir susceptibility is reduced in the presence of multiple nucleoside analogue-associated mutations, particularly when the M41L and L210W mutations are present. Multiple thymidine analogue mutations or TAMs (M41L, L210W D67N, K70R, T215Y/F among others) is associated with decreased efficacy of tenofovir. The K65R mutation and multi-drug resistance mutations such as the T69S confer resistance to the drug.
The side effect profile of the drug, to date, appears favorable. Unlike related drugs such as adefovir and cidofovir, tenofovir does not seem to cause renal insufficiency to any great extent. Nausea, vomiting and diarrhea have been reported with use of the drug; however, it remains unclear if tenofovir contributes to metabolic complications of therapy such as fat redistribution or hyperlactatemia. In animal studies there have been problems with bone mineralization prompting the inclusion of bone density evaluations in Gilead sponsored studies of tenofovir in humans. Post-marketing surveillance of side effects will be required to fully characterize the adverse effect profile of this drug. To date, there are no data indicating that bone density is a problem in people. High-fat meals increase the bioavailability of the drug, therefore, it is recommended tenofovir be taken with a meal.
Where tenofovir will fit in the grand scheme of treatment is not clear at present. This easy to take agent may become a "cherry on top" drug, added to regimens that are commonly perceived to need a bit of a boost, such as in the use of triple nucleosides in patients with high viral loads, in salvage regimens in multi-drug-experienced patients and for intensification of a newly failing regimen. The drug may also become part of a once a day regimen along with other existent and forthcoming once a day therapies -- provided meal requirements do not conflict.
Amprenavir (Agenerase)
Originally dismissed as a "me-too" protease inhibitor, amprenavir does stand a little (and I mean a little) apart from the pack. Studies of antiretroviral-naive and -experienced patients demonstrate that amprenavir is effective as a component of a three or more drug regimen and, by virtue of a somewhat disparate pattern of resistance development, may have some unique applications. For example, one of the biggest selling points for this hefty protease inhibitors (weighing in at 16 pills per day) is that it has a novel pattern of resistance which would indicate relatively limited cross resistance to other PIs. The initial mutation seen in patients failing amprenavir is at codon 50, which is relatively unique. Subsequently generated mutations, however, do overlap with other PIs (for a constantly updated list of HIV resistance mutations go to
www.iasusa.org
and click on "Drug Resistance Mutations": see Resources and Web sites). Likewise, this overlap of mutations, such as the I84V mutation in particular, would predict that virus resistant to indinavir and ritonavir would be less susceptible to amprenavir.
However, in a pivotal trial of nucleoside reverse transcriptase inhibitor (NRTI)-experienced but protease inhibitor (PI)-naive subjects pitting a triple drug therapy of two NRTIs and amprenavir against two NRTIs coupled with indinavir, there appeared to be no clear difference between these protease inhibitors in reducing viral load. At 24 weeks 43% of the amprenavir assigned patients had HIV viral loads below 400 copies/mL compared to 53% of the indinavir assigned subjects.5 This trend favoring indinavir was not statistically significant. Adverse events, however, were more common in the amprenavir arm and were related to gastrointestinal intolerance and rash.
Furthermore, in the most rigorous studies of amprenavir in NNRTI- and PI-experienced subjects, the role of the drug was obfuscated by an unforeseen drug-drug interaction with efavirenz, which was included as part of the experimental salvage regimens. After a dismal showing for amprenavir (only a quarter of subjects receiving amprenavir, efavirenz and abacavir had viral load below 400 copies/mL) it became apparent that efavirenz substantially lowers amprenavir levels in the blood.
Amprenavir appears more likely to produce rash than other drugs of this class and this can cause confusion when combined with a NNRTI or abacavir. Stevens-Johnson Syndrome is reported in as many as 1% of patients taking this drug. Gastrointestinal adverse effects are common as is circumoral paresthesia (tingling around the mouth). A suggestion that this is a protease inhibitor that is less likely to cause dyslipidemia and body shape changes has become somewhat less relevant as the drug has been coupled with lower dose RTV in an effort to reduce the pill burden of amprenavir. RTV at higher doses has been demonstrated to increase triglycerides and cholesterol and has been linked to truncal fat accumulation. Whether these effects are dose dependent remains unclear. Each 150 mg amprenavir pill contains 109 IU of vitamin E. Therefore, supplemental vitamin E should be avoided.
When used without RTV, the dose of amprenavir is 1,200 mg BID. The drug can be taken with or without food but not with a high-fat meal. With RTV the dose can be reduced as RTV acts to increase plasma levels of the drug. Several dose regimens have been examined including amprenavir-600 mg plus RTV-100 mg both BID, amprenavir-600 mg plus RTV-200 mg both BID and amprenavir-1,200 mg plus RTV-200 mg QD. While these regimens are not on the package insert, they are commonly used in clinics. Special attention must be paid to drug interactions. As mentioned, when the drug is coupled with efavirenz a reduction in plasma levels of amprenavir occurs. Some clinicians recommend that when efavirenz or nevirapine is added to amprenavir that 200 mg of RTV and 600 mg of amprenavir be used.
Capitalizing on a somewhat disparate sequence of resistance evolution to amprenavir, the manufacturers have tried to position the drug as a first PI-failure option. This application of the drug has not caught on in many places. It is likely that this has much to do with the extraordinary pill burden and the availability of other options. Hope, however, may be on the horizon. The manufacturers of amprenavir have developed a pro-drug formulation, GW433908, affectionately referred to as "908." This drug will likely require 2 pills twice a day. Clinical study of this agent is underway but approval is likely to be one year away.
New Formulations of Older Agents
By now most clinicians have become familiar with the fixed dose combination of ZDV, 3TC and abacavir (Trizivir). This one pill BID regimen has the efficacy and tolerability that would be expected with exposure to these compounds. In addition, an enteric-coated formulation of ddI has been approved. The original formulation of ddI contained an antacid to buffer against degradation of the drug in the acid or the stomach. The new formulation uses a protective coating instead. The result is a normal sized capsule that can be swallowed instead of chewed, less gastrointestinal disturbance caused by the buffer and reduced drug interactions with agents requiring stomach acidity for absorption. The drug still needs to be taken on an empty stomach. The toxicity is expected to mirror that of the older formulation, but with better palatability, one wonders whether we will see more people actually taking the drug as recommended and, therefore, more of the toxicity we associate with ddI.
New Regimens
The array of available agents for treatment of HIV infection has led clinicians to develop diverse therapeutic strategies. For instance, patients initiating antiretroviral therapy can now be treated with a PI-based, PI-sparing, NNRTI-based or triple NRTI regimen, among others. Reassuringly, it appears there are no major differences in antiretroviral effectiveness across popular treatment strategies. John A. Bartlett from Duke University recently published an analysis of the results of 23 HIV treatment trials in which antiretroviral-naive subjects received dual NRTIs and either a PI, an NNRTI, or a third NRTI, and found that these three approaches were not significantly different in their ability to drive HIV viral load levels below 50 copies/mL.
6
With generally similar efficacy expected with these treatment strategies, consideration of regimen composition now focuses on tailoring therapy to patient-specific issues of adherence and tolerability. Pill count, frequency of dosing, drug-drug interactions and side effect tolerance can now be considered when devising a regimen -- recasting associations of HAART with handfuls of multicolored pills that make people sick.
Salvage therapy has also evolved and frequently involves inventive, and sometimes ragtag, collections of agents -- often inspired as much by results of resistance testing and pharmacologic boosting as by wishful thinking. Yet, salvage therapy continues to provide diminishing returns with high long-term failure rates seen in most every study. As persons with HIV infection live longer and cycle through antiretrovirals, there is a need for new agents that are effective against viruses that have accumulated multiple resistance mutations.
Conclusion
More drugs, more choices. The question remains, though, "How, short of a cure, can new drugs continue to be developed to meet the needs of an increasingly treatment-experienced and socially complex HIV positive population?" With the rate of new HIV infections continuing to be on the order of 40,000+ per year and HAART failure rates high, there remains, unfortunately, a market for new antiretrovirals. Industry's most recent responses to this challenge were described in this article. While none of these agents offer what most would consider a major advance in the treatment of HIV, they do complement the palette of available drugs and provide an opportunity for creative options in initial and salvage treatment.
* Speaker's Bureaus: GSK, Gilead, Merck, BI, Roche
References

Back to the HEPP News November 2001 contents page.