A note from TheBody.com: The field of medicine is constantly evolving. As a result, parts of this article may be outdated. Please keep this in mind, and be sure to visit other parts of our site for more recent information!
The new multidrug regimens that work so effectively against HIV oblige you to take your medications on a fixed schedule throughout the day. Here's how to integrate all that pill-taking into your daily routine.
No one said it would be easy. But even so you may not have been prepared for just how complicated combination therapy can be. Suddenly you have to get up at the same time every day. And eat meals at the same time every day. And go without food for specific periods. And drink a specified amount of liquid over the course of the day. Every day, without fail. Or else the drugs may fail to do their job.
At first, these regulations and restrictions may seem overwhelming. All you are doing, it seems, is taking pills. Or worrying about when you need to take the next pills. Or fretting about whether you have done yourself some unspecified harm by forgetting to take some of your many medications at the specified time. For your peace of mind -- and to maximize the effectiveness of your antiretroviral "cocktail" -- you need to integrate all this pill-taking into your regular daily routine. Do that, and you can master the complexity of combination therapy, so that it no longer dominates your day. Do that, and you can achieve the high degree of compliance that is crucial to successful antiretroviral therapy... even as you are reducing the degree to which the demands of multidrug therapy intrude into your daily life.
The following suggestions come from old pros at pill-taking -- some of whom have been on antiretroviral therapy since AZT was introduced more than a decade ago.
Advertisement
Choose a regular time -- say, Sunday night, right after a TV program you always watch -- to count out all of your pills for the following week. Do this in a well-lit place where there are minimal distractions (such as loud music or household pets), and take your time. Count carefully -- out loud, if that helps. This is especially important if you have been instructed to increase (or decrease) your doses at intervals of several days.

Put each day's morning, noon, early-evening, and late-night doses into separate compartments in one of those see-through plastic boxes that are designed to hold a week's supply of pills. Walgreen's has a version with four compartments for each day of the week and a snap-shut lid.

Get yourself several small containers. (Empty film containers work well for this purpose. Color-code them with tape or marking pens for easy identification.) Before you go to bed each night, take the next day's doses out of your plastic pill tray and put them where you are sure to see them at the appropriate times the following day. Set the morning doses next to the coffee-maker; pack the noon doses in your attache case or gym bag; and place the late-night doses by your toothbrush.

Buy a watch with a silent alarm -- one that hums on your wrist but makes no noise -- or get yourself a vibrating alarm that you can carry in your pocket or wear in your waistband. Set these timers -- or a clock-radio -- to go off at the times during the day when you are most likely to forget to take your medications.

Enlist someone you live with -- a spouse or partner, a family member or roommate -- to help you remember to take your pills at the prescribed times. If you live alone, get a good friend to call you at set intervals during the day, just until you get used to your new dosing routine. Or find a friend who is on a similar antiretroviral regimen, so that you can help one another to remember your shared daily schedule.

Don't panic if you miss a dose. Everyone does. You're not a robot, you're human... and humans slip up. If you do miss a scheduled dose, read the instructions you got with your pills. They will tell you if you should make up the missed dose or wait until its time to take the next dose.

Make two clock faces like the ones below. Label one DAYTIME and one EVENING; mark your daily dosing schedule in large, legible letters on each clock; and hang this reminder in a place where you are sure to see it. For work and travel, make wallet-size versions of both clock faces and carry them with you wherever you go.

Do the best you can, and stick with it. Like everything else, this gets easier with practice.
DAILY DOSING SCHEDULE FOR PATIENTS WITH COMBINATION THERAPY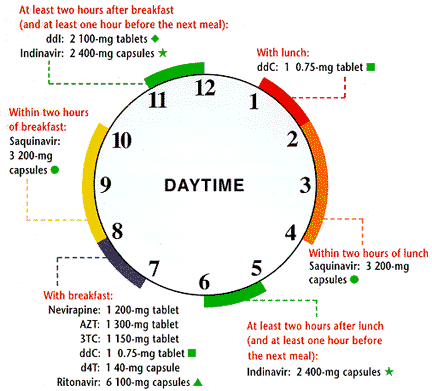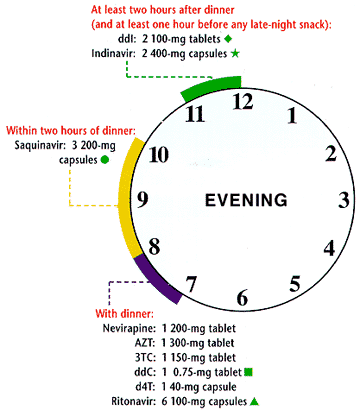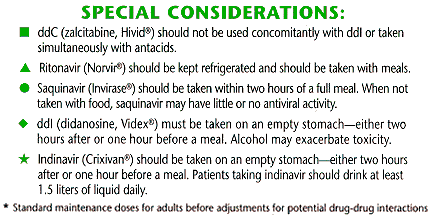 A note from TheBody.com: The field of medicine is constantly evolving. As a result, parts of this article may be outdated. Please keep this in mind, and be sure to visit other parts of our site for more recent information!
This article was provided by San Francisco General Hospital. It is a part of the publication AIDS Care.