| | |
| --- | --- |
| When Incarnation Children's Center, a pediatric AIDS facility that serves one of New York City's most blighted neighborhoods, Washington Heights, opened in 1989, photographer Claire Yaffa was there. "She simply appeared on my doorstep," says Dr. Stephen W. Nicholas, the executive director of I.C.C., "and she never left." During the ensuing decade Ms. Yaffa documented the heroic efforts of Dr. Nicholas and his dedicated staff to provide comfort, compassion, social and emotional context, and comprehensive care for some of the poorest, sickest, and most marginalized children in America. For all too many of these children, the doctors and social workers, nurses and nuns of Incarnation were more than care providers -- they were family, to infants and toddlers whose own families had been sundered, scattered, or swept away by AIDS. | HIV-positive neonate, New York City, 1990 |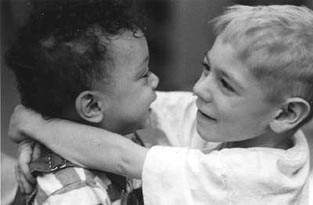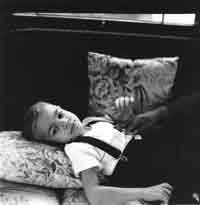 When Anthony was well enough, he sought out one or more of the only playmates available to him -- other pediatric patients at Incarnation. When he was overcome by infection, fatigue, or sadness, he often retreated to a nest of pillows in one of the facility's sitting rooms.
In the days before multidrug antiretroviral therapy altered the outlook for children with HIV, many of Incarnation's patients lived the whole of their brief, pain-filled, illness-ridden lives in the center. They took their first steps there. They celebrated their first birthdays there. They cut their first teeth there. And along the way, they won the hearts of the staff -- few more completely than Anthony, the Little Prince of I.C.C. A bright and delightful child at all times, Anthony was especially ebullient and outgoing on his "good" days -- but even on those days he was obliged to endure the plastic tube that had been slipped down his right nostril (below), so that life-sustaining medications could be run directly into his esophagus at fixed intervals throughout the day.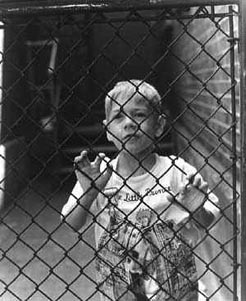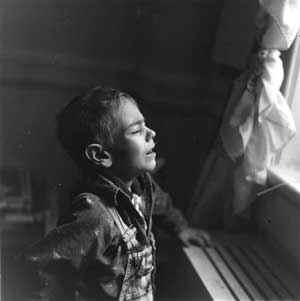 After Anthony's mother died of AIDS, he came to live at Incarnation -- New York State's only residence for children with advanced HIV infection. At the time, I.C.C. was home to two-thirds of the city's so-called AIDS boarder babies, infants whose families were, for various reasons, unable to provide them with the kind of care they required. Anthony's dream was to live with his older brother and their father -- who shared this dream. But because of family problems that Anthony was too young to understand, that dream went unfulfilled -- another pain to bear in a life that had far more than its share of pain.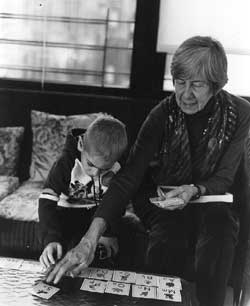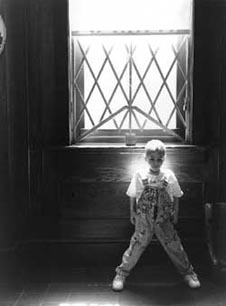 Anthony learned his alphabet from one of the volunteer teachers who augment the physicians, nurses, and social workers who attend to the physical, emotional, and social needs of I.C.C. patients -- in this case providing Anthony with the tools that he would need in order to learn to read, assuming he lived long enough to acquire that basic skill.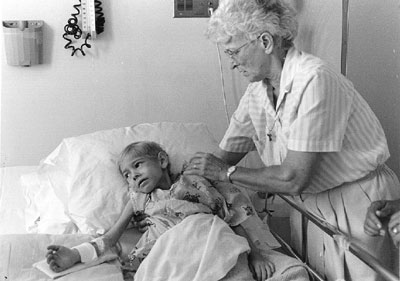 As Flannery O'Connor, who suffered from chronic disseminated lupus all her adult life and died of its effects at the age of 39, once declared, "I have never been anywhere but sick." The same can be said of Anthony -- especially at the end. Bedridden, frail, incontinent, and miserable, he was tended round the clock by a team of I.C.C. nurses, led by Sister Constance Gaynor (above).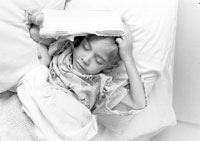 First the hair loses its sheen, then its texture and color. First the skin grows sallow, then it becomes gray and almost translucent. Subepidermal fat is consumed, exposing the skull beneath the skin, the viscera under the sheath of the belly. You can actually see blood coursing through surface veins; you can see the heart beat against the fallen ribcage. The foe is implacable; the downward spiral, inexorable. There are no longer any "good" days, but there are still a few passable days, when it is possible to get the patient out of bed for a few hours (opposite). And then there are no good days, only bad ones and terrible ones. In the end, the anti-HIV medicines that once helped have nothing to offer but their adverse effects -- and when that time comes there is only palliative care, the essential elements of which are a comforting hand and a soothing voice.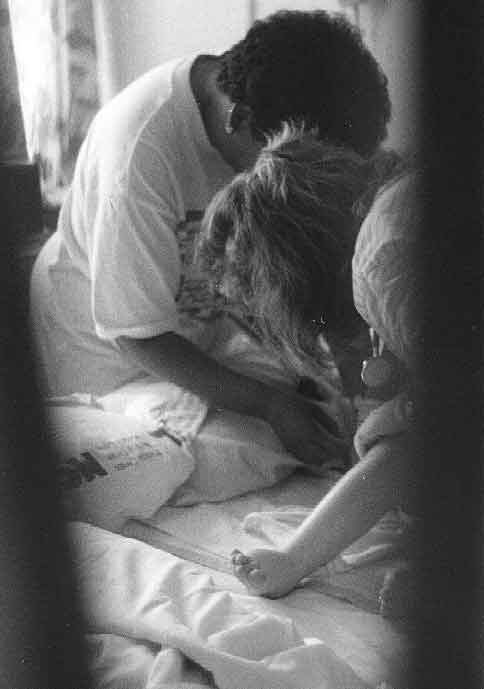 When Anthony died, Sister Connie was with him. She had been his faithful and loving companion throughout his final illness, and it was she who held him close at the end of his life's journey.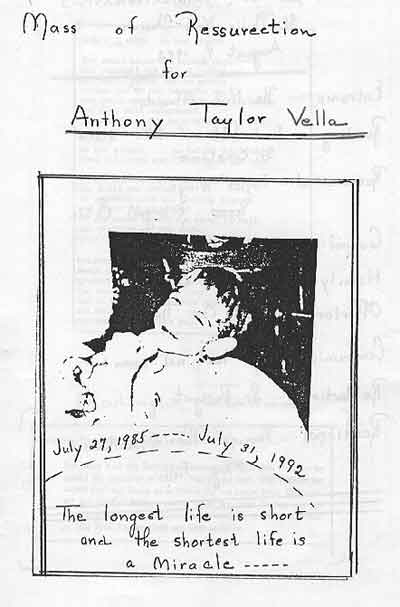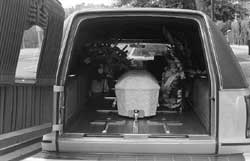 Incarnation's Little Prince turned seven a few days before he died, in late July of 1992. There was no birthday party for Anthony that year; he was too sick. But there was a Mass of Resurrection held for him a few days later. The program was designed, and the service was attended, by members of Anthony's grieving family -- all of them from Incarnation, the only home he had ever known. As Claire Yaffa was to discover, the bodies of indigent infants who die of AIDS are transported to New York's Welfare Island, where they are interred in a mass grave with the corpses of other children whose families haven't the means to bury them properly. Not the children who died at Incarnation, however. Most of them are buried in the Guardian Angel plot of Gate of Heaven Cemetery, under a granite headstone, provided by the Archdiocese of New York, on which each child's name is inscribed. The list is headed by infants who did not live long enough to receive names: Baby Boy Hernandez, Baby Girl Thomas. Anthony's name is midway down the third column. There is room for other names, but they are being added more slowly these days.
---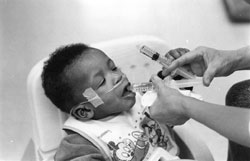 When Devonne came to Incarnation, he was less than a year old, he was very sick, and he was too young to take his daily medications by mouth, so they were administered through a nasal tube and by syringe (left). Like his two sisters before him and a brother who would follow, Devonne was placed in foster care shortly after his birth, because his mother was incapacitated by drug addiction. She was an erratic and infrequent visitor to I.C.C., but she was present for her son's second birthday party (at left, in the photograph below). After studying Claire Yaffa's pictures of the event, she told her that they would be nice for Devonne to have after she died: "If he wonders if I loved him, he will see in your pictures that I really did," she said. And then she added, "Tell him that I couldn't control the drugs, so I couldn't control who I was."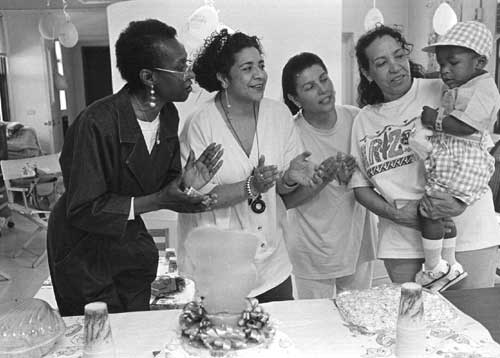 The rituals of life are always important, and they take on heightened importance in a place like Incarnation -- where much is made of each birthday that each patient celebrates, because their number is likely to be cruelly limited.
Devonne with his new parents, Angelo and Rose Ruiz, and his younger step-sister, Nyla. Adopted a year after Devonne, she too is HIV-positive, and like him she remains clinically stable on antiretroviral therapy.
Two things have transformed the lives of pediatric HIV patients in recent years: protease inhibitors and publicity. The former have made it possible to suppress viral replication in seropositive children as fully, and as durably, as it is suppressed in adults who respond well to multidrug antiretroviral therapy. The latter has made the public aware of the plight of AIDS boarder babies like Devonne -- and this, in turn, has made it possible for institutions like Incarnation Children's Center to find homes for all but the very sickest of their charges. Devonne, who spent three of the first four years of his life at I.C.C., now lives with his adoptive family on Long Island. He returns to Incarnation for routine check-ups (below), but he remains asymptomatic and clinically stable five years after his discharge.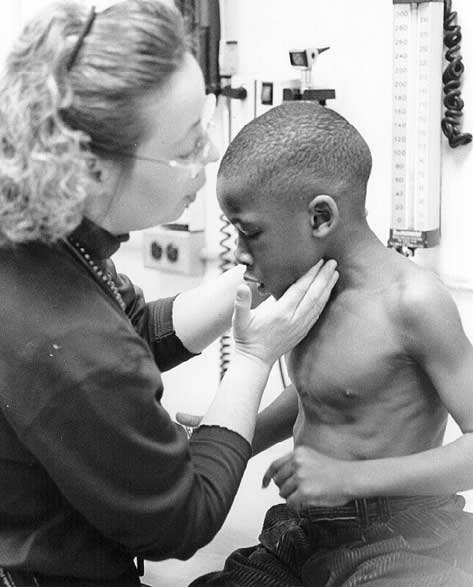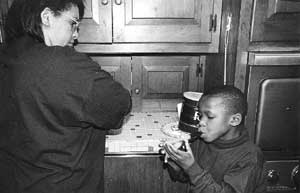 At nine, Devonne is competent to take his own medications by mouth -- under the watchful eye of his new mother (left). In all other respects, he is typical of boys his age: he rides a bike, he rides the bus to school; he does his share of the household chores, he gets his share of affectionate nuzzling from the family dog (below). The respect in which Devonne's young life differs from that of his classmates and playmates is that his day is structured around the dosing schedule imposed by his triple-drug antiretroviral regimen. Because these medications have been a part of Devonne's life from his earliest days, because they antedate his first memories, he is remarkably accepting of taking his medications -- and thanks to the ever-vigilant Mrs. Ruiz, he is fully compliant with his assigned regimen.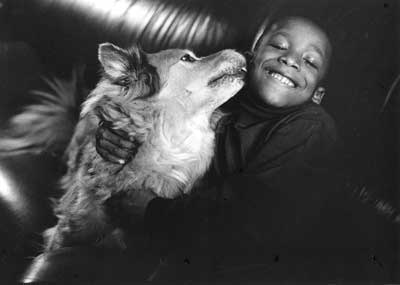 Children who are living with HIV need to take their prescribed medications -- in the doses assigned, at the times assigned. But they also need to take time for the other things that matter in a young life, like letting the family dog get a little "sugar" every now and then.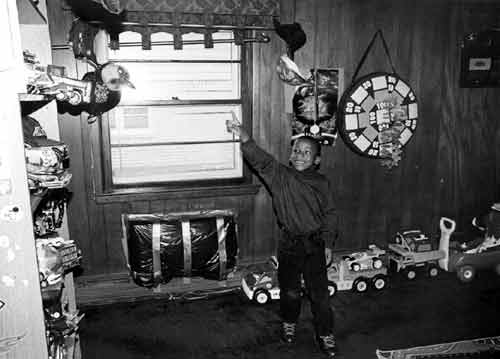 Proud owner of an entire fleet of dump trucks, hook-and-ladders, and police cruisers, Devonne is just another mischievous nine-year-old boy. Except that he isn't, of course: he is an AIDS orphan who is living with HIV. It is important to remember those facts, given how hale and rambunctious Devonne seems. Dr. Stephen Nicholas and his colleagues at Incarnation Children's Center can do more for the Devonnes of today than they could for the Anthonys of six or seven years ago, but they cannot stem the epidemic of HIV that is sweeping impoverished, drug-ridden communities like New York City's Washington Heights -- and that unchecked plague is producing new cases of pediatric HIV faster than Dr. Nicholas can discharge stabilized patients to foster families.
Readers who wish to make a contribution to support the work done at Incarnation Children's Center can do so by contacting Dr. Nicholas, at (212) 928-2590. Readers who wish to introduce their coworkers and communities to Anthony, Devonne, and others like them through the remarkable work of Claire Yaffa can do so by contacting her, at (914) 698-8060. A travelling exhibition of 25 framed photographs -- selected from the hundreds that Ms. Yaffa has taken at Incarnation Children's Center over the last decade -- has been used by the Albert Einstein College of Medicine, the Cleveland Museum of Health and Science, and other institutions to tell the story behind the statistics on pediatric HIV infection. This exhibition can be made available to interested individuals and institutions at a nominal charge.
This article was provided by San Francisco General Hospital. It is a part of the publication AIDS Care.