Pain in patients with HIV disease is undertreated to an alarming degree: estimates suggest that only 15% of these patients receive adequate analgesic therapy for their pain. Furthermore, only 6% of AIDS patients who experience severe pain are treated with a strong opioid, and only the same tiny fraction of patients receives adjuvant antidepressants -- which are extremely useful in managing the neuropathic pain that is so common in advanced HIV disease.
All good pain management begins with an adequate pain assessment. Patients with HIV disease are often reluctant to report pain to their healtchare providers, so it is important for those care-providers to ask about pain. Any complaint of pain should be follwed up with a focused medical and neurological history, a physical examination, and a psychosocial assessment.
Pain in HIV disease is complex and multidimentional. The physical and psychological aspects of pain interact, and that interaction is ultimately expressed in the patient's description of the nature and intensity of the pain, and the degree to which the pain impairs function. Whenever an HIV-positive patient reports pain, the clinician should obtain a description of the quantitative and qualitative features of the pain, its time course, and any maneuvers that increase or decrease the pain's intensity. Patients should be asked to describe the pain as precisely as possible, because these descriptors can help the clinician determine the mechanism of pain -- which can, in turn, predict how the pain may respond to the classes of analgesics listed on the next page.
Pain intensity can be assessed using simple 0-10 numerical scales, and these ratings -- of how intense the patient's pain is currently, on average, at best, and at worst -- can be useful in determining the potency of the analgesic required.
Advertisement
Text adapted from "Pain Management in Patients with HIV Infection," Vol. 1, No. 6, pages 111-118.)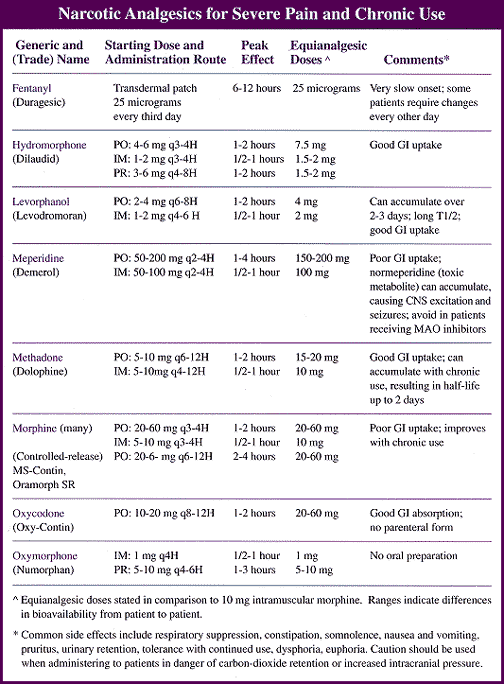 This article was provided by San Francisco General Hospital. It is a part of the publication HIV Newsline.