With this issue of HIV Newsline the editors introduce yet another new department: PROTOCOL WATCH. The purpose of this feature is to alert practitioners to ongoing clinical trials that may have a direct impact on the clinical management of patients with HIV disease. The members of the editorial board of HIV Newsline now monitor all current trials from this perspective, and as they identify promising protocols to the editors, HIV Newsline will provide its readers with interim assessments of studies that seem likely to influence how clinicians care for their HIV-infected patients.
One such clinical trial is AIDS Clinical Trials Group study 268, which has been designed to compare the tolerability of routine versus ramped PCP prophylaxis with trimethoprim-sulfamethoxazole (Septra(R)). As all clinicians who treat HIV-positive patients are well aware, adverse reactions to TMP-SMX -- principally severe rash -- are seen in a significant percentage of the individuals assigned to this standard prophylaxis against P. carinii pneumonia. In some studies of PCP prophylaxis, up to 35% of the participants found that they were unable to tolerate therapy with TMP-SMX (see "Update: Pneumocystis carinii Pneumonia," Vol. 2, No. 5, pages 116-121).
In some instances it has proved possible to "treat through" adverse reactions to TMP-SMX by withdrawing the drug and then, after a washout period of several weeks, reintroducing the agent -- this time in liquid form and at a greatly reduced dose, which is then gradually titrated up to the standard dosage of one double-strength table daily. The clinical question that ACTG 268 asks is whether this ramped approach to the introduction of TMP-SMX therapy should become the standard means of initiating PCP prophylaxis with this agent.
Interim data from ACTG 268, presented earlier this year at the 4th Conference on Retroviruses and Opportunistic Infections, indicate that a gradual approach to initiation of therapy can avert a significant number of adverse reactions to TMP-SMX prophylaxis. In this clinical trial of patients with advanced disease (median baseline CD4 count: 169 cells/mm3), patients were randomly assigned to standard therapy or to ramped therapy at these daily dosages, which escalated at three-day intervals: 1, 2, 5, 10, and 20 mL.
Advertisement
After 14 weeks on their assigned regimen, 84% of the patients in the ramped therapy arm were still on therapy, versus 66% in the routine therapy arm (Figure). The investigators found that a number of characteristics -- among them a
CD4
count below 100 cells/mm3 -- were predictive of therapeutic failure, but no single factor was as strongly predictive as mode of treatment: patients started on the full dose of TMP-SMX were 2.3 times more likely to discontinue therapy than those who received the ramped dose.
In ACTG 268, all subjects in the gradual-therapy arm were given a 4-oz. bottle of TMP-SMX in liquid form and were asked to take measured amounts once a day: 1/4 teaspoon on each of the first three days, 1/2 teaspoon on each of the next three days, and so forth. To help patients remember this stepped protocol, they were given a printed check-list for the dose-escalation period, and bottle checks were performed to ensure that patients were complying with the ramped-dosing schedule.
Update:
Nelfinavir Approved
Nelfinavir -- which Agouron Pharmaceuticals will market as Viracept (R) -- is the first protease inhibitor to receive simultaneous F.D.A. approval for use both in children and in adults. Already available under an expanded-access program (see "At last, a protease inhibitor for children as well as adults," Vol.3, No.1. pages 18-19), nelfinavir will now be widely available to clinicians both in a tablet form and as a powder that can be mixed with baby formula, milk and soft foods such as pureed vegetables and puddings. The F.D.A. has also given Abbott Laboratories permission to market a pediatric formulation of ritonavir.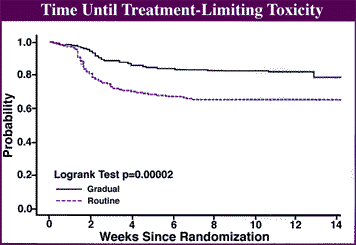 Paul A. Volberding, M.D., is Editor-in-Chief of HIV Newsline and AIDS Program Director at San Francisco General Hospital.
This article was provided by San Francisco General Hospital. It is a part of the publication HIV Newsline.