Latex Barriers -- for Men and Women -- Prevent Transmission of HIV Virtually 100% of the Time
Correct Use of Condoms Worn by Women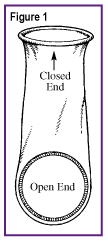 1. Carefully remove the condom from its protective pouch. Use a few drops of the lubricant that comes with the condom to make the outer surface of the condom moist and slick for easy insertion. Add extra lubricant, if desired, to the inner and outer rings of the condom (Figure 1). Be sure NOT to use the lubricant and spermicide nonoxynol-9 which was found to possibly harm the cell lining of the vagina and cervix, possibly increasing the risk of sexually transmitted disease and HIV transmission in women.
2. To insert the condom, squat down, sit with your knees apart, or stand with one foot on a stool or low chair. Hold the condom with the open end hanging down. While holding the top ring of the pouch -- the closed end of the condom -- squeeze the ring between your thumb and middle finger (Figure 2).
3. Now place your index finger between your thumb and middle fingers. With your fingers in this position, keep the top of the condom squeezed in a flat oval. Use your other hand to spread the lips of your vagina and insert the closed end of the pouch (Figure 3). Female condoms are like tampons: they are easy to insert once you have had some practice.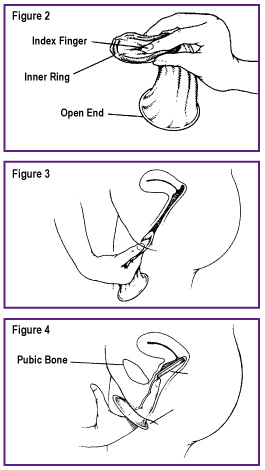 4. Once you have inserted the closed end of the pouch, use your index finger to push the pouch the rest of the way up into your vagina (Figure 4). Check to be certain that the top of the pouch is up past your pubic bone -- which you can feel by curving your index finger upward once it is a few inches inside your vagina. You can insert the pouch up to eight hours before your have intercourse.
5. Make sure that the condom is not twisted inside your vagina. If it is, remove it, add a drop or two of lubricant, and reinsert. Note: About one inch of the open end of the condom will remain outside your body.
6. If your partner inserts his penis underneath or alongside the pouch, ask him to withdraw immediately. Remove the condom, discard it, and use a new pouch. Note: Until you and your partner become familiar with the female condom, it will be helpful if you use your hand to guide his penis into your vagina.
7. After your partner ejaculates and withdraws, squeeze and twist the open end of the pouch to keep the sperm inside. Pull out gently. Discard the used condom in a trash can, not in the toilet. Do not use the condom more than once, and do not use it if your partner uses a condom -- it will not stay in place.
This article was provided by San Francisco General Hospital. It is a part of the publication HIV Newsline.