Women continue to account for a growing proportion of reported AIDS cases in the United States, an extraordinarily high number of which are among racial and ethnic minorities. In addition to the challenges of living with HIV disease and adhering to treatment, women living with HIV are often primary caregivers for children and aging parents.
Surveillance
Of the 43,171 estimated new AIDS cases in 2003, 26.6 percent were among women, up from 24.2 percent in 1998. The number of AIDS diagnoses among women increased 14.9 percent from 1999 through 2003, compared with 1.5 percent among men.
1
Most reported female AIDS cases are among Blacks, who accounted for an estimated 67.4 percent of such cases in 2002. Hispanic and White women followed, at 15.5 percent and 15.4 percent of reported female AIDS cases, respectively.2
Women tend to be diagnosed with AIDS at younger ages than do men. One in 4 AIDS cases reported among women in the United States are among people age 29 and younger, compared with about 1 in 6 cases among men.3 This difference is explained, in part, by the fact that reproductive health needs bring young women into contact with health care providers, which presents a greater opportunity for HIV testing and, therefore, a greater chance of detection. But sexual relationships between older men and younger women dramatically increase risk of exposure to HIV and other sexually transmitted infections (STIs).
Advertisement
AIDS mortality has decreased with the introduction of antiretroviral therapy, but it has actually increased among women almost 10 percent since 1999. During the same period, it fell 6.1 percent among men.
4
In 2003, women represented 26.3 percent of all deaths attributed to AIDS, compared with 23.3 percent in 1999.
4
Critical Issues
Male-to-female transmission of HIV is between 2 and 4 times more efficient than female-to-male transmission.
5
Women are especially vulnerable to HIV disease in relationships in which HIV status is not discussed and prevention methods are not incorporated.
Most women who are HIV positive live in poverty and were already poor when they learned their serostatus.6,7 The socioeconomic status of women negatively influences access to health care. When women face unmet subsistence needs such as housing, food and child care, they have little time or resources to devote to their own health. The impact on their own lives and on their children -- and on older adults who may be in their care -- can be catastrophic.
The HIV Cost and Services Utilization Study (HCSUS) found that HIV-infected women are disproportionately responsible for children: 71 percent of women ages 30 to 39 had at least one child under age 18, compared with 19 percent of men in the same age group. In addition, 70 percent of HIV-infected women with children younger than age 18 were unemployed, and 61 percent had not received a high school diploma.10
AZT regimens have proven extremely powerfully in reducing the incidence of perinatal transmission, but the regimens must be administered appropriately. Thus, early prenatal care that includes HIV counseling and testing is needed to help prevent the transmission of HIV/AIDS from mother to child, which has accounted for 91 percent of all AIDS cases reported among U.S. children.11
Women and the Ryan White CARE Act
In 2002, women accounted for 31.3 percent of clients receiving services funded by the Ryan White Comprehensive AIDS Resources Emergency (CARE) Act. All CARE Act programs serve HIV-positive women, and the legislation mandates that women be served in proportion to their representation in the epidemic. In addition, the CARE Act Title IV program funds grants specifically targeting women, infants, children, youth, and families.
CARE Act grantees provide medical care for women at much higher rates than do non-CARE Act providers. According to HCSUS, women constituted 26 percent of the caseload at CARE Act-funded sites in 1996, compared with 18 percent at non-CARE Act-funded sites.12
The Health Resources and Services Administration has published A Guide to the Clinical Care of Women With HIV, the first text providing comprehensive information on the clinical care of women living with HIV disease. Free copies are available at 1-888-ASK-HRSA.
The experience of CARE Act providers is that comprehensive and coordinated care -- medical treatment, case management, support services, and care for the entire family -- is crucial if HIV-positive women and their families are to remain in care over time. Comprehensive care for pregnant women has been shown to be equally critical in reducing perinatal transmission rates, which at some Title IV sites is now zero.
For more information about HIV/AIDS and women, see the December 2004 issue of HRSA CAREAction, available at www.hab.hrsa.gov/publications.htm.
AIDS Rate Among Adult and Adolescent Women, by Race, 2003.8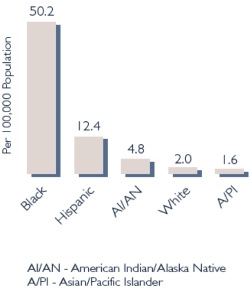 Estimated Female Adults and Adolescents Living With AIDS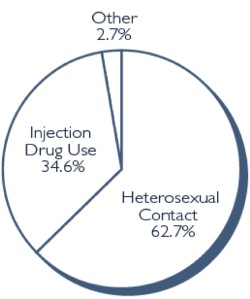 References