Since the onset of the epidemic in the United States, HIV incidence has been highest among men who have sex with men (MSM). Most new AIDS cases for which MSM is the HIV exposure category are now among MSM of color, who face extraordinary barriers to HIV counseling and testing, and care.
1
Surveillance
In 2003, 31,614 men were diagnosed with AIDS in the United States. MSM was the HIV exposure category in 56.8 percent of those cases.
2
Men of color accounted for more than half of all new AIDS cases reported in 2002 related to the MSM exposure category. Blacks accounted for 36 percent; Hispanics for 19 percent; Asian/Pacific Islanders for 1.6 percent; and American Indian/Alaska Natives for 0.6 percent.1 Men of color also accounted for 51.2 percent of AIDS cases related to the HIV exposure category MSM/injection drug use.1
Evidence indicates extraordinarily high seroprevalence rates among some MSM populations. Phase II of the CDC's Young Men's Study examined MSM ages 23 through 29 who frequented certain venues; 13 percent of the study participants were HIV positive. Prevalence was 32 percent among Blacks and 14 percent among Hispanics, compared with 17 percent among Whites.3
Advertisement
Critical Issues
Like many racial and ethnic minorities, many minority MSM face poor access to health care because of lack of health insurance and poverty. In addition to these problems, they must also cope with many types of stigma -- for being a minority, for being an MSM, and for being HIV positive. Thus, MSM of color fear condemnation from their families, communities, and service providers.
4
Many minority MSM do not self-identify as gay or bisexual. Thus prevention and health outreach targeting sexual minorities may not be effective among this group -- and they may be especially reluctant to seek services at organizations perceived to be gay oriented.4
Minority MSM become infected at earlier ages than do whites and are more likely to learn that they are HIV positive later in the course of infection. Moreover, a higher proportion of minorities than whites have progressed to AIDS at initial diagnosis.5
Some MSM harbor misconceptions about effective HIV treatment: Many are aware of the advancements in medical technology and in the effectiveness of HAART, but they overestimate its power. Others believe that HIV infection is inevitable and may do little to prevent it.6
Men of Color and the Ryan White CARE Act
Experiences of providers funded through the Ryan White Comprehensive AIDS Resources Emergency (CARE) Act have revealed program components that are key to reaching MSM. Providers must cultivate trust and then provide high-quality, nonjudgmental services that help MSM acknowledge their risk, get tested, and stay in care over time. The use of peer educators can be critical.
8
In 2002, 65 percent of CARE Act clients were racial or ethnic minorities.
In collaboration with the African American AIDS Policy and Training Institute, the Asian and Pacific Islander Health Forum, Bienstar, and the National Native American AIDS Prevention Center, HRSA's HIV/AIDS Bureau conducted a research project -- which involved key informant interviews and structured roundtable discussions -- to identify barriers to care for MSM of color and develop solutions. The results are summarized in the publication Improving Care for HIV-Positive Men of Color Who Have Sex With Men: Barriers and Recommendations and are informing the process through which HRSA and the CDC are collaboratively responding to the epidemic among young MSM of color.
To respond to the need for additional minority providers of state-of-the-art HIV/AIDS care in underserved communities, the CARE Act AIDS Education and Training Center program funds a center to expand clinical expertise in minority communities; for more information, go to www.nmaetc.org.
Capacity-building and planning grants have been targeted to underserved communities in order to expand the number of service settings available to vulnerable minority populations.
AIDS Rate Among Males by Race, United States, 20027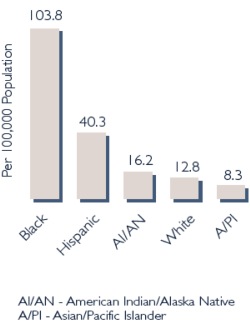 Estimated New AIDS Cases Among MSM, by Race, 2002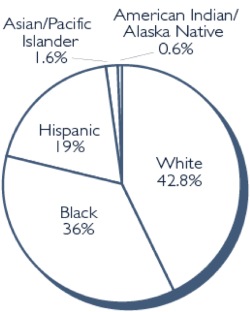 References