People who are Hispanic shoulder a highly disproportionate burden of AIDS in the United States. Many Hispanics face significant barriers to health information, HIV counseling and testing, and care. Poverty, language, lack of health insurance, and cultural issues are all critical factors.
Surveillance
Although Hispanics comprised just 13.7 percent of the U.S. population in 2003, they accounted for 20.3 percent of new AIDS cases reported that year -- a proportion that has remained steady over the past 5 years.1,2 Hispanics represented 19.9 percent of people living with AIDS at the end of 2003.3
Among Hispanic males living with AIDS at the end of 2003, men who have sex with men was the HIV exposure category in 51 percent of cases, a proportion slightly higher than for Blacks (44 percent) but much lower than for Whites (75 percent). Conversely, injection drug use was the HIV exposure category in 30 percent of male cases, equal to the proportion among Blacks but almost triple the proportion among Whites (11 percent).4
Advertisement
Among Hispanic females living with AIDS at the end of 2003, heterosexual contact was the
HIV transmission
category in 65 percent of cases, higher than for White (57 percent), American Indian/Alaska Native (AI/AN) (56 percent), and Black women (64 percent) but lower than for Asian/Pacific Islanders (75 percent). Injection drug use was less a factor for Hispanic women (33 percent) than for AI/AN (61 percent), White (40 percent), and Asian/Pacific Islander (16 percent) women.
4
A total of 16,839 Hispanic women were living with HIV disease in the United States at the end of 2003.
3
In 2003, 21.7 percent of all deaths attributed to AIDS were among Hispanics, compared with 18.5 percent in 2001 and 18.1 in 1999.5 For Hispanics ages 35 to 44, HIV/AIDS was the third leading cause of death in the United States in 2001 (more recent data are not available). For those ages 25 to 34 and 45 to 54, it was the sixth leading cause of death.6
Critical Issues
The socioeconomic barriers to health information and care faced by Hispanics are often considerable.7 More than 2 in every 5 Hispanics age 25 and older have not graduated from high school, and Hispanics are significantly more likely to be unemployed than whites (8.1 percent vs. 5.1 percent in 2002). Moreover, incomes among Hispanics are comparatively low: In 2002, 21.4 percent of Hispanics in the United States were living below the Federal Poverty Level, compared with 7.8 percent of non-Hispanic whites.1
For some subpopulations of Hispanics -- such as migrant farmworkers -- economic circumstances are especially dire. More than 85 percent of all migrant farmworkers are minorities, of which 95 percent are Hispanic. It is estimated that only 12 percent of this group speak English and that the median education level is the sixth grade.8
Hispanics tend to be tested for HIV late in their illness. They are more likely than non-Hispanic Whites to have AIDS-defining conditions at the time of their first test or within the first year after diagnosis.9
The female adult and adolescent AIDS rate in the United States for Hispanics (12.4 per 100,000) is higher than for any other racial or ethnic group except for Blacks (50.2).10 Cultural factors that tend to reinforce traditional gender roles can make communication about sex difficult and ultimately contribute to increased risk for HIV among women.11,12 Poverty, lack of health insurance, and limited education can also increase the risk of exposure to HIV among Hispanic women.
Although 3 of 5 Hispanics living in the United States were born here, they face cultural and language barriers that complicate their ability to communicate effectively with health care providers.1 The medical system in the United States differs from the systems in other countries, increasing the level of frustration for many people who need care. Hispanics often need the help of translators and seek out bilingual caregivers.
Hispanics and the Ryan White CARE Act
Hispanic and Latino/a clients accounted for 19.8 percent of all Ryan White Comprehensive AIDS Resources Emergency (CARE) Act clients in 2002. Hispanic populations are served through all CARE Act programs. For example, the Title IV program for women, infants, children, youth, and families has funded programs in South Texas, southern California, Puerto Rico, and sections of New York City where high concentrations of HIV-positive Hispanic women reside.
The Health Resources and Services Administration has implemented programs that target subpopulations of Hispanics. For example, the CARE Act Special Projects of National Significance Border Health Initiative targeted people living along the U.S.-Mexico Border. The Initiative funded five grantees (and an evaluation center) to develop improved models of community-based health networks for underserved people living with HIV disease. For more information, see www.hab.hrsa.gov/special/border_overview.htm.
In collaboration with the African American AIDS Policy and Training Institute, the Asian and Pacific Islander Health Forum, Bienstar, and the National Native American AIDS Prevention Center, HRSA's HIV/AIDS Bureau conducted a research project -- which involved key informant interviews and structured roundtable discussions -- to identify barriers to care for MSM of color and develop solutions. The results are summarized in the publication Improving Care for HIV-Positive Men of Color Who Have Sex With Men: Barriers and Recommendations and are informing the process through which HRSA and the CDC are collaboratively responding to the epidemic among young MSM of color.
To respond to the need for additional minority providers of state-of-the-art HIV/AIDS care in underserved communities, the CARE Act AIDS Education and Training Center program funds a center to expand clinical expertise in minority communities; for more information, go to www.nmaetc.org.
Capacity-building and planning grants have been targeted to underserved communities in order to expand the number of service settings available to vulnerable minority populations.
Estimated Adult and Adolescent AIDS Rates by Race/Ethnicity, 20039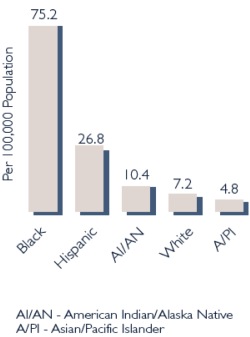 References
U.S. Census Bureau. Annual estimates of the population by race alone and Hispanic or Latino origin for the United States: July 1, 2003. (SC-EST2003-04). Table 4. Available at: www.census.gov[PDF].
Centers for Disease Control and Prevention (CDC). HIV/AIDS Surveillance Report. 2003;15:12. Table 3.
Anderson, RN et al. Deaths: leading causes for 2001. Natl Vital Stat Rep. 2003;52:9:49. Table 2. Available at: www.cdc.gov[PDF]
Darbes LA, Kennedy GE, et al. Systematic Review of HIV Behavioral Prevention Research in Latinos. San Francisco: AIDS Research Institute & Cochrane Collaborative Review Group on HIV/AIDS; 2002. Available at: http://hivinsite.ucsf.edu/InSite?page=kb-authors&doc=kb-07-04-11.
National Center for Farmworker Health. HIV/AIDS Farmworker Fact Sheet. Available at: www.ncfh.org
CDC. Late versus early testing of HIV -- 16 sites, United States, 2000-2003. MMWR. 2003;52(25):581-6.
Raffaelli M, Suarez-Al-Adam M. Reconsidering the HIV/AIDS prevention needs of Latino women in the United States. In Roth NL, Fuller LK, eds. Women and AIDS: Negotiating Safer Practices, Care, and Representation. Binghamton, NY: Harrington Park Press/Haworth Press; 1998.