Since the creation of ADAPs, States have worked hard to maximize resources in order to provide medications to as many low-income and inadequately insured individuals living with HIV/AIDS as possible. In recent years, however, States have faced enormous challenges as a result of rapid growth in ADAP enrollment, the number of prescriptions per enrollee, and the cost of treatments. Much of this growth has been due to the introduction of new antiretroviral medications.
Combination antiretroviral drug therapy has proven to be highly effective in improving health, extending life and improving the quality of life for people with HIV/AIDS. As a result, the use of combination therapy and a new class of antiretroviral drugs called fusion inhibitors that add an additional $15,000 to combination therapy, have emerged as the new standard of care. However, the high cost of combination therapy -- approximately $10,000 to $12,000 per patient per year -- has significantly increased pressure on ADAPs to adopt a wide variety of cost-containment strategies designed to maximize resources. These include restructuring their purchasing and distribution system, more aggressive negotiations with pharmacy benefits contractors, closer coordination with Medicaid and Medicaid waiver programs, improved data collection and tracking systems, and participation in the Section 340B Drug Discount Program. Participation in the Section 340B Drug Discount Program is the most frequently used and most effective of these cost-saving strategies available to ADAPs.
Veterans' Health Care Act of 1992
Public Law 102-585, the Veterans' Health Care Act of 1992, was designed to establish price controls that limit the cost of drugs to Federal purchasers and certain grantees of Federal agencies. There are several sections to the Act. Section 601 amends the Medicaid rebate program; Section 602 provides drug discounts to certain grantees and eligible entities; and Section 603 covers what is often referred to as "Department of Defense" pricing and the Federal Supply Schedule.
The Section 340B Drug Discount Program
The Section 340B Drug Discount Program, administered by the Office of Pharmacy Affairs, is authorized under Section 602 of the Veterans' Health Care Act of 1992. Section 340B provides that as a condition for participation in Medicaid, drug manufacturers must sign a pharmaceutical pricing agreement with the Secretary of the Department of Health and Human Services. This agreement states that the price charged for covered outpatient drugs will not exceed the statutory ceiling price (the average manufacturers' price reduced by the Medicaid rebate percentage). Section 340B identifies those entities that are eligible for 340B pricing and specific requirements for participation in the program. Ryan White CARE Act grantees, including ADAPs, are considered "covered entities" and are eligible to participate in the 340B Program. ADAPs have two methods of accessing this program: through a point of purchase discount system or through the ADAP 340B rebate option. (The latter is available only to ADAPs.)
Point of Purchase Discount
Currently, 22 States and 3 Territories use a point of purchase discount, which calculates a significant discount off the average manufacturers' price of each drug for qualified "covered entities." Participation in the point of purchase system is easiest for States that centrally purchase and dispense medications.
Advertisement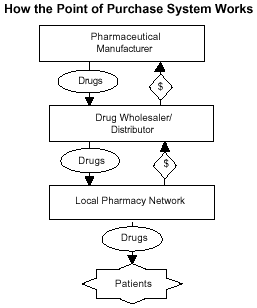 The ADAP 340B Rebate Option
On June 29, 1998, HRSA published a Federal Register notice recognizing a rebate option for ADAPs as an alternative method to access the Section 340B Drug Discount Program. This option allows reimbursement model ADAPs to achieve cost savings that are closer to the savings received through the point of purchase system. As of June 2002, 27 States are registered in the ADAP 340B rebate option. These ADAPs are able to obtain rebates on all covered outpatient drugs on the ADAP formulary through standardized process of submitting and receiving rebate claims from manufacturers.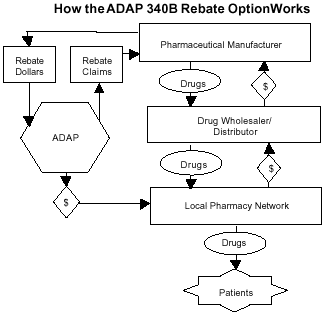 Negotiated Pharmacy/Wholesaler Discounts
States not participating in the Section 340B Drug Discount Program through point of purchase typically use a network of participating pharmacies. ADAPs reimburse the pharmacies at a negotiated discounted price, which frequently is similar to the amount paid by the State's Medicaid program.
Prime Vendor
HRSA established the Prime Vendor Program on September 9, 1999. This program implements the last part of the 340B statute and is designed to maximize the benefits of the Prescription Drug Program to clients and State ADAPs. It is expected that the program will improve and expand State ADAP pharmacy services and enhance the effective management of pharmacies while providing savings on the purchase of pharmaceuticals.
Alternative Methods Demonstration Projects Initiative
On June 18, 2001, the Secretary of the Department of Health and Human Services announced this initiative in response to continued requests for increased flexibility among existing 340B Program participants. This new initiative allows organizations participating in the 340B Program to take action to reduce administrative costs while making the purchase of medications easier for ADAP patients. Projects that involve one or a combination of the following features will be considered: (1) the development of a network of covered entities, (2)the use of multiple contracted pharmacy services sites, or (3) the utilization of a contracted pharmacy to supplement in-house pharmacy services.
Other Strategies
In some States where demand outstrips resources, further cost-cutting measures have been adopted. These methods include capping client enrollment, instituting waiting lists, eliminating drugs from formularies, establishing protocols for accessing certain drugs, and limiting per patient expenditures.