11th Conference on Retroviruses and Opportunistic Infections, San Francisco, February 8-11, 2004
Introduction
Brutal honesty headlined the agenda of the 11th Conference on Retroviruses and Opportunistic Infections (CROI) -- honesty about vaccine research. Everyone who checks in at the key vaccine talks of big HIV meetings knows the hedging formula most speakers use when coerced to predict a vaccine's due date: "not for another 10 years."
It has not escaped some shrewd observers that vaccine experts have been pushing back that 10-year window every year for the past 20. That changed at this year's CROI. Ronald Desrosiers (Harvard Medical School, Boston) offered this stark title to his talk wrapping up a symposium on HIV vaccines [abstract 109]:
Advertisement
Why an Effective Vaccine for HIV-1 Is Not Currently Within Our Grasp
Closing the meeting, Robert Schooley (University of Colorado, Denver) proved even more probative [abstract 163]:
The Future of Antiretroviral Therapy: What if There Is No Vaccine?
Yes, these were chilling notions, but one might also call them bracing. Although everyone knows that just a partially effective vaccine offers the best hope of turning the epidemic's torrent into a mere downpour, admitting that vaccine research has yielded precious few advances should refocus minds on more immediate tasks.
For Desrosiers, those tasks involve a sober return to the lab bench for a rolled-up-sleeve reappraisal of what's gone wrong. He urged colleagues to refrain from tossing candidate after hopeless candidate into the retroviral maw. "The inability to solve fundamental scientific questions is the root cause for why a successful vaccine is not currently within our grasp," he insisted. "A renewed, organized, focused effort is needed to overcome these fundamental scientific obstacles." (See Note 1.)
While waiting for this effort to gel -- and maybe even turn up a few answers -- what's a person to do? That's the question Schooley tried to answer in his conference curtain closer. "Therapeutic and prevention programs must be planned for the long haul," he counseled, "with the premise that vaccine development will fail -- while we continue to invest in it and hope it will succeed."
Schooley called for unified prevention and therapy strategies, a melding of research and care, and use of the best available regimens, always with an eye on the long-term implications of therapy and the understanding that spending dollars on prevention and treatment inevitably saves dollars in long-term management.
Put simply, if there is no HIV vaccine, prevention must get much better and -- because prevention will never be perfect -- antiretroviral tactics must always be honed. As this meeting showed perhaps better than any other, those goals are the same in the poorest countries and in the richest -- because drug abuse and sex drive the epidemic from South Carolina to Southeast Asia, and because therapies work or don't work for mostly the same reasons everywhere.
The unprotected HIV-transmitting sex charted in Connecticut [abstract 35LB] reaps the same whirlwind as unprotected sex in Kinshasa [abstract 144]. The hemoglobin levels that predict survival in Maryland [abstract 561] predict survival in Mozambique [abstract 148]. The non-nucleoside (NNRTI) resistance mutations that persist without treatment in San Diego [abstract 36LB] hang on in Chiang Mai [abstract 41LB]. The antiretrovirals that save vertically infected children in Padova [abstract 925] save vertically infected children in Henan [abstract 573].
More than a few conference reports made clear that pieces fitting on one side of the puzzle have the same -- or similar -- fits on the other side. And the conference left a strong sense that (excepting the vaccine puzzle) more and more pieces are falling into place. But even if one discounts the vaccine conundrums, the troubles are many: Someone lost the picture on the puzzle box and no one remembers what it looks like; the puzzle lies on different planes that intersect at crazy angles; and the puzzle picture that's emerged so far has the scrumbled, splashed-out look of a late seascape by Joseph Mallord William Turner, that peevish prophet of abstraction.
To be sure, today's HIV treatment landscape recalls the challenge of those fearsome 1,000-piece Turner puzzles on sale at London's National Museum, a landscape with borders that blur rather than delimit, colors that coalesce rather than contrast, perspectives that unsettle rather than situate. "Sunrise With Sea Monsters" comes to mind, that frothy contradiction of dawn's hopeful glow back-lighting a sea spewing your nightmare's swill.
The dawn of potent antiretrovirals has disgorged its own bellyful of sea monsters, all of them on exhibit at the 11th CROI: resistant virus that gets transmitted, resistant virus that lasts and lasts, simple prophylaxes that imperil their takers, simple regimens that do not work, simple strategies that fail, heart disease, liver disease, diabetes.
But sometimes nightmares' monsters assume a more familiar form as dawn cedes to day. Maybe that's the point of Turner's little joke. You amateur marine biologists out there, and maybe even the odd frequenter of fish marts, will notice in Turner's "sea monsters" the highly edible, if hideous, John Dory (Zeus faber), a widely dispersed food fish.
But whether you've hooked a John Dory or something less savory will be unclear until the puzzle's done.
Persistent Resistance
People who get infected with HIV don't necessarily stop having sex. Nor do they necessarily stop when they start taking antiretrovirals. Many keep on having sex when they start experimenting with treatment interruptions. So it should shock none that recent international surveys peg the rate of resistant virus transmission at around 10 percent. The surprise is that -- at least in some studies -- that rate is not climbing.
The CASCADE Virology Collaboration, led by Bernard Masquelier (Hôpital Pellegrin, Bordeaux), figured that transmission in 12 European cohorts rose from 10.5 percent of newly infected people in 1995 to 19.7 percent in 2000, then slipped back to 9.1 percent in 2002 [abstract 683]. The study involved 370 people who seroconverted from 1987 through 2002, 43 (11.6 percent) of whom had resistant virus from day one, all of them infected in 1995 or later. The CASCADE team found no evidence that gender, age, or HIV exposure group affected the risk of infection with drug-resistant virus.
The larger CATCH study, which included 1,633 people in 16 European countries and Israel when reported last year,2 also found a 10 percent overall resistance transmission rate. But in a substudy of 625 people infected for less than a year when tested, CATCH saw not the rise-and-dip pattern of CASCADE but a dip-and-rise trend. The rate fell from 13.8 percent in 1996-1998 to 8.3 percent in 1999-2000, then climbed back to 11.3 percent in 2001-2002. CATCH investigator David van de Vijver (University Medical Center, Utrecht) speculated that the drop after 1998 could reflect better overall control of viremia with better regimens, while the ensuing bounce may limn a leap in viral rebounds with ongoing therapy.
In Switzerland and Spain, rates of transmission yo-yoed dramatically over the years, veering from a Swiss low of 5.8 percent in 1999 to a high of 12.6 percent in 2001 then down to 6.0 percent in 2002 [abstract 680], while careening from a Spanish high of 33.3 in 1997 to a low of 4.2 percent in 2001, back up to 26.1 percent in 2002, then down to 7.7 percent in 2003 [abstract 681].
Sex, Drugs, and Viral Escape
What drives these wild trends? Sex, drugs, and viral escape, according to Michael Kozal (Yale University, New Haven, Connecticut), who ran a longitudinal study of 395 people seeking care at two inner-city HIV centers from 2000 to 2002 [abstract 35LB]. This innovative study is the first that tries to explain how people in care transmit resistant HIV. Kozal's answer may be unique to the type of group he studied -- 41 percent of them injecting drug users, 46 percent women, 78 percent nonwhite, and 79 percent heterosexual. Similar studies in other cohorts should test his conclusion -- that a core group of people taking drugs for HIV accounts for a disproportionately large number of risky sexual liaisons and resistance transmission.
Surveying a baseline group of 333 people with genotypic data, Kozal found that 75 (23 percent) had risky sex, defined as unprotected anal, vaginal, or oral sex with someone not already carrying HIV or with an unknown serostatus. Of those 75, 18 (24 percent) harbored drug-resistant virus. Among 191 partners potentially exposed to HIV, 31 (16 percent) shared a tryst with drug-resistant virus. In a multivariate logistic regression analysis, only mental health stood out as a predictor of risky sex with resistant virus: For every unit decrease in functioning on a mental health test, the chance of exposing another to resistant virus rose 10 times.
Next Kozal looked at 249 people with genotypic data and six months of follow-up. Thirty-five of them (14 percent) had 659 dangerous liaisons over the past three months. Of those 35, 14 (40 percent) had drug-resistant HIV and accounted for 324 -- nearly half -- of the risky unions. They exposed 22 partners -- 31 percent of all at-risk partners -- to drug-resistant HIV. Analysis of 203 people with baseline and follow-up data showed that the rate of unprotected sex with resistant virus rose from 28 percent to 38 percent, a highly significant jump (P<0.001).
All told, Kozal figured that about 8 percent of the clinic populations have dangerous sex with drug-resistant virus. Yet this scrappy group bore responsibility for one third of all unprotected encounters. Among sex partners with an unknown HIV status, 19 percent at baseline and 29 percent at follow-up were exposed to drug-resistant virus.
In an earlier interview on these findings,3 Kozal worried that physicians may have no notion of their patients' perilous sex lives. "I don't think clinicians know how much of that actually really happens -- and it happens a lot," he said. "If you have a good relationship with your patients and if you're good at eliciting their risk behaviors," Kozal added, "it's a great opportunity to try to decrease those behaviors."
Superinfection -- Another Risk of Unbridled Sex
Infecting others with drug-resistant virus is hardly the only risk of risky sex by people brimming with HIV. Several recent studies offer convincing evidence that a person already infected with one strain of HIV-1 can get infected with another, a misadventure named superinfection. Although one published report rates superinfection an exceedingly rare happenstance,4 an 11th CROI study charted a superinfection rate of 6.5 percent yearly in 54 recently infected Californians [abstract 21]. That study and another showed that superinfecting viruses can supercharge an indolent disease course.
Deploying four separate molecular probes, Davey Smith (University of California, San Diego) spotted three probable cases of superinfection in 54 recently infected people who put off treatment for six months or more [abstract 21]. All were men who had jeopardous sex after seroconverting. Two of them traded their original drug-resistant virus for a drug-susceptible strain, while the third managed the opposite feat. Once the fitter superinfecting virus took hold, the three lost an average 132 cells/mm3 within six months while tacking an average 1.6 logs onto their viral loads. Smith noted that viral population-based sequencing of a single HIV gene is a conservative screening technique that "may underestimate the true superinfection rate."
Geoffrey Gottlieb (University of Washington, Seattle) confirmed one case of superinfection among 32 Multicenter AIDS Cohort Study participants [abstract 454]. Looking at stored samples from that man, Gottlieb could not sift out the superinfecting virus from 1 million peripheral blood mononuclear cells (PBMCs) gathered within four months of the first infection. But in a year, the superinfecting virus had rudely shouldered aside the original virus, making up 99.4 percent of the population.
The patient's CD4 count plunged below 200 cells/mm3 2.4 years after the first infection, and the first AIDS-defining diagnosis -- Pneumocystis pneumonia -- appeared 3.4 years after primary infection. Gottlieb ran further tests to explain why the slide to AIDS was so fast. Molecular typing for HLA and CCR polymorphisms did suggest that this man "may have had other factors predisposing him to rapid disease progression."
Gottlieb called for further studies "to determine whether superinfection leads directly to rapid progression, or whether certain hosts, who are intrinsically more likely to experience a rapid disease course, are also less likely to restrict new infections." Either way, these two studies show superinfection can be a devilish bargain.
Just after the meeting Gottlieb published findings on this man along with four other people coinfected (but not superinfected) with different viruses around the same time.5 Time to a CD4 count below 200 cells/mm3 ranged from 0.75 to 3.07 years in these four U.S. men and one South African woman, and time to AIDS or death ranged from 1.0 to 3.4 years. Comparing these progression rates with those in singly-infected cohort members, Gottlieb figured that dual infection raised the risk of clinical AIDS 2.9 (95 percent confidence interval [CI] 1.6 to 4.6, P=0.001) and the risk of a sub-200 CD4 count 3.6 times (1.9 to 6.4, P=0.002).
Dual infection, the University of Washington team speculates, "might facilitate or accelerate viral adaptation to, and exploitation of, cellular niches that would ordinarily need many years to develop from a fairly homogeneous initial infecting strain" or it might let HIV evade immune surveillance. A double dose of drug-resistant virus, they add, could lead to multidrug-resistant virus through recombination.
Once Transmitted, Resistant Virus Lasts and Lasts
Once a person picks up resistant virus, two questions loom: How long does it last? And how much damage does it do? The answers are critical not only for people infected with resistant HIV, but also for pregnant women in poor countries who take single-dose nevirapine (NVP) or other regimens that may protect their infants from HIV but leave them with virus those drugs can't counter. A clutch of eye-opening reports at the 11th CROI agreed that resistant virus hangs on with bulldog tenacity, but studies of the virologic consequences reached varying conclusions.
Susan Little (University of California, San Diego) tracked 12 recently infected, untreated people for a median of 310 days (range 64 to 1,275 days) [abstract 36LB]. She rated their virus resistant if it carried a primary resistance mutation and had a corresponding drop in susceptibility to the drugs affected by that mutation. Seven people had virus resistant only to NNRTIs, two had virus resistant to protease inhibitors (PIs) and nucleosides (NRTIs), one had virus resistant to NNRTIs and NRTIs, and two had virus resistant to all three classes.
In the 10 people with an NNRTI mutation, Little first detected a mutant/wild-type mixture an average 375 days after infection (95 percent CI 158 to 592 days). She saw complete reversion to wild-type virus (by population sequencing) in only one of these 10 people, and the reversion took almost three years. In the four people with PI-resistant virus, Little never glimpsed mutant/wild-type mixtures after 64, 327, 422, and 689 days of infection. When she considered virus resistant to PIs or NNRTIs, it took an average 517 days (95 percent CI 207 to 827 days) after infection for mutant/wild-type mixtures to turn up.
Little concluded that reversion to drug-susceptible virus is a torpid, often incomplete process. And the entrenched resistant virus is not feeble: She reckoned the average replication capacity as 84 percent of wild-type virus. That high replication capacity, Little surmised, may mean that selective pressure at transmission favors resistant variants that replicate well. Because viral turnover is slower and loads are lower in genital havens than in blood, she added, resistant virus may linger even longer there. The persistence of resistant virus in that crucial cavity surely boosts the chance that sexually active people will share that virus with a sex mate.
A British study of recently infected people tracked resistant virus that dug in its heels for seven to 32 months in 15 people and for 10 years in another [abstract 684]. Patricia Cane (Health Protection Agency, Birmingham) used a standard assay to scout for resistant virus in 14 people with NRTI mutations, four of whom also had NNRTI mutations. Three people had virus resistant to all three classes. One woman harbored thymidine-analog-related M41L and T215S mutants for 10 years, though five months of zidovudine (AZT) monotherapy may have contributed to their staying power. Only one other person in the group took antiretrovirals -- a year's worth of AZT, lamivudine (3TC), and efavirenz (EFV).
Cane suggested these results "demonstrate that all new HIV diagnoses in areas where primary resistance may occur should undergo genotyping irrespective of whether the day of seroconversion is known."
Little's and Cane's findings of long-lasting mutants with the relatively insensitive population sequencing technique are surprising enough. If you snoop more closely with a souped-up RT-PCR assay, you're likely to snare small clusters of mutants that mass sequencing misses. That was the tack taken by Sarah Palmer (National Cancer Institute, Frederick, Maryland) when she sampled virus from six chronically infected people with thick treatment histories [abstract 37]. She devised an assay that can ferret out the NNRTI mutant K103N even if it makes up less than 0.1 percent of the viral population.
The six people Palmer studied had all started and stopped EFV, two of them after taking delavirdine (DLV) monotherapy. The assay chalked up high levels of K103N in all six people when efavirenz was failing. In two of them the mutant disappeared completely -- or at least shrunk beneath the 0.1 percent detection limit. But in the other four K103N hung around for six months to six years after they stopped taking efavirenz. In at least two of these people the resistance mutation no longer registered on standard assays, though Palmer's PCR had no trouble nabbing it.
Does Covert Resistance Affect Response?
Can such measly mutant caches ruin a regimen's chance of success? Yes, according to a study of EFV therapy in people with scant traces of NNRTI-resistant virus. John Mellors (University of Pittsburgh) rolled out two rarefied assays -- single genome RT-PCR and sequencing (SGS) and a yeast-based chimeric Ty1/HIV-1 RT retrotransposon system -- when he saw something fishy in the results of AIDS Clinical Trials Group (ACTG) protocol 398 [abstract 39].
The ACTG study randomized NNRTI-experienced and -naive people to take EFV and amprenavir (APV) with or without a second PI. Oddly, people who took an NNRTI before signing up for ACTG 398 but without apparent NNRTI mutations responded to EFV no better than people who started with NNRTI mutants on their résumé. And among people with no apparent NNRTI mutations at baseline, those with no NNRTI experience had significantly better 24- and 48-week responses than people who had tried an NNRTI.
Suspecting that the poor responders with no detectable NNRTI mutations actually had covert motes of mutant virus, Mellors unleashed his two assays. SGS tracked down NNRTI mutations in six of 11 NNRTI-experienced people but in only two of 12 naive to NNRTIs. The yeast-based method raised EFV-resistant yeast colonies in eight of 10 people with NNRTI experience but in only two of 12 naive people. Scrutinizing the genetic makeup of newly identified baseline mutations and mutations apparent at virologic failure, Mellors confirmed a genotypic match in five of six people with baseline NNRTI experience.
"What you can't see can hurt you," Mellors concluded. Presalvage genotypes clearly can be misleading. But do these findings mean clinicians should rely only on treatment history in similar cases, asked Lisa Frenkel (University of Washington, Seattle). No, Mellors counseled. Genotypes may yield valuable clues, but they can't be trusted blindly.
Does Transmitted Resistance Affect Response?
A canon of antiretroviral care holds that people respond poorly to drugs to which their virus has become resistant. But among people infected with resistant virus and later treated, that canon becomes questionable. Studies of such people show a slower than usual drop in viral load when treatment begins.
6-8
But a CASCADE Collaboration analysis of 190 people starting antiretrovirals between June 1996 and July 2003 challenged that conclusion, finding that transmitted mutants did not affect the time it took to reach a viral load below 500 copies/mL [abstract 685].
Deenan Pillay (University College London) and CASCADE colleagues found that 26 of the 190 people (14 percent) seroconverted with a virus housing one or more major resistance mutations. In a median 94 days after starting treatment, 172 people (90 percent) had a viral load under 500 copies/mL. Whether a person began therapy with three or more (genotypically determined) active drugs or fewer than three active drugs did not affect the speed of response. In a multivariate analysis, only one factor favored reaching a sub-500 viral load: Starting treatment in 2000 or later upped the odds of responding 1.66 times (P=0.002).
Does this mean Kozal's "core group" of high-risk Romeos can spread resistant virus at no risk to their mates? (See "Sex, Drugs, and Viral Escape" above.) Not quite. Most people with resistant virus in the CASCADE study had only thymidine analog mutations (usually at position 215 and/or 41), and only five had protease mutations. So even if their first regimen included AZT or stavudine (d4T), they might well expect to push their viral load at least below 500 copies/mL with a PI or an NNRTI and an active NRTI. But those thymidine analog mutations could be the first step on a slick slope, as Pillay and colleagues acknowledged:
"It is possible that transmitted resistance may only compromise second- or third-line therapy," they cautioned, "and follow-up of seroconverters is essential to address this." Indeed, this CASCADE study has not lasted long enough to see if responders with resistant virus rebound faster than those starting treatment with a clean genotypic slate. Little did document faster rebounds in her published report on transmitted resistance in 10 North American cities.9 Her findings reflect CASCADE data in that all but one person with resistant virus notched a viral load below 500 copies/mL within 24 weeks. But as in the studies cited above,6-8 viral suppression took longer in people with resistant virus (88 days versus 56 days in those with susceptible virus, P=0.05). And among people who had a rebound, failure came significantly faster in those with pretreatment resistance (P=0.05).
But those results are not clear-cut, Little pointed out. Because these people got treated before their clinicians had Little's resistance results, "it is difficult to assess whether the response rates are related to the acquisition of resistant virus or to poor selection of drugs."9 In a further analysis similar to Pillay's, Little compared people who took two or fewer active drugs (defined as no more than a 10-fold higher 50 percent inhibitory concentration compared with wild-type virus) with people who took three or more active drugs. Just as in the CASCADE study, the number of active drugs in the regimen did not affect the time to viral suppression. But Little did not gauge the impact of active drugs on time to viral rebound.
Does Resistance After Single-Dose Nevirapine Affect Response?
The first study to address this critical question came back with the answer everyone feared: Yes. The study involved 255 Thai women who started a regimen containing NVP after taking part in a trial of single-dose NVP added to AZT to stop mother-to-child transmission [abstract 41LB]. The group included women not exposed to NVP in the transmission trial, NVP-exposed women without resistance mutations, and NVP-exposed women with mutations. Six months after they started an NNRTI regimen, reported Gonzague Jourdain (Harvard School of Public Health, Boston), the women with mutant virus had a significantly worse response than the other two groups (
Table 1
).
Table 1. Response to NNRTI Regimens + an NNRTI Mutation After Single-Dose NVP (n=255)
<400 copies/mL at 6 Months (%)*
<50 copies/mL at 6 Months (%)*
Not exposed to NVP (n=42)
86
75
NVP-exposed without mutation (n=152)
80
53
NVP-exposed with mutation (n=61)
68
34
* P<0.001 for trend.

Source: Gonzague Jourdain, abstract 41LB.

Some potentially good news did emerge from this study. Among women with mutant virus who started an NNRTI regimen more than six months after delivery, 77 percent reached a viral load below 400 copies/mL, compared with 58 percent who started an NNRTI within six months of delivery (P=0.006). Apparently, waiting longer raises the odds that mutant virus will revert to wild type. But as studies reviewed above show, NNRTI mutants can hang around a long time [abstracts 36LB and 684], NNRTI mutants can persist below standard assay detection limits [abstracts 37 and 39], and minority NNRTI mutants can sabotage subsequent therapy [abstract 39].
If one considers all these studies, avoiding single-dose NVP clearly seems a better option than waiting six months to start NNRTI therapy. As one attendee noted after Jourdain's talk, "the price we're paying with resistance to [single-dose] nevirapine is higher than the price of giving three drugs."
And no one doubts that one dose of NVP all too often leaves resistant virus in its wake. The HIVNET 012 trial, which showed that one dose to the mother and one to the child cuts transmission risk more than short-course AZT, found NVP-resistant virus in 25 percent of the women who took it.10 A study of 623 NVP-exposed women and their infants at two South African hospitals logged even higher rates of resistance -- 39 percent in the mothers and 42 percent in the infants [abstract 38]. Neil Martinson (National Institute of Communicable Diseases, Johannesburg) determined that a 10-fold higher maternal viral load doubled the risk of transmission to the neonate. Taking more than one dose of NVP -- for example, because of the false onset of labor -- raised the risk of ending up with NVP-resistant virus 2.8 times.
Clinical Impact of Long NNRTI Half-Lives
Resistance to single-dose NVP may be a problem unique to women in poor countries who rely on this strategy. But the reason resistance emerges so readily after one NVP dose -- the drug's slow elimination -- should concern clinicians everywhere. When someone stops a regimen containing NVP, the other drugs get flushed from the body faster than NVP. If a replacement regimen doesn't keep viral replication in check, that person's rebounding virus faces only fading NVP -- a recipe for resistance. This scenario is doubly true for EFV, which dawdles in the circulation even longer than NVP. What no one appreciated before the 11th CROI is just
how
long these NNRTIs last in some people.
Eva Muro (Tumaini University, Moshe, Tanzania) and colleagues from the University Medical Center Nijmegen measured NVP levels for 22 days after 44 nonpregnant women without HIV infection took one 200-mg dose [abstract 891]. NVP's median elimination half-life stood at 56.7 hours and ranged from 25.6 to 164 hours. With an assay that has a lower detection limit of 0.15 mg/L, Muro first failed to measure NVP 11 days after dosing in four women, 15 days after in 12, 18 days after in 13, and 21 days after in eight. Seven women still had measurable NVP circulating 22 days after taking a solitary dose.
All told, 28 of 44 women -- nearly two thirds -- had detectable NVP concentrations more than two weeks after dosing, and 15 (34 percent) had NVP in their blood three weeks after dosing. NVP remained detectable significantly longer in women taking oral contraceptives, but drug levels did not correlate with age, height, body weight, body surface area, smoking, or alcohol use. Confirmation of these findings, the researchers wrote, mean "intervention to prevent the development of NVP resistance should last at least two weeks."
Stephen Taylor (Birmingham Heartlands Hospital, UK) kept tabs on EFV levels in 10 people who stopped the NNRTI but continued other drugs during a pharmacokinetic study [abstract 131]. In five of the 10, Taylor recorded the expected EFV elimination half-life of 40 to 50 hours. But half-lives in the other five stretched from more than 100 to 228 hours. Four of these five were black African women. Three of them still had EFV levels topping 1,000 ng/mL two weeks after they stopped the drug.
Although the high proportion of blacks with sluggish EFV clearance may be coincidental in Taylor's small study, two other reports suggest more than chance is at play. Gauging EFV pharmacokinetics in 190 people enrolled in the ongoing ACTG A5095 trial, Heather Ribaudo (Harvard School of Public Health, Boston) found significantly faster clearance of the NNRTI in non-Hispanic whites than in blacks or Hispanics [abstract 132]. The substudy group was 81 percent male, 53 percent white, 32 percent black, and 12 percent Hispanic. Measuring EFV concentrations at study weeks 1, 4, 12, and 24, Ribaudo determined that non-Hispanic whites cleared the drug 32 percent faster than others (95 percent CI 15 to 51 percent, P<0.001). Having to stop EFV correlated with slower clearance (P=0.052) and higher peak concentrations (P=0.048). Gender did not affect clearance.
Why do blacks and Hispanics clear EFV more slowly than whites? The answer, at least for blacks, may be genetic. That possibility emerged from another analysis of an ACTG A5095 subgroup including 89 whites, 50 blacks, and 15 Hispanics whose EFV levels got measured 1, 4, 12, and 24 weeks after they started the drug [abstract 133]. David Haas (Vanderbilt University, Nashville, Tennessee) looked at variations in several genes, including those that code for CYP2B6, the liver enzyme that metabolizes EFV. At position 516 that gene may show one of three variations -- G/G, G/T, or T/T.
Haas used real-time PCR to unmask a T/T genotype in 20 percent of blacks and 3 percent of whites. That genotype correlated with slower EFV clearance and higher levels of the drug in all study participants (Table 2) and in whites and blacks analyzed separately. The T/T genotype also favored a higher rate of central nervous system side effects.
Table 2. Efavirenz Levels Track With Genotype at CYP2B6 Position 516
Genotype
n
Efavirenz Area Under the Concentration-Time Curve (µg · h/L)
G/G
78
44
G/T
60
60
T/T
14
130
Source: David Haas, abstract 133.

Haas cautioned that these results don't indict CYP2B6 position 516 genotype as the sole or even the primary culprit in slower EFV clearance. The study also linked higher EFV concentrations to shifts in the gene that codes for CYP3A4. The CYP3A5 and MDR1 genes had no apparent role in EFV pharmacokinetics, and none of the genes studied had an impact on short-term virologic response. Finally, Haas added, other positions on these or other genes may prove to be more important.
Trawling for Some Take-Home Fry
For now, the three studies just reviewed suggest that clinicians should watch for signs of high EFV levels in blacks and possibly Hispanics. For people who stop EFV or NVP in the face of ongoing replication -- including mothers who take single-dose NVP -- lessons from the foregoing studies are not always so clear. For example, the British HIV Association (BHIVA) recommends continuing other drugs in a regimen for seven days after stopping NVP or EFV.
11
But the weeks-long persistence of NNRTIs uncovered by Muro and Taylor suggest that measure will fail to protect many people from NNRTI resistance.
Another BHIVA suggestion -- "stop switching" -- involves swapping the NNRTI for a PI one to two weeks before stopping a regimen entirely. But one to two weeks may not be enough to wash out an NNRTI, and stop switching will not be an option for many pregnant women in poor countries who take single-dose NVP. Muro's and Taylor's findings offer ample evidence that stopping an NNRTI two weeks before other drugs in a regimen before a planned treatment break will not ward off resistance in everyone. Two published studies confirm that NNRTI-resistant virus can pop up all too quickly in this scenario.12,13 And in an Italian treatment interruption trial presented at this meeting, the K103N mutation emerged in 7 percent of people stopping and starting an NNRTI regimen [abstract 552].
Where do these findings leave single-dose NVP prophylaxis? Neil Martinson suggested making sure the mother takes only one dose, because taking more than one dose nearly tripled the odds of resistance in his study [abstract 38 above]. Studying single-dose prophylaxis only for the infant is another possibility, he proposed, but that doesn't solve the problem of shielding children from NNRTI resistance. Mark Wainberg (McGill University, Montreal) suggested looking at the prophylactic potential of the orphan NNRTI, DLV, which has a much shorter half-life than NVP or EFV. But he noted that it would probably take more than one dose.
Elaine Abrams (Harlem Hospital Center, New York) drew the thankless task of addressing the shortcomings of single-dose NVP in a review talk, and she didn't duck that duty [abstract 42]. She listed these possibilities:
Offer potent antiretroviral combinations to all pregnant women who meet treatment criteria.
When that's not possible, continue to offer single-dose NVP -- still the simplest strategy, an effective one, and one that opens a portal to further antiretroviral therapy.
Promote the rapid expansion of mother-to-child prevention programs to include a full array of strategies.
Continue to offer NNRTI-based first-line therapy for women and children, but consider PI-based therapy for women and children recently exposed to single-dose NVP.
Abrams argued that clinicians should not withhold NVP or EFV from NVP-exposed women and children who lack other options. Although women taking a single dose of NVP had a worse virologic response than unexposed women (Table 1), even those with resistance mutations did relatively well, with 68 percent below 400 copies/mL at month six.
But whether offering women NVP in Harlem or Harare, clinicians should not forget the recent warning from this drug's maker: Women with a CD4 count above 250 cells/mm3 have a 12-fold higher risk of hepatotoxicity than others.14 The letter warning U.S. physicians about this finding did not exclude pregnant women from this risk.
Rout of the Minimalists
Getting the same antiretroviral bang from fewer, safer drugs taken fewer times a day remains a grail of HIV management. But in the past year that minimalist grail eluded the grasp of many earnest knights-errant who took to the trial road with only three arrows -- all of them nucleosides or -tides -- in their quiver. As studies at this year's 11th CROI showed, though, just one more NRTI arrow or one feathered with EFV may be enough to win the once-a-day victory cup. But once-daily draughts mixing didanosine (ddI) or abacavir (ABC) with tenofovir disoproxil fumarate (TDF) -- all of which may summon the K65R mutation -- did not go down smoothly.
The ill-fated romance with triple nukes started coming undone last year, when ACTG planners closed the Trizivir (TZV: AZT, 3TC, plus ABC) arm of study A5095 after that three-pronged tactic failed to reach virologic goals as convincingly as EFV-based therapies.15 But that was the least of the bad news; 74 percent taking twice-daily TZV managed a viral load below 400 copies/mL at week 48 -- not too shabby in an intent-to-treat analysis. Yet that 74 percent fell woefully short of the 89 percent response rate in the combined EFV arms.
Then, in head-spinning succession, two trials logged quick and copious failures with once-daily 3TC, ABC, and TDF,16,17 even though that medley held reasonable a priori promise. Meanwhile, Danish researchers found too many failures and too much toxicity with twice-a-day ddI, d4T, and ABC -- a trial begun before most abandoned bonding ddI with d4T.18 The 11th CROI offered two more tales of triple-nuke failures with once-daily dosing.
Two Unhappy Threesomes: 3TC/TDF With ABC or ddI
Roland Landman (Bichat Claude-Bernard Hospital, Paris) recited the third and certainly final stanza in the saga of once-daily 3TC/ABC/TDF (300/600/300 mg) [abstract 52]. As in earlier attempts with this trio,16,17 the trial enrolled treatment-naive people and came to an abrupt end. The 40 study participants had a median starting CD4 count of 222 cells/mm3 (all had fewer than 350 cells/mm3) and a median viral load of 4.7 logs (range 2.01 to 5.88 logs). The median viral load dropped 1.7 logs in the first two weeks, but an unplanned analysis at week 12 brought the study to a halt.
Eight people never reached a viral load below 400 copies/mL, and four reached that mark but rebounded more than 0.7 logs. Together these 12 (30 percent) met the study definition of failure. But most of those who hadn't fulfilled failure criteria by week 12 already had runaway resistance. Landman and colleagues had genotyped 21 people at the time of his presentation, including 11 with protocol-defined failure. Nine of them had the K65R mutation tied to ABC and TDF plus an M184V/I change linked to 3TC. Two of these 11 had only M184V/I. Among 10 people with detectable viremia who had not met the failure definition, seven had K65R plus M184V/I, two had only M184V/I, and one still had wild-type virus.
These genotypic siftings argue for a leading rationale behind this regimen's failure -- high pressure from ABC and TDF to summon K65R and from 3TC to summon M184V. Preliminary analyses of the three drugs' plasma and intracellular levels, Landman said, do not suggest antagonism between any two of the three agents. But the French team had not finished running viral susceptibility assays.
A single-center study presented by Joseph Jemsek (Jemsek Clinic, Huntersville, North Carolina) recorded an even grimmer response rate in 22 people taking once-a-day ddI/3TC/TDF (250/300/300 mg at the same time with food) [abstract 51]. Twenty people (91 percent) quit early with virologic failure and, once again, lots of resistant virus.
The group began treatment with a median RNA of 4.91 logs, and 38 percent had more than 100,000 copies/mL. The median pretreatment CD4 count stood at 133 cells/mm3 (range 4 to 475 cells/mm3), and 58 percent had fewer than 200 cells/mm3. No one started treatment with K65R, M184V, or three or more thymidine analog mutations (M41L, D67N, K70R, L210W, T215Y/F, K219Q/E). By treatment week 4 the median viral load had dropped 0.75 log; median declines at weeks 12 and 24 retreated to 0.61 and 0.49 log.
Genotypic results in 20 people showed that all had the hallmark 3TC mutation, M184V/I, and 10 had K65R. All 19 phenotyped samples had reduced susceptibility to 3TC, six (most with K65R plus M184V/I) had lost punch against ddI, three (all with K65R and M184V) had lowered susceptibility to ABC, but none had reduced susceptibility to TDF, AZT, or d4T -- possibly because M184V boosts susceptibility to these NRTIs.
Jemsek argued that the regimen's lackluster potency opened the door to resistant virus, noting that:
Nearly everyone had incomplete viral suppression.
M184V cropped up in everyone.
Half of those evaluated had K65R, selected by ddI or TDF.
Because earlier work showed that TDF raises ddI levels, current advice calls for 250 mg of ddI once daily with TDF in people weighing more than 60 kg, the dose Jemsek used. A retrospective look at people taking 250 or 400 mg of ddI daily plus 300 mg of TDF found not only dangerously high ddI levels with 400 mg, but also stunning drops in CD4 counts [abstract 749]. Eugenia Negredo (Germans Trias i Pujol Hospital, Barcelona) reported that more than half of 129 people taking ddI/TDF at 400/300 mg daily lost more than 100 CD4 cells/mm3 over 48 weeks, and 30 percent lost more than 200 cells/mm3. Only eight people gained CD4 cells. CD4 cells also dropped in people weighing less than 60 kg who took 250 mg of ddI daily with 300 mg of TDF.
Everyone in the group had a rising or stable CD4 count before switching to ddI/TDF for reasons other than failure. T cells fell significantly whether people took ddI/TDF with NVP, EFV, or lopinavir/ritonavir (LPV/RTV). Among 119 people combining 250 or 400 mg of ddI daily with 3TC/NVP or d4T/NVP, CD4 cells rose over 48 weeks.
Negredo and colleagues speculate that "a possible lymphocyte toxicity related to excessive ddI plasma levels could explain our findings."
What Explains the Three-Nuke Failures?
No fewer than three CROI slide talks offered evidence and explanations of why 3TC/TDF fails with ABC or ddI. Landman and Jemsek chipped in their slants after detailing their results, as did Richard Elion (George Washington School of Medicine, Washington, DC) after his talk on another once-daily regimen -- TDF plus AZT/3TC/ABC (as TZV) [abstract 53]. So far that quartet is working well in treatment-naive people who started therapy with fewer than 100,000 HIV RNA copies/mL, even though AZT gets dosed only once daily. That finding led Elion to propose that the mere addition of 300 mg of AZT thwarts selective pressure on the K65R mutation by ABC and TDF.
Elion and coworkers recruited 123 treatment-naive people with a viral load above 30,000 copies/mL and any CD4 count. Heeding the drumbeat of bad news on once-daily NRTI combos, they analyzed responses in 88 people who had at least eight weeks of RNA data; 54 had at least 24 weeks. Of these 88, 52 (59 percent) began treatment with a viral load above 100,000 copies/mL and 37 (42 percent) started with fewer than 200 CD4 cells/mm3. Nineteen people (22 percent) have dropped out of the trial.
In an on-treatment analysis of people completing 24 weeks of treatment, 78 percent have a viral load under 400 copies/mL and 67 percent are under 50 copies/mL. People with a baseline load below 100,000 copies/mL had a better 24-week response rate (79 percent below 50 copies/mL) than did people with a starting viral load above 100,000 copies/mL (60 percent below 50 copies/mL).
Trial planners defined early virologic nonresponse as (1) less than a 2-log drop in viral load and 50 copies/mL or more by week eight or (2) more than a 1-log rebound from the lowest viral load by week eight. By those measures 76 percent were week-eight responders, including 83 percent with a baseline load under 100,000 copies/mL and 71 percent with a higher baseline load. Applying the same criteria to one of the 3TC/ABC/TDF trials,16 Elion charted only a 51 percent overall response rate.
In the eight virologic nonresponders so far, only one (13 percent) had the K65R mutation. That compares with a 64 percent K65R rate in one study of 3TC/ABC/TDF,16 a 44 percent rate in another,17 76 percent in Landman's study of that regimen [abstract 52 above], and 50 percent in Jemsek's trial of ddI/3TC/TDF [abstract 51 above]. None of the nonresponders taking TZV twice daily in ACTG A5095 wound up with K65R.15 But Elion noted that 300 mg of AZT once daily in his study may favor the emergence of more thymidine analog mutations. Five of eight nonresponders (63 percent) had one or more of these mutations with or without M184V.
So what's going on here? Three resistance experts tackled this thorny question at the 11th CROI, as have other authorities in recent online reviews.19,20 Elion ventured that AZT could play "a potential role in resistance modulation" when given with drugs that elicit K65R. And those who addressed this question generally agree with him.
Urvi Parikh (University of Pittsburgh) laid out evidence that K65R, until recently a bit player in clinical resistance, is a multinucleoside resistance mutation and -- as Elion proposed -- that adding AZT to a regimen of drugs likely to select K65R counters that selection [abstract 54]. She reached those conclusions by digging through a Virco database of more than 60,000 isolates with NRTI resistance. The effort unearthed some pithy findings.
First, the frequency of K65R among isolates sent to Virco more than quadrupled from 1998 to 2003, though the database still shows a K65R rate of only 3.6 percent of all NRTI-resistant virus. Then Parikh used K65R mutants engineered in her lab to make two key discoveries:
K65R sliced susceptibility to all NRTIs studied -- except AZT -- by 2.5-fold to more than 10-fold.
K65R in a viral isolate strongly militated against the presence of M41L, D67N, L210W, and T215Y/F -- all thymidine analog mutations.
The second finding suggested that K65R and thymidine analog mutations have a hard time sharing the same virus. That makes sense from a nuts-and-bolts point of view because K65R (along with M184V) and thymidine analog mutations cause resistance in opposite ways. K65R and M184V work against incorporation of inhibitors into cellular DNA, whereas thymidine analog mutations pry already incorporated AZT off DNA (Figure 1).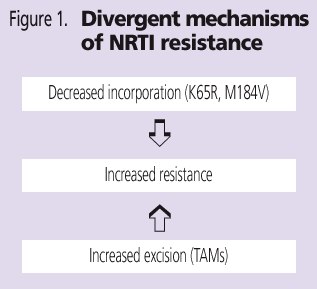 Engineering virus to contain both thymidine analog mutations and K65R, Parikh measured decreased resistance to AZT. At the same time she learned that certain thymidine analog mutations antagonized K65R's effect on ABC, ddI, and TDF, but not on 3TC. Instead, K65R conferred resistance to 3TC regardless of the resistance pathway.
Although d4T is a thymidine analog, it differs from AZT in not having the "azido" arm that gives AZT its name, azidothymidine. AZT and other "azido" compounds were the only agents to which K65R virus was not resistant in Parikh's study. Indeed, as observed by Kirsten White (Gilead Sciences), d4T along with ddI, ABC, and TDF can elicit the K65R mutant [abstract 55]. Her contribution to the K65R puzzle is that the contrary mechanisms of resistance to NRTIs -- incorporation and excision (Figure 1) -- must be considered together when sizing up how certain mutations affect certain drugs.
This thesis emerged from White's comparison of incorporation and excision of NRTI triphosphates and tenofovir diphosphate in K65R virus versus wild-type virus. She did this by measuring relative inhibitory capacities (Ki/Km) for relevant active metabolites of AZT, ddI, d4T, ABC, and TDF in K65R and nonmutant virus. By this formula, a higher inhibitory capacity means lower incorporation of the inhibitor. She also measured excision of these inhibitors from DNA.
Even though K65R cut incorporation of AZT, it also curbed excision. The net result in cell cultures was that K65R virus is hypersusceptible to AZT. K65R also decreased excision of ABC. It decreased incorporation of ABC even more, but in the end K65R remained susceptible to ABC in this experiment as judged by the established phenotypic cutoff for ABC. With d4T, K65R slowed incorporation but had little impact on excision, leaving K65R susceptible to d4T. With ddI and TDF, decreased incorporation alone appeared to explain K65R's reduced susceptibility to those drugs.
All right. If you've made it this far, stop sweating the details. That's the job of resistance worthies who don't freeze at the sight of Ki/Km equations but go on to interpret them for the rest of us. That task fell to Lisa Demeter (University of Rochester, New York), who began with the axiom that emerged from the trials reviewed above:
Triple-nuke regimens with overlapping resistance patterns have a high risk of failure.
Why? In these studies probably because:
The drugs used selected for K65R and M184V.
Selection of these mutants strongly correlated with failure.
And possibly because:
Lower potency of these triple regimens contributed to rapid selection of resistant virus.
However:
Having AZT in the regimen appears to suppress the emergence of K65R and to lower the risk of early failure.
(One can't forget, though, that thymidine analog mutations may emerge in a regimen containing AZT, especially once-daily AZT.)
"Although resistance interactions are unlikely to be the sole determinant of regimen success or failure," Demeter cautioned, "they should be considered in regimen design." Indeed, in the prelude to his talk [abstract 51 above], Jemsek noted the irony that clinicians (and trialists) began bundling ddI, 3TC, ABC, and TDF to fashion a thymidine analog-sparing regimen because the mutations prodded forth by AZT and d4T lower susceptibility to all other nucleosides. Now, if Parikh is right, the mutant they ended up with -- K65R -- has decreased susceptibility to multiple nucleosides too. At this point, however, the clinical implications of K65R resistance are not understood nearly as well as the implications of thymidine analog mutations.
Even without picking through the mechanistic maze of nucleoside resistance, clinicians now know not to offer three-drug regimens including only ddI, 3TC, ABC, or TDF. But what about using two of those drugs along with something from a different class? A 3TC/ABC duo looks like a safe bet so far, as noted in the ZODIAC trial of once- versus twice-daily ABC with once-daily 3TC/EFV.21 TDF plus twice-daily 3TC has done well, again with EFV,22 and the same will probably hold for TDF/emtricitabine (FTC) (see abstract 570 in the next section).
In a recent review of first-line regimens, Joel Gallant (Johns Hopkins University, Baltimore) writes that research has yielded scant clinical data on ABC/TDF, ddI/ABC, or ddI/TDF.20 Although all three duos build once-a-day backbones, he goes on, their overlapping resistance profiles could promote selection of K65R. Daniel Kuritzkes (Brigham and Women's Hospital, Boston) makes a similar point in his analysis of K65R findings.19 "Overall," he suggests, "these results provide additional reasons to avoid triple-NRTI combinations, and raise a note of caution when combining tenofovir DF with abacavir or didanosine."
Once-Daily Lopinavir/Ritonavir
Unlike once-daily NRTI-only combinations, once-a-day regimens featuring EFV, atazanavir (ATV), or some RTV-boosted PIs can hold their own against viral replication. LPV/RTV may also join the ranks of once-daily PIs, according to 48-week results of a trial randomizing 115 treatment-naive people to once-daily LPV/RTV and 75 to twice-daily LPV/RTV, both with once-daily TDF/FTC [abstract 570].
Joseph Gathe (Therapeutic Concepts, Houston) reported that about 55 percent of study participants in this international, open-label trial were white, and about 20 percent were women. The median baseline viral load measured 4.8 logs in the once-daily group and 4.6 logs in the twice-daily group; respective starting CD4 counts were 214 and 232 cells/mm3. More than 40 percent in both groups began therapy with fewer than 200 cells/mm3.
In a 48-week noncompleter-equals-failure analysis, 70 percent in the once-daily group and 64 percent in the twice-daily group had a viral load below 50 copies/mL. On-treatment sub-50-copy rates measured 90 percent once daily and 85 percent twice daily. Both groups averaged a CD4 gain of more than 180 cells/mm3. Genotyping in five people from each group who had a viral load above 500 copies/mL any time during weeks 12 to 24 found only the FTC-linked M184V mutation in one person from each group.
More side effects -- usually gastrointestinal -- were the price paid for once-a-day dosing. Fourteen people (12 percent) quit the once-daily arm because of side effects, compared with four (5 percent) in the twice-daily arm. Diarrhea proved significantly more frequent with once-daily LPV/RTV (16 percent) than with twice-a-day dosing (5 percent, P=0.04). The groups did not differ significantly in rates of nausea or vomiting or in elevations of aspartate aminotransferase, alanine aminotransferase, triglycerides, or amylase.
Total cholesterol and triglycerides climbed in both groups, but considerably less than they had in an earlier trial of twice-daily LPV/RTV plus d4T/3TC (Table 3). Creatinine levels in two people flared above 3 mg/dL, signaling acute renal failure; one was a 75-year-old man with a pretreatment creatinine clearance of 40 mL/min (normal is 75 to 125 mL/min).
Table 3. 48-Week Lipid Changes With LPV/RTV Plus TDF/FTC Versus d4T/3TC
48-Week Lipid Gain (mg/dL)
LPV/RTV Once Daily + TDF/FTC
LPV/RTV Twice Daily + TDF/FTC
LPV/RTV Twice Daily + d4T/3TC*
Total Cholesterol
27
27
53
Triglycerides
82
76
125
* Study 863.23

Source: Joseph Gathe, abstract 570.
Improving First-Line Success
The ascendance of NNRTI and boosted-PI regimens -- combining greater potency and convenience -- has paid dividends for people starting antiretrovirals in recent years. Richard Moore (Johns Hopkins University, Baltimore) put numbers on those dividends by comparing outcomes in people who started their first potent regimen in four periods: 1996 (n=238), 1997-1998 (n=591), 1999-2000 (n=365), and 2001-2002 (n=132) [abstract 558]. People who started with a boosted PI did better virologically than those who started with a single PI, and people who started with a nonnucleoside did better yet.
The proportion of women and girls treated rose consistently from 25 percent in 1996 to 40 percent in 2001-2002, while the proportion who took earlier substandard antiretroviral therapy dropped from 88 percent in 1996 to 59 to 67 percent over the following three periods. While use of single-PI therapy plunged from 89 percent in 1996 to 7 percent in 2001-2002, use of boosted PIs climbed from 11 to 18 percent, of triple NRTIs from 0 to 16 percent, and of NNRTIs from 0 to 59 percent.
Virologic, immunologic, and clinical response measures all improved dramatically over the four treatment periods:
Percent with viral load below 400 copies/mL at month 12: 43, 47, 60, 68
Median 12-month CD4 gain: 100, 120, 148, 139 cells/mm3
Percent with AIDS diagnosis in first year of treatment: 21, 25, 9, 10
Percent who died in first year of treatment: 18, 19, 2, 1
In a multivariate analysis of factors favoring a six-month viral load below 400 copies/mL, the odds of success improved by 1.31 in 1997-1998, 2.31 in 1999-2000, and 2.41 in 2001-2002 compared with 1996. Starting with a boosted PI raised the odds of virologic success 1.59 times compared with a single PI, and starting with an NNRTI raised the odds of success 1.99 times.
3 Takes on 2 Old Tactics
Intensifying a regimen with one or more drugs can work when a combination falls just short of complete suppression, though it's a tricky strategy resting on sparse evidence. But intensifying a completely suppressive regimen proved pointless in two CROI reports. Another touch-and-go tactic that met with little success in years past -- induction-maintenance -- did better in a new though perhaps inconclusive trial.
Intensification Confutation
If less is not more in studies of once-daily triple NRTIs (preceding section), more was not more in ACTG 372A, which stretched through a daunting median follow-up of 227 weeks [abstract 56]. And this was a double-blind, placebo-controlled trial. Looking no worse for wear, principal investigator Scott Hammer (Columbia University, New York) refreshed the memories of attending clinical trial historians with the basics:
The study involved 229 AZT-experienced people who reached a viral load below 500 copies/mL in ACTG 320 while taking indinavir (IDV), AZT (or d4T), and 3TC. They got randomized to add ABC or placebo at a median CD4 count of 250 cells/mm3. A stalwart 79 percent finished the trial, 54 percent on their originally assigned regimen.
Adding ABC did nothing to delay failure and very little else that the ACTG team could measure. The primary composite endpoint included virologic failure (two viral loads above 500 copies/mL, and later above 200 copies/mL) and permanently quitting any drug in the regimen. In an intent-to-treat Kaplan-Meier analysis, 61 of 116 (53 percent) taking ABC reached the primary endpoint, compared with 63 of 113 (55 percent) in the placebo group. Looking just at virologic failure, Hammer recorded 29 percent with ABC and 37 percent with placebo, a nonsignificant difference (P=0.22). In an on-treatment analysis, 21 percent taking ABC and 27 percent taking placebo had a virologic failure.
A sedulous search for a small edge that could be awarded to ABC found none:
No difference in percentage reaching a viral load below 50 copies/mL
No difference in proviral HIV DNA per 10 million PBMCs
No difference in frequency of blips (which did not predict virologic failure)
No difference in CD4 gains
No difference in clinical progression rates
Hammer acknowledged that ABC could have been compromised by baseline resistance in this AZT-experienced group. But he thought the tiny virologic differences detected after more than four years of follow-up argue against it. Because the regimen rested on unboosted IDV, Hammer added, one might expect some room for improvement by adding a fourth potent drug. That didn't happen.
Kimberly Smith (Rush University, Chicago) and ACTG A5136 colleagues told a related tale, summing it up nicely in their poster title: Intensification of antiretroviral treatment in subjects with long-term viral suppression does not lead to substantial improvement in residual immune deficits or significant reduction in HIV-1 latent reservoir [abstract 228].
This single-arm study involved 17 people originally enrolled in a trial of AZT, 3TC, and RTV. All had a viral load below 1,000 copies/mL on most assays during the preceding three years on this regimen and below 400 copies/mL in the 90 days before adding TDF and switching the PI to LPV/RTV. Viral load at intensification ranged from less than 50 to 72 copies/mL, and the median CD4 count stood at 538 cells/mm3 (interquartile range 44 to 672 cells/mm3).
Total and percentage CD4 count did not improve significantly after 48 weeks of intensification. Indeed, the lines charting both changes were virtually flat. The number of memory CD4 cells did rise significantly, a finding suggesting that intensification further slowed destruction of T cells. But that drop in productively infected cells did not reward study participants with lower viral loads. Meanwhile, the number of naive CD4 cells fell significantly after intensification. Although viral replication dropped in CD4 lymphocytes, it rose somewhat in monocytes. Intensification did not further subdue immune activation or apoptosis. No virus drained from the latent reservoir of resting CD4 cells.
More Induction + More Maintenance
Induction-maintenance -- starting with more drugs and scaling back to fewer -- failed in three trials that began with three
24,25
or four
26
drugs and cut back to two or one. The FORTE trial, reported by Ian Williams (Royal Free and University College Medical School, London), found that trimming a four-drug triple-class regimen to a three-drug double-class combo yielded better 48-week virologic results than a consistent three-drug combination [abstract 564]. But the trial may not offer the cleanest validation of this strategy because only minorities in both arms took today's preferred regimens -- those based on boosted PIs or EFV.
Williams and coworkers enrolled 122 treatment-naive people with a CD4 count above 25 cells/mm3 between October 1999 and July 2002. They got randomized to standard therapy (one NNRTI plus two NRTIs) or induction-maintenance (one NNRTI, one PI, plus two NRTIs). People in the induction-maintenance arm dropped the PI between weeks 24 and 32 if they had two straight viral loads below 50 copies/mL.
When the trial started, everyone had to take ddI/d4T and NVP -- plus nelfinavir (NFV) if assigned to induction-maintenance. After August 2001, clinicians could pick the starting drugs. As a result, 71 percent of those on induction-maintenance started NFV and 27 percent LPV/RTV. Substantially more people took NVP (64 percent) than EFV (36 percent). The median starting CD4 count measured 160 cells/mm3 and the median RNA 98,830 copies/mL.
FORTE investigators defined virologic failure as a viral load above 50 copies/mL at week 24 or a viral load under 50 copies/mL at week 24 and later above 400 copies/mL. In an intent-to-treat analysis, more people taking standard therapy (48 percent) than induction-maintenance (31 percent) had a virologic failure at or after 24 weeks, but that difference fell short of statistical significance (P=0.06). Analysis of those with a viral load above 50 copies/mL at 32 weeks or below 50 copies/mL at that point and later above 400 copies/mL showed a 43 percent failure rate with standard therapy versus 18 percent with induction-maintenance (P=0.02). At week 48, 81 percent on induction-maintenance and 61 percent on standard therapy had a viral load under 50 copies/mL, a difference again a tad short of significance (P=0.07).
A 48-week trial is too short to get a handle on potential clinical differences between study arms. But in that time standard therapy did better than induction-maintenance. One person had an HIV-related death in the standard treatment arm versus three in the induction-maintenance group. New AIDS diagnoses numbered two with standard therapy and five with induction-maintenance. Median CD4 gains at week 48 did not differ significantly between study arms. More people had grade 3 or 4 side effects with induction-maintenance (34 percent) than with standard therapy (25 percent), but that difference lacked significance (P=0.3).
Because time flies fast on the antiretroviral calendar, applying these results to today's treatment scene is hard. Current U.S.27 (but not British11) guidelines rank EFV (but not NVP) as a preferred first-line option. So those who side with the U.S. stance would judge the standard therapy arm in this trial substandard for the 64 percent who took NVP. Looking at this anachronism another way, one might also call the four-drug regimen wobbly because NFV certainly lags LPV/RTV in first-line therapy.23 Forty-four people in the induction-maintenance arm took NFV, 17 LPV/RTV, and one unboosted IDV. If one were planning this trial today, one might couple LPV/RTV and EFV in the induction-maintenance arm and have two standard-care arms, one with LPV/RTV and one with EFV.
Although not an induction-maintenance trial, ACTG 384 offers some insight into the relative merits of three- versus four-drug first-line regimens.28 The ACTG randomized 980 treatment-naive people to one of six regimens:
ddI/d4T/EFV
ddI/d4T/NFV
AZT/3TC/EFV
AZT/3TC/NFV
ddI/d4T/NFV/EFV
AZT/3TC/NFV/EFV
So the trial resembled FORTE, except that EFV was the only NNRTI used, NFV the only PI, and people who started with four drugs didn't cut back to three. After a median 28 months of follow-up, any four-drug combination nearly halved the time to first virologic failure compared with any NFV-based triple regimen or with ddI/d4T/EFV, but not with AZT/3TC/EFV. In other words, starting with three drugs -- if they're the right three drugs -- worked just as well as starting with four and staying with four in this population. That result suggests that induction-maintenance, at least with the drugs used in ACTG 384, would be pointless.
HIV, HCV and HBV
Managing hepatitis C virus (HCV) infection in people with HIV assumes a growing urgency as the antiretroviral era unfolds, sparing coinfected people early deaths from opportunists and leaving them to cope with a slowly corroding liver. This year's CROI unleashed a flood of data on this dilemma, including results of three randomized trials of pegylated interferon (Peg-IFN) versus standard IFN. The results confirm earlier small studies that found poor responses among people with HCV genotype 1 or 4 and moderately better responses with genotype 2 or 3. The meeting also offered studies on TDF, FTC, and adefovir (ADV) for hepatitis B virus (HBV) coinfection.
Pegging Away at HCV
Peg-IFN, available as interferon-alfa-2a (Pegasys) or -2b (Peg-Intron), made life a little easier for people needing this toxic drug by paring the injection schedule from three times to once weekly. In people without HIV, Peg-IFN proved superior to standard IFN in two big randomized trials.
29,30
The same proved true in three randomized studies unveiled at the 11th CROI, although durable response rates lagged those in studies of people without HIV by 16 to 29 percent overall (
Table 4
), and by even more in people with genotype 1.
Table 4. Peg-IFN vs. Standard IFN for HCV in 3 Trials
Trial, Presenting Author, Sites [Abs. No.]
Regimens (n)
HCV/HIV Progression at Baseline
Dropout Rate
Sustained Response Rate* [Rate With Genotype 1]
APRICOT, Dieterich, U.S., Canada, Europe, Brazil [112]
a) IFN-alpha-2a, 3 MIU x 3/wk + RBV, 800 mg/d (285)

b) Peg-IFN-alpha-2a, 180 µg/wk + PL (286)

c) Peg-IFN-alpha-2a, 180 µg/wk + RBV 800 mg/d (289)

16% with bridging fibrosis or cirrhosis; ~530 CD4 cells/mm3; 84% on ART
a) 39%

b) 31%

c) 25%

a) 12%

b) 20% (P=0.0084 vs a)

c) 40% (P<0.0001 vs a and b)

[a) 7%]

[b)14%]

[c) 27%]

ACTG A5071, Chung, U.S. [110]
a) IFN-alpha-2a, 6 MIU x 3/wk x 12 wk then 3 MIU x 3/wk for 36 wk + RBV dose escalation from 600 to 1,000 mg/d (67)

b) Peg-IFN-alpha-2a, 180 µg/wk + RBV as above (66)

10% with cirrhosis, 2.0 median fibrosis score; ~470 CD4 cells/mm3; most on ART
a) 12%

b) 12%

a) 12%

b) 27% (P= 0.03 vs a)

[a) 6%]

[b) 14%, not significant vs a]

RIBAVIC, Perrone, France [117LB]
a) IFN-alpha-2b, 3 MIU x 3/wk + RBV 800 mg/d (207)

b) Peg-IFN-alpha-2b, 1.5 µg/kg/wk + RBV, 800 mg/d (205)

a) 39% with bridging fibrosis or cirrhosis

b) 40% with bridging fibrosis or cirrhosis

a) 527 CD4 cells/mm3, 83% on ART

b) 501 CD4 cells/mm3, 82% on ART

a) 42%

b) 40%

a) 19%

b) 27% (P= 0.03 vs a) [11% overall]

* Undetectable HCV RNA after 24 weeks without treatment following 48 weeks of treatment.

ART = antiretroviral therapy; IDU = injecting drug use; MIU = million international units; NR = not reported; OR = odds ratio; PL = placebo; RBV = ribavirin.

The biggest of the three trials, APRICOT, found the best sustained response rate, defined as an undetectable HCV load 24 weeks after stopping the 48-week course of therapy [abstract 112]. Douglas Dieterich (Mount Sinai School of Medicine, New York) reported that 40 percent of 289 people randomized to Peg-IFN plus ribavirin (RBV) scored a sustained response, compared with 27 percent in both ACTG A5071 [abstract 110] and RIBAVIC [abstract 117LB].
Two variables may explain the better response in APRICOT: First, compared with RIBAVIC enrollees, those in APRICOT had much less advanced liver disease (Table 4). Whether the different types of Peg-IFN used in APRICOT and RIBAVIC affected response rates can't be determined by comparing these studies. Second, unlike ACTG participants, everyone in APRICOT received 800 mg of RBV daily from the start of the study. The RBV dose escalation in the ACTG trial (Table 4) may explain the low dropout rate in that study. But greater tolerability could have cost some antiviral efficacy, noted principal investigator Ray Chung (Massachusetts General Hospital, Boston).
Dieterich suggested that it may pay to start with full-dose RBV and to lower the dose only for people who can't tolerate it. In a separate randomized study he showed that once-weekly epoetin-alfa for 16 weeks reversed RBV-induced anemia in 52 HIV/HCV-coinfected people taking standard IFN and a median RBV dose of 981 mg daily [abstract 824]. While the mean hemoglobin level climbed 2.6 g/dL in people randomized to epoetin-alfa, it rose only 0.2 g/dL in people randomized to standard of care (P<0.001). Epoetin-alfa worked regardless of whether people were taking AZT, and it helped boost quality-of-life scores. Treatment began with 40,000 IU weekly and rose to 60,000 IU if the hemoglobin level did not return to the pre-RBV baseline in four weeks. Constipation in one person taking epoetin-alfa was the only serious side effect in that group. Twice as many people dropped out of the standard-of-care group during the study.
People with HCV genotype 1 or 4 had substantially worse responses to Peg-IFN than did people with genotype 2 or 3 in all three trials (Table 4). In ACTG A5071 the 14 percent sustained response rate in the Peg-IFN genotype 1 group did not differ significantly from the 6 percent rate in the standard IFN genotype 1 group. Still, in the less advanced APRICOT population, 27 percent with genotype 1 garnered a sustained response to Peg-IFN, which equaled the overall Peg-IFN response rates in ACTG A5071 and RIBAVIC (Table 4). But given the consistently worse response to Peg-IFN with genotype 1 or 4, an international panel of HIV/HCV experts recommended just before the 11th CROI that those people -- or those with no or minimal fibrosis -- may wish to delay HCV therapy until more effective drugs become available.31 A modeling study published after the conference suggested that a 48-week course of Peg-IFN/RBV may be too short for people with genotype 1.32
Predictors of Response to Peg-IFN
The ACTG and RIBAVIC teams scrutinized their results for predictors of sustained response, as did researchers who presented other Peg-IFN results (
Table 5
). A multivariate analysis of ACTG A5071 data found that not having genotype 1 raised the odds of success 15.8 times (P<0.001) [abstract 110]. Less robust predictors were a history of injecting drug use, which lowered the chance of responding (odds ratio [OR] 0.48, P=0.009), Peg-IFN versus standard IFN (OR 4.76, P=0.008), and a detectable baseline HIV RNA (OR 3.55, P=0.023). All 63 study participants who did not have at least a 2-log drop in HCV RNA by treatment week 12 failed to achieve a sustained response. Variables that did not affect response were age, race, use of antiretrovirals, use of PIs, baseline HIV RNA or CD4 count, liver histology, or use of growth factors.
Table 5. Predictors of Sustained HCV Responses* in People With HIV/HCV
Multivariate Analyses
Variable
Predictive Value
Study [Abstract]
Not having HCV genotype 1
OR 15.8 (P<0.001)
ACTG A5071 [110]
Not having HCV genotype 1 or 4
P<0.0001
RIBAVIC [117LB]
Injecting drug use
OR 0.48 (P=0.009)
ACTG A5071 [110]
Peg-IFN vs standard IFN
OR 4.76 (P=0.008)
ACTG A5071 [110]
Detectable pretreatment HIV RNA
OR 3.55 (P=0.023)
ACTG A5071 [110]
Pretreatment ALT >3 times upper limit or normal
P=0.002
RIBAVIC [117LB]
HIV/HCV coinfection versus HCV alone
OR 3.0 (for risk of failure at week 24, P=0.01)
Moreno [820]
Positive and Negative Virologic Predictors
HCV response by week 4
92% positive predictive value
RIBAVIC [117LB]
No HCV response by week 4
100% negative predictive value (for response by week 24)
Moreno [820]
>2-log drop in HCV or undetectable HCV at week 12
51% positive predictive value; 100% negative predictive value
ACTG A5071 [110]
>2-log drop in HCV load by week 12
56% positive predictive value; 100% negative predictive value
Soriano [819]
No HCV response by week 12
93% negative predictive value
RIBAVIC [117LB]
* Undetectable HCV RNA after 24 weeks without treatment following 48 weeks of treatment.

ALT = alanine aminotransferase; OR = odds ratio.

In RIBAVIC, presented by Christian Perronne (CHU Raymond-Poincaré, Garches, France), a genotype other than 1 or 4 again predicted a sustained response (P<0.0001), as did a baseline alanine aminotransferase (ALT) more than three times the upper limit of normal (P=0.002). Unlike the ACTG team, RIBAVIC investigators did tie PI use to a lower chance of a sustained response. Among people with a virologic response by week 4, 92 percent had a sustained response. But among those who had no virologic response by week 12, 93 percent failed to gain a sustained response. Fibrosis score did not predict response.
HIV/HCV coinfection emerged as the only independent predictor of a poor response to Peg-IFN-alfa-2b plus RBV in a comparison of 70 people with HCV only and 36 coinfected people [abstract 820]. In an on-treatment analysis, Ana Moreno (Hospital Ramon y Cajal, Madrid) found that 60 percent with HCV alone had an undetectable HCV load after 24 weeks compared with 36 percent in the HIV/HCV group (P=0.02).
One pretreatment variable favored the HIV/HCV group -- younger age (39 + 3 versus 47 + 11 years, P<0.001). And one baseline variable favored the HCV-only group -- lower fibrosis score (1.89 + 1.1 versus 3.0 + 1.1, P<0.001). But in a multivariate analysis, age, fibrosis score, gender, and baseline aspartate amino-transferase (AST) did not independently predict failure, while HIV/HCV coinfection independently raised the risk of 24-week failure three times (P=0.01). No coinfected study participant without a drop in HCV load by treatment week 4 had an undetectable load by week 24.
Retrospective analysis of 89 HIV/HCV-coinfected people who completed a course of Peg-IFN plus RBV again confirmed the highly predictive value of a poor early response. Vincent Soriano (Hospital Carlos III, Madrid) spelled out results in 55 people with genotype 1 or 4 (treated for 12 months) and 34 with genotype 3 (treated for six months) [abstract 819]. Twenty-nine (33 percent) had a sustained virologic response -- 53 percent with genotype 3 and 20 percent with genotype 1 or 4 (P<0.05). Fifty-two people (58 percent) had more than a 2-log drop in HCV load at week 12, and 56 percent of those early responders went on to a sustained response. None of the 37 people who failed to attain a 2-log drop by week 12 had a sustained response.
Soriano suggested that "discontinuation of anti-HCV therapy, which is associated with frequent side effects, might be warranted" in HIV/HCV-coinfected people who don't have at least a 2-log drop in HCV load by week 12 of Peg-IFN/RBV therapy. Twelve-week responses in ACTG A5071 and RIBAVIC bolster that suggestion (Table 5). Because relapses after sustained responses proved frequent in this group (40 percent) regardless of HCV genotype, Soriano also suggested extending therapy for early responders to 12 months if they have genotype 2 or 3 and to 18 months if they have genotype 1 or 4. A recent modeling study also endorses longer treatment for people with genotype 1.32
HCV genotype is unlikely to be the sole genetic variable that affects response to treatment with Peg-IFN and RBV. Genetic analysis of 81 people enrolled in ACTG A5071 by Marion Peters (University of California, San Francisco) looked at coding or promoter regions of 35 genes that have a role in the inflammation or severity of HCV infection [abstract 116]. Besides having HCV genotype 2 or 3, she found, a variant CCR5 promoter correlated with sustained virologic response in the 43 responders who volunteered for this study.
Peters cautioned that the study population is small for this type of analysis. But if further work can pin down genetic harbingers of treatment success, people with HIV/HCV "may be inclined to donate a little DNA," she proposed. "Then, if they see that they have a 90 percent chance of responding, they'll be more likely to torture themselves for a year" with Peg-IFN and RBV.
Steatosis Risk With HIV/HCV, and News on RBV + Other NRTIs
Three other studies yielded important information on HIV/HCV coinfection. In two cohorts of coinfected people, Mark Sulkowski (Johns Hopkins University, Baltimore) recorded low rates of hepatic steatosis (fatty liver), which proved more common in whites than blacks, in people weighing more than 190 kg, and in people who had taken d4T with NFV or RTV [abstract 73].
Sulkowski looked at a random cohort of 137 coinfected people, 113 of whom were eligible for liver biopsy, and a referral cohort of 193 people who already had a liver biopsy. In the 306 people with biopsy results, 59 percent in the random cohort and 71 percent in the referral cohort had no evidence of steatosis. Another 22 percent in each cohort had fat in fewer than 5 percent of liver cells. Only 28 percent from the random cohort and 8 percent from the referral cohort had fat in more than 5 percent of cells, and in most of them fewer than 30 percent of cells were involved.
Next Sulkowski looked at 206 people (85 percent African American and 67 percent male) who had follow-up data. A multivariate analysis picked out three independent predictors of fat in 5 percent of hepatocytes or more: Weighing more than 190 kg raised the risk 5.98 times, white race 9.52 times, and treatment with d4T plus NFV or RTV 27.9 times. The analysis did not distinguish between full versus boosting doses of RTV. An undetectable HIV RNA load on more than 75 percent of assays lowered the risk of fat in 5 percent of hepatocytes or more by 97 percent.
The conference had a few bits of good news for people taking drugs for both HIV and HCV. Jean-Michel Gries (Roche Laboratories) found that 800 mg of RBV daily does not alter the intracellular phosphorylation or plasma levels of AZT, d4T, or 3TC in coinfected people taking RBV and one of the other NRTIs for eight to 12 weeks [abstract 136LB]. Brian Kearney (Gilead Sciences) reported that liver impairment does not affect levels of TDF and that TDF does not alter concentrations of RBV or adefovir [abstract 600].
Rewards and Risks of Liver Transplantation
For HIV-infected people with advanced liver disease, transplantation has emerged as a credible though complicated option. One published comparison of 24 transplant recipients with HIV and 5,255 age- and race-comparable recipients without HIV found statistically similar survival rates after 12, 24, and 36 months of follow-up.
33
Three-year survival measured 73 percent in the HIV group and 79 percent in the comparison group.
Three studies at the 11th CROI charted results of liver transplantation in 42 people and kidney transplantation in 14 (Table 6). After median follow-ups ranging from eight to 18 months, researchers from the United States, Spain, and France reported six deaths among liver recipients (14 percent) and one among kidney recipients (7 percent). Eight people with liver transplants had rejections (19 percent), as did 11 (79 percent) with kidney transplants. Michelle Roland (University of California, San Francisco), who reported all the kidney transplants, could not explain the high rejection rate. Although drug interactions requiring dose adjustments were common in kidney recipients, she did not believe that accounted for the rejections.
Table 6. Liver and Kidney Transplant Results in People With HIV
First Author, Site [Abstract]
n, M/F, Age
Baseline Condition
Baseline and Post-Transplant CD4 and HIV RNA
Follow-Up
Transplant Rejection; Deaths
Other Complications
Roland, San Francisco [826]
24 (14 kidney, 9 liver, 1 both), 23/1, 15-64
4 liver, 4 kidney recipients with HCV; OI history allowed if disease-free on ART
BL: Median 407 cells/mm3 (104-973); median <75 copies/mL (<75-55,000)

Post: Median 255 cells/mm3 (8-902); median <75 copies/mL (<75-9,600)

Median 480 d (8-1,254)
1 liver rejection (11%), 11 kidney rejections (79%); 1 liver death (11%), 1 kidney death (7%)
2 of 4 liver recipients with HCV had recurrent or progressive HCV; 2 of 24 had a new AIDS diagnosis (CMV esophagitis and Candida esophagitis)
Rufi, Spain [827]
21, 13/8, 33-51
17 with HCV, 2 with HBV, 2 with HBV/HCV; 12 Child-Pugh stage B, 7 stage C; 4 hepatocellular carcinoma
BL: Median 247 cells/mm3 (110-589); 95% <200 copies/mL

Post: (1 y, n = 5): Median 253 cells/mm3 (165-440); 5/5 <200 copies/mL

Median 8 m (1-24)
8 rejections (38%); 2 deaths (9.5%)
15 (75%) HCV reinfections; no new AIDS diagnoses; 1 CD4 fell <100 cells/mm3
Teicher, Villejuif, France [828]
11
All with HCV; no OI histories
BL: Mean 350 cells/mm3 (103-659); all <400 copies/mL

Post: NR

Median 18 m (3-45)
No rejections; 3 deaths (27%), 2 with HCV recurrence
Renewed HCV replication in all; no new AIDS diagnoses; 7 judged in good condition, 1 in poor condition; 5 had evidence of mitochondrial toxicity
ART = antiretroviral therapy; BL = baseline; NR = not reported; OI = opportunistic infection; Post = post-transplant.

Among 36 people with HCV infection, 28 (78 percent) had recurrent or progressive infection after transplantation. But HIV disease progression proved rare despite rejection therapy, affecting only two of 56 people (4 percent). Interactions between antiretrovirals and rejection drugs were common in all studies and required treatment interruptions or regimen revisions.
A multicenter liver and kidney transplant study, HIVTR, has begun in the United States. The Web site is http://spitfire.emmes.com/study/htr/About_Us/about_us.html.
ADV, TDF or FTC for HBV
Although ADV did not succeed as an antiretroviral, the lower dose needed for HBV infection and its activity against 3TC-resistant HBV have earned it a role in hepatitis therapy. TDF, the nucleotide analog that made the antiretroviral grade, also has activity against HBV, as does FTC, which will be coformulated with TDF. The 11th CROI had reports on the anti-HBV prowess of all three drugs.
Once-daily ADV at a dose of 10 mg significantly lowered HBV DNA load and ALT levels over 144 weeks of treatment in 35 people coinfected with HIV and HBV [abstract 835]. Yves Benhamou (Pitié-Salpêtrière Hospital, Paris) reported that study participants had taken 3TC for a median 42.3 months and all had 3TC-resistant HBV. They added ADV to their current antiretrovirals and continued 3TC at a median HBV DNA of 8.75 logs, a median ALT of 81 IU/L, a mean HIV RNA of 2.88 logs, and a mean CD4 count of 422 cells/mm3.
After 48, 96, and 144 weeks of follow-up, median HBV DNA and ALT fell significantly:
Week 48 (n=31): HBV DNA -3.98 logs (P<0.0001), ALT -28 IU/L (P<0.001)
Week 96 (n=30): HBV DNA -4.81 logs (P<0.0001), ALT -35 IU/L (P<0.001)
Week 144 (n=28): HBV DNA -5.45 logs (P<0.0001), ALT -50 IU/L (P<0.001)
At week 144, 64 percent had an HBV load below 1,000 copies/mL, and 46 percent had a normal ALT. ADV-associated resistance mutations did not emerge during the study, and no one had signs of nephrotoxicity. HIV load and CD4 count did not change significantly after addition of ADV.
A retrospective study of 118 people with HIV and HBV who had at least two weeks of TDF at 300 mg once daily plotted significant drops in HBV load over a median 8.0 months of follow-up (range one to 24 months) [abstract 834]. Christophe Piketty (Hôpital Européen George Pompidou, Paris) and colleagues across France checked records of 109 men and nine women who had taken antiretrovirals for a median seven years, including 3TC for a median 2.6 years. Among the 95 people (83 percent) with a detectable HBV load before taking TDF, the median load stood at 8.09 logs (range 2.32 to 8.76 logs).
After a median nine-month follow-up in those 95 people, HBV DNA fell a median 3.94 logs (P<0.001). HBV DNA became undetectable in 30 people (32 percent). Among the 20 people who started TDF with no detectable HBV DNA, the virus became detectable in one (5 percent). Among 74 people positive for HBe antigen before TDF, 17 (23 percent) reached an undetectable HBV load. And among 21 people negative for HBe antigen at baseline, 13 (62 percent) attained an undetectable load. The median CD4 count rose nonsignificantly with TDF, while the median HIV RNA fell from 2.82 to 2.1 logs (P<0.001). Whereas 28 people (25 percent) had an HIV load below 50 copies/mL before TDF, 56 (48 percent) had a sub-50 reading at the end of follow-up (P<0.001).
Jeanette Harris (Gilead Sciences) tracked HBV responses in 39 treatment-naive people enrolled in three trials of FTC plus other antiretrovirals, but no other drugs active against HBV [abstract 836]. Before starting FTC they had a median HBV DNA load of 5.17 logs, and 24 (62 percent) had a load above 4,700 DNA copies/mL. The percentage with an undetectable HBV load rose from 38 percent at baseline (15 of 39 people), to 45 percent at treatment week 24 (nine of 20 people), and to 59 percent at week 48 (10 of 17 people). Among the seven people with a detectable HBV load at week 48, two had FTC-related HBV resistance mutations (M204I and M204M/I). Yet HBV DNA loads fell 2.78 and 4.34 logs in those two people.
Mark Mascolini writes about HIV infection, often as IAPAC Monthly's Writer-at-Large (mailmark@ptd.net).
Editor's Note: Part two of this article on the 11th CROI, which will appear in the May 2004 IAPAC Monthly, will review studies on treatment interruptions, strategies for rescue and salvage therapy, and antiretroviral toxicities.
References and Notes