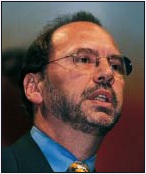 Peter Piot
"No nation would refuse to fight an invading army because some expert argued it would be cheaper to invest in defenses against future invasions. It is not a matter of prioritizing lives now over lives tomorrow."
Peter Piot, Executive Director of UNAIDS, in a July 7, 2002, speech at the Opening Ceremonies that welcomed more than 13,000 delegates to the fourteenth global gathering exclusively devoted to HIV/AIDS. Piot forcefully argued "the quality of future lives depends on the quality of life today." He further challenged governments, the private sector, nongovernmental organizations, and citizens of the world to increase their individual and collective efforts to combat HIV disease.

"... if countries, rich and poor, live up to the commitments they made at the Special Session, 29 million of these infections, or more than 60 percent, could be averted. Delaying this response by just one year is going to cost another 5 million lives."
Bernhard Schwartländer, Director of the World Health Organization (WHO) HIV/AIDS Department, in an opening plenary session presentation July 8, 2002, based largely on a paper published in the July 6, 2002, issue of The Lancet. In his presentation, Schwartländer (one of the co-authors of The Lancet paper) predicted there would be another 45 million people living with HIV/AIDS by 2010 unless governments make available a comprehensive package of interventions agreed to during last year's United Nations General Assembly Special Session on HIV/AIDS.

"While the best time to plant a tree is 20 years ago, the next best time is now."
Helene Gayle, Director of the HIV/AIDS and Tuberculosis Program at the Bill & Melinda Gates Foundation, during a July 9, 2002, plenary session presentation entitled, "Prevention Now! A Vision for the Future." Gayle, who formerly headed HIV, tuberculosis, and sexually transmitted diseases prevention efforts at the US Centers for Disease Control and Prevention (CDC), said that intensified prevention interventions implemented without delay might avert 45 million new HIV infections this decade.
Advertisement
"Those workers have used their bodies and sacrificed their bodies and their families to ensure that that company makes the enormous amounts of profit it does on the world market for gold and other minerals."
Zachie Achmat of the Treatment Action Campaign (South Africa) in a media statement issued July 10, 2002, from Cape Town, South Africa, denouncing Anglo American plc for canceling a fledgling pilot program that was to have provided antiretroviral therapy to HIV-infected employees. Achmat appealed to Anglo American and other private sector companies to accept responsibility for expanding access to HIV/AIDS care within their respective workforces.

"I commit to balance in the interventions that we support. We will fund prevention ... lots and lots of prevention. We will fund treatment ... lots and lots of treatment."
Richard Feachem, Executive Director of the Global Fund to Fight AIDS, Tuberculosis, and Malaria (Global Fund), during a senior lecture he delivered July 9, 2002. His much anticipated speech helped to quell some criticisms around the Global Fund's first dispersal of funds earlier this year, as well as turn up the heat on affluent countries, including the United States, accused of not committing significantly more money to support United Nations Secretary-General Kofi Annan's brainchild.

Back to the August 2002 issue of IAPAC Monthly.